BackTracks: Charles Curtis, jockey-turned-Veep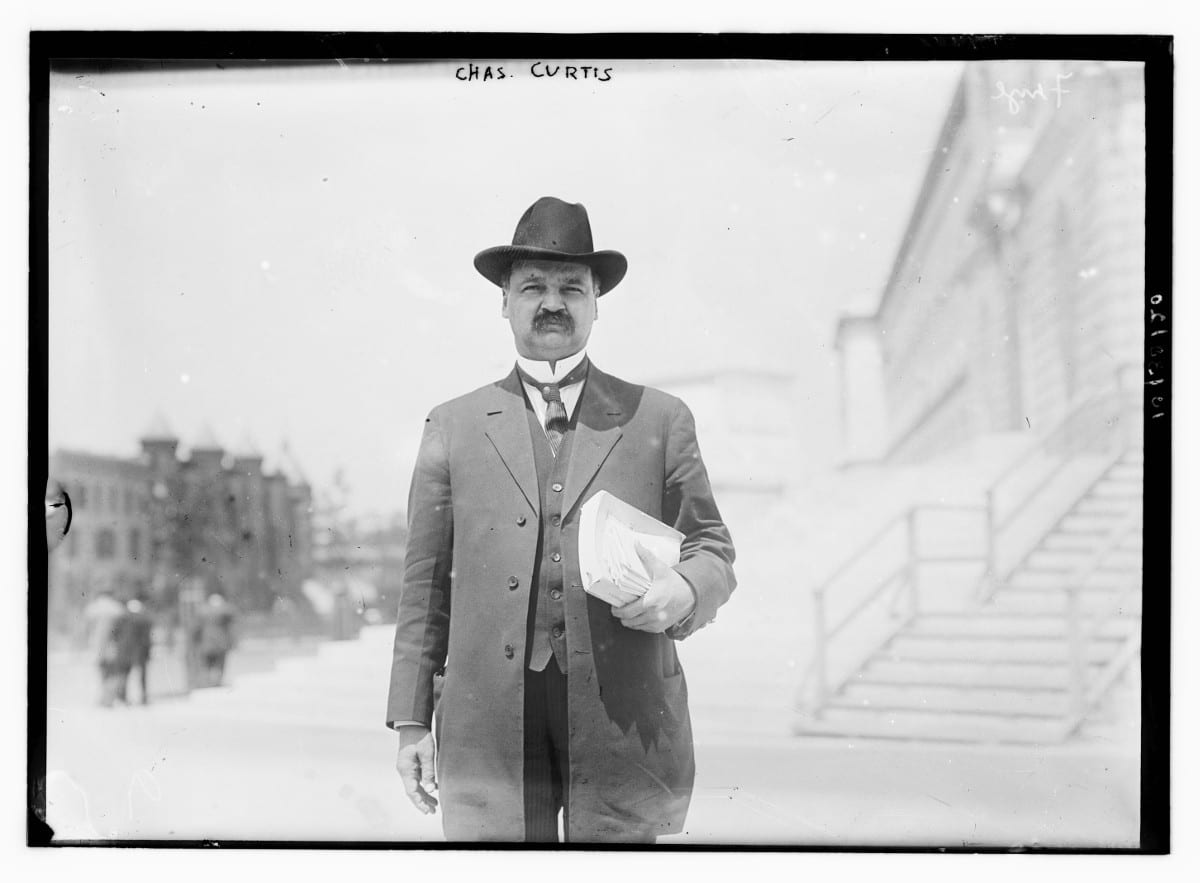 When Kamala Harris takes the oath as Vice President in January 2021, she will become the second American of color to rise to the second-highest office in this country. The first, Charles Curtis, served as Vice President under Herbert Hoover from 1929-1933.
As a member of the Kaw Nation in Kansas, Curtis rose from humble beginnings on the Kaw reservation to the vaunted halls of the Capitol. Along the way, he made a reputation for himself on horseback, riding that notoriety as a bush jockey-turned-lawyer to the top of the political world.
One foot, two worlds
Charles Curtis was born on January 25, 1860 to Orren Curtis, a white man, and his wife Ellen Pappan, a one-quarter Kaw Indian. Pappan's great-grandfather had been White Plume, a Kaw chief who had signed a treaty ceding Kaw tribal land to the United States in exchange for land grants and assistance in converting the Kaw from nomadic hunter-traders to farmers.
White Plume's daughters and granddaughters all married Frenchmen, and, as a result, Curtis's grandmother Julie, with her Kaw ancestry, was able to claim a tract of land across the Kansas River from Topeka. The Pappans started a ferry business there, but young Charles spent his early years in Topeka with his father's family.
In 1863, right about the time Orren father left to fight in the Civil War, Ellen Pappan Curtis died, leaving three-year-old Charles to be raised by his paternal grandparents until 1865, when he joined his maternal grandparents on the Kaw reservation. The Pappans had relocated to the reservation so that they would be a part of any future land grants or other compensation the federal government awarded the Kaw people. There, Charles became adept at riding ponies bareback, supposedly riding as early as age one and then galloping a horse as early as age three. So fearless was young Charles Curtis that by age nine he was riding in organized races.
The young boy attended school on the reservation and seemed perfectly content to live his life as a member of the Kaw.
BackTracks:
Midlantic Racing Legends
Our years are defined by great horses. We remember their names, marking our milestones by the dates that these equine heroes raced into our heads and our hearts. Our slice of history is limited by the boundaries of our own lifetimes; the horses that raced earlier, the ones that left impressions on the generations before us, can elude our attention unless another thread pulls us in that direction. These are their stories.
Got a horse you'd like to learn more about? Let us know!
"I had my bows and arrows," he later recalled, "and joined the other boys in shooting arrows at nickels, dimes, and quarters which visitors would place in split sticks."
But after a raid on the reservation by another tribe, Charles's grandmother Pappan saw that staying on the reservation would limit her grandson's opportunities. She encouraged him to return to Topeka to live with his paternal grandparents and attend school there.
Bush Riding
Living with the Curtises again, Charles began attending "common school," that era's version of a public school. He also took up another trade: jockey.
His grandfather William Curtis owned racehorses and then built a racetrack in northern Topeka. Young Charles rode for his grandfather and others when he was not in school during the summer. Despite his young age, he had grown up with horses and that coupled with his "short and wiry" frame made him an ideal rider for any owner.
He even traveled through the Southwest riding for men like Charles Search, who owned a horse named Tilden, one of the fastest horses in the area. "The Indian Boy" was paid $50 a month plus ten percent of the purses at these bush meets, his winnings helping his grandparents, whom Curtis recalled years later as having "no money to spare."
Even though he rode around the region, from Kansas to Texas to Missouri, he was not thought of as an equal to those famed riders on the East Coast. Those jockeys called riders like him "brush boys," because "we rode in what we would be called the sticks," according to a fellow jock.
He also made quite a bit of money for local patrons, including local gamblers and prostitutes. One madam was so pleased with the money that her bets on Curtis's mounts won for her that she bought him "a new suit of clothes, boots, hat, and all," and even threw in a new jockey outfit for him. "I had never been so petted in my life and I liked it," the Vice President recalled years later.
Alas, though, age caught up to young Charles: by sixteen, it was clear that he would grow too heavy to ride, especially since he would be five foot ten as an adult. He was offered a chance to ride at the Philadelphia Centennial in 1876, but his grandmother Curtis forced him to give that up in favor of attending high school. With that, the career of "Indian Charlie," the young Kaw boy-turned-jockey, came to a close.
Riding into the White House
After high school, Curtis studied law, driving a taxi and working as a custodian for a Topeka law firm as he completed his work and prepared to take the bar exam. He was admitted to the bar in 1881 at age twenty-one and went to work in real estate. He had inherited a considerable amount of land in the northern Topeka area and went to work selling lots and building houses while he opened his own firm and went into criminal law.
He eventually ran for office and won a seat in the House of Representatives in 1892 and then won a Senate seat in 1907 after Joseph Burton resigned his position. Curtis was reelected to the Senate two more times before being tapped as Herbert Hoover's running mate in the 1928 Presidential election. In March 1929, Charles Curtis was sworn in as Vice President, the first man of Native descent to serve in that office.
As second-in-command, Curtis presided over the Senate and decorated his office with Native American items, proud of his heritage as a Kaw. He also retained that love of horse racing, regularly visiting the Maryland racetracks while Vice President. Curtis was in the audience at Pimlico for Gallant Fox's 1930 Preakness victory and at Arlington Park in Chicago when the Fox defeated Gallant Knight by a neck in the Arlington Classic.
Curtis died of a heart attack in 1936 and is buried in Topeka, next to his wife.
Throughout his life, from his beginnings as a child of two worlds through his career as a lawyer and lawmaker and into his later life at the highest levels of American governance, Charles Curtis remained proud of his heritage as a Native American and as a horseman, often telling the story of his turn on the bush tracks of his youth. He supported the sport to the end of his life, a fixture at the wagering windows of the mid-Atlantic's Maryland tracks. Curtis's legacy might be as the country's first Vice President of color, but for racing fans we can think of him also as a horseman-turned-political jockey, riding that experience all the way to the top.
FOR MORE INFO…
PRINT SOURCES
Booth, James W. "Takes Over Reins of Senate." Brooklyn Daily Eagle. March 3, 1929.

"Curtis Gave Up Indian Blanket for Senator Toga." Philadelphia Inquirer. February 9, 1936.

"Memory for Names Gave Him Popularity." Brooklyn Daily Eagle. February 9, 1936.

Morrow, James B. "Indian Horse Jockey Now a Senator." Boston Globe. June 18, 1916.

"Was Race Horse Jockey." St. Louis Globe Democrat. February 9, 1936.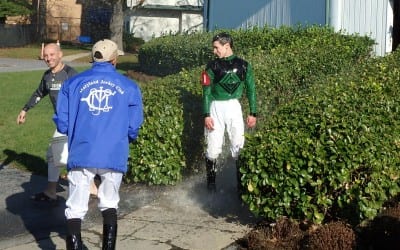 Jockey Lane Luzzi, who grew up in New York, will try to disprove the idea that you can't go home again when he shifts his tack from Texas to Monmouth.