BackTracks: Racing in the time of Spanish Flu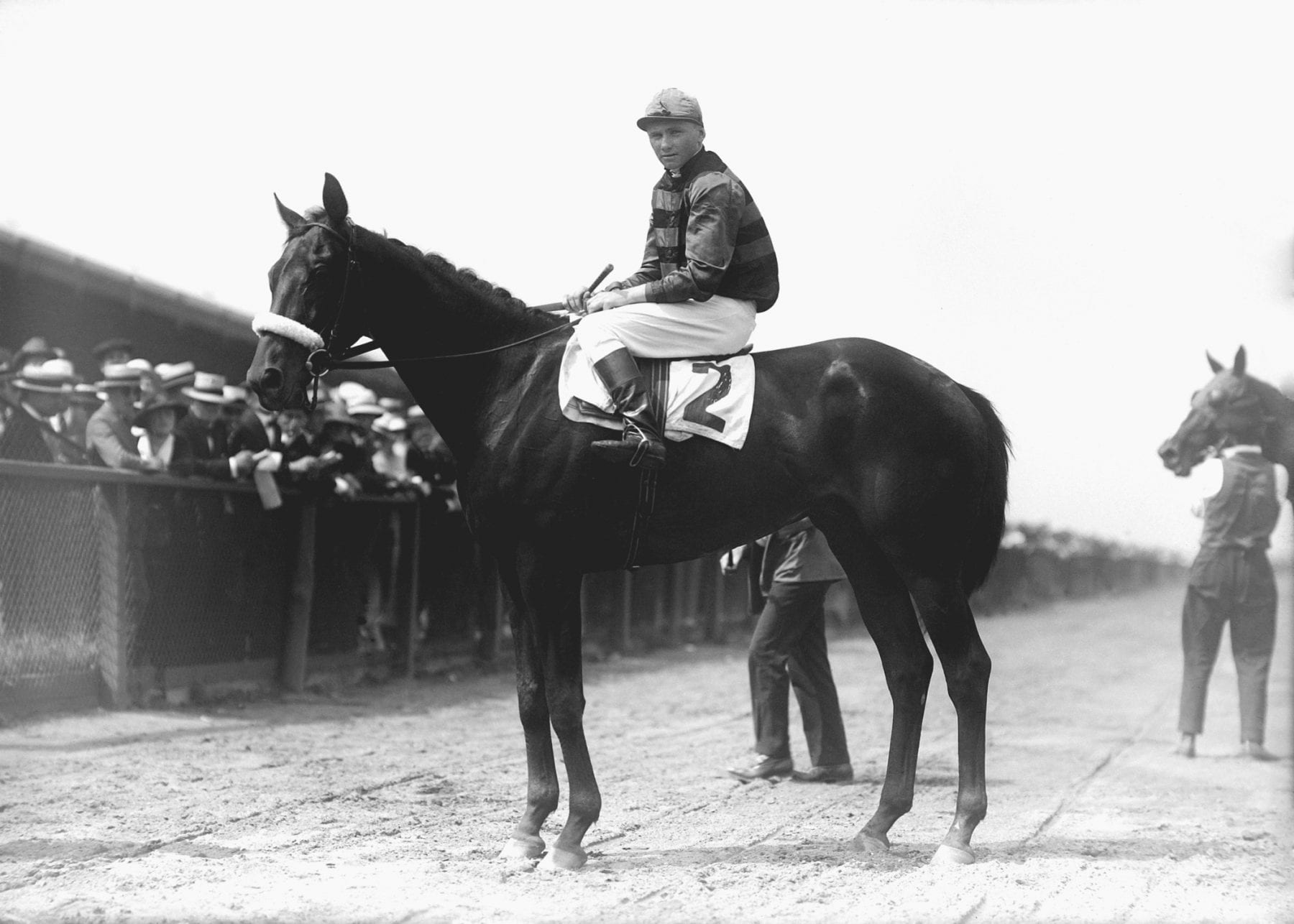 Earl Sande aboard Billy Kelly. Photo Keeneland Library Cook Collection.
With the Great War in its final throes, the United States was sending men and munitions to Europe, preparing for this last phase of the conflict. In the spring of 1918, as more American men prepared to join the fight, an outbreak of what came to be known as the Spanish flu was reported at Fort Riley in Kansas. Those men took the flu with them to Europe and there the virus mutated into something more serious, spreading through soldiers on both sides of the conflict. As American made the final push toward victory, a new enemy was emerging on our shores, a pandemic that would spread across the country in a matter of weeks.
The Mid-Atlantic racing scene had already faced its own challenges and survived. The spread of the Spanish flu would be no different for the stalwart horsemen of the region.
Anti-gambling movements gained momentum in the last decade of the 19th century into the first decade of the 20th century, forcing many racetracks to close. As a result, the Mid-Atlantic region saw its racing shrink to Maryland's tracks at Bowie, Pimlico, Laurel, and Havre de Grace, with smaller state-fair type meets dotting the region. Monmouth had closed nearly two decades before and would not return until the 1940s. Delaware, West Virginia, and Virginia did not have major racetracks of their own yet. In the aftermath of this legislation,
Maryland remained steadfast as an active racing scene, alongside Kentucky and New York to a limited degree. As the first of October approached, racing shifted its focus to Jamaica Race Track in New York and Laurel Park in Maryland, with Latonia in northern Kentucky opening later in the month.
BackTracks:
Midlantic Racing Legends
Our years are defined by great horses. We remember their names, marking our milestones by the dates that these equine heroes raced into our heads and our hearts. Our slice of history is limited by the boundaries of our own lifetimes; the horses that raced earlier, the ones that left impressions on the generations before us, can elude our attention unless another thread pulls us in that direction. These are their stories.
Got a horse you'd like to learn more about? Let us know!
Racing in the time of Spanish flu
The new month also brought another challenge: Spanish influenza. With the United States and other war powers under news embargos, only neutral Spain reported on their outbreak of the virus, inspiring the moniker despite the likelihood that this particular version of the flu originated elsewhere. Throughout September, the virus had started spreading from its initial reports in Boston across the United States via shipping lanes and other movements of people and goods from coast to coast.
The Great War, though, remained the focus, despite warnings about the flu and its movements as well as its seriousness. The Daily Racing Form published information on the fourth Liberty Loan, another bond drive to raise funds for the war effort, throughout the month, giving far less notice about the growing influenza pandemic until local governments put orders in place to stop its spread.
Two-year-old championship up in the air
New York City did not stop racing at Jamaica, despite the acceleration of the flu's spread through the area; the Maryland State Board of Health wavered on what to do, initially attempting to close Laurel on October 11th and then backtracking because of the outdoor nature of horse racing. However, with hospitals and morgues all over the state overwhelmed, the Board of Health clarified its orders about public gatherings, halting racing at Laurel and putting a number of stakes races and other events in question.
Laurel had already been chosen as the spot for a special match race between Billy Kelly and Eternal, with the two-year-old championship on the line; the track's closing had put that highly anticipated event off indefinitely. As the Daily Racing Form reported, promoter Colonel Matt Winn and other racing officials were hopeful that racing would be restored within a week. Incredibly, New York did not close Jamaica despite nearly 20,000 deaths in the month of October, while Kentucky officials continued to delay the opening of Latonia as they monitored the situation in the Bluegrass State.
Across the country, while the Daily Racing Form was perceptibly more light in its discussion of the pandemic, states were reeling from a shortage of doctors and nurses, with so many medical professionals away at war. Popular figures like Babe Ruth and Earl Sande managed to survive their own battles with the Spanish flu, while others, like former jockey John O'Brien and owner Richard Doggett, succumbed.
What would happen in Maryland? Was Laurel's meet over? What about Pimlico and Bowie and their November meets? The Mid-Atlantic generally had an active racing season in the fall. Would this pandemic put an end to that for 1918?
Emerging on the Other Side
The Billy Kelly-Eternal match race had originally been scheduled for October 24, but the optimism that racing would reopen after only a week became a waiting game as the track – and the state – remained dark. With Liberty Bonds and the juvenile championship on the line, Colonel Winn rescheduled the race for October 28, confident that the state of Maryland would lift its ban on public gatherings by then.
By October 25, the pandemic seemed to be abating, the number of cases reduced to a more manageable number. The Board of Health lifted the ban on public gatherings and thus racing could resume, with plenty of time to finish Laurel's meet before Pimlico's began. Though the Spanish flu was still present and more outbreaks were to come, Mid-Atlantic racing was back to business the next day, October 26, with an eight-race card with five stakes races to entice patrons to the track once more.
A fully recovered Earl Sande guided the plain brown gelding Billy Kelly out onto the Laurel oval on a sunny Monday afternoon, as scheduled. Standing next to them at the barrier was Eternal with Andy Schuttinger on his back, poised to duel Billy Kelly for the title of best two-year-old of 1918.
The track was packed with a crowd of 10,000, covering every available inch of the grandstand and clubhouse and then spilling onto the lawn. They watched the two jockeys engage in a battle of tactics, as Schuttinger and Eternal boxed Sande and Billy Kelly in, preventing the gelding from passing his rival. In the stretch, Sande drove Billy Kelly hard, gaining momentum as they worked to catch up to and then pass his rival. That drive was a little too late: Eternal flashed under the wire a head in front, the crowd throwing hats and coats and blankets in the air in celebration of the performance they had just witnessed.
With the worst days behind them, Maryland racing returned to normal: Laurel closed as planned on October 31. Pimlico and then Bowie picked up where Laurel left off with their scheduled November meets. Mid-Atlantic racing had already survived an epidemic of legislation that tried to end horse racing in the United States; the Spanish flu pandemic might have forced the sport to stop temporarily, but, within days, it returned to business, a beacon of normalcy in a time of uncertainty.
On November 11, 1918, the Armistice ending the Great War's hostilities went into effect, with the Treaty of Versailles formally ending the conflict a year later. Returning American soldiers would bring the Spanish flu home again, causing another widespread outbreak in the spring of 1919. This next epidemic would bring more sickness and death to the United States, but it would not force another interruption to horse racing.
As we face another interruption to our sport in 2020, we see from the news of 1918 that life – and racing – will return to normal eventually, the persistence of the horse racing community in the Mid-Atlantic key to the sport's survival each time we face a challenge. As we shelter in place and face questions about when daily life will return to normal, we know that racing at Monmouth and Delaware Park, Pimlico and Charles Town will return again: it's simply a matter of when.
FOR MORE INFO…
How New York survived the great pandemic of 1918, New York Times, March 20, 2020
Influenze Encyclopedia, Baltimore, MD
How American racing survived the 1918 Spanish flu epidemic, Thoroughbredracing.com
1918 Influenza Epidemic: A United States timeline, American College of Emergency Physicians
Spanish flu, history.com, March 27, 2020
1918 Panedemic Influenza historic timeline, Centers for Disease Control and Prevention
PRINT SOURCES
"Babe Ruth Has 'Spanish' Flu." Philadelphia Inquirer, October 17, 1918.
"Billy Kelly – Eternal: Special Race Postponed to Monday, Oct. 28." Daily Racing Form, October 20, 1918.
"Billy Kelly Is Beaten." Daily Racing Form, October 29, 1918.
"Current Notes of the Turf." Daily Racing Form, October 6, 1918.
"Eternal Is Crowned King Two-Year-Old of America." Washington Herald, October 29, 1918.
"Exterminator Defeats Star Racers." Daily Racing Form, October 9, 1918.
"Good News from Maryland." Daily Racing Form, October 25, 1918.
"Great Crowd at Laurel." Daily Racing Form, October 27, 1918.
"Improvement in Maryland." Daily Racing Form, October 16, 1918.
"Laurel Meeting Resumed." Daily Racing Form, October 26, 1918.
"Laurel Racing Suspended." Daily Racing Form, October 13, 1918.
"Laurel Racing to Go On." Daily Racing Form, October 12, 1918.
"Laurel to Run All Stakes." Daily Racing Form, October 18, 1918.
"Ross and M'Lean Colors Hold Limelight at Laurel." Washington Herald, October 27, 1918.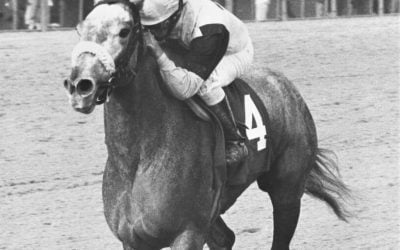 In a new BackTracks: NJ-bred Missy's Mirage became one of trainer Allen Jerkens' favorites, a gray filly who "got the job done."