BackTracks: Susan's Girl worth a million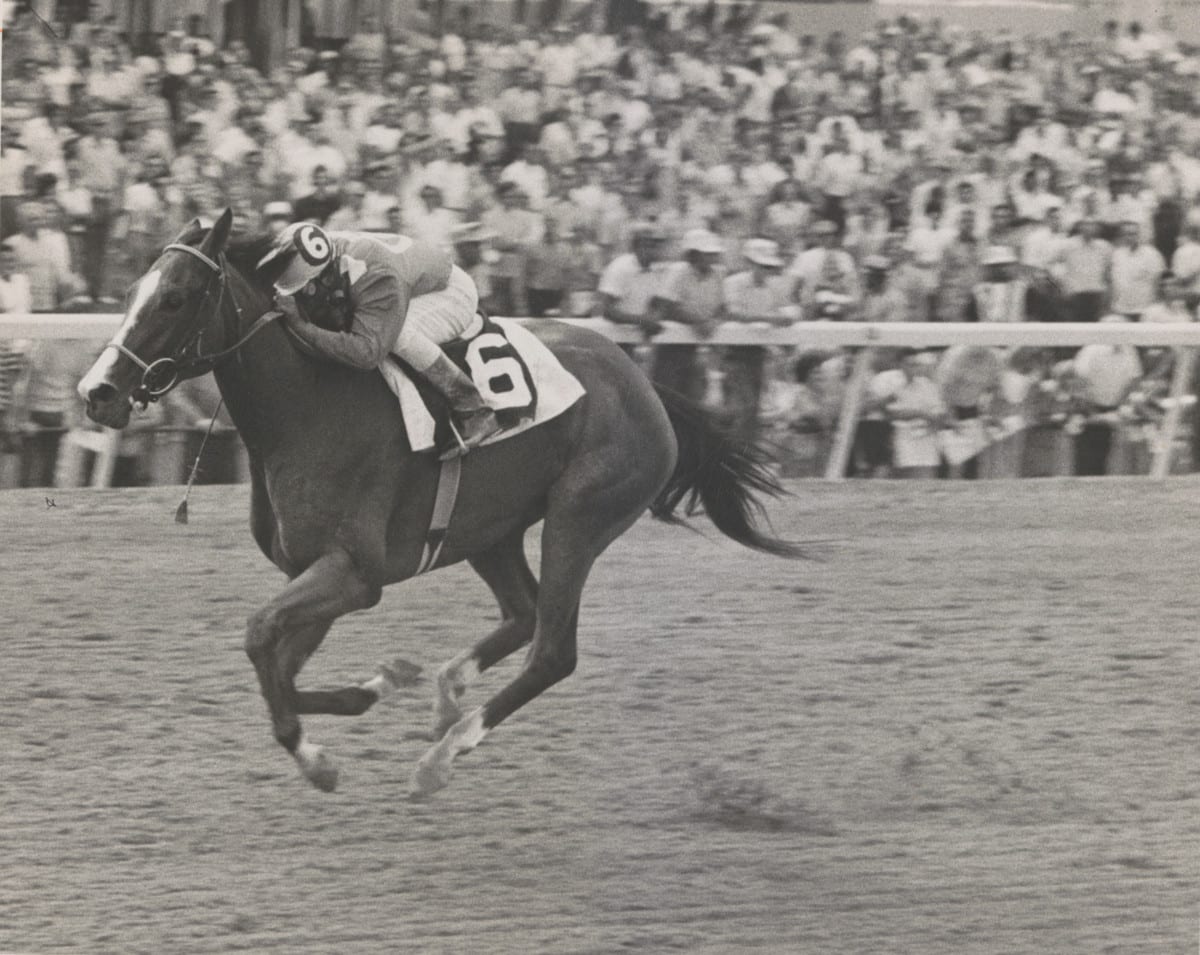 Susan's Girl won the Cotillion at Liberty Bell Park in 1972. Photo Keeneland Library Thoroughbred Times Collection. This image is protected by copyright and may not be reproduced in print or electronically without written permission of the Keeneland Library.
A million dollars. 
In an era where a horse can win that much in just one race, that number might not seem awe inspiring, yet once it was a milestone that garnered headlines. The first horse to win a million dollars in their career was Citation, America's eighth Triple Crown winner who needed four racing seasons and forty-five starts to hit that seven-figure mark. 
By the mid-1970s, no Thoroughbred filly or mare had won a million dollars, but the middle years of the decade would see the battle for that million-dollar mark come down to three fillies: Dahlia and Allez France, both of whom had raced primarily in Europe, and Susan's Girl, the 1972 Kentucky Oaks winner and bicoastal champion. Owned by a man with a uniquely American story, Susan's Girl dominated her division for multiple seasons, winning races like the Delaware Handicap and amassing a record-breaking fortune.
Any story about Susan's Girl has to start with her breeder and owner, Fred W. Hooper. A Renaissance man of sorts, Hooper embodied the hardiness and adaptability needed to survive the first part of the 20th century. Born in rural Georgia, Hooper grew up on a farm and developed a penchant for horses and hard work, saying in a 1982 Thoroughbred Record interview, "I've been a planner and a worker ever since I was about 12 years old. […] It's been incredible, but I've always done what I wanted to do. And I've done it just a little bit better than anybody else." 
He turned a train car full of wild horses into usable work horses for the farm. He tried his hand at barbering and farming his own land, eventually starting his own construction company after landing a road construction job despite having no experience. In the late 1930s, he bought some land outside of Montgomery, Alabama and ultimately decided that he wanted to breed Thoroughbreds. That work ethic that had led him to construction brought him even more success as a breeder.
The first horse he bought at his first Keeneland sale was a Sir Gallahad III colt he named for his son Fred Hooper, Jr. That colt, Hoop, Jr., went on to win the 1945 Kentucky Derby before bowing a tendon during the Preakness Stakes and never racing again.
BackTracks:
Midlantic Racing Legends
Our years are defined by great horses. We remember their names, marking our milestones by the dates that these equine heroes raced into our heads and our hearts. Our slice of history is limited by the boundaries of our own lifetimes; the horses that raced earlier, the ones that left impressions on the generations before us, can elude our attention unless another thread pulls us in that direction. These are their stories.
Got a horse you'd like to learn more about? Let us know!
Hooper continued frequenting yearling sales and buying horses to race and breed until he built a stable with enough stallions and broodmares to race his homebreds. In the mid-1960s, he moved his breeding stock from Alabama to Florida, establishing Circle H Farm in the same area as Tartan Farms and other Sunshine State operations. 
In 1946, Hooper ventured down to South America and purchased a horse named Quibu, a stakes winner in both Argentina and Uruguay. Quibu raced unsuccessfully here in the United States, but, as a sire, he produced Quaze out of the Hooper homebred mare Heavenly Sun. Quaze finished second in the 1960 Kentucky Oaks, beaten a nose by winner Make Sail. Then, as a broodmare, Quaze foaled winners by stallions like Admiral's Voyage, another Hooper homebred.
When she visited Belmont Stakes winner Quadrangle, that pairing produced something special.
At the time, Quaze was owned by Hooper's wife, Laura, but Mrs. Hooper died in March 1969, only a couple of weeks before Quaze's foal was due. Fred, Jr. inherited the mare and thus her foal by Quadrangle, born March 23, 1969. When it came time to name this filly, a product of Quadrangle and Quaze and damsire Quibu, Fred, Jr. of course named her Susan's Girl, after his wife.
Uninterested in racing, Fred, Jr. sold Susan's Girl to his father for $25,000 and half her earnings at age two. At that price, Susan's Girl soon became an even bigger bargain than Hoop, Jr. had proven to be twenty-five years earlier.
SUSAN'S GIRL EMERGES
At age two, Susan's Girl started her career in New York, breaking her maiden by four lengths in only her third start. After one more win in an allowance race, trainer Jimmy Picou took her to Liberty Bell Park in northeastern Philadelphia for the Signature Stakes at six furlongs. Susan's Girl lingered at the back of the pack until the stretch, when jockey Don Brumfield took her to the outside and let her fly. She caught the front-running Hempen's Song in the last furlong, drawing away to win by five lengths.
In only her fifth start, Susan's Girl had logged her third win and her first stakes win. In her next race, though, she would meet another filly who would contend for the year's two-year-old championship.
After winning her first three races, including the Fashion and Schuylerville Stakes, Numbered Account met Susan's Girl for the first time in the six-furlong Adirondack Stakes at Saratoga. Both were carrying the highest weight in the race, 122 pounds, and both were beaten by a lighter-weighted long shot, Debby's Deb, with Numbered Account finishing third and Susan's Girl finishing fifth. The two would meet again in the Frizette in October.
Numbered Account was a filly from the first crop by the celebrated runner Buckpasser and out of the mare Intriguing. Both Buckpasser and Intriguing were Ogden Phipps homebreds.
Between the Adirondack and the Frizette, Numbered Account won two more stakes races, and Susan's Girl won the Algonquin after finishing fourth in the Astarita. Their next meeting meant that one would lay claim to the two-year-old filly championship for 1971.
At a mile, the Frizette had celebrated past winners like Cicada and Bowl of Flowers, both also named champions of their division in their two-year-old years. The field included two others, but the focus was all on the daughters of Buckpasser and Quadrangle. Jockey Jorge Velasquez put Susan's Girl on the lead after the break, with Barely Even in second. Numbered Account sat behind them in third, potentially trapped behind horses. When a hole opened up on the final turn, jockey Braulio Baeza moved Numbered Account into that space and then past the leaders. She pulled away to win by seven lengths with Susan's Girl finishing second.
The two met again in the Gardenia Stakes, a mile-and-a-sixteenth test at Garden State Park in New Jersey. Again, Susan's Girl took the lead at the start, but jockey Walter Blum allowed Bold Royal to take a short lead on the first turn. Numbered Account ran toward the back of the field, with Baeza waiting until the final turn to send her for the lead. About that same time, Susan's Girl started her move for the lead, jetting out to a five-length lead, but Baeza was moving his filly along on the rail. With a furlong to go, Numbered Account was only a head behind Susan's Girl. By the wire, Numbered Account had passed Susan's Girl to win by almost three lengths, with Hooper's filly gamely holding on to second place. The Gardenia would be their last meeting of 1971.
At year's end, Numbered Account would win the Eclipse Award for Best Two-Year-Old Filly. Susan's Girl would finish her season with a win in the Villager Stakes at Liberty Bell the day after Thanksgiving and then ship out to California for the winter, with a target of the January filly stakes at Santa Anita to start her 1972 season.
GIRL ASCENDANT
The new year came with a new set of races to tackle and new opportunities to prove just how good this daughter of Quadrangle could be. She showed her versatility out in California, by winning the six-furlong Pasadena Stakes, the seven-furlong Santa Ynez Stakes, and then the mile-and-a-sixteenth Santa Susana Stakes, all by multiple lengths. She headed back east in April, landing at Churchill Downs for the La Troienne Stakes, a seven-furlong test just days before the Kentucky Oaks on May 5.
In the La Troienne, Susan's Girl had no trouble beating a field of seven other fillies, including Barely Even and Hempen's Song, running mid-pack early in the race and then taking the lead with ease to win by almost two lengths. The next day, columnist Mike Barry called Susan's Girl "something special. Goodness, what a filly she is. The way she coasted home over a running gal like Barely Even made you wonder why they're going to bother to run the Oaks next Friday."
Indeed, the mile-and-a-sixteenth Kentucky Oaks became another show for Hooper's filly. Susan's Girl took the lead a half-mile into the race, pulling away from the field on her own, needing no urging from her jockey Victor Tejada. She opened a nearly two-length lead, holding off Barely Even's late run to win the Oaks with ease. Fred Hooper was there to see his Susan's Girl win that filly classic, and trainer John Russell shared their plans for her next few starts, including a pursuit of the filly Triple Crown, the Coaching Club American Oaks, the Acorn Stakes, and the Mother Goose Stakes – and maybe another meeting with Numbered Account.
In the Acorn Stakes at Aqueduct, Susan's Girl set a stakes record for the mile, winning easily to score her seventh straight stakes victory. Two weeks later, she came in second in the nine-furlong Mother Goose Stakes, losing to Wanda by a neck. In mid-June, Wanda and Susan's Girl both finished behind winner Summer Guest in the Coaching Club American Oaks, the mile-and-a-half final jewel in the filly Triple Crown.
Russell sent Susan's Girl west for two stakes at Hollywood Park, but she finished second and third in those, her months of racing and training starting to catch up with Susan's Girl. In July, on her way back east for Saratoga, a stop at Liberty Bell saw Susan's Girl win the Cotillion by 4½ lengths.
But Russell knew she needed a break. Susan's Girl had made 11 starts by the end of July, and he persuaded Hooper to allow her a freshening at Saratoga before heading back to Belmont for the Beldame.
Russell put Susan's Girl in the nine-furlong Gazelle Handicap in preparation for the Beldame in mid-September. With Tejada unavailable, she had a new jockey, Laffit Pincay, Jr., a young Panamanian rider who would count Susan's Girl among his early stakes winners.Under Pincay, she cruised to victory in the Gazelle in another stakes record time, showing that the time off in Saratoga had done her a world of good. She would need all of that renewed vigor in the Beldame, which fast developed into a classic confrontation between champions.
The Beldame Handicap was another 1 1/8-mile test for Susan's Girl, but this time she was running outside of her division, competing with older fillies and mares, a deep and accomplished field. The three-year-olds included her old nemesis Numbered Account and Summer Guest, who had beaten Susan's Girl in the Coaching Club American Oaks and then won the Alabama Stakes at Saratoga as her follow-up.
The older horses included Typecast, a six-year-old mare who had won a number of handicaps out in California; Laurie's Dancer, Canada's Horse of the Year; Manta, another excellent California handicapper; Sea Saga, a Virginia-bred handicap winner who had never been out of the money; Chou Croute, who would go on to be 1972's champion sprinter; and Blessing Angelica, winner of consecutive Delaware Handicaps. All of the older horses were to carry 123 pounds, while the three-year-olds would carry 118 pounds.
Susan's Girl drew the third post position, with Numbered Account on her left and favorite Summer Guest on her right. At the break, the field jumped out of the gate as one, Blessing Angelica grabbing the lead with Susan's Girl, Chou Croute, and Typecast just behind her. Chou Croute moved to the front as they entered the far turn, with Susan's Girl moving with her, hanging just off of her in second place. As they swung into the stretch, Pincay moved Susan's Girl to the rail and gunned her for the front. Summer Guest attempted to challenge on her outside, forced to run wider than she would have liked as a tiring Numbered Account had run out of steam in that stretch run. In those waning yards to the wire, Susan's Girl jumped a piece of paper on the track, jostling Pincay, who lost a stirrup in the process but still held on for the victory. After all of that, Susan's Girl took the Beldame by a length in stakes record time, sealing the three-year-old championship for 1972.
That race was Susan's Girl's last of the year. She finished her season with nine wins, two seconds, and two thirds in her 13 starts. Russell sent her back to California for the winter, with the intention of repeating her success in her previous jaunt out west.
QUEEN OF HER SCENE
To open 1973, Susan's Girl tried racing against the boys in the Malibu and San Fernando Stakes, finishing fifth in both. She then won Santa Anita's trio of races for fillies, much like she had in 1972, before four straight handicaps at Hollywood Park. In those, she was not able to score a victory, her tough early campaign and the weight concessions she had to make taking their toll. After her West Coast swing, Russell shipped her back to Saratoga for a month off, with a target of the mile-and-a-quarter Delaware Handicap. To prepare, Susan's Girl took a side trip to Liberty Bell Park for the Susquehanna Handicap.
On her fourth trip to Liberty Bell, she scored her fourth victory at the north Philadelphia racetrack, giving weight to every other filly in the race and still winning easily.
A week later, Susan's Girl faced five others, including Summer Guest and Blessing Angelica, in the Delaware Handicap. She was the top weight of 127 pounds, giving as much as ten pounds to the other starters. At the start, she broke from the outside, in post position six, Pincay content to let her sit toward the back of the pack for the first mile. In the stretch, with two furlongs to go, Susan's Girl and Summer Guest bore down on the leader Light Hearted, passing her with a furlong to go. With only a furlong to go, the two fillies dueled for the lead, with Susan's Girl, carrying five more pounds, fighting for every inch. As they hit the wire, Hooper's filly was a neck in front, winning the Delaware Handicap in 2:00 3/5, one-fifth of a second off the track record.
Sherman Tribbitt, governor of Delaware, presented the trophy to Fred Hooper and a tearful John Russell, who had taken a job training for the Phipps family. This was his last race with Susan's Girl. Chuck Parke took over training for Hooper, who employed a number of trainers over his time as an owner.
After the DelCap, Susan's Girl tried to repeat in the Beldame, but finished third to Desert Vixen and then was third again in the Matchmaker. She finished out her 1973 season at Keeneland with a victory in the Spinster before being named Outstanding Older Female at the Eclipse Awards the following January.
Over her three seasons of racing, Susan's Girl had logged 40 starts with 20 wins, nine seconds, and five thirds; her career winnings of $843,658 meant she was second only to champion mare Shuvee, who had amassed $890,445 in her four seasons. Hooper admitted he wanted his champion filly to hit $1,000,000 in career earnings before retiring her.
Much like her three- and four-year-old seasons, Susan's Girl started 1974 in California in a succession of filly and mare handicaps. While she finished in the money in two of them, it was clear that the now five-year-old mare was compromised. After a fifth-place finish in the Santa Maria Handicap, trainer Chuck Parke discovered a chipped bone in her left foreleg, the kind of that injury usually ends a career.
Susan's Girl was sent to Kentucky to equine surgeon Robert Copelan, who removed three chips from that foreleg. Her recovery was spent in Florida at Hooper's Circle H Farm, where she would swim in a nearby lake to help her recovery and maintain her fitness. In late October, she was back under the Hooper red and blue colors at Churchill Downs, winning her comeback allowance race by a half-length. She followed that up with a win in the Falls City Handicap by a nose before shipping out to California for the winter once again. Hooper had his eyes on a million dollars and bet that Susan's Girl could do it in one more season of racing.
INJURY, COMEBACK, AND THE QUEST FOR SEVEN-FIGURES
Fred Hooper had intended to keep Susan's Girl in training to become the first female horse to hit the seven-figure milestone. But 1974 had not been her year, her injury keeping her off the track for much of the year; her late return meant that she was not able to pass that milestone.
In her absence, Dahlia and Allez France, both of whom raced primarily in Europe, became millionaires, beating Susan's Girl to the punch. Hooper did not waver from his goal: he wanted her to become the first North American filly or mare to pass $1,000,000 in career earnings. In 1975, she would do just that.
She started the year in California with in-the-money finishes in three of Santa Anita's distaff handicaps. Then she took a brief detour to Arkansas's Oaklawn Park for the Apple Blossom Handicap. The Apple Blossom was in its second year, with a distance increase from six furlongs to a mile and 70 yards and $50,000-added purse. Even though Susan's Girl came in with the reputation of a multi-year Eclipse champion, arguably still the best of her division, ten other horses still challenged her, including Honky Star, who had won the Monmouth Oaks and the Cotillion the year before. Susan's Girl carried the highest weight, 124 pounds, giving as much as sixteen pounds to her competition. None of that mattered.
From the outside post, Susan's Girl broke alertly and took a position behind the front runners in third, stalking them until the final turn. As the field came into the stretch, Susan's Girl hit the accelerator, taking the lead and winning by three-and-a-half lengths. The Apple Blossom was her first victory of the year, bringing her career earnings to $961,937, so tantalizingly close to that million dollar mark.
She headed back to California and Hollywood Park, where she won one of her five starts. In her last start at Hollywood Park, the Wiltshire Handicap, Tizna passed Susan's Girl just strides from the wire to win by a head, but Hooper's mare scored a victory nonetheless: with that second-place finish, she passed the $1,000,000 mark, the first filly or mare exclusively racing in North America to win that much money. With that, she had achieved Hooper's ultimate goal.
And she wasn't done yet.
After a win in the Matchmaker at Atlantic City, Susan's Girl made her way back to Delaware Park for another try at the Delaware Handicap, a race she had won after a stretch duel with Summer Guest two years earlier. This trip to Delaware would be her last, as Hooper had plans to retire her after two or three more starts. "She is the best mare I have ever owned," he said of his daughter of Quadrangle, "and, I think, the best that has ever run."
She showed that once again in the Delaware Handicap, breaking first from the gate, but content to sit off the lead after ceding it to Twixt. With three furlongs to go, jockey Ray Broussard moved her to the front, where she rebuffed a mild challenge from Raisela and pulled away to win by three lengths.
Broussard, substituting for an injured Laffit Pincay, Jr., gushed about his champion mount: "She's a gorgeous animal to look at and a pleasure to ride. She'll do anything you ask her."
With the win, Susan's Girl joined a short list of prior two-time DelCap winners: Endine, Obeah, and Blessing Angelica.
A month after the DelCap, Susan's Girl followed up her repeat victory in that race with a third-place finish in the Maskette in preparation for the 1 1/8-mile Beldame.
This time, she faced her Beldame rivals on more equal footing, with the older fillies and mares carrying 123 pounds and the three-year-olds carrying 118 pounds. From her outside post position, Susan's Girl grabbed the lead at the start and kept it until the field entered the stretch. Pink Tights snuck up on the rail to take a short lead, but both Susan's Girl and Tizna pulled even with her, running three across in mid-stretch. With a furlong to go, Tizna pushed ahead for the lead for a beat, but Susan's Girl came back as Pink Tights fell back.
At the wire, Susan's Girl had a neck in front of Tizna, but the outcome was in doubt when Tizna's jockey Laffit Pincay, Jr. claimed a foul for interference against Braulio Baeza on Susan's Girl. The stewards took ten minutes to resolve the foul, ultimately ruling that there was no interference in that tight stretch run. With that, Susan's Girl had claimed her second Beldame and moved to eighth on the all-time earnings list.
Next, Susan's Girl returned to Keeneland for another win in the Spinster Stakes — the final victory of her career.
In 1975, after missing most of the prior year with injury, Susan's Girl repeated victories in the Delaware Handicap, the Beldame Stakes, and then the Spinster Stakes on her way to what was surely going to be another Eclipse Award for Older Filly or Mare.
In November, Susan's Girl headed back to Aqueduct for two more starts, in the Ladies and Berlo Handicaps. She came in third in both, behind winners Tizna and Costly Dream, both horses she had beaten previously. With that, Fred Hooper decided to call it a career for his champion mare, a decision he had been putting off.
As Teddy Cox put it in the Daily Racing Form, "Hooper is in love with Susie. On several occasions, he has tried to work up enough courage to send her away to retirement."
Susan's Girl won her third Eclipse Award, her second for Older Filly or Mare, for her 1975 campaign and then was inducted into the National Museum of Racing and Hall of Fame the following year.
Finally, both Susan's Girl and Fred Hooper seemed ready for the next phase. At the end of her racing days, Susan's Girl had amassed 63 starts with 29 wins, 14 seconds, and 11 thirds and career earnings of $1,251,667. She was the first distaff millionaire in North America and Hooper's most accomplished horse to that point. Based on her win in the Matchmaker Stakes, Hooper had the option of sending her to Secretariat for her first cover, but he opted to send another mare instead. Rather, Susan's Girl's first foal was a filly by Daryl's Joy, a New Zealand-bred stakes winner in his home country, Australia, and the United States.
Mares that are great on the racetrack may not always be able to duplicate that same success in the breeding shed. Susan's Girl, though, bucked the odds and produced three stakes winners from eleven foals, including Copelan, named for the surgeon who repaired that chipped bone in her foreleg. She lived out her days on Hooper's Circle H Farm near Ocala, Florida and was buried there after her death at age 19 on October 18, 1988.
Fred Hooper had scored a Kentucky Derby with the first horse he purchased, Hoop, Jr. taking home the roses in 1945. He had had plenty of wins since that Cinderella start, with a long list of stakes winners, many of whom were homebreds, in his nearly six decades in the sport of kings. He even won another Kentucky Oaks, this time with Quaze Quilt, a half-sister to Susan's Girl. Before his death in 2000 at the age of 102, Hooper had another champion, Precisionist, who won the 1985 Breeder's Cup Sprint and the Eclipse Award for Champion Sprinter that same year. Precisionist retired with earnings of more than $3.4 million.
Hooper's horses wore roses, won awards, and helped make this son of Georgia farmers a legend in American racing in the 20th century. Of the horses to wear the Hooper red and blue, Susan's Girl stands at the top and was one of the best of the 20th century. A Kentucky Oaks winner who could run on the lead or from behind, at six furlongs or ten, she was Hooper's most versatile racer, a record breaker who was literally worth a million dollars.
FOR MORE INFO…
PRINT SOURCES
Bowen, Edward L. Legacies of the Turf: A Century of Great Thoroughbred Breeders Volume II. Lexington, KY: Eclipse Press, 2004. 65-76.
Editors of the Daily Racing Form. Champions: The Lives Times, and Past Performances of the 20th Century's Greatest Thoroughbreds. New York: Daily Racing Form Press, 2000. 286-287.
Writers of The Blood-Horse Magazine. Thoroughbred Champions: Top 100 Racehorses of the 20th Century. 150-151.
Adair, Bob. "It's Costly Dream Over Susan's Girl; Twins Tap Mauch." Louisville Courier-Journal. November 25, 1975.
Anzer, Bill. "Susan's Girl Near Record." Cincinnati Enquirer. November 10, 1974.
Barry, Mike. "A Near Miss in the Daily Double Buy Cup of Coffee with 15 Cents." Louisville Courier-Journal. April 30, 1972.
Bolus, Jim. "Hooper's Injured Mare Kept in Shape with Daily Swimming." Louisville Courier-Journal. October 30, 1974.
Bolus, Jim. "Jockey Tejada Misses Plane, But Susan's Girl Atones for It." Louisville Courier-Journal. April 30, 1972.
"Costly Dream Takes Feature at Aqueduct." Central New Jersey Home News. November 25, 1975.
"Deceit Captures Matchmaker Stakes." Hartford Courant. October 12, 1971.
Evans, Luther. "Susan's Girl Put in Retirement – But She's Been There Before." Miami Herald. November 28, 1975.
"Favored Susan's Girl Takes Oaks by Length." Messenger-Inquirer (Owensboro, KY). May 6, 1972.
Feldner, Karl. "Susan's Girl Near Record in Delaware 'Cap Victory." Morning News (Wilmington, DE). August 13, 1973.
Feldner, Karl. "Susan's Girl Routs Delaware 'Cap Foes." Morning News (Wilmington, DE). August 11, 1975.
Feldner, Karl. "Susan's Girl Turns Tiger." News Journal (Wilmington, DE). August 11, 1975.
Feldner, Karl. "Susan's Girl Top Filly After 'Cap Win." Morning News (Wilmington, DE). August 13, 1973.
Gary, Jr., Marvin N. "Versatile Susan's Girl seeks Spinster." Louisville Courier-Journal. October 25, 1975.
Gary, Jr., Marvin N. "Susan's Girl Takes Rich Spinster Again." Louisville Courier-Journal. October 26, 1975.
Harris, Russ. "Numbered Account Takes Gardenia Stakes By 2¾." Philadelphia Inquirer. November 7, 1971.
Harris, Russ. "Susan's Girl Wins Susquehanna for 4th Bell Victory." Philadelphia Inquirer. August 5, 1973.
Harris, Russ. "Susan's Girl Wins in Romp, Substitute Jockey Cashes In." Philadelphia Inquirer. November 26, 1971.
Harris, Russ. "Susan's Girl Wins By 5 at Bell In Stake Debut." Philadelphia Inquirer. August 8, 1971.
Joseph, Dave. "Precisionist Giving Hooper Some Hope for the Future." South Florida Sun Sentinel. November 4, 1988.
Klessel, Steve. "Seconditis Cured." Philadelphia Daily News. November 26, 1971.
Klessel, Steve. "Susan's Girl Shows She Quite a Gal at DelPark." Philadelphia Daily News. August 13, 1973.
McCulley, Jim. "$17 Wanda Cops Mother Goose." Daily News (New York, NY). May 28, 1972.
McCulley, Jim. "Gazelle to Susan's Girl By 1½." Daily News (New York, NY). September 3, 1972.
McCulley, Jim. "Numbered Acc't 1st By 7 in Frizette." Daily News (New York, NY). October 12, 1971.
McCulley, Jim. "Summer Guest Wins Oaks By 4." Daily News (New York, NY). June 18, 1972.
McCulley, Jim. "Susan's Girl Takes Acorn By 2½, Her Seventh Victory in a Row." Daily News (New York, NY). May 14, 1972.
McCulley, Jim. "Susan's Girl By 1; She's Champ." Daily News (New York, NY). September 10, 1972.
Overpeck, Keith and Don Snider. "Colonels to Face McGinnis, 76ers; Frostbite 50 Set at Salem Sunday." Louisville Courier-Journal. October 17, 1975.
Ruehling, Mike. "Susan's Girl Trainer Says She Should Whip Oaks Field." Louisville Courier-Journal. May 5, 1972.
"Summer Guest Heads Beldame." Poughkeepsie Journal (Poughkeepsie, NY). September 9, 1972.
"Susan's Girl 2nd, But Wins Million." York Daily Record (York, Pennsylvania). June 23, 1975.
"Susan's Girl by 3½ in Matchmaker." Central New Jersey Home News. July 29, 1975.
"Susan's Girl, Intrepid Hero Come Through." Louisville Courier-Journal. September 21, 1975.
"Susan's Girl May End Race Career." Orlando Sentinel. February 20, 1974.
"Susan's Girl Nips Tizna in Rich Beldame Stakes." Atlanta Constitution. September 21, 1975.
"Susan's Girl Sets Aqueduct Stakes Record." Daily Times (Salisbury, Maryland). May 14, 1972.
Ward, Gene. "Susan's Girl Thrills in Beldame." Daily News (New York, NY). September 21, 1975.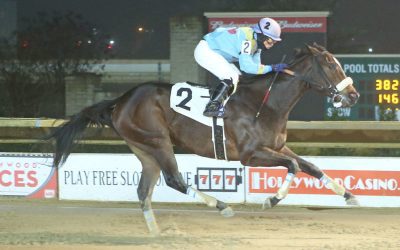 Chromatic Lass got a belated start to her career, but she's opened some eyes with back-to-back dominant scores at Charles Town Races.