BackTracks: Concern from out of the clouds
The term closer, according to the Daily Racing Form, refers to "a horse who runs best in the latter part of the race, coming from off the pace." Deep closers are the kind who linger at the back of the pack, so far off the pace that you start walking toward the trash can because that bet you just made is surely a loser.
But right as you're on the precipice of chucking that ticket, that horse comes from "out of the clouds" to eke out the victory with a flourish, the wind from their stretch run blowing your hand back from trashing the winning ticket.
The names of deep closers live on because of their hair-raising, just-in-time victories.
Names like Zenyatta and Silky Sullivan. And Concern, a Maryland-bred owned by Robert Meyerhoff and trained by Dickie Small.
Painted with a Broad Brush
The Meyerhoff brothers, Robert and Harry, had their own racing stables, each sporting champions of their own. Of course, Harry's best was the legendary Spectacular Bid, the 1979 Kentucky Derby and Preakness Stakes winner and Horse of the Year in 1980.
For Robert, Broad Brush, the steely son of champion sprinter Ack Ack, had been his closest brush with Triple Crown wins, finishing third in the 1986 Kentucky Derby and Preakness Stakes before going on to win a wild Pennsylvania Derby at age three and then the Santa Anita Handicap at age four. From Meyerhoff's pairing of his great Broad Brush with Test Stakes winner Fara's Team came Concern, a plain bay colt who seemed to specialize in crazy finishes like his sire.
At two, Concern ran primarily in Maryland and Pennsylvania, trainer Dickie Small waiting until mid-August 1993 to send the Broad Brush colt to the gate for the first time. Concern ran toward the back of the pack, his preferred running style, for most of the race, but did not display enough closing kick to factor, finishing seventh.
BackTracks:
Midlantic Racing Legends
Our years are defined by great horses. We remember their names, marking our milestones by the dates that these equine heroes raced into our heads and our hearts. Our slice of history is limited by the boundaries of our own lifetimes; the horses that raced earlier, the ones that left impressions on the generations before us, can elude our attention unless another thread pulls us in that direction. These are their stories.
Got a horse you'd like to learn more about? Let us know!
He broke his maiden six weeks later, starting slow but finishing fast to win by four lengths. That was his lone victory at two, though he did finish in the money in four others.
One of the perils of being a deep closer is that sometimes a horse runs out of space.
His proclivity for that sort of finish was on full display in the Arkansas Derby, as Small pointed three Meyerhoff colts toward the Triple Crown races in 1994. Concern had finished second in the Rebel Stakes three weeks earlier, a race that his rider for the Arkansas Derby, Garrett Gomez, watched tapes of prior to that Oaklawn prep for the Kentucky Derby.
Gomez "knew he [Concern] liked to be well off the pace" in his races, so it was unsurprising that Concern was last, fifteen lengths behind the leader (and eight behind his nearest rival) after a swift opening quarter-mile in the the Arkansas Derby. By the middle of the final turn, though, Gomez could tell that the Broad Brush colt had plenty left to make a run at the lead. Running down the middle of track, Concern's stretch run brought him from fifth to first in what seemed like a flash, sticking a neck in front of Blumin Affair at the wire.
Finished with a Flourish
Small felt like the Kentucky Derby, two weeks hence, was too soon for Concern so they skipped the trip to Louisville to return to Maryland for the Preakness Stakes. Much like his sire, Concern finished third at Pimlico, behind Tabasco Cat and Go for Gin, the Kentucky Derby winner.
Tabasco Cat would go on to win the Belmont Stakes, too, while Concern would follow the Preakness by finishing second or third in six more stakes races, including the Grade 1 Travers Stakes.
In that Travers Stakes, Haskell winner Holy Bull had endured a fast early pace to take the lead while Concern waited until the far turn to make his run at the steel gray colt. As Jerry Bailey and Concern bore down on Mike Smith and Holy Bull, the tenor of race caller Tom Durkin's voice rose higher and higher. With the ground between the Bull and the wire waning, Concern came on with the ferocity characteristic of his late runs. Whenever Concern gained on him, though, Holy Bull fought back, keeping Concern at bay and winning by a short neck. It was another 17 lengths back to show horse Tabasco Cat.
"Everything fell into place, except what I need to win," Bailey said about the race. "My horse didn't hang back. He had a chance to go by him. I certainly never got in front of him. You need the horse in front of you to yield a bit. How fast can you expect a horse to run?"
Concern followed his Travers runner-up performance with in-the-money finishes in the Molson Million at Woodbine and the Super Derby at Louisiana Downs. After the Travers, Small and Meyerhoff had started talking about the Breeder's Cup Classic for Concern, and the colt's performances in the Molson and the Super Derby did not shake that ambition.
They entered Concern in the 1994 Breeder's Cup Classic, where he was joined by a galaxy of stars. The field of fourteen included Derby winner Go for Gin; Tabasco Cat, Preakness and Belmont champion; Best Pal, a star of the older horse division; and Bertrando, 1993's champion older horse. The Classic featured the best that 1994 had to offer, save for Holy Bull, who opted to skip the Breeder's Cup in favor of a layoff after a tough season.
Was Concern concerned? Not in the slightest.
Saving the Best for Last
At the start, Bertrando snagged the lead, with Dramatic Gold and Go for Gin just behind him. By the half-mile mark, with Bertrando still on the lead, Tabasco Cat passed Go for Gin, poised to make his move when jockey Pat Day was ready. One mile in, Bertrando had given up the lead to Dramatic Gold, with Tabasco Cat just a half-length back.
As they jockeyed for position on the front end, Concern mounted that familiar drive from worst barreling toward first. He was last after a half-mile, then eleventh after three-quarters of a mile. In a field that featured the year's classic winners and older horses that had taken their fair share of Grade I stakes, could a deep closer like Concern make up that much ground?
As Tabasco Cat began to challenge Dramatic Gold for the lead, this "little fella," this son of a sire that had lugged out toward the outside rail and still won the Pennsylvania Derby, loomed out in the middle of the track. Closing relentlessly, Jerry Bailey and Concern passed Tabasco Cat to seal another victory by a neck.
"Did that really happen?" owner Robert Meyerhoff said afterward. Meyerhoff's Maryland-bred son of Broad Brush and Fara's Team had just delivered perhaps the state's biggest victory since Deputed Testimony won the Preakness Stakes in 1983. Concern had broken his string of seven consecutive losses in stakes races in spectacular fashion, coming "from out of the clouds" as Durkin exclaimed in the race's waning strides.
Concern came back at four to win the New Orleans Handicap and the Californian Stakes before finishing third in several Grade I races, including the following year's Breeder's Cup Classic. He retired at age five and stood stud in Maryland until 2003, when he was moved to Oklahoma to stand at the Oklahoma Equine Reproductive Center. Concern passed away in 2015 at age twenty-four. He was inducted into the Maryland Thoroughbred Hall of Fame in 2014, forever etching in stone the horse that trainer Dickie Small called "relentless," flying from the back of the pack to the front of the line just in the nick of time.
FOR MORE INFO…
PRINT SOURCES
Baker, Kent. "Concern, State's First $3 Million Winner, Retired." Baltimore Sun. December 9, 1995.

Bouyea, Brien and Michael Veitch. "Holy Bull." Travers: 150 Years of Saratoga's Greatest Race. China: Four Colour Print Group, 2019. 193-194.

Christine, Bill. "Late Arrival Is No Cause for Concern." Los Angeles Times. November 6, 1994.

Christine, Bill. "Will Concern Be Coming West to Race? It's a Small Concern." Los Angeles Times. December 24, 1994.

"Concern Captures Arkansas." Times Leader (Wilkes-Barre, PA). April 24, 1994.

Rees, Jennie. "Concern's Gritty Rush in the Stretch Edges Tabasco Cat for a Classic Win." Louisville Courier Journal. November 6, 1994.

"Concern Rallies to Win a Derby, Will Skip the Big One." Louisville Courier Journal. April 24, 1994.

Eisenberg, John. "Concern's Classic Win Is Cause for Maryland Celebration." Baltimore Sun. November 6, 1994.

Peddicord, Ross. "Meyerhoff Testing Trio's Mettle." Baltimore Sun. February 26, 1994.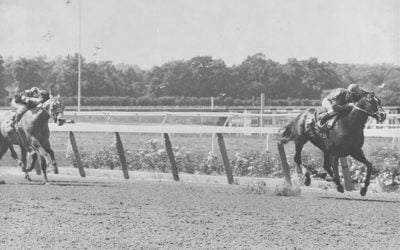 In a new BackTracks: Maryland-bred Star de Naskra gave owner-breeder Jiggs Lancaster his first stakes winner in a long career — and then a whole lot more.