BackTracks: Love Sign and the fabulous fillies of 1977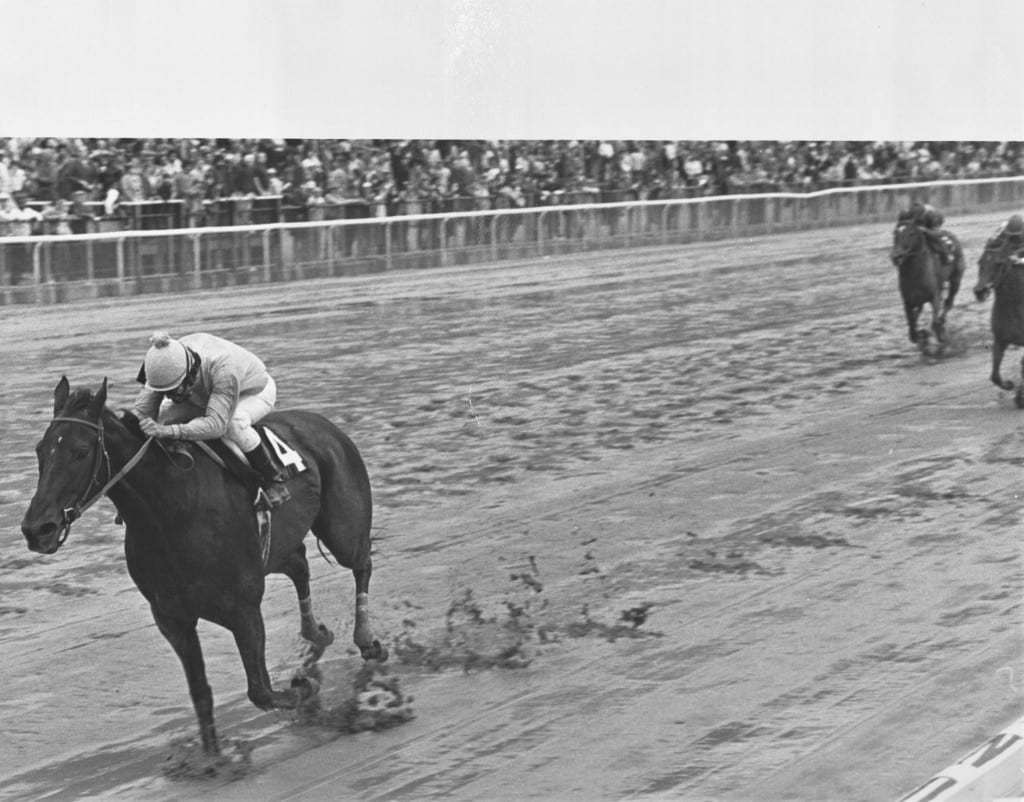 Love SIgn wins the 1982 Hempstead Handicap, which would prove to be the final graded win of her career. Photo Keeneland Library/Thoroughbred Times Collection.
In 1973, Lucien Lauren's barn was awash in Hall of Fame talent: Secretariat was bringing down the house with his record-breaking run through the American classics; his stablemate Riva Ridge had taken two-thirds of the elusive Triple Crown the year before, his four-year-old season brilliant with five victories in nine starts and four track records to boot. Alongside Riva and Big Red was Spanish Riddle, a son of Ridan who had transitioned from Triple Crown hopeful to consistent sprinter.
Spanish Riddle won five and finished second five times in his 20 starts at age three in 1972. In August, he won the Skidmore Stakes at Saratoga in a record 1:08 for the six furlongs. That record stood until 2019, when Imperial Hint lowered it to 1:07.92. A year after his record-breaking sprint, Spanish Riddle was back at Saratoga, working out on a sloppy track, his favorite surface, when the colt shattered his right front pastern. The injury meant the end of his racing career, but a deal for his stallion services was already in place; in an effort to save Spanish Riddle, once it became clear that his lower right leg was not viable, that area was amputated and a prosthesis put in its place. Spanish Riddle lived four more years after that surgery, standing for five seasons at the Virginia Stallion Station before dying of a heart attack in 1978. In his brief stallion career, the best horse this record-setting sprinted sired was a filly named Love Sign.
Her start in the world was rather inauspicious: Love Sign's dam Native Nurse seemed to have no interest in either racing, where she went 0 for 11 in her brief career, or breeding, where she proved rather difficult to get in foal. But Native Nurse had Ribot, Blenheim, and War Admiral in her pedigree so her owners Stephen Clark, Jr. and his wife Jane kept trying, keeping her close to home in Virginia in 1976. Her visit to Spanish Riddle produced Love Sign, a dark bay filly with wee bursts of white on her forehead. Like her sire, Love Sign would prove to be fast at short distances, but also able to hold her speed over longer ones, winning at distances from six furlongs to a mile-and-a-quarter.
Stephen, the great-grandson of Edward Clark, one of the founders of the Singer Sewing Machine Company, and Jane made their home in Virginia; they had a background in steeplechasing before becoming involved with thoroughbreds. They had also owned Hoist the Flag, 1970's Champion Two-Year-Old Colt who was the favorite for the 1971 Kentucky Derby until an injury ended his career.
BackTracks:
Midlantic Racing Legends
Our years are defined by great horses. We remember their names, marking our milestones by the dates that these equine heroes raced into our heads and our hearts. Our slice of history is limited by the boundaries of our own lifetimes; the horses that raced earlier, the ones that left impressions on the generations before us, can elude our attention unless another thread pulls us in that direction. These are their stories.
Got a horse you'd like to learn more about? Let us know!
Love Sign and the fabulous fillies of 1977
At Claiborne, Hoist the Flag would go on to become a champion sire and broodmare sire many times over. The Clarks also owned steeplechasers Amber Diver and Shadow Brook, the first Eclipse Award winner for steeplechasing in 1971. The Clarks partnered with trainer Sidney Watters, Jr., also a veteran of the jump scene. He trained Hoist the Flag and then, in 1979, he put the dark bay daughter of Spanish Riddle and Native Nurse on the track and patiently nurtured her into a consistent stakes winner.
A star emerges
The filly won her debut, a six-furlong maiden race, and then only one of her four remaining starts at age two, finishing fourth in both of her tries at stakes company. At the same time, two other fillies were going undefeated in their four starts at two: Genuine Risk, who beat Love Sign in the Tempted Stakes, and Bold 'n Determined, who won races on both coasts that year. All three fillies would meet in an epic Maskette Stakes the following year.
While Genuine Risk and Bold 'n Determined would go on to Louisville for their dates with Kentucky Oaks and Derby history, Love Sign waited until late May to make her 1980 debut. At Belmont Park, she won three of four starts before moving on to Saratoga and started to make a name for herself. First, she won the seven-furlong Grade II Test Stakes, her first stakes win in her tenth lifetime start.
Ten days later, Love Sign faced five others, including the Maryland-bred Weber City Miss, winner of the Black Eyed Susan at Pimlico, in the Grade 1 Alabama Stakes. Weber City Miss had finished second in the Test and was back to challenge Love Sign again, but this time they were going ten furlongs, not seven. Already proven as a sprinter, Love Sign had never won beyond seven furlongs; could she emulate her sire Spanish Riddle and stretch her speed out to this classic distance?
Indeed, she could. Like her sire, Love Sign set a record at Saratoga, winning the Alabama in the stakes record time of 2:01.
"That other filly (Weber City Miss) came up to me, but I still had plenty left. She (Love Sign) could have run another quarter of a mile," gushed jockey Ruben Hernandez.
In the same year that Hoist the Flag passed away, Love Sign's victory at Saratoga in a stakes race as prestigious as the Alabama was something to celebrate, a dream that trainer Sidney Watters had wanted to realize for himself and for the Clarks. They had been a team since 1954, and finally they were able to enjoy the fruits of their labor. While the Clarks had won the American Grand National in 1971, Love Sign was fast becoming their most successful flat racer — and the filly wasn't even done yet.
Back at Belmont Park, Love Sign won the Gazelle Handicap, her sixth win in seven starts, before moving on to the Maskette Stakes on September 10.
The Maskette's field was only five horses, but, for Love Sign, it may have been the deepest she would ever face: Bold 'n Determined, Kentucky Oaks winner; Davona Dale, the filly Triple Crown winner from the year before; and Genuine Risk, only the second filly to ever win the Kentucky Derby, all were in the compact field. Love Sign led throughout most of the one-mile race, but, at the top of the stretch, both Bold n' Determined and Genuine Risk made their moves, with Love Sign falling back. The two battled through the stretch, Genuine Risk taking a tenuous lead, but Bold n' Determined fought back, finally eclipsing the Derby winner by a half-length.
"If she wants to run, she runs fine"
Love Sign went on to win her next two starts, including the Beldame, but lost the Spinster to Bold 'n Determined to finish her 1980 season with eight wins in 11 starts. Genuine Risk would take home the Eclipse Award for Three-Year-Old Filly, beating both Bold 'n Determined, who had also won two-thirds of the Filly Triple Crown, and Love Sign. After a stellar sophomore season, the Clarks and Watters looked forward to more of the same from their filly in 1981.
However, at four, Love Sign was slow to find the winner's circle. After six starts with only two finishes in the money, Love Sign finally notched her first victory of the year in late July.
In the Sheepshead Bay Handicap at Belmont Park, the filly showed her versatility by taking the lead at the start of this 1 3/8-mile turf race and setting a slow pace. At this speed, jockey Ruben Hernandez was able to save Love Sign for the race's end: she repelled the challenge from Rokeby Rose, who stuck a nose in front as they battled down the stretch, and finally found the winner's circle in 1981.
"She was like the Love Sign of last year. I hope she stays that way," Hernandez said after the Sheepshead Bay, recalling the form the filly showed in 1980.
At Saratoga, she took the Ballerina over new rival Jameela before Jameela turned the tables on her in the Mahubah and then the Maskette. Relaxing sealed her claim on the Older Female championship over Jameela and Love Sign by beating both in the Ruffian Handicap. Love Sign won the Beldame for the second year in a row before finishing second to Jameela again in the Ladies Handicap to end the 1981 season.
While both Bold n' Determined and Genuine Risk said goodbye to the racetrack in 1981, the Clarks brought Love Sign back for her five-year-old season in 1982.
At five, Love Sign started off strong, winning three of her first four starts, before running into tough competition like Christmas Past, Expressive Dance, Track Robbery, and the ubiquitous Jameela. She tried all of those familiar stakes races again – the Diana, the Beldame, the Ruffian, and the Spinster – but, as the year went on, it was clear that Love Sign was ready to move on from the racetrack. The year before, the filly had been scheduled to run in the Spinster Stakes at Keeneland in late October. Watters put her on a flight from New York to Lexington, but Love Sign balked at flying, nearly injuring seriously in the process.
Ever since, Watters had noticed that she had not been quite the same.
"If she wants to run, she runs fine. If she doesn't, there's nothing you can do," the trainer told the Cincinnati Enquirer.
The Clarks retired Love Sign to Claiborne Farm, where Hoist the Flag had stood, and, a year later, she was sold at the Keeneland November sale. In foal to 1977 Triple Crown winner Seattle Slew, Love Sign sold for $4.1 million.
Though none of her foals would go on to duplicate her success, Love Sign remains the best of her sire's and dam's descendants; she concluded her career with a record of 16 wins, and 12 other in-the-money finishes from 39 starts, earning a total of $934,827 in purse money. For the Clarks, Love Sign is one of their best flat horses, second only to Hoist the Flag, and his lasting legacy as a sire. For Hall of Fame trainer Sidney Watters, Love Sign is on his list of graded stakes winners alongside names like Slew o' Gold and Quick Call.
This February, as we celebrate love in its many forms, consider the love that went into saving a horse like Spanish Riddle, whose catastrophic injury could have cost him his life. Instead, this stallion with a prosthetic leg covered a nearly barren mare and produced a stakes-winning filly named Love Sign, which should not be surprising because, after all, "Virginia is for Lovers."
FOR MORE INFO…
PRINT SOURCES
Winants, Peter. Steeplechasing: A Complete History of the Sport in North America. New York: Derrydale Press, 2000. 83-86.
Harris, Russ. "Love Sign Balks at Plane Trip." New York Daily News, October 30, 1981.
Kellner, Jenny. "Jameela Captures Maskette; Beats Love Sign by 2 Lengths." New York Daily News, September 7, 1981.
Kellner, Jenny "Jameela Beats Love Sign in 'Graveyard' Victory." New York Daily News, August 18, 1981.
"Colt Sells for $3.2 Million." Detroit Free Press, November 14, 1984.
"Jameela Coasts in Ladies Handicap." Poughkeepsie Journal, November 2, 1981.
"Good Summer for Love Sign" Press and Sun Bulletin (Binghamton, NY), September 1, 1980.
"'Risk' Bows in Stretch to Bold 'N Determined." Baltimore Sun, September 11, 1980.
"Love Sign Sets Mark in Saratoga Victory." Burlington Free Press, August 10, 1980.
Murray, Jack. "Tesher Enters Two in Spinster, But…" Cincinnati Enquirer, October 29, 1982.
Murray, Jack. "Love Sign's Final Start In Keeneland Spinster." Cincinnati Enquirer, October 30, 1982.
Reed, Billy. "Soothing Watters: Love Sign's Alabama Stakes Win East Pain for Owner and Trainer." Louisville Courier Journal, August 10, 1980.
"Niteange by a Length." Herald-News (Passaic, NJ), August 6, 1981.
Whelan, Tom. "Love Sign Regains Forms, Wins Her First of the Year." Journal News (White Plains, NY), July 26, 1981.
Crist, Steven. "Racing Does Fade Out with Belmont." Miami News, June 7, 1982.
Metivier, Don. "Love Sign Passes Test." Post-Star (Glen Falls, NY), August 1, 1980.
"Love Sign Takes Beldame." The Record (Hackensack, NJ), October 12, 1981.
"Relaxing's Stretch Run Takes Ruffian Handicap." The Record (Hackensack, NJ), September 28, 1981.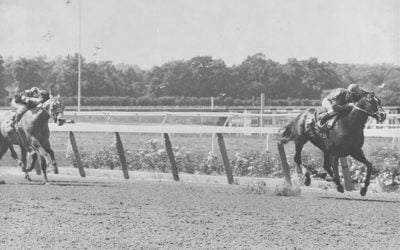 In a new BackTracks: Maryland-bred Star de Naskra gave owner-breeder Jiggs Lancaster his first stakes winner in a long career — and then a whole lot more.