BackTracks: Bee Bee Bee spoils the party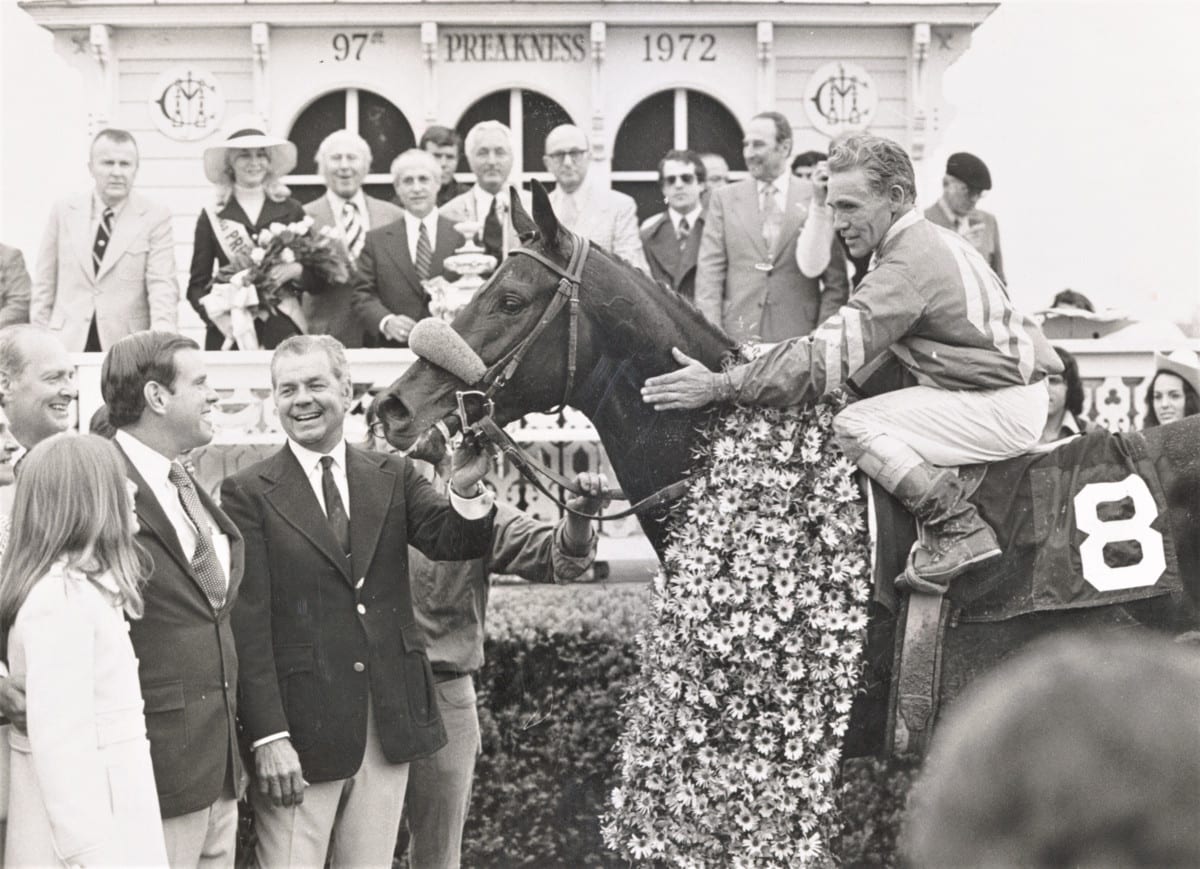 1972 Preakness champ Bee Bee Bee, Eldon Nelson up. Trainer Del Carroll, in jacket and tie. is directly next to the horse. Keeneland Library Thoroughbred Times Collection. This image is protected by copyright and may not be reproduced in print or electronically without written permission of the Keeneland Library.
Bee Bee Bee.
Right away, his name sounds unusual, catches the eye.
If you know anything about Triple Crown history, you might know that name for one reason: he was the horse that won the 1972 Preakness, thwarting Kentucky Derby winner Riva Ridge's try at ending a two-decade Triple drought of Triple Crown winners since Citation in 1948. Riva Ridge would go on to win the Belmont, taking two-thirds of the Triple Crown; his stablemate Secretariat would go on to immortality the following year, overshadowing to some extent what Riva did in 1972.
For many of us, Bee Bee Bee remains one of those horses known more for one race than for a career. Running in iconic silks with a trainer who was at home on both the racetrack and the polo ground, Bee Bee Bee is best remembered as one of the only eight Maryland-breds to win the Preakness Stakes, a horse that ran his best races on mid-Atlantic tracks.
Bee Bee Bee was foaled at Goodwill Farms near Monkton, north of Baltimore, Maryland on April 3, 1969. The Bee's breeder William S. Miller had been a member of the Illinois Racing Board, eventually becoming its chairman, as well as part of the ownership group that purchased Balmoral Park outside of Chicago. Miller had his breeding operation in Maryland, a state which had multiple incentives for breeders, including a series of stakes for horses bred there.
The Bee's sire was Better Bee, a stakes winner sired by Triplicate, one of Reigh Count's most notable sons – other than Triple Crown winner Count Fleet of course. The Bee's dam was Paula, who managed to win only four of her fifty-seven starts but counted Italian champion and legendary sire Nearco as her grandsire. Miller owned both sire and dam.
Bee Bee Bee was a lovely dark bay/brown colt with nary a speck of white on him as the few extant photographs seem to indicate. At two, the Bee went to Miller's trainer, Del Carroll.
BackTracks:
Midlantic Racing Legends
Our years are defined by great horses. We remember their names, marking our milestones by the dates that these equine heroes raced into our heads and our hearts. Our slice of history is limited by the boundaries of our own lifetimes; the horses that raced earlier, the ones that left impressions on the generations before us, can elude our attention unless another thread pulls us in that direction. These are their stories.
Got a horse you'd like to learn more about? Let us know!
Delmer (Del) W. Carroll had started riding horses as a boy and became involved with the polo scene around Pennsylvania, which led to a scholarship to the Pennsylvania Military College. After graduation, he enlisted and served as part of a mechanized Cavalry unit during World War II. When he returned to civilian life, Carroll was able to play polo again and then fell into training Thoroughbreds through L.M. Bernard, who had connections to both polo and racing. In the late 1940s and early 1950s, Del Carroll started a career that would see him win training titles at Keeneland and Oaklawn and become a leading training at Arlington Park as well — and, coincidentally, earn a spot in the Polo Hall of Fame. His Chicago area ties led him to work with Miller and his horses, including Better Bee and Bee Bee Bee.
A MODEST BEGINNING
The Bee made his debut at Pimlico Race Course on April 28, 1971, finishing third in a five-furlong maiden race over the historic dirt track. He broke his maiden two weeks later, also at Pimlico, in a five-furlong Maryland-bred maiden race. After finishing second in an allowance race at Delaware Park, Carroll shipped Bee Bee Bee to Aqueduct in late July, where he notched his second win, this time over a field that included Key to the Mint and Spanish Riddle, two future graded stakes winners and sires of champions. That win promoted him to his first stakes try, the Flash Stakes at Saratoga.
In his one and only start at the Spa, the son of Better Bee finished seventh, far behind the horse with whom he was destined to be intertwined in horse racing's long memory: Riva Ridge. Carroll sent his colt back to Delaware Park after that, where he finished second in the Ridan Purse.
Then Bee Bee Bee won his last three starts of 1971, including a 17-length win in seven-furlong Maryland-bred allowance and a strong performance over a water-logged Timonium track in the All Maryland Handicap.
His easy victory in the All Maryland showed early on that the Bee was adept at running on the wettest of tracks. After a two-year-old season with five wins in nine starts, Bee Bee Bee looked forward to a three-year-old season with potential starts in the Triple Crown races – and a new owner.
(NOT A) ROAD WARRIOR
Otto Kerner, Jr. had been elected governor of Illinois in 1960 and then again in 1964 before President Lyndon Johnson appointed him to a seat on the Seventh Circuit of the United States Court of Appeals in 1968.
In 1969, Kerner was involved in a bribery scandal, accused of purchasing stock in several racetracks, including Balmoral Park, at below market value in exchange for preferred racing dates for those venues. As former head of the Illinois Racing Board and partner in Balmoral Park, Miller was implicated in the scandal, opting to become a witness for the prosecution in order to escape charges himself. Because of his involvement with Kerner's case and subsequent tax issues, Miller was forced to sell off his racing stable, including Bee Bee Bee. William Farish, III bought the son of Better Bee and nineteen other horses in January 1972.
William Farish, III came from a family that had ties in horse racing, through his family's Lazy F Ranch and then through his father-in-law Bayard Sharp. Those ties lead to an interest in polo and a friendship with Del Carroll, Miller's longtime trainer. Farish's purchase of Bee Bee Bee and other Maryland-breds was a result of his interest in the state's breeding program and its advantages.
The Bee had already been a beneficiary of that, and his connections were hoping for bigger things. With the Bee nominated for the Kentucky Derby and the Preakness Stakes, Carroll shipped the colt to Florida to prepare for a potential run at the classics.
What they discovered is that Bee Bee Bee did not like traveling. He started three times in Florida, competing in stakes races like the Florida Derby and the Flamingo Stakes. He finished out of the money in all of them.
Eldon Nelson, who rode the colt in most of his 1972 and 1973 races in Maryland, remembered, "We'd take him in early to a race, or not at all. He was not the kind of horse that Riva Ridge was. On a given day, he could run with the best of them. But things had to go his way."
Two weeks before the Preakness, on the same day that Bee Bee Bee was laboring to a fifth-place finish over boggy turf in the Woodlawn Stakes, Riva Ridge won the Kentucky Derby over a fast Churchill Downs track, renewing hopes that this year would be the year that the twenty-four year Triple Crown drought would end. First, though, Riva Ridge would have to win the Preakness Stakes.
The day before the 1972 Preakness, a heavy downpour turned Pimlico into muddy morass. The next morning, a misty rain ensured the track would remain a sloshy mess. After a tough trip on the soft turf in the Woodlawn, should they run the Bee in the Preakness?
Jockey Eldon Nelson, slated to ride Farish's colt that afternoon, said he told Carroll, "'Yes, we should, because he loves the mud.' It takes a lot of heart to run in slop like that." By post time, the field of nine was down to seven, with Bee Bee Bee on the outside and Riva Ridge near the rail in the second post.
At the break, Key to the Mint broke sharply, but jockey Braulio Baeza – unconcerned about 16-1 outsider Bee Bee Bee — took the colt in hand, keeping him close to Riva Ridge, the favorite. This allowed Nelson to send Bee Bee Bee to the lead, where he set the pace and controlled the race from the clubhouse turn onward.
Each time horses got close, Nelson would tap the colt and the Bee would respond, pulling farther and farther away from the field. The rest seemed to labor in the slushy going while Bee Bee Bee skimmed over the surface easily. In the end, the son of Better Bee won by a length and a quarter, surprising everyone who thought Riva Ridge, who labored home fourth, was a sure bet.
Del Carroll, though, was not surprised.
"The others had to come to Bee Bee Bee. He was already here," the trainer said.
The colt had run his last four starts at Pimlico, and would go on to run 10 of his 31 career starts there. The Bee gave Carroll and Farish their only classic win as a trainer and an owner. It would be the pinnacle of Bee Bee Bee's career.
AND THEN…
Farish and Carroll opted to skip the Belmont, giving Bee Bee Bee a break until mid-June. Riva Ridge won the Belmont too, but his loss to the Bee meant that the Triple Crown drought would last another year.
The Preakness winner would make only two more starts in 1972, winning the Patriot Stakes at Liberty Bell outside of Philadelphia and then finishing second in the Minuteman Handicap. Bee Bee Bee would not return to the racetrack until late April 1973 but could not recapture his form, winning just twice, a second-place finish in the Pennsylvania Governor's Cup his best stakes finish that year.
He would meet Riva Ridge again in the Massachusetts Handicap at Suffolk Downs, but Bee Bee Bee faded in the stretch while the Derby-Belmont winner went on to win by 3 ¾ length. On September 22, 1973, Bee Bee Bee finished 10th in the Chesapeake Handicap, his last start.
In 1974, Farish sold his Preakness winner to the Japanese Racing Association, where Bee Bee Bee stood stud until his death. A 1992 update reported that Bee Bee Bee had sired 223 winners and eight stakes winners from 404 foals.
Even though the Bee remains the only Triple Crown classic winner he has owned, William Farish would go on to breed classic winners like Charismatic, Summer Squall, Lemon Drop Kid, Bet Twice, and A.P. Indy. His Lane's End Farm has won the Eclipse Award for Outstanding Breeder twice and stands a long list of top sires, including 2014 Belmont Stakes winner Tonalist, 2018 Breeder's Cup Classic winner Accelerate, and more.
After his involvement with the Kerner scandal in Illinois forced him out of racing, William Miller moved to Golden Beach, Florida, where he had maintained a summer residence, and eventually became involved with politics in that area – this time without scandal. Miller passed away in February 1983.
Del Carroll trained for another decade and remained active in the polo scene, inducted into their Hall of Fame in 2003. Carroll trained several stakes winners for Farish after Bee Bee Bee, including Forever Casting, Nostalgia, Sweet Revenge, and Clever Trick. Carroll was found unconscious on the Keeneland track one early morning in 1982. He suffered a fractured skull while working one of Farish's horses, a colt named Sportin' Life, and passed away several days later.
Nearly four decades after he sloshed home the winner of the Preakness Stakes, Bee Bee Bee remains one of those names that is synonymous with Triple Crown spoiler, horses who capture the imagination of fans for the heartbreak they caused. Even though the Bee prevented Riva Ridge from ending the drought a year earlier than his stablemate Secretariat, his easy win on one of the mid-Atlantic's historic tracks remains a superior example of how being the right horse on the right day at the right track with the right trip can make surprising racing history.
Carroll brought Bee Bee Bee back to Maryland, where he finally won his first race of the year — on the turf. After his series of three lackluster early starts, the Bee was off the Derby trail, with Farish and Carroll eyeing the Preakness Stakes instead. Eight days after that turf win, the Bee won the Survivor Stakes for Maryland-breds at Pimlico by seven lengths, a nice win on a fast track that set him up for the Preakness.
FOR MORE INFO…
PRINT SOURCES
"Official Racing Charts: Churchill Downs." Daily Racing Form. May 6, 1957.
Bowen, Edward. Legacies of the Turf, Vol. 2: A Century of Great Thoroughbred Breeders. Lexington, KY: Eclipse Press, 2004. 264.
Cohen, Adam and Elizabeth Taylor. American Pharaoh: Mayor Richard J. Daley – His Battle for Chicago and the Nation. New York: Warner Books, 2000.
Klessel, Steve. "A Homecoming for Del Carroll." Philadelphia Daily News. June 7, 1961.
Sowers, Richard. The Kentucky Derby, Preakness and Belmont Stakes: A Comprehensive History. New York: McFarland Books, 2014. 215.
"Pimlico Charts." Evening Sun (Baltimore, MD). April 29, 1971.
"Charts of Races at Pimlico." Baltimore Sun. May 12, 1971.
"Aqueduct Daily Charts." Daily News (New York, NY). July 18, 1971.
"William Miller, 81; Headed Racing in Illinois." Chicago Tribune. February 24, 1983.
"Carroll: 'Was a Gamble, Maybe.'" Greenville News (Greenville, SC). May 21, 1972.
Murray, Ken. "Slop Slop Slop Didn't Stop Bee Bee Bee." Baltimore Sun. May 12, 1992.
Austin, Dale "Bee Bee Bee Wins Easily." Baltimore Sun. April 22, 1972.
Whittington, Gene. "Bee Bee Bee Captures Survivor Stakes." Baltimore Sun. April 30, 1972.
Austin, Dale. "Dubassoff Scores on Turf at Pimlico." Baltimore Sun. May 7, 1972.
Gay, Marvin, Jr. "Winning Triple Crown Races 'tough, tough, tough' – Jones." Louisville Courier Journal. May 21, 1972.
Boniface, William. "Bee Bee Bee Will Rest Until June 18." Evening Sun (Baltimore, MD). May 24, 1972.
Boniface, William. "Many Seek Throne Secretariat Used." Evening Sun (Baltimore, MD). January 24, 1974.
"'Bay' Handicap to Ridge." Daily Register (Red Bank, NJ). July 18, 1973.
"Services Tomorrow for William Miller" Miami News. February 22, 1983.
Carter, Snowden. "Bee Bee Bee Stuns Record Crowd." Maryland Horse. June 1972. 20-28.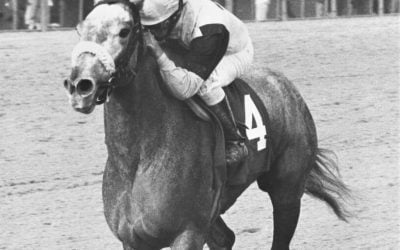 In a new BackTracks: NJ-bred Missy's Mirage became one of trainer Allen Jerkens' favorites, a gray filly who "got the job done."