BackTracks: Gallorette takes on the boys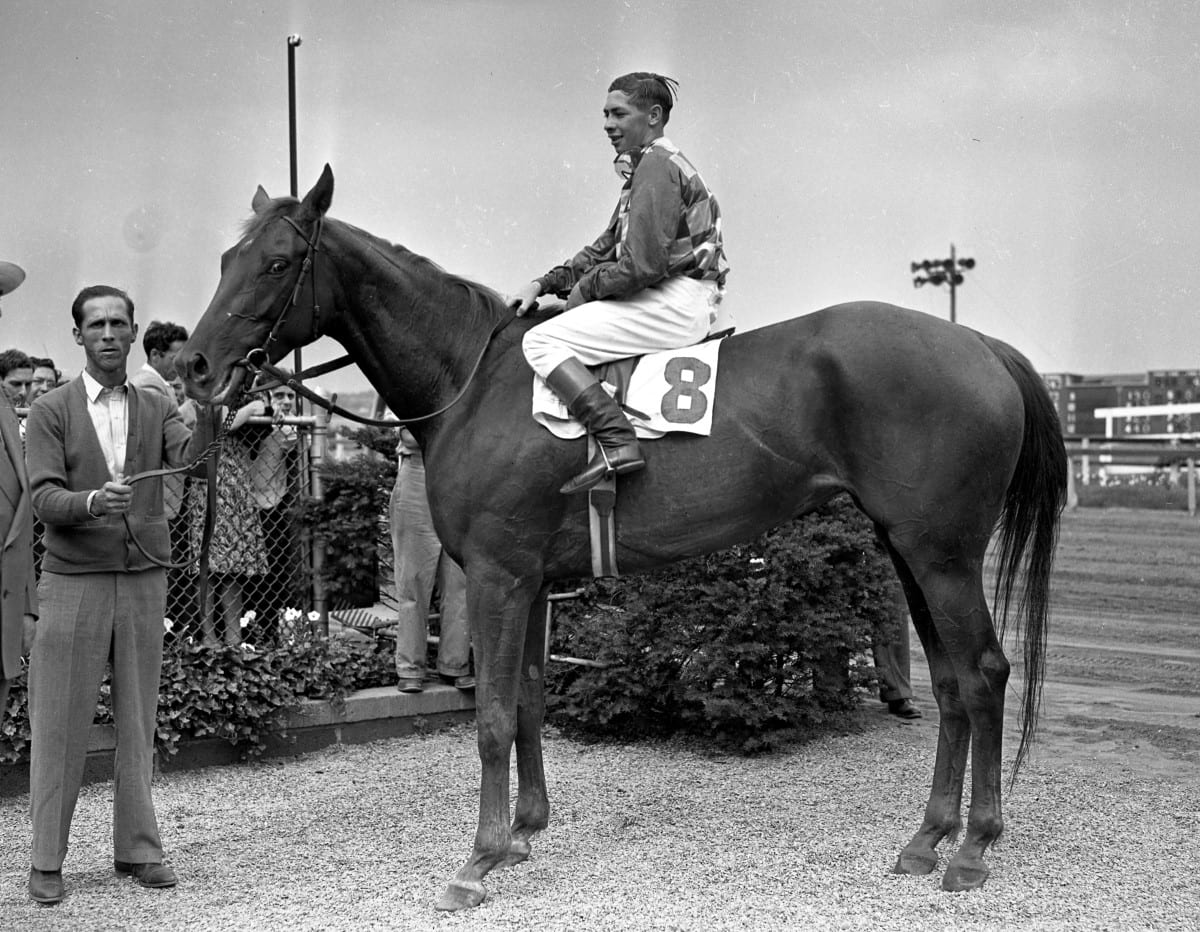 Gallorette won the 1946 Brooklyn Handicap over the great handicap horse Stymie. Photo Keeneland Library-Morgan Collection.
 So rare is a horse like her that the mere mention of her name brings instant recognition.
Zenyatta.
Her image recalls feats of strength and speed, her legend standing tall.
Rachel Alexandra.
 She defies the odds and beats those supposedly stronger and faster than she.
Winning Colors.
 She makes history over and over, her mark on the sport everlasting.
Regret
 In the era of the Greatest Generation came a filly so spectacular that when she was done, she was the leading money winner of her sex who took on the boys more than she faced other fillies — 51 times in all. Her legacy of power and grit saw her outlast even the hardiest of handicap champions.
Gallorette
By the late 1930s, Sir Gallahad III had become a sire of import, with horses like Gallant Fox and Roman making his reputation and broodmares like La France and Vagrancy enhancing it. When his bloodline didn't succeed on the track, the breeding shed was kinder.
Gallette's pedigree promised so much when she started her career on the racetrack: she shared a sire with Belair Stud's first Triple Crown winner, Gallant Fox, and her dam Flambette was the same one who had produced Flambino, the dam of Belair's other Triple Crown winner, Omaha. Gallette was Belair Stud royalty through and through, part of the great tradition of Thoroughbred breeding in Maryland.
As a yearling, she was purchased at the Saratoga Yearling Sales by Foxcatcher Farm, the nom-du-course of William DuPont, Jr., but she proved to be subpar on the track. In 1936, DuPont dispersed of a chunk of his racing and breeding stock, including Gallette. She sold for $250 and became a personal mount rather than a racehorse until trainer Preston Burch sought her out. He purchased Gallette for $700 and again put her in training, but she was still just as slow – or perhaps simply unwilling – as she had been in previous seasons. Finally, Burch retired her to the breeding shed where she finally found her purpose.
BackTracks:
Midlantic Racing Legends
Our years are defined by great horses. We remember their names, marking our milestones by the dates that these equine heroes raced into our heads and our hearts. Our slice of history is limited by the boundaries of our own lifetimes; the horses that raced earlier, the ones that left impressions on the generations before us, can elude our attention unless another thread pulls us in that direction. These are their stories.
Got a horse you'd like to learn more about? Let us know!
While Gallette was engaged in her racing career, retired executives Robert Castle and William Brann were building a new breeding operation outside of Frederick, Maryland. Initially, the men were Branncastle Farms, with the British stallion Challenger II heading up their new stud. They bought several future broodmares at sales, including a daughter of Sir Gallahad III named Laura Gal.
When Castle's health and the farm's fortunes started slumping, Brann bought his partner out and changed the farm's name to Glade Valley. Before the buyout, the two celebrated the birth of their Challenger II-Laura Gal colt, Challedon.
Challedon would go on to become a two-time Horse of the Year honoree. Turf writers like John Hervey declared that Challedon "is one of the greatest Thoroughbreds ever seen in this country."
Share and share alike
With Challedon's enormous success, the potential inherent in pairing Challenger II with a Sir Gallahad III mare made Brann eager to add more to Glade Valley's band. To that end, he sought out Preston Burch, intent on buying Gallette.
But Burch refused to sell her, instead offering a foal sharing agreement. Each year, Gallette would visit Challenger II and Brann and Burch would alternate years owning the resulting foal. That first foal, a sturdy chestnut filly, went to Brann. He would name her Gallorette.
Ed Christmas was late to the training game, but he was lucky: the skills seemed to run in the family as three of his brothers were also trainers. Ed had started out as more of an academic, earning a law degree from the University of Maryland in 1929. He worked for his alma mater until 1937, when the 33-year-old decided to pursue training Thoroughbreds instead. In January 1942, Brann tapped Christmas to train the Glade Valley horses.
Suddenly, he was in charge of Challedon, who was in his final season on the track, and a stable full of other good horses. By 1944, Christmas had settled into his role as the trainer for one of Maryland's most consistent stables.
Included in that stable was Gallette's first foal for Brann, Gallorette. At 16.1 hands, she was a sturdy and powerful filly, as big as many of the colts she ran against that year. In her first start, she ran in open company on a muddy track, taking the lead in the stretch. She couldn't outlast the two colts that passed her, but she did set the tone for her career in her debut: when facing colts, the filly could hold her own with no problem.
She raced against the boys again in the Maryland Futurity, hanging out in second place for most of the six furlongs before taking the lead in the stretch. The eventual winner Petee Dee made a late charge on the outside, challenging Gallorette, even crowding her as her jockey Doug Dodson later alleged. The two dueled to the wire, Petee Dee edging out Brann's filly by a nose.
While she had been unable to secure the win, she did show that she could run in tight quarters with colts. A month later, Gallorette met Busher, the eventual two-year-old filly champion, in the Selima Stakes at Laurel. Busher got the better of her that day, passing both Gallorette and Ace Card in the stretch to win by 3 ½ lengths.
Gallorette ended her 1944 campaign with three wins in eight starts, never finishing out of the money as a two-year-old. If she had stayed within the filly division like Busher, Gallorette might have found the winner's circle more, but she was tough enough to be in the mix each time she shared the track with the boys. At three and beyond, this daughter of Challenger II and Gallette would show that grit time and again, a theme that would define her career over the next four seasons.
Ed Christmas kicked off Gallorette's sophomore campaign in an allowance race against colts on May 22 — the first few months of the racing year another victim of World War II — and scored an easy victory over Derby hopefuls like Hoop, Jr. that signaled her readiness for an even bigger challenge.
Bypassing the Derby, Gallorette faced fillies in the Acorn at Belmont, the Pimlico Oaks (now called the Black-Eyed Susan) at Pimlico, and the Delaware Oaks at Delaware Park, all in the month of June and all easy victories.
Satisfied that Gallorette was one of the best of her division, Christmas again started her against three-year-old colts in the 1 ¼-mile Dwyer Stakes at Aqueduct in July. She ran a game second behind Wildlife, while Belmont Stakes winner Pavot, the 4-5 favorite, finished last.
Pavot and Gallorette met again in the Empire City Handicap, with Pavot carrying 126 pounds to the filly's 116. This time she bested Pavot and everyone else, winning  the Empire City Handicap by three-quarters of a length.
After the race, Atkinson called her "the best filly I ever rode," with others comparing her to Twilight Tear, the filly who had beaten the boys to win Horse of the Year in 1944. In seven starts, Gallorette had amassed five wins and two seconds and the year was only half over.
A Rivalry Ignites
The remainder of 1945 would see Gallorette looking to return to the form that she had enjoyed in that first half of the year. She could do no better than third in those races, as she faced older and more experienced horses. In these races, she shared the track with horses like Armed, the Washington Handicap winner; Polynesian, who had won that year's Preakness Stakes; and Hirsch Jacobs' Stymie, the former claimer that had become a handicap star and racing sensation popular from his come-from-behind running style. Gallorette and Stymie met twice in 1945, with the older Stymie getting the better of the three-year-old Gallorette both times. In 1946, though, the filly would turn the tables on Jacobs' champion.
Te 1946 Brooklyn Handicap would be stuff of legends. Seeking a repeat victory in the race, Stymie was the favorite, carrying 128 pounds with the filly assigned 118. In the Brooklyn, running style made all of the difference: Gallorette stayed in her usual spot, just off the pace for most of the mile-and-a-quarter while Stymie ran last until the half-mile mark. As the field turned into the stretch, Stymie began his charge for the front, the way he normally ran, while the filly gunned from fourth to second and then took the lead as the horses charged into the stretch. As they swept out of that final turn into the lane, Stymie bore down on Gallorette, turning on the speed, surging forward. The filly held her ground: she would not give way this day. At the wire, Gallorette had held off Stymie by a neck, becoming the first filly or mare to win the Brooklyn since Tokalon in 1906.
After the race, her jockey Job Jessop exclaimed, "Gallorette is the best filly I ever rode and that was the best race of her life."
She would meet Stymie a total of 19 times in their careers, with Stymie finishing ahead of Gallorette for ten of those.
Their final meeting came two years later, again facing each other in the Brooklyn Handicap for 1948. Stymie was seven years old then, Gallorette six. By this point in her career, she had more than proven her worth many times over, with her handicap victories, both against open company and within her division. For this last battle, Stymie carried top weight of 130 pounds while Gallorette had 119. On the final turn into the stretch, another filly, Conniver and Gallorette moved to the lead together, dueling, while Stymie made his run at the two ladies battling on the front. In the end, Conniver won narrowly over Gallorette, with Stymie well back.
Over and over again, Gallorette had proven a worthy rival for the great Stymie and others, a champion many times over for Glade Valley Farm and William Brann.
On to the breeding shed
In September 1948, Brann sold Gallorette to Marie Moore, owner of High Hope Farm in Virginia.
Following four more races, Moore brought her to Virginia for her broodmare career, where she produced seven foals, three of them winners. Mlle. Lorette, sired by Lovely Night, won the Gallorette Stakes in 1954 and then went on to produce stakes winners herself. Courbette, a filly by Native Dancer, won several stakes in Ireland and also went on to a broodmare career where she foaled several stakes winners. After retiring from broodmare duties, Gallorette died from complications of a leg fracture at High Hope Farm in 1959.
This daughter of Challenger II and Gallette finished her racing career with a record of twenty-one wins and thirty-three placings in seventy-two starts. Her lifetime earnings of $445,535 made her the leading money-winning female of all time in her era, earning $100,000 more than Busher. In 1955, a poll from the American Trainers Association voted Gallorette the best race filly in the history of American horse racing.
She was inducted into the National Museum Racing and Hall of Fame in 1962, two years before Busher and more than a decade before Stymie. She also was part of the inaugural class of the Maryland Thoroughbred Hall of Fame.
As a horse, Gallorette proved to be as tough and durable a racehorse as her male contemporaries like Stymie, Pavot, Assault, and more. She had the speed and stamina needed to run toward the front and still have that final kick essential to holding off late runners. Like Zenyatta and Rachel Alexandra, Winning Colors and Regret, Gallorette showed that fillies and mares could carry weight and hold their own with their male counterparts at all distances in all sorts of conditions. For the mid-Atlantic, Gallorette stands as one of the region's greatest champions, described by Eddie Simms, who helped trainer Ed Christmas prepare her for the track, as "not only the greatest mare, but the greatest Maryland-bred of any sex."
FOR MORE INFO…
PRINT SOURCES
McCulley, Jim. "Cinderella Mama." Baltimore Sun. July 23, 1945.
McCulley, Jim. "Gallorette Captures Empire 'Cap, Pavot 2d." New York Daily News. July 22, 1945.
"Arcaro Bags Double Win at Jamaica." Democrat and Chronicle (Rochester, NY). May 23, 1945.
"Pavot, Arcaro Up, Last in Dwyer." Pittsburgh Sun-Telegraph. July 15, 1945.
"National Interest Centers in Dupont Dispersal Today." Richmond Times Dispatch. December 3, 1932.
Trimble, Delmege. "DuPont Sale Nets $48,600 for 56 Head." Richmond Times Dispatch. December 4, 1932.
"Laurel Charts." Baltimore Sun. September 15, 1944.
Reed, Don. "Brann Names Ed Christmas." Baltimore Sun. January 17, 1942.
"E.A. Christmas, Trainer, Dies." Baltimore Sun. October 18, 1969.
Chandler, John. "Second Place to Gallorette." Baltimore Sun. July 18, 1948.
"W. L. Brann's Gallorette Races to Victory in Empire City Handicap." Baltimore Sun. July 22, 1945.
"Laurel Charts." Baltimore Sun. October 15, 1944.
"Rites Scheduled Tomorrow for Edward A. Christmas." Baltimore Sun. October 19, 1969.
"Brann, Famed Breeder, Dies." Baltimore Sun. April 12, 1951.
"Laurel Charts." Baltimore Sun. October 5, 1944.
"Horsemen Buy Breeding Farm." Baltimore Sun. June 30, 1931.
Lee, Joe. "$50,000 Brooklyn Won by Conniver." Brooklyn Daily Eagle. July 18, 1948.
Trost, Ralph. "Bet Mark Set as Gallorette Takes Empire." Brooklyn Daily Eagle. July 22, 1945.
Trost, Ralph. "Gallorette's Success Making Breeders Alert." Brooklyn Daily Eagle. July 25, 1945.
"Keeneland Charts." Cincinnati Enquirer. October 22, 1936.
"Conniver Wins Brooklyn 'Cap." Louisville Courier Journal. July 18, 1948.
"Jeep and Hoop Jr. Win Wood Memorial Races." Louisville Courier Journal. May 31, 1945.
Reed, Don. "Colt by Bahram First of State's New Foals." Evening Sun. February 14, 1945.
Boniface, William. "Chally's Booster." Evening Sun. February 25, 1942.
"Gallorette Stands Off Stymie's Charge to Take Brooklyn." Miami Herald. June 23, 1946.
"Gallorette Beats Stymie by a Head." Miami News. June 23, 1946.
"Racing Notes." News Journal (Dover, DE). June 1, 1945.
"Services Held for Christmas." News Journal (Dover, DE). October 20, 1969.
"Jamaica Classic Features Wealth of Derby Material." Palm Beach Post. May 30, 1945.
"Wood Memorial Charts." Philadelphia Inquirer. May 31, 1945.
McGrath, Jack. "A Bit of This, a Bit of That." Troy Record (Troy, NY). July 28, 1945.
Cuddy, Jack. "Attention All Colts: Watch Those Galloping Gals of the Turf." Windsor Star (Windsor, ON). July 24, 1945.
Blood-Horse Staff. Horse Racing's Greatest Rivalries. Lexington, KY: Eclipse Press, 2008. 60-69.
Editors of the Daily Racing Form. Champions. New York: Daily Racing Form Press, 2000. 100-101.
Blood-Horse Staff. Thoroughbred Champions: Top 100 Racehorses of the 20th Century. Lexington, KY: Eclipse Press, 1999. 138-139.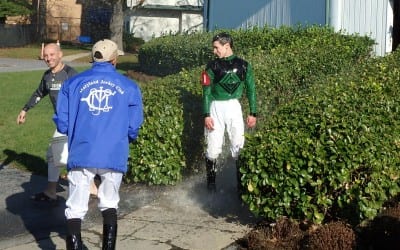 Jockey Lane Luzzi, who grew up in New York, will try to disprove the idea that you can't go home again when he shifts his tack from Texas to Monmouth.