BackTracks: Elliott Burch's remarkable triple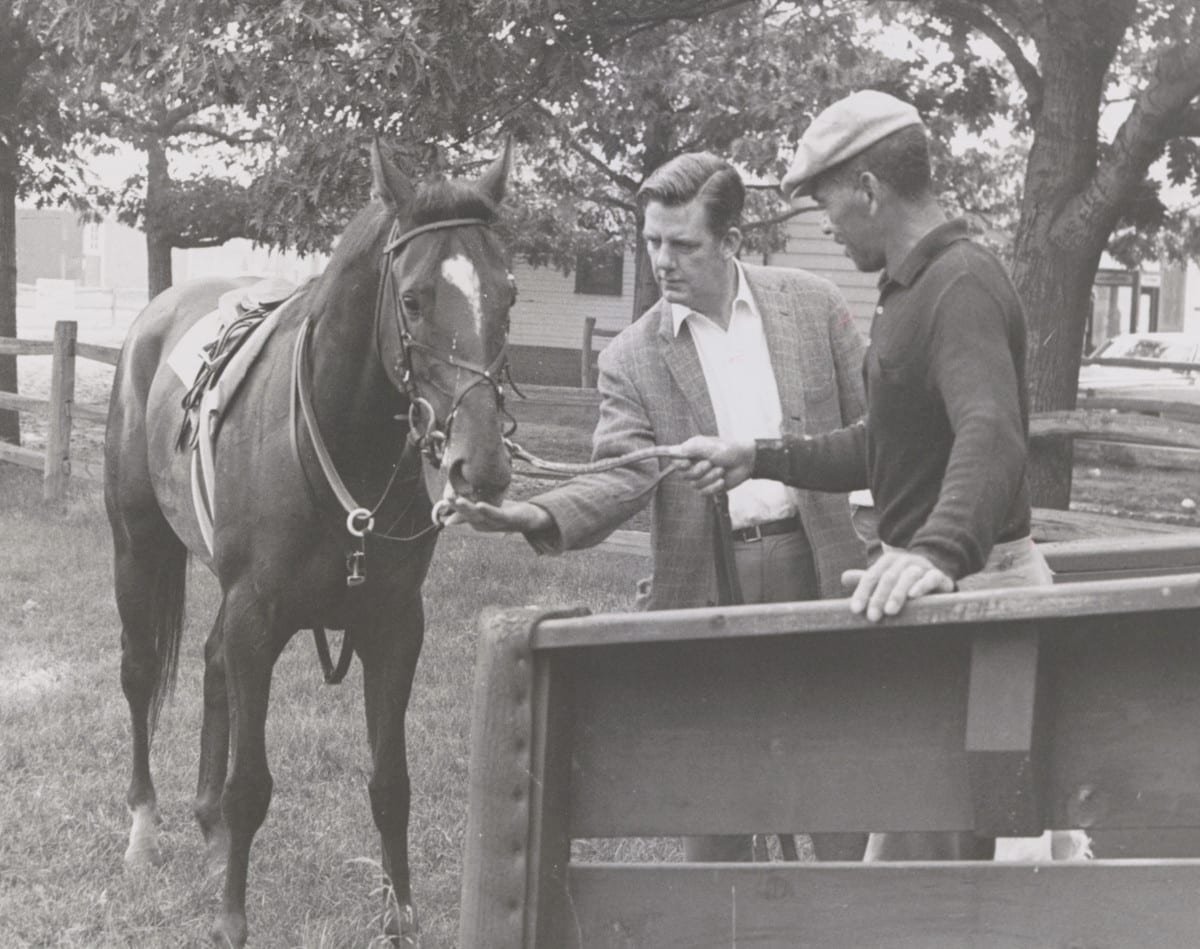 Trainer Elliott Burch with groom Sylvester Cook and 1969 Belmont winner Arts and Letters. Photo Keeneland Library, Thoroughbred Times Collection, which reserves all rights.
Elliott Burch came by his success honestly.
Sure, his grandfather William Burch and father Preston Burch were both great trainers, earning spots in the National Museum of Racing and Hall of Fame. But Preston didn't want his son to follow that path, thinking that the life of a trainer wasn't terribly conducive to having a family. Elliott ended up there anyway.
After turns in the Army Signal Corps during World War II and at Yale University and the University of Kentucky, Elliott landed at the Daily Racing Form for a couple of years until Preston suffered a heart attack in 1957. That's when Elliott Burch began an extraordinary training career.
Steeped in History and Talent
When Elliott took over from his father, Preston had been the private trainer for the Virginia-based Brookmeade Stable, owned by automobile heiress Isabel Dodge Sloane, for over a decade. In that time, Brookmeade was one of the country's leading owners, with classic winners like Cavalcade and High Quest and homebreds like Flower Bowl and Sailor II.
Bringing the younger Burch on meant more of the same success on the track, especially when young Elliott got a hold of Sword Dancer, a homebred colt by fair handicapper Sunglow out of the unraced mare Highland Fling.
At two, Sword Dancer had been slow to find his stride, winning only three of his fourteen starts. At three, though, he came within a nose of winning the Kentucky Derby after a fierce stretch battle with eventual winner Tomy Lee.
BackTracks:
Midlantic Racing Legends
Our years are defined by great horses. We remember their names, marking our milestones by the dates that these equine heroes raced into our heads and our hearts. Our slice of history is limited by the boundaries of our own lifetimes; the horses that raced earlier, the ones that left impressions on the generations before us, can elude our attention unless another thread pulls us in that direction. These are their stories.
Got a horse you'd like to learn more about? Let us know!
After the race, the trainer was thoughtful about Sword Dancer's scant defeat: "'But my horse ran a damn fine race. He was only beaten this much.' Burch held his right thumb and index finger about an inch apart," read one account.
After finishing second to Royal Orbit in the Preakness, Burch prepared Sword Dancer for the Belmont Stakes with an interesting pit stop: the Metropolitan Handicap. The one-mile Met came just a week before the mile-and-a-half Belmont. Unlike the Belmont, which is restricted to sophomores, the Met Mile is for three-year-olds and up, meaning that Sword Dancer would be facing older horses, the next level of competition. A win there, Burch figured, surely would have the Sunglow colt ready for the Test of the Champion.
After finishing second in all of his stakes races in 1959, Sword Dancer finally notched a victory, taking home the Metropolitan with a sizzling performance that was just two-fifths of a second off the track record. Next Sword Dancer outdueled Bagdad in the stretch to win the Belmont Stakes. He then went on to win the Travers Stakes, the Jockey Club Gold Cup, and more, cementing a Horse of the Year campaign. Just two years into his tenure, Elliott Burch had logged his first classic winner and Horse of the Year.
Continuing Excellence
After Mrs. Sloane passed away in early 1962, Burch opened up a public stable, training for several owners including Paul Mellon of Virginia's Rokeby Stables. By 1964, he was training for Rokeby exclusively, including the promising three-year-old Quadrangle.
Mellon's colt won the Wood Memorial, eliciting praise from his jockey Bill Hartack: "This is a running son of a gun. He's a real good horse."
Burch brought Quadrangle to Louisville and Baltimore to challenge the superiority of favorite Northern Dancer. However, those first two classics went to Northern Dancer, putting the Canadian colt on the verge of securing the first Triple Crown since 1948, when it had gone to Citation. Burch sent Quadrangle on a familiar path in anticipation of running him in the Belmont Stakes after finishing out of the money in the first two classics of 1964.
Like Sword Dancer five years earlier, Burch sent Quadrangle to Belmont early, entering him in the Metropolitan Handicap. After Ahoy set a sizzling pace, the three-year-old grabbed the lead with a quarter of a mile to go. Quadrangle was unable to hold on for the win, with six-year-old Olden Times passing him in the race's waning yards.
Despite finishing second, Burch brought Mellon's colt to the Belmont Stakes to challenge Northern Dancer. Could Quadrangle duplicate Sword Dancer's success in 1959?
In a field that included Hill Rise, Roman Brother, and future super-sire Northern Dancer, Quadrangle took the lead with a half mile left to go in the mile-and-a-half Belmont Stakes. Just behind him were Roman Brother and Northern Dancer. As they entered the stretch, Quadrangle had a half-length lead, but Northern Dancer was on the move, seemingly poised to take the lead and the Crown. Instead, though, Quadrangle powered ahead, holding off a tiring Northern Dancer to spoil his Triple Crown.
In August, Quadrangle followed up that Belmont win (and a score in the Dwyer) with a victory in the Travers Stakes. Burch had almost duplicated his success with the Metropolitan-Belmont-Travers triple with Sword Dancer and Quadrangle for two different stables.
And he wasn't done.
Once, Twice, Three Times a Champion
Five years later, Burch brought Rokeby homebred Arts and Letters to Louisville to challenge the favorite Majestic Prince in the Kentucky Derby, with Majestic Prince coming out on top. Same thing in the Preakness: Majestic Prince held off Arts and Letters in the stretch, the margin of victory over the two classics a neck and a head.
After that performance, Burch found himself back to where he was when the season started, excited about his colt's potential: "He's the best three-year-old I've ever trained. He does everything so well," the trainer said.
For the third time, Burch brought his classic hopeful to Belmont to start in the Metropolitan Handicap. As Sword Dancer had done in 1959, and Quadrangle nearly accomplished in 1964, Arts and Letters beat a field of ten older horses to win that race before besting Majestic Prince in the Belmont Stakes nine days later. In August, Arts and Letters went to Saratoga and won both the Jim Dandy and Travers Stakes on his way to winning Horse of the Year for 1969.
Over a decade, Elliott Burch, son of one Hall of Fame trainer and grandson of another, sent three colts on the Triple Crown trail, using the Metropolitan Handicap as a springboard to victories in the Belmont Stakes. He followed that up with wins in the Travers Stakes for all three, an impressive training feat for any trainer.
Elliott Burch would go on to be named to the Hall of Fame in 1980. Sword Dancer and Arts and Letters would both go on to join the Burches in the Hall of Fame, as did Burch trainees Bowl of Flowers and Fort Marcy. Quadrangle became a sire of champions like Susan's Girl, also a Hall of Famer.
In a training career that almost wasn't, Burch's time working for legendary Virginia breeders and owners like Brookmeade and Rokeby reached the pinnacle of the sport.
FOR MORE INFO…
PRINT SOURCES
Boniface, William. "Quadrangle Wins Belmont By Two Lengths." Baltimore Sun. June 7, 1964.

"Brookmeade Signs Preston Burch." Brooklyn Daily Eagle. September 3, 1944

Chandler, John. "Sword Dancer Beats Bagdad in Belmont Stakes Marred by Two-Horse Spill." Messenger-Inquirer (Owensboro, KY). June 14, 1959.

Eagle, Dean. "Trainers Fret, But Horses Take Belmont in Stride." Louisville Courier-Journal. June 6, 1969.

Grace, Art. "Everything He Does 'Is Wrong'" Miami Herald. June 24, 1963.

McCulley, Jim. "9-1 Olden Times Wins 'Cap; Quadrangle 2d, Ahoy Is Last." Daily News (New York, NY). May 31, 1964.

McCulley, Jim. "Blackmail 14-Length Victor." Daily News (New York, NY). June 13, 1962.

Reichler, Joe. "Manuel Ycaza Praises Quadrangle's Great Run." Clarion Ledger (Jackson, MS). June 7, 1964.

Robertson, Orlo. "Dancer Is Upset By Quadrangle." Clarion Ledger (Jackson, MS). June 7, 1964.

"Roman Brother and Quadrangle in Belmont Field." Cincinnati Enquirer. June 4, 1964.

"Versatility in Sword Dancer's Lines." Daily Racing Form. May 2, 1959.

Ward, Gene. "Met to Dancer; $4 Million Bet." Daily News (New York, NY). May 31, 1959.

"A Western Lesson for Kid Quadrangle." Press and Sun Bulletin (Binghamton, NY). May 31, 1964.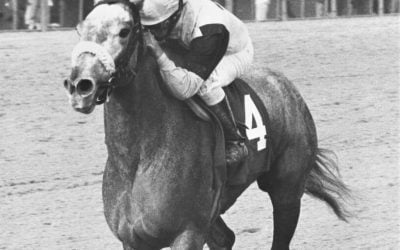 In a new BackTracks: NJ-bred Missy's Mirage became one of trainer Allen Jerkens' favorites, a gray filly who "got the job done."