BackTracks: The Tale of Cavalcade and Isabel Dodge Sloane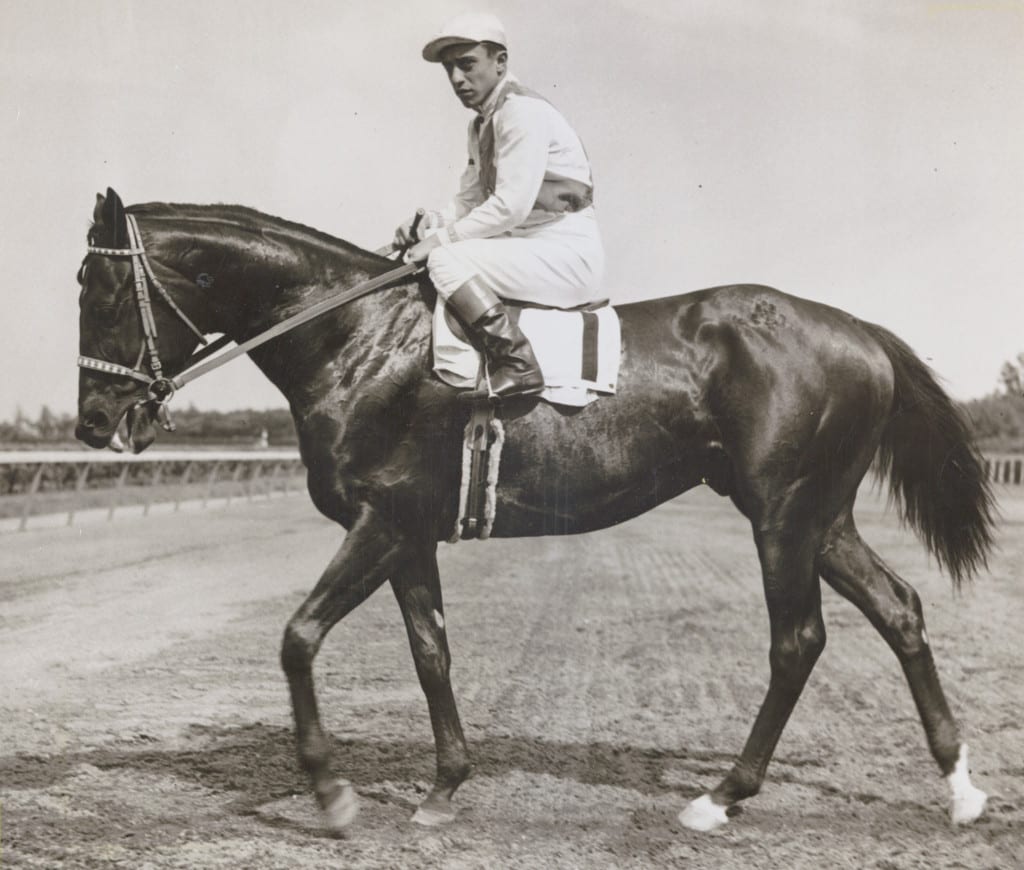 Cavalcade at Belmont Park, J. Gilbert up. Photo Keeneland Library Morgan Collection.
The 1930s ushered in a new era in horse racing in a multitude of ways. The starting gate was introduced early in the decade, going through a number of iterations before Clay Puett introduced the gate we know today in 1939.
Mary Hirsch was the first woman licensed by the Jockey Club to train thoroughbreds in the United States, finally opening up that side of the sport to horsewomen everywhere. Women like Helen Hay Whitney, Gladys Mills Phipps, and Isabel Dodge Sloane made names for themselves as both owners and breeders, demonstrating that the so-called fairer sex also belonged in the arena. As we celebrate Women's History Month, BackTracks looks back at Isabel Dodge Sloane and her Kentucky Derby winner Cavalcade, the New Jersey-bred colt that made 1934 a winning year for his noteworthy owner.
Cavalcade's story begins not in New Jersey, but in England, where his sire Lancegaye, winner of the 1926 Hardwicke Stakes and runner-up in the 1926 Epsom Derby, covered the unraced mare Hastily, who was then sold at Newmarket in late 1930. F. Wallis Armstrong purchased Hastily for 1,100 guineas (about $98,000 in 2020) for his Meadowview Farm, near Moorestown, New Jersey. She foaled a plain brown colt at Meadowview on March 24, 1931, making the colt who would become Cavalcade a New Jersey bred. Armstrong would send the colt to the Saratoga yearling sales in 1932, where trainer Robert A. Smith would purchase him on behalf of Mrs. Isabel Dodge Sloane for $1,200.
BackTracks:
Midlantic Racing Legends
Our years are defined by great horses. We remember their names, marking our milestones by the dates that these equine heroes raced into our heads and our hearts. Our slice of history is limited by the boundaries of our own lifetimes; the horses that raced earlier, the ones that left impressions on the generations before us, can elude our attention unless another thread pulls us in that direction. These are their stories.
Got a horse you'd like to learn more about? Let us know!
Cavalcade and Isabel Dodge Sloane
An heiress to the Dodge Brothers Motor Company, the former Miss Dodge had started out life as part of America's social elite, attending the exclusive Liggett School in Michigan before marrying New York stockbroker George Sloane in 1921. The couple enjoyed life as a part of the New York social scene, especially for those athletically inclined: Mrs. Sloane played tennis and golf and enjoyed fly fishing and bird hunting. They also attended the races at Belmont Park, but it was the chasers that whet Isabel Dodge Sloane's appetite for racing. The Sloanes were both involved with the steeplechasing scene prior to their separation and subsequent divorce in 1929. Mrs. Sloane would own chasers for the rest of her life, even winning the American Grand National twice with His Boots, but she is best known for her Brookmeade Stable's wins on the dirt.
Stamping himself a contender, and a rivalry is born
In 1932, Mrs. Sloane switched trainers from Gwynn Tompkins to Smith, eager to capitalize on Smith's reputation for finding good thoroughbreds and then getting them ready to race. That same year, the colt who would become Cavalcade went through the Saratoga sales along with other Meadowview yearlings, including a contingent sired by John P. Grier, the colt who pushed Man o' War the farthest in their Dwyer Stakes meeting in 1920. When Smith told Armstrong that he had bought the best yearling from that crop, Armstrong scoffed. Two years later, the breeder would change his mind.
Under Smith's tutelage, Cavalcade ran eleven times in 1933, winning the Hyde Park Stakes at Arlington Park and then an allowance at Laurel and finishing fourth or better in the other nine. In a year with no dominant two-year-old to call champion, the son of Lancegaye was considered one of the year's best, ahead of another familiar name, Discovery. The two met four times in 1933, with Discovery finishing in front of Cavalcade twice and Cavalcade bettering Discovery twice. In 1934, they would meet six more times, as Cavalcade made 1934 his championship year.
Though Isabel Dodge Sloane would have other classic victories, the 1934 season saw her top the list of American owners thanks to Cavalcade. The brown son of Lancegaye and Hastily started his three-year-old season with a victory in an allowance race at Havre de Grace before taking on Brookmeade stablemate Time Clock, winner of the Florida Derby, and his erstwhile rival Discovery in the Chesapeake Stakes, also at Havre de Grace. Only three days after winning that 1 mile and 70-yard allowance, Cavalcade took the lead five furlongs into the mile and a sixteenth race and never looked back, winning by a length-and-a-half. In the process, Cavalcade set a track record for the distance, knocking two-fifths of a second off the previous record. With this win, the Brookmeade colt became co-favorite for the 1934 Kentucky Derby with the filly Mata Hari, who had beaten the boys twice at age two in 1933 and would continue that trend into her three-year-old season.
"I knew the race was over"
A field of thirteen greeted the starter at Churchill Downs, with the entry of Cavalcade and Time Clock going to the post favored, followed by Bazaar and Mata Hari. Cavalcade drew post eight, toward the middle of the field. In the days leading up to the Derby, Smith had been concerned that the colt had not endured the trip from Maryland to Kentucky well, but, at the start of the Derby, Cavalcade appeared relaxed to the point that he seemed to be leaning against his stall in the starting gate. At the start, Mack Garner allowed Cavalcade to lag behind horses, knowing that his mount ran best with company. Mata Hari took the lead, with Quasimodo and Discovery just behind her. Six furlongs in, Sergeant Byrne dueled with the filly, both eventually fading on the final turn, allowing Discovery to take the lead.
As the field entered the stretch, Garner had Cavalcade in position to take the lead finally, a patient ride that had taken them from the back of the pack to fifth place, poised to run down the leader. In the stretch, Garner took Cavalcade to the outside of Discovery and hit him right-handed, inspiring such a burst of speed that the colt nearly skidded. Garner steadied his mount as they blew past Discovery in the final furlong, pulling away to win by three lengths.
"When we caught Discovery, I knew the race was over and we perhaps could have run that last quarter of a mile faster if there had been any need of it," Mack Garner said to the Chicago Tribune when asked about Cavalcade's winning run at race's end.
Mrs. Sloane, trainer R. A. Smith, and jockey Mack Garner all joined the party in the winner's circle, though Cavalcade himself shied away from the festivities. The party continued in Baltimore, where Mrs. Sloane once again found herself in the winner's circle, this time for High Quest's victory in the Preakness. Again, Cavalcade went into the race the favorite, coupled with High Quest as part of the Brookmeade entry. At the start, Garner held his colt toward the back of the pack while Bobby Jones sent High Quest to the front, where he remained for the rest of the mile and three-sixteenths. Discovery made a run at High Quest, but could not make up the ground that he had lost earlier in the race when the front runner had pocketed him on the rail. Smith had declared the race for Cavalcade, but the Derby winner simply ran out of track unable to pass his stablemate. High Quest eked out his victory by a nose, giving Mrs. Sloane her second classic victory.
Cavalcade skipped the Belmont Stakes, where High Quest followed up his Preakness victory by coming in second behind Peace Chance, and went on to win the American Derby, where he set another track record; the Detroit Derby; and the Arlington Classic.
In the latter, his final race of 1934, Cavalcade met Discovery for the sixth time that year, a duel that had journalist Harvey Woodruff of the Chicago Tribune asking, "Cavalcade! How Can He Be Beaten?"
Similarly, as the Arlington Classic approached, the Tribune posited that a Classic victory for Cavalcade in addition to his collection of Derbies that spring would put him in the same vein as Man o' War. Discovery, fresh off a victory in the Brooklyn Handicap, loomed as the Kentucky Derby winner's main challenger. With a crowd of 30,000 expected at Arlington Park, the Classic promised something special. And certainly the race delivered.
At the start, Cavalcade and stablemate Good Goods were at the back of the field of nine. On the first turn, the colt encountered traffic, shuffled back to last place as the Arlington crowd gasped in surprise at the sight of the Kentucky Derby winner so far back. Jockey Mack Garner exercised patience as they straightened into the backstretch, weaving his way through traffic to stalk in third. Discovery ran in his customary place toward the front of the pack, hanging on to second place as the field entered that final turn of the mile and a quarter. Cavalcade swept past Growler and Discovery, the lagging front runners, and took the lead. With every stride in the stretch, Cavalcade stretched his lead out more and more, flashing under the wire to win by four lengths. Discovery held on with game determination to second place, his sixth and last defeat by his 1934 rival.
With that victory, Cavalcade's winnings grew to $126,965, making him Brookmeade's biggest money winner and helping push the stable into first place on the list of owners for the year.
Legacies
The Arlington Classic stood as Cavalcade's last start of 1934; Smith soon after discovered a quarter crack that took his Derby winner out of training for the remainder of the year. Despite rumors of a meeting with Equipoise, the Whitney handicapper currently at the top of the sport, Smith did not bring Cavalcade back to the races until May 1935. After missing the Santa Anita Handicap with a hoof injury, Cavalcade finished second in the Ben Brush Handicap and then lost his rider at the start of the Suburban Handicap, his only two starts of the year. Such long layoffs were likely due to Cavalcade's reported resistance to training, perhaps caused by ongoing issues with injuries. Smith brought Cavalcade back at Narragansett Park in September 1936, with the legendary George Woolf as his rider. Cavalcade finished out of the money in both starts and was sent to stud in October 1936.
When Mrs. Sloane decided to try flat racing with her Brookmeade Stable in 1929, she also purchased 850 acres of land in Virginia to establish Brookmeade Farm, with the intent of eventually supplying her stable with homebreds rather than relying only on sales. Located near Upperville, Sloane sent her 1934 Kentucky Derby winner to stud with a fee of $750 and a full book of mares. He spent a season at Almahurst Farm in Kentucky before returning to Brookmeade. In October 1940, Cavalcade was shipped to Shandon Farm near Lexington, Kentucky to stand for the 1941 breeding season. After arriving, he came down with shipping fever, spiking a fever of 105 degrees upon arrival. Veterinarians worked to treat him for two weeks, with Mrs. Sloane even paying her Derby winner a visit a few days before he ultimately succumbed. In his three seasons at stud, Cavalcade sired 70 registered foals, the gelding Dinner Party, a steeplechaser, being the only one of note.
Cavalcade was the first of Mrs. Sloane's successes as an owner; she added breeder of winners to her resume as well. Her initial successes came from horses she purchased as sales, as in 1932 when R. A. Smith purchased Cavalcade and High Quest. Later, she found success with homebreds like Sword Dancer, 1959 Belmont Stakes winner and Horse of the Year, and Bowl of Flowers, champion filly of 1960 and 1961.
Her silks, white and royal blue crossed sashes, were seen on the racetrack even after Isabel Dodge Sloane's 1962 death. Her niece ran horses in those colors as late as 2003. Additionally, Brookmeade bred eight stakes winners after Sloane's death, which raised the ultimate total of stakes winners from that operation to seventy-four. The farm itself remains in the thoroughbred industry, a large portion of the original 850 acres now under the name Lazy Lane Farm. 
Cavalcade won his series of Derbies in that gap between two Triple Crown winners, Gallant Fox (1930) and Omaha (1935), and, in the process, garnered himself enough fame that he drew comparisons to the immortal Man o' War. Cavalcade entered the NJ-bred Hall of Fame with the first class, in 2012.
For his owner Isabel Dodge Sloane, one of the pioneering women of thoroughbred ownership, he counts as her first classic winner, one of those horses that helped make her a force in horse racing for over three decades. This New Jersey-bred colt is one of the state's two Derby winners, alongside the filly Regret (1915). As we celebrate Women's History Month, as we recognize women like Gladys Mills Phipps, Helen Hay Whitney, and more, let's think of Cavalcade and Isabel Dodge Sloane, smart and persistent personalities who made history in America's greatest races.
FOR MORE INFO…
PRINT SOURCES
"Cavalcade to Enter Brookmeade Farm Stud This Week." Daily Racing Form, October 19, 1936.
"Hastily Shows 'Em." Daily Racing Form, April 14, 1937.
"Cavalcade to Enter Brookmeade Farm Stud This Week." Daily Racing Form, October 19, 1936.
"Hastily Shows 'Em." Daily Racing Form, April 14, 1937.
"New Jersey Notes." Daily Racing Form, June 2, 1941.
Woodruff, Harvey. "Cavalcade! How Can He Be Beaten?" Chicago Tribune, July 14, 1934.
Lane, French. "Cavalcade 1 to 2 Choice in Classic Today." Chicago Tribune, July 14, 1934.
Lane, French. "Champion Cavalcade Wins $40,000 Classic." Chicago Tribune, July 15, 1934.
Lane, French. "Garner Pales at 'Great Thrill' of Life." Chicago Tribune, May 6, 1934.
Dunkley, Charles. "Cavalcade Cops Classic." New York Daily News, July 15, 1934.
Dunkley, Charles. "Cavalcade Charges from Last Place to Stir Fans and Easily Annex Arlington Classic." Evening Star, July 15, 1934.
Kay, C. Robert. "Cavalcade Unseats Boy; Discovery Runs 2d, Only One Third." St. Louis Globe-Democrat, May 31, 1935.
Robertson, Orlo. "Cavalcade Sets Record in Chesapeake Victory." St. Louis Globe-Democrat, April 29, 1934.
Dudley, Bruce. "Cavalcade Wins By 2 ½ Lengths; Discovery 2d, Agrarian 3d." Louisville Courier-Journal, May 6, 1934.
Gould, Alan. "Cavalcade Wins Turf Classic By Three Lengths." Baltimore Sun, May 6, 1934.
Sparrow, C. Edward. "High Quest Leads All the Way." Baltimore Sun, May 13, 1934.
"Cavalcade Great Derby Horse Is Shipping Fever Victim." Cincinnati Enquirer, October 22, 1940.
"The Brookmeade Beauty." Lincoln Star, January 22, 1935.
"Racing Becomes the Sport of Queens." The Missoulian, July 29, 1934.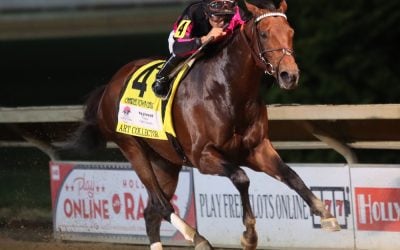 Art Collector's win in Saturday's Grade 1 Pegasus got us wondering: which winners of the Charles Town Classic had the best careers after their Classic win?