BackTracks: Shuvee takes the Gold Cup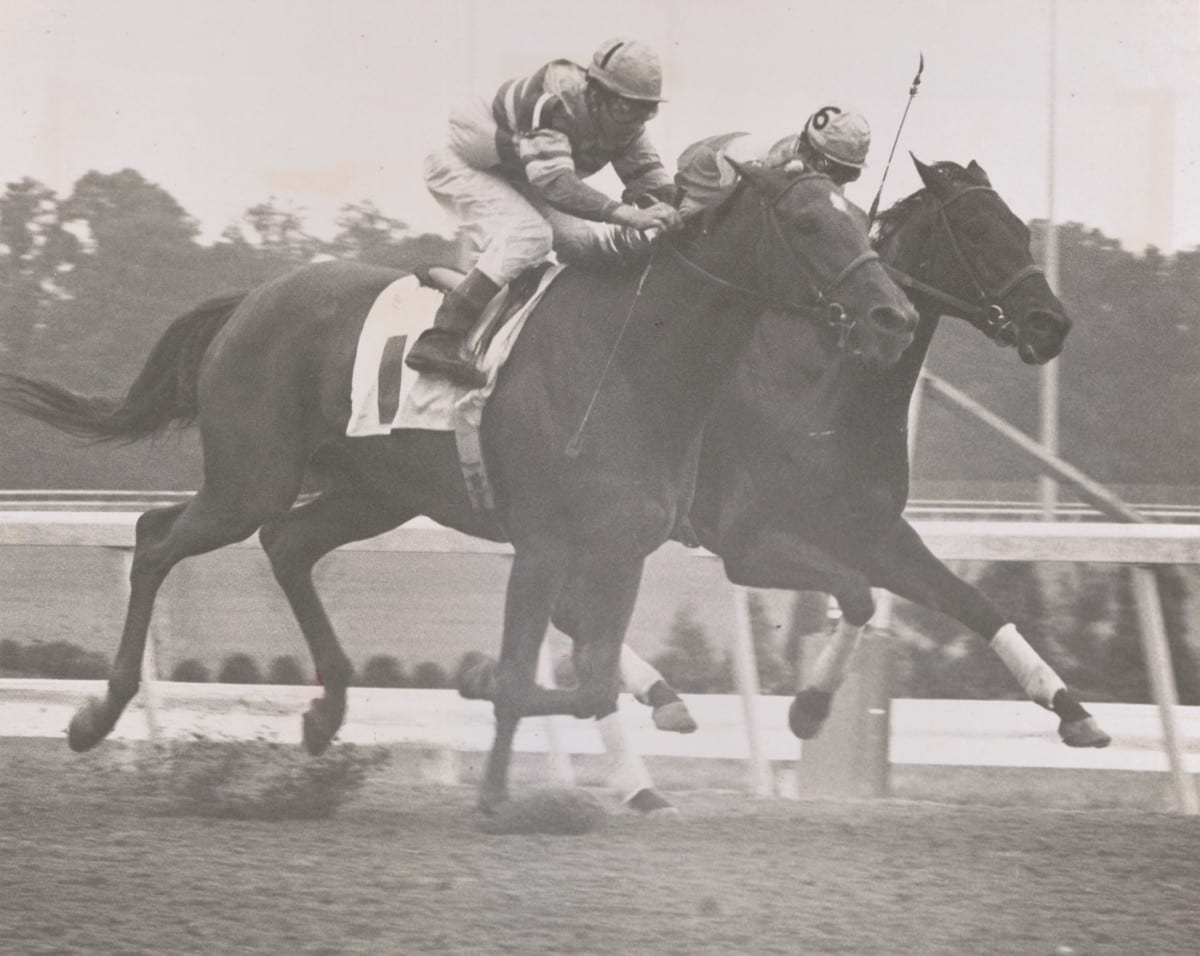 Shuvee won the 1969 Cotillion at Liberty Bell Park. Photo Keeneland Library Thoroughbred Times Collection. This image is protected by copyright and may not be reproduced in print or electronically without written permission of the Keeneland Library.
The names on the list of Jockey Club Gold Cup winners read like a roster of the immortals in the Hall of Fame: Man o' War, Gallant Fox, War Admiral, Whirlaway, Citation, Nashua, and more.
This historic, race, conducted at a two-mile distance through 1975, added another milestone with the victories by Shuvee, the first filly or mare to take home this illustrious prize, in both 1970 and 1971. Her wins in the Gold Cup capped off a career where this Virginia-bred mare showed she could win at any distance against any group of horses, retiring as the leading money-winning mare of her era.
Bred for the big stage
Shuvee got her prowess at long-distance races from a rather advantageous pedigree: her sire was the great Nashua, twice a winner of the two-mile Jockey Club Gold Cup, and her dam Levee won the 1 3/8-mile Coaching Club American Oaks. Her damsire was the great Hill Prince, who in 1950 won not only the Preakness Stakes but also the Jockey Club Gold Cup. Her owners, Whitney and Anne Stone, were active in several equestrian pursuits, including co-founding the United States Equestrian Team and reviving the National Horse Show, and owned Morven Stud, where Shuvee was foaled. Their longtime trainer was Willard C. (Mike) Freeman, a steeplechase rider who turned to training thoroughbreds in the 1950s.
It was Freeman who hit upon a secret weapon for Shuvee in her two-year-old season. Big and gangly, the filly was slow to mature and winless in her first six starts, but the trainer tried something new in her seventh start: ear plugs to drown out the noise of cheering crowds and other horses. She won that race and ran with cotton in her ears for the rest of her career. Shuvee finished out her juvenile season in 1968 with three victories in thirteen starts, including wins in the Selima and Frizette Stakes.
BackTracks:
Midlantic Racing Legends
Our years are defined by great horses. We remember their names, marking our milestones by the dates that these equine heroes raced into our heads and our hearts. Our slice of history is limited by the boundaries of our own lifetimes; the horses that raced earlier, the ones that left impressions on the generations before us, can elude our attention unless another thread pulls us in that direction. These are their stories.
Got a horse you'd like to learn more about? Let us know!
At three, though, Shuvee became a force to be reckoned with. She opened the year winning four of five starts, including the Acorn, the Mother Goose, and the Coaching Club American Oaks, becoming only the second filly to win the Triple Tiara. She followed that up with victories in the Cotillion Handicap and the Alabama Stakes, finishing 1969 with six wins in twelve starts. After two seasons of racing and the Triple Tiara, Shuvee could easily have left her racing career behind and turned to breeding. Instead, she returned for another year of racing at age four, winning the Top Flight and Diana Handicaps and the Beldame Stakes before taking on the boys in the Woodward Stakes at Saratoga. The previous year, at age three, she had finished sixth in the seven-furlong Vosburgh Handicap in open company; the Woodward, though, was longer at 1¼ miles, giving her more space for her preferred off-the-pace running style. Unfortunately, in the stretch run at Belmont Park, her jockey Ron Turcotte noticed that she hesitated running on the inside of horses; she hit the rail in the stretch, which cost her a chance to win the Woodward. She would try the boys again, this time in the Jockey Club Gold Cup at Aqueduct.
"One of the best"
The 1970 edition of the Jockey Club Gold Cup was a small field with only six horses, including Meadow Stable's good handicap runner Hydrologist making his last start and Loud, the Travers Stakes winner. Shuvee was the lone filly in the race, trying to become the first filly or mare to win this weight-for-age classic. At age four, she carried 121 pounds with only Loud, the lone three-year-old in the race carrying less weight at 119 pounds. Shuvee had carried more in previous races, but those were not sixteen-furlong marathons against open company.
In the end, neither weight nor distance seemed to matter to the Triple Tiara winner. Jockey Ron Turcotte sent her to the lead at the break and then kept her at a measured pace throughout the race, with Loud and then Hydrologist running just behind her. The field stayed close for the first mile-and-a-half or so, with Hydrologist waiting until the final turn to make his bid for the lead. Turcotte's steady hands had kept her at a pace that left her with plenty of kick, repelling Hydrologist and then drawing away in the stretch to win by two lengths in a time of 3:21 3/5, more than two seconds off of the five-time winner Kelso's record of 3:19 1/5.
This victory was a fitting way to end Shuvee's 1970 season, in which she was named champion older filly or mare.
Coming back at age five in 1971, she continued her winning ways, taking the Top Flight Handicap for the second time and then winning the Diana before finishing second in the Beldame. In the process, she became the leading money-winning filly or mare of all time, her career earnings topping $800,000 in 1971.
She also tried the boys again, finishing third in the Whitney and then a poor sixth in the Woodward. The Stones sent her back to Aqueduct for her last career start, another try at the Jockey Club Gold Cup. Her sire Nashua had been able to win the Gold Cup in consecutive years. Could Shuvee do the same?
This time, she faced six others, including Loud, whom she had beaten in the Gold Cup the year before, and another filly, Our Cheri Amour, the winner of that year's Coaching Club American Oaks. Even though she had lost her previous three starts – the Beldame and Matchmaker sandwiching the Woodward — and was missing regular rider Ron Turcotte, Shuvee went off as the favorite, carrying only 121 pounds again.
For the first nine furlongs, she sat behind the front-runners, substitute jockey Jorge Velazquez biding his time. Then, with seven furlongs to go, Shuvee moved to the front with ease, needing no encouragement to take the lead. At the head of the stretch, Velazquez gave her a cluck or two and she put more and more track between her and the field.
At the wire, she was seven lengths in front, winning her second Jockey Club Gold Cup and doing it in 3:20 2/5, just over a second off of Kelso's record time. This was a spectacular performance, a fitting end to a record-breaking career.
After the race, jockey Bobby Ussery, who rode Paraje to finish second, said, "Shuvee's one of the best."
"A real extraordinary mare"
In her career, Shuvee not only won the Triple Tiara and then the Jockey Club Gold Cup twice, but she also retired as the leading money-winning filly or mare with $890,445 in her forty-four starts. She was Champion Older Filly/Mare for both 1970 and 1971 and then was inducted into the National Museum of Racing and Hall of Fame in 1975.
Her trainer Mike Freeman called her "a real extraordinary mare – for a big filly, particularly. […] Just a real freak."
In the nearly 60 years the Jockey Club Gold Cup was contested at two miles, only five horses were able to win consecutive runnings: Mad Hatter (1921-22), Dark Secret (1933-34), five-time winner Kelso (1960-64), and Nashua (1955-56) and his daughter, Shuvee.
Nearly fifty years after Shuvee's consecutive victories, she remains the only filly or mare to win the Gold Cup, let alone win it twice. This big, rangy mare followed in her hallowed sire's footsteps to become a Hall of Famer and a record breaker complete with the singular distinction of repeating success in the same race as her sire and damsire, the two-mile marathon made for champions, the Jockey Club Gold Cup.
FOR MORE INFO…
PRINT SOURCES
Editors and Writers of the Daily Racing Form. Champions: The Lives, Times, and Past Performances of the 20th Century's Greatest Thoroughbreds. New York: Daily Racing Form Press, 2000. 282.
Klessel, Steve. "To Deceit, the Battle – to Double Delta, the War?" Philadelphia Daily News. October 12, 1971.
McCulley, Jim. "Cougar Bears In, Hands Victory in Woodward to W. Coast Scout." New York Daily News. October 3, 1971.
McCulley, Jim. "Gold Cup to Shuvee by 7." New York Daily News. October 31, 1971.
McCulley, Jim. "Personality by Neck; Place DH." New York Daily News. October 4, 1970.
McCulley, Jim. "Shuvee 2-1 with Velasquez Up." New York Daily News. October 30, 1971.
McCulley, Jim. "Shuvee Bows Out in Style." New York Daily News. October 31, 1971.
McCulley, Jim. "Shuvee Captures Gold Cup by 2; 1st Filly to Make It." New York Daily News. November 1, 1970.
Schuyler, Jr., Ed. "Shuvee Becomes First Filly Ever to Win in Aqueduct's Gold Cup." Sacramento Bee. November 1, 1970.
"Shuvee Bidding Farewell to Racing at Aqueduct." Hartford Courant (Hartford, CT). October 31, 1971.
"Shuvee Opposes 5 Males in Jockey Club Gold Cup." Louisville Courier-Journal. October 30, 1970.
Staff of The Blood-Horse. Thoroughbred Champions: Top 100 Racehorses of the 20th Century. Lexington, KY: Eclipse Press, 1999. 188-189.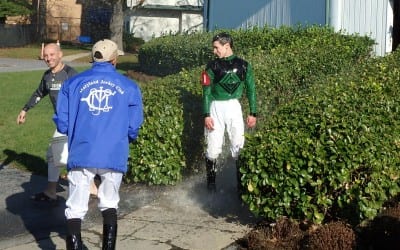 Jockey Lane Luzzi, who grew up in New York, will try to disprove the idea that you can't go home again when he shifts his tack from Texas to Monmouth.