BackTracks: Ral Parr and the changing times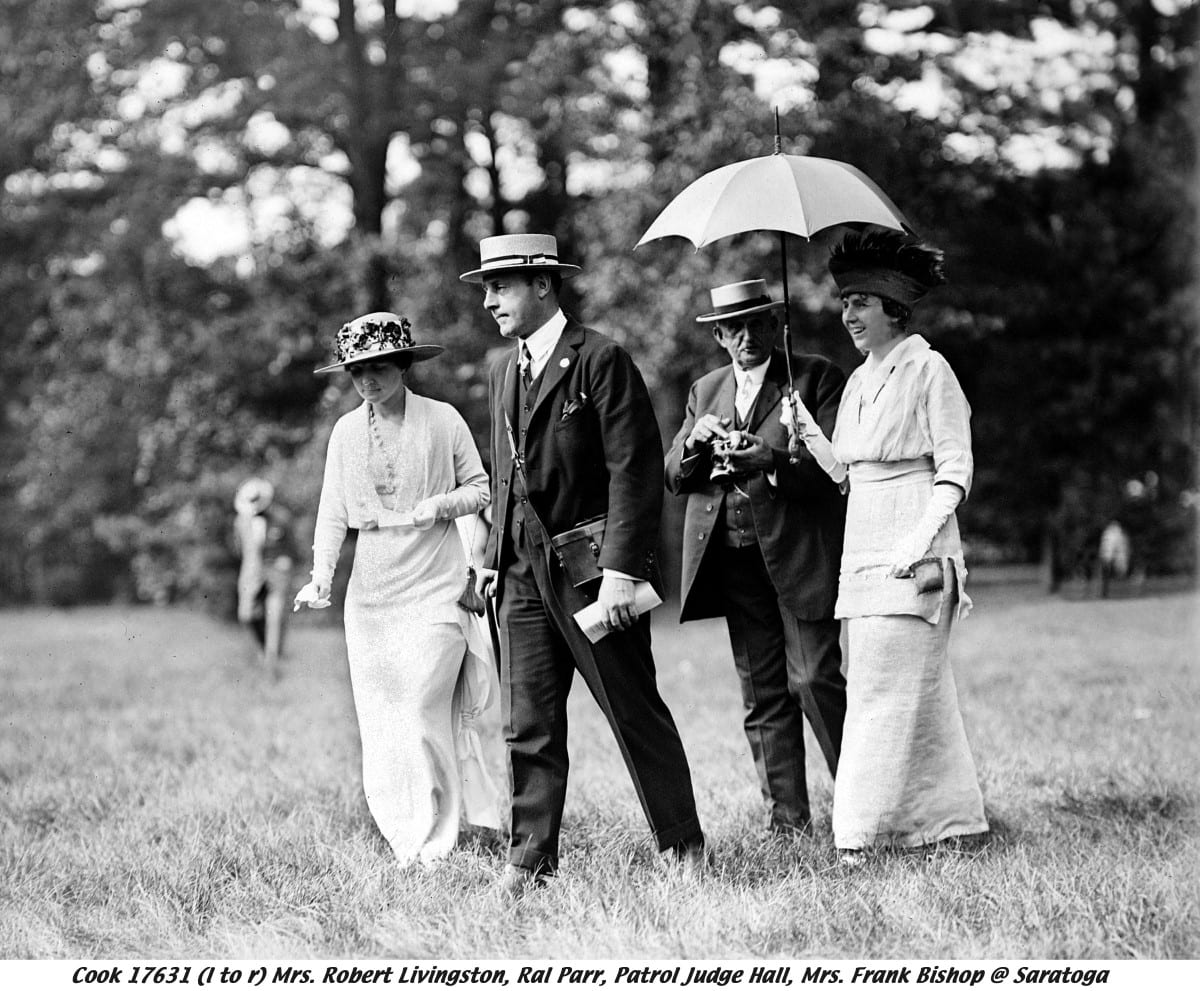 Ral Part, second from left, with (from left) Mrs. Cornelia Gerry, Patrol Judge Hall, and Mrs. Frank Hall. Photo Keeneland Library Cook Collection. This image is protected by copyright and may not be reproduced in print or electronically without written permission of the Keeneland Library.
Behind the names you know – Calumet, Whitney, Chenery, Phipps – are hundreds of names that you might not, owners of good horses who made an impact on horse racing through consistent stables and behind-the-scenes contributions. In the Mid-Atlantic region in the first part of the 20th century, one of those was Ral Parr.
In 2020, Parr's name is familiar because his Paul Jones won the Kentucky Derby 100 years ago, the same year that Man o' War bypassed the Derby. Outside of Paul Jones, though, Parr owned both flat and steeplechase horses for more than thirty years, and, while his horses may lack the name recognition of other owners, this Marylander was a fixture in the region, a native son who focused his time and money in the state that he called home.
Israel M. Parr, Ral's grandfather, started out as a grocery clerk in Baltimore around 1838, eventually reorganizing the company after the owner's death in 1846. From there, he expanded the company's scope, eventually branching out into the grain industry, seeking to make the area a hub for grain exports. Israel brought son Henry into the firm in 1880; both father and son served on the board of directors of Farmers' and Merchants' Bank of Baltimore and the Baltimore Corn and Flour Exchange while also holding positions in other corporations and organizations. In 1876, Henry married Harriet Howell and then the couple welcomed Israel (Ral) Parr on March 26, 1877. Though Ral was born in Philadelphia, he grew up in Baltimore and spent time on his family's estate Meadowvale near Lutherville as a child.
At age four, Ral got his first pet, a goat. That lead to an interest in horses, which his father tried to allay with a donkey, but Ral was determined to have a horse because "a horse, being several times larger than a goat, would be several times as much fun to own." By the time young Parr was in high school, he had started racing horses at county fairs, even winning a $100 purse at Timonium with a horse named Uncle Jake in 1895. Three years later, he won a $700 race at Sheepshead Bay with a filly named Louise N and then, from there, "he stopped counting the number of times his horses came in ahead of the field."
BackTracks:
Midlantic Racing Legends
Our years are defined by great horses. We remember their names, marking our milestones by the dates that these equine heroes raced into our heads and our hearts. Our slice of history is limited by the boundaries of our own lifetimes; the horses that raced earlier, the ones that left impressions on the generations before us, can elude our attention unless another thread pulls us in that direction. These are their stories.
Got a horse you'd like to learn more about? Let us know!
After high school, Parr attended Princeton University, but, by 1897, was back in Baltimore working for his father as part of I.M. Parr & Sons. In February 1904, the Great Baltimore Fire leveled almost 1,500 buildings and damaged another thousand over the course of 30 hours. Ral knew that the fire would grow interest in fire insurance, so he and brother Henry started their own insurance firm, Parr & Parr, which eventually merged with another insurance firm to create Maury, Donnelly, & Parr.
In addition to his business interests and love for horses, Parr played the cello well enough that he was able to play with the Peabody Student Orchestra as a young man. He also had been Vice-President of the company that ran the Lyric Theatre in Baltimore since its inception in 1894. As an adult, his love of music and travel was secondary to only one thing: horses.
OVER THE JUMPS AND ON THE FLAT
By the time he married Laura Jenkins, great niece of Francis Scott Key, in 1899, Ral Parr was not simply racing horses, but also participating in horse shows, his name appearing in regional newspapers whenever his horses did well. His success on the racetrack also whetted his appetite for more. No longer content to run simply at county fairs, Parr expanded his stable's reach, acquiring both flat and steeplechase horses. Eventually, he brought on fourth-generation horseman William Garth to train his horses for both types of racing, finding enough success that they both appeared in the Daily Racing Form and more on a regular basis. Parr also became a member of the Maryland Jockey Club, an organization of which he would remain part until his death.
Over the jumps, Parr had several winners, among them Ticket of Leave and The Welkin. In his nearly 40 years of racing, this son of Baltimore always kept at least one steeplechaser in his barn, with those horses sometimes outearning his flat horses.
In his time on the racetrack, Parr did his best to make some noise when opportunity arose. He pursued Wilfrid Viau, who had purchased 1917 Kentucky Derby winner Omar Khayyam at auction, in hopes of bringing the British-bred colt into his barn. First, Parr offered $50,000, which Viau promptly refused; then he offered $75,000, which Viau also turned down. Finally, the Marylander said "Name your price" to Viau, but the Canadian would not bite.
This was after Par had purchased the British colt Crimper, out of the legendary mare Frizette, for $17,000 in 1916. His addition to the stable gave Parr a horse they could aim at races like the Suburban and Brooklyn Handicaps. Crimper was not the only new addition to the Parr stable.
Like Parr, Joshua Cosden was a native of Baltimore, a self-made man who ascended from drugstore clerk in his native city to wealthy oil man in Oklahoma. Cosden's fortune allowed him to build Tulsa's first skyscraper and have homes in New York, Florida, and Rhode Island. In addition to his investment in Thoroughbreds, Cosden had a yacht and his own railroad car among his other extravagances.
Cosden and Parr teamed up in 1917, after Cosden bought part of Crimper and then other Parr horses, registering their partnership with the Jockey Club. While Cosden would eventually lost his fortune and liquidated his holdings a decade later, Parr weathered the loss of his partner with little trouble, maintaining his fair stable well after the oilman found himself with empty pockets.
About the time that Cosden and Parr were entering into their partnership, Parr found himself called up for service as the United States mobilized for World War I. As part of Maryland's National Guard, Parr was tapped help procure horses for the Remount Service, which supplied horses to the Army's cavalry units. While in Europe, Parr's good steeplechaser Ticket of Leave found himself a second career as his owner's mount.
After Parr returned home from Europe, a gelded son of a fair British sire would provide him with his greatest success on the racetrack.
ROSES IN MAY
Purchased at a yearling auction in 1918, Paul Jones was a product of Hamburg Place, John E. Madden's farm outside of Lexington where he had already bred one Kentucky Derby winner, Old Rosebud (1914) and would become known as the breeder of the first Triple Crown winner, Sir Barton (1919). William Garth purchased the yearling Paul Jones for $1,000 for Parr, who was the gelding's sole owner despite his ongoing partnership with Cosden. Out of a fair British sire, Sea King, Paul Jones would yield far more than his small purchase price.
A fair horse at age two, Paul Jones won five of his twelve starts, but was in the money four other times, and stamped himself a horse brimming with potential for the three-year-old races of 1920.
Overshadowed by his stablemate Blazes, who had won the Grab Bag Handicap and the Breeder's Futurity at age two, and then by the immortal Man o' War, Paul Jones was not even his trainer's first choice when it came to the Derby:
"I have never had a horse winter better than Blazes has," said trainer William Garth. "and I would not exchange chances for the Kentucky Derby with any man who has an eligible for the race. I have sufficient confidence in Blazes to back him at even, play or pay, against any other candidate for the Derby."
Paul Jones, though, had shown that he was more consistent than his stablemate in the lead-up to the Derby; it was no surprise then that the gelding, not Blazes, brought the roses to Parr. Thrilled with his Kentucky Derby victory, the Marylander would spend the next decade and a half looking for another horse to get him back to that vaunted position.
After the Kentucky Derby, Paul Jones would bypass the Preakness and the Belmont Stakes in favor of the Suburban Handicap at Belmont Park. In that race, he beat horses like Exterminator and Upset for the last significant victory of his career.
Paul Jones continued to race for another three seasons, factoring in several handicaps on the Maryland circuit, but never regaining the form that brought him a Kentucky Derby win. Blazes also had some good victories, including winning the Maryland Handicap.
Parr continued to buy horses, seeking another Derby starter. While he did not find that classic winner's circle again, he did find the filly Her Grace nearly a decade later.
Parr picked up this daughter of Bright Knight, bred at Audley Farm in Virginia, for a mere $2,100 at a Timonium sale in 1928. In 1930, with Parr's new trainer Elmer Trueman, Her Grace won the mile-and-a-quarter Maryland Handicap in open company, defeating Ned O., Jim Dandy, and fourteen others for that victory.
A tendon injury at age 5 saw Parr shift her from the racetrack to the breeding shed, where she produced foals by Bubbling Over and Flying Ebony. Parr kept some breeding stock, but was not as prolific as other breeders in the region.
He purchased the farm Bolingbrook from Commander J.K.L. Ross, who owned Sir Barton and Billy Kelly among others, and renamed it Laurel Park Farm. There, he kept his breeding stock and also wintered much of his racing stable until he sold the farm in 1937. He then shifted his horses back to his Laural estate, now part of the Green Spring Valley Historic District in Baltimore County.
The End of the Era
As an owner, Ral Parr had seen racing evolve from its concentration in Maryland and New York and then Kentucky in the early part of the 20th century to a contraction that nearly killed racing in New York in the 1910s to the exponential growth of the sport in the 1930s.
Depression-era economics coupled with pari-mutuel wagering made horse racing an attractive generator of tax income for cash-starved states. On June 26, 1937, Delaware Park held its first day of racing, with a five-furlong dash for two-year-olds as its first race. A field of eight went to the post with the colt Legal Light winning by a half-length. Ral Parr had the distinction of owning and breeding Legal Light, a mid-Atlantic owner and breeder supporting a regional racetrack, as he had done with other regional tracks like Pimlico and Havre de Grace.
In 1939, Parr debuted one of his most promising two-year-olds in years, a gelding named Victory Morn. His Maryland-based sire Challenger II had already sired 1939 Preakness Stakes winner Challedon and would go on to sire the champion mare Gallorette a few years later. His dam Bright Luna was a daughter of Bright Knight, the Virginia-based sire who had also produced Her Grace.
Victory Morn would win the Eastern Shore Handicap at Havre de Grace and the Old Colony Stakes at Narragansett Park before winning the Richard Johnson Stakes at Laurel on October 7.
Three days later, Parr suffered a stroke and was rushed to Union Memorial Hospital where he died a few hours later. At his bedside was his second wife and stepson; his first wife Laura had passed away a decade earlier. While Parr had no children, he did leave behind a legacy of a life spent pursuing all things equine.
Israel 'Ral' Parr achieved quite a bit in his years as an owner and breeder. He had won the Kentucky Derby with Paul Jones; campaigned good horses both on the flat and over the jumps; served his region as part of a number of organizations, including the Maryland Jockey Club; and even had his colors permanently registered with the Jockey Club.
Success with his horses was matched by his success in business, with Parr professing that "my horses are nothing more than hobbies. What I'm chiefly interested in is my business." As part of Maury, Donnelly, & Parr, he helped build an insurance brokerage that survives to this day. For his service to his country as part of the Remount Service, Parr had been promoted to Major. In his sixty-two years, this Baltimore native had focused his energies on the mid-Atlantic region, one of those owners who helped keep racing going through the ups and downs of the early 20th century.
The next year, the now-defunct Ral Parr Stakes was inaugurated at Pimlico Race Course, a four-and-a-half furlong dash for two-year-olds. Its first winner was Blensign, a colt owned by H.G. Bedwell, Parr's last trainer who also had conditioned other champions like Sir Barton. That race was originally named the Masquerader Purse, named for one of Parr's earlier stakes winners. The Daily Racing Form had commented on the Marylander's contributions to the state's tracks, noting that Parr "wouldn't consider any season successful unless his horses had made a round of this state's mile tracks," as well as shipping a division to the state's half-mile tracks. He wanted racing in the state to succeed for years to come.
While the name Ral Parr might be less familiar now, this native son played his part in keeping the sport growing both on the track and in the breeding shed during the first decades of the 20th century. A century after his Kentucky Derby win, modern fans may know his name (if at all) from the notoriety of Paul Jones But in truth, Parr's greatest contributions to the game came in supporting racing in every way he could for decades, his investment of time and money helping horse racing weather the storms of changing times.
FOR MORE INFO…
PRINT SOURCES
"An Off Day's Belmont Park Racing." Daily Racing Form. May 30, 1916.

"Duryea Sale a Great Success." Daily Racing Form. May 28, 1916.

"Numerous Partnerships Registered." Daily Racing Form. April 24, 1917.

"Parr to Purchase Army Remounts." Daily Racing Form. July 28, 1917.

"William Garth's 1921 Stable." Daily Racing Form. February 18, 1921.

"'Billy' Garth and Shannon River." Daily Racing Form. November 15, 1922.

"Leading Stables for Bowie." Daily Racing Form. May 10, 1933.

"Register Life Colors." Daily Racing Form. November 16, 1932.

"Delaware Park Form Chart." Daily Racing Form. June 28, 1937.

Sevier, O'Neil. "Hyannis Shows Well for Clyde Stable." Philadelphia Inquirer. April 22, 1917.

Sevier, O'Neil. "Spirited Bidding for Blooded Stock." Philadelphia Inquirer. June 17, 1917.

Sevier, O'Neil. "Best One is a Matter of Doubt." Cincinnati Enquirer. August 26, 1917.

Dempsey, J.S. "Paul Jones Lands Derby Event." Cincinnati Enquirer. May 9, 1920.

"Tambour Captures Rich Race at Laurel." Evening Star (Washington, DC). October 26, 1930.

"Tambour Takes Selima Stakes; Maryland 'Cap to Her Grace." Brooklyn Times Union. October 26, 1930.

"Ral Parr Gets License to Wed Mrs. Sonia Whitman, Divorcee." Baltimore Sun. September 22, 1931.

Oakes, Russell. "Prize Mare to Be Bred in Maryland." Evening Sun (Baltimore, MD). December 26, 1932.

Oakes, Russell. "Trueman Set for Active Training at Parr's Farm." Evening Sun (Baltimore, MD). January 12, 1933.

Reed, Don. "Victory Morn Finishes First By Head in Main Race on Laurel Program." Baltimore Sun. October 8, 1939.

Reed, Don. "Blensign Captures First Ral Parr Stakes in Photo-Finish at Pimlico." Baltimore Sun. May 3, 1940.

"Eight Pimlico Springs Stakes Close Tomorrow." Brooklyn Daily Eagle. April 14, 1940.

Newton, James. "Laurel Park Farm Is Sold at Auction for $78,700." Evening Star (Washington, DC). November 9, 1937.

"Laurel Park Farm Is Sold For $78,700." Baltimore Sun. November 10, 1937.

"Ral Parr Dies; Noted Turfman." News Journal (Wilmington, DE). October 11, 1939.

"14 Named to Go in Parr Stakes." Baltimore Sun. May 2, 1940.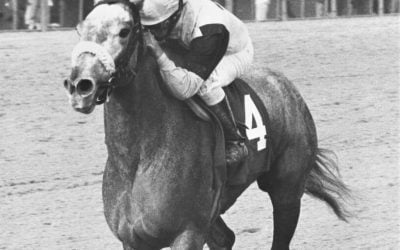 In a new BackTracks: NJ-bred Missy's Mirage became one of trainer Allen Jerkens' favorites, a gray filly who "got the job done."