Ghosts of racetracks past: The parrot, the riot, and the brief heyday of Liberty Bell Park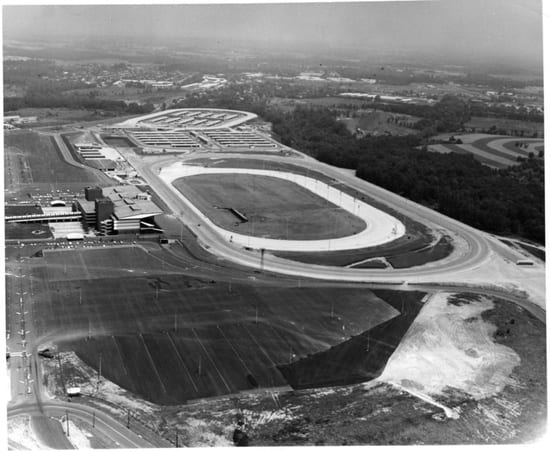 Liberty Bell Park from the air. Photo courtesy of Linda Dougherty.
by Linda Dougherty
Just like cheesesteaks, Tastykakes and Independence Hall, Liberty Bell Racetrack in northeast Philadelphia became a well-known symbol of the City of Brotherly Love, if only for a brief period of time.
Who could forget driving up Knights Road and seeing the sleek, glass-enclosed facility, which appeared structurally like an open book, glowing in the night from the spotlights ringing the five-eighths mile oval? Built to comfortably accommodate crowds in excess of 30,000 to the tune of $12.5 million, it opened in June 1963 for its inaugural harness season, while also ushering in pari-mutuel wagering to the state of Pennsylvania.
On the Liberty Bell backstretch, there was room for more than 1,100 horses, while its 292 acres had parking for 10,000 cars. Early photographs show the oval and stable area tucked inside a pristine area of wooded land, with a five-eighths mile training track located just behind the fireproof barns.
Opening night, however, was considered a bit of a bust, despite the heavy advertising by management.
The crowd was estimated to be 10,800, and they wagered $476,818, well below the break-even point of $500,000.
"If harness racing with pari-mutuel wagering, presented in Pennsylvania for the first time tonight, is to prove a success, more persons must turn out and bet more money than they did at Liberty Bell Park's opening night," wrote Louis Effrat in the New York Times.
The first horse to win a race at "the Bell" was Majesty's Knight, who visited the winner's circle just as the late-spring sun dipped below the horizon. The opening card was highlighted by the $20,000 Liberty Bell Pace, which attracted 15 3-year-olds split into two divisions. They were won by Max Hanover, driven by Billy Haughton, and Overtrick, driven by John Patterson.
Ghosts of racetracks past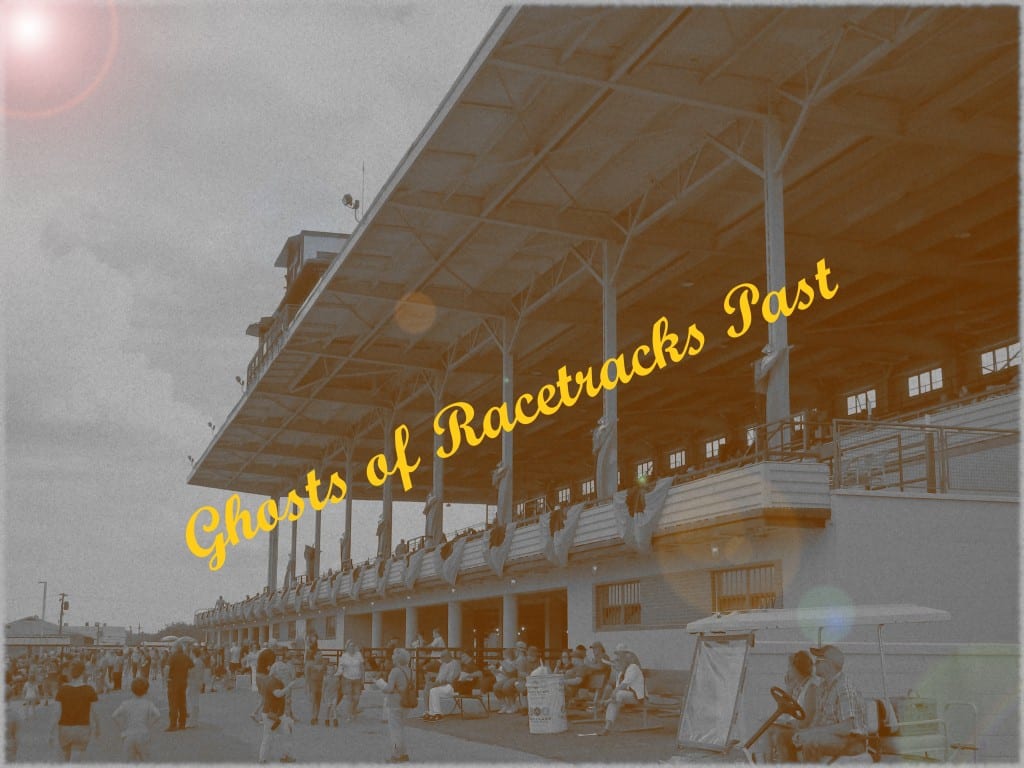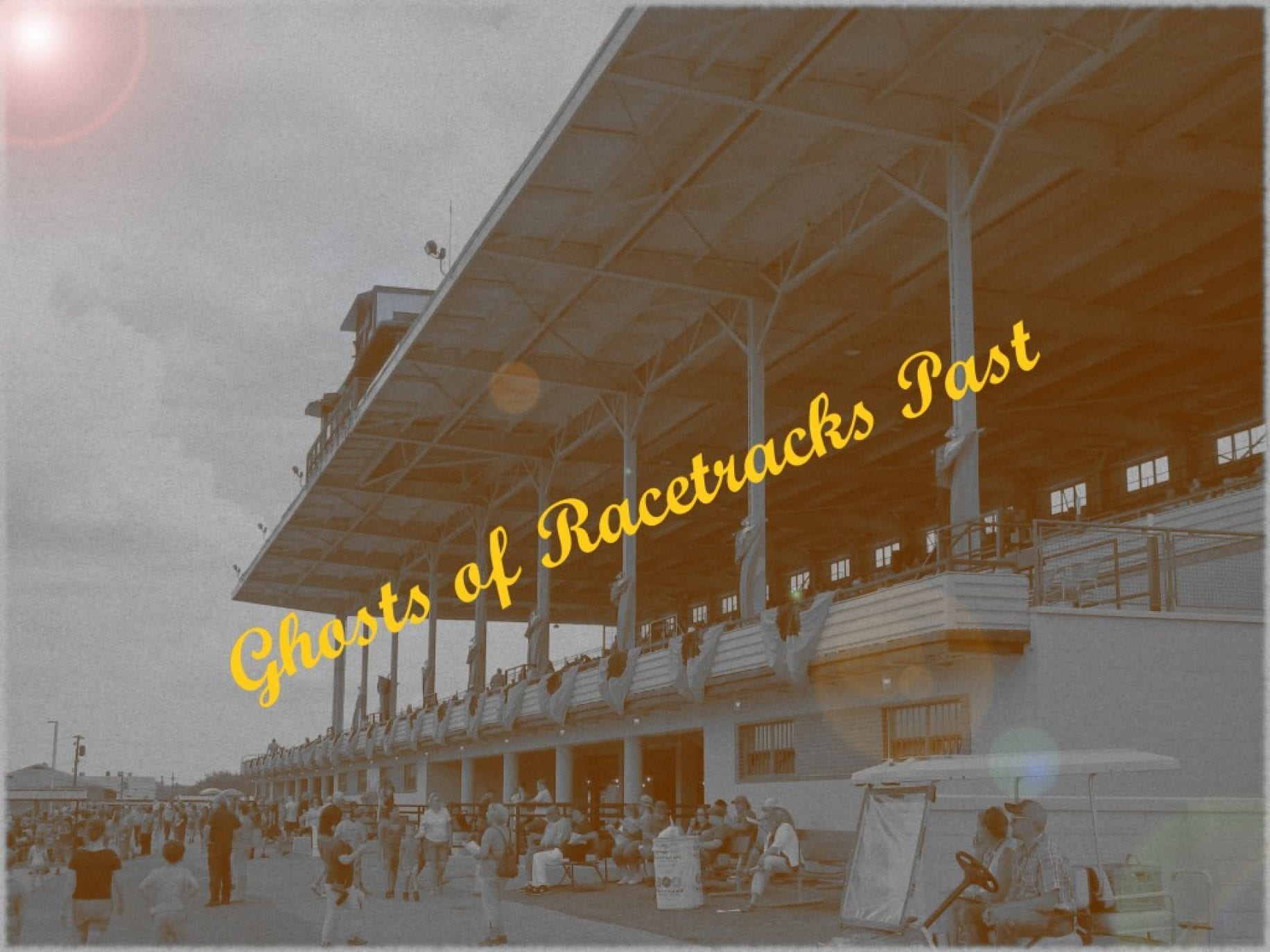 For the mid-Atlantic tracks that did not survive, all we have left are grainy photos, yellowed programs and tattered tickets, fading mementos of a time when big crowds and great horses reigned supreme. Their stories:
But soon, Philadelphians discovered that a night at the new track was a rollicking good time. You could dine in the refined Turfside Terrace, or enjoy a buffet in the Penn Treaty Room. The first floor had ample betting windows and concession stands, as well as a 200-seat cafeteria.
During that first 49-day season, Liberty Bell's business quickly picked up, and it joined the ranks of top harness tracks on the East Coast. It did much to help the sport reach record-setting highs in both attendance and pari-mutuel handle in 1963, as that year harness racing achieved its first billion-dollar handle mark, with attendance at tracks across the country spiking more than 14 percent from the year before.
The signature harness race at Liberty Bell was The Colonial, while another rich stakes was the James P. Clark Memorial Pace, named in honor of the founder and first president of the Liberty Bell Racing Association.
In 1968, thoroughbred racing was legalized in Pennsylvania, and Liberty Bell management built a mile dirt oval outside of the existing harness track, with the two ovals sharing the same stretch. The first flat meet kicked off May 31,1969, and racing was conducted until August 31,1974. By then, Keystone Racetrack (now Parx Racing) had been built in nearby Bucks County, and thoroughbred racing shifted there while Liberty Bell resumed harness racing.
Jockey Tony Black, who won the first race of his career at Liberty Bell on June 15, 1970, has fond memories of the northeast Philadelphia oval.
"It was a good facility and good racing back then," said Black. "The only thing about Liberty Bell that was different was the shared stretch. There wasn't enough room for them to bring the mile track out, because they'd be on the apron. The trotting track was made of limestone and the track for the flats was dirt, and it tied in around the three-sixteenths pole. When you rode in a race and you hit that spot, it was never a smooth transition, and you could really feel the difference in the base."
The salty parrot
Black said the jockey colony was made up of riders from around the region, and he recalled an unusual visitor to the jock's room courtesy of Garth Patterson.
"Garth used to bring his pet parrot up there," said Black. "The parrot used to sit on the top shelf by the lockers, and boy, did that bird have salty language. He'd say, "F— you, judge!" and everybody would crack up. Garth had taught him to curse, and it was really funny."
Black also remembered one night when patrons got a little out of control, in 1969, when he was working as a groom for trainer Charlie Coco. Black was leading a big black mare to the paddock for the next race, when he was stopped by a security guard.
"There was a big crowd of people who had run onto the track, protesting a disqualification," said Black. "I'm standing there holding this horse, and trash cans are on fire, people are smashing glass, and the announcer was saying, 'Everyone please leave the racetrack!' Well, no one did, so Philadelphia Police were called and they drove their paddy wagons right onto the track and started grabbing people and throwing them into the back of their vehicles. I thought it showed the real spirit of Philadelphia fans!"
Trainer Ron Glorioso, a mainstay of the Parx Racing backstretch for decades, said he had a horse called Never Serious in Liberty Bell's very first thoroughbred race in 1969.
"It was such a nice track," said Glorioso. "The barn area was nice, the grandstand was beautiful, the apron was deep. It was set up perfectly, and I really enjoyed running there. And Harry Rossi (co-president) was a class act, an all-around nice guy."
All that remains
By the time the curtain fell on Liberty Bell's thoroughbred days, David Vance, Charlie Robbins. Glenn Hild, Charlie Coco, Ben Perkins and Marty Fallon had been among the top trainers. Some of the jockeys that plied their trade there were Rick Wilson, Menotti Aristone, Buck Thornburg, Art Madrid, Jr., and Robert Colton.
Among the best stakes races that Liberty Bell presented was the $100,000 Kindergarten for 2-year-olds, which highlighted its final card in 1974. That day, eventual Preakness winner Master Derby won, defeating Gallant Bob and Talc. Other notable winners included Ring For Nurse (1969) and Freetex (1971).
Master Derby, incidentally, loved the Liberty Bell strip, also winning the Dragoon Stakes in July for trainer W. E. Adams and owner Golden Chance Farm.
After returning to its harness-only fare, business was not as robust as it had been in the mid-1960s. Liberty Bell's racing season was starting to overlap with Brandywine, and it would eventually become a war that neither track would survive.
Management called the 1983 season "a disaster." And when Garden State Park, just across the river in Cherry Hill, announced it was also planning to conduct harness racing in 1985, the handwriting was on the wall for "the Bell."
The Rooney family, owners of the track, closed it down on August 18, 1985. They put it up for sale, but found there was very little interest in keeping the site as a racetrack by prospective buyers.
Eight months later, an article appeared in the Philadelphia Daily News on May 13, 1986 entitled "Track Buyer: Off-Price is Best Bet." It described the deal that was struck to sell the shuttered Liberty Bell to a developer.
"The owner of Liberty Bell Park agreed to sell the racetrack for $23.3 million to a Washington, D.C., development company that has tentative plans to build a shopping center on the northeast Philadelphia site," the article read. "Liberty Bell Park, Inc., the track's corporate owner, plans to sell the property to Western Development Corp., which has preliminary plans to build a large commercial development at the track, located at Knights and Woodhaven roads. A 1-million-square-foot shopping mall, specializing in discount stores, would anchor the project."
The bulldozers soon moved in, transforming the land into an ugly, sprawling beast of a mall. Christened Franklin Mills, it opened in 1989. All that is left of the racetrack is a street sign: "Liberty Bell Boulevard."