Ghosts of racetracks past: Maryland's "half-milers"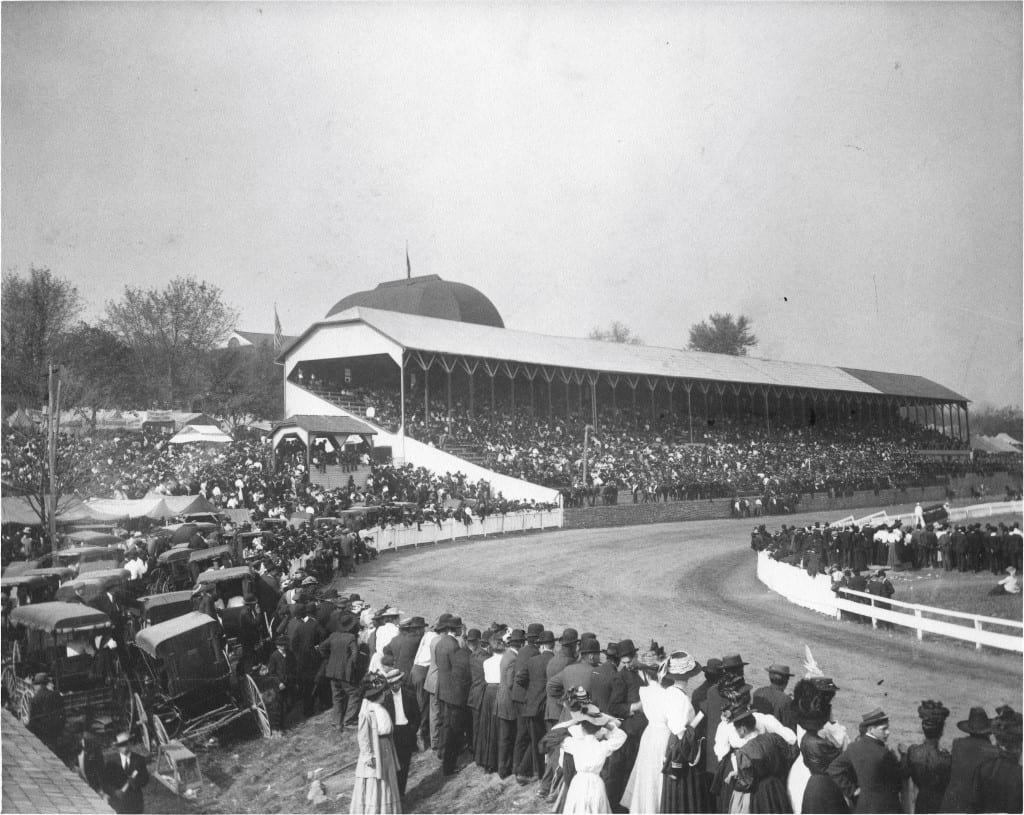 Hagerstown race track in the early days. Photo courtesy of Maryland Horse Breeders Association.
by Linda Dougherty
These days there are just three operating racetracks in Maryland, with one of those, Timonium, operating just seven live days a year, and another, Pimlico Race Course, quite possibly on its last legs.
But once upon a time, the state was home to a bevy of racetracks, so many that in state law they are divided into two groups: the "mile tracks," like Laurel, Pimlico, and the defunct Bowie, and the "half-mile tracks," or half-milers, of which only Timonium remains.
From the turn of the century until the early 1970s, Maryland was home not just to Timonium but to a fair circuit of four other small but robust half- and three-quarter-mile tracks.
Bel Air, in Harford County; Cumberland, in Allegany County; Hagerstown, in Washington County, and Marlboro, in Prince George's County, all conducted short meets of 10 days each, but attracted sizable crowds that bet a healthy amount each day. These tracks had colorful pasts and live on in the memories of old Marylanders and fans, reminders of days gone by.
Hagerstown (1929-1970)
Hagerstown was an open-air facility under the management of the Great Hagerstown Interstate Fair, and was conducting races as early as 1919, but closed for 10 years until reopening October 1, 1929. From then on, it offered short, 10-day meets like the rest of the Maryland fair circuit tracks, eventually closing for good in December, 1970.
Located in the city of Hagerstown, Washington County, Md, Hagerstown was a half-mile oval consisting of sandy loam, with a chute for the Mason-Dixon Course, 150 feet more than five furlongs. The grandstand could seat 2,000, and the clubhouse 200. A postcard from the early years shows a throng of people and carriages crowded around the first turn, dressed in their finery, while the wooden grandstand was jammed from top to bottom. Another postcard, circa 1945, shows that the track had a wide green infield, with green-roofed stables situated off the far turn.
Business was good at Hagerstown through the mid-1940s, but a downturn occurred beginning in 1947, when average daily attendance plunged 59% from the year before, from 9,850 to 4,000, with a corresponding drop in daily average handle.
Like all older facilities, Hagerstown had its ups and downs. In 1953, four rows of ground-level benches collapsed in the clubhouse, throwing more than 35 people to the pavement. Daily Racing Form reported that "the mishap occurred during the running of the 8th race. Police said that one of the spectators standing on a seat in the back row apparently lost his balance, toppling the bench forward and causing a chain reaction in the rows in front. The benches went over like 'dominoes,' one witness said." Three ambulances took the most seriously hurt to the hospital.
The next year, 1954, Hagerstown set an all-time single-card attendance record, when 12,126 pushed through the turnstiles. The all-time record handle occurred in 1964, when $615,123 was bet. But on October 3, 1970, Hagerstown closed for good.
Ghosts of racetracks past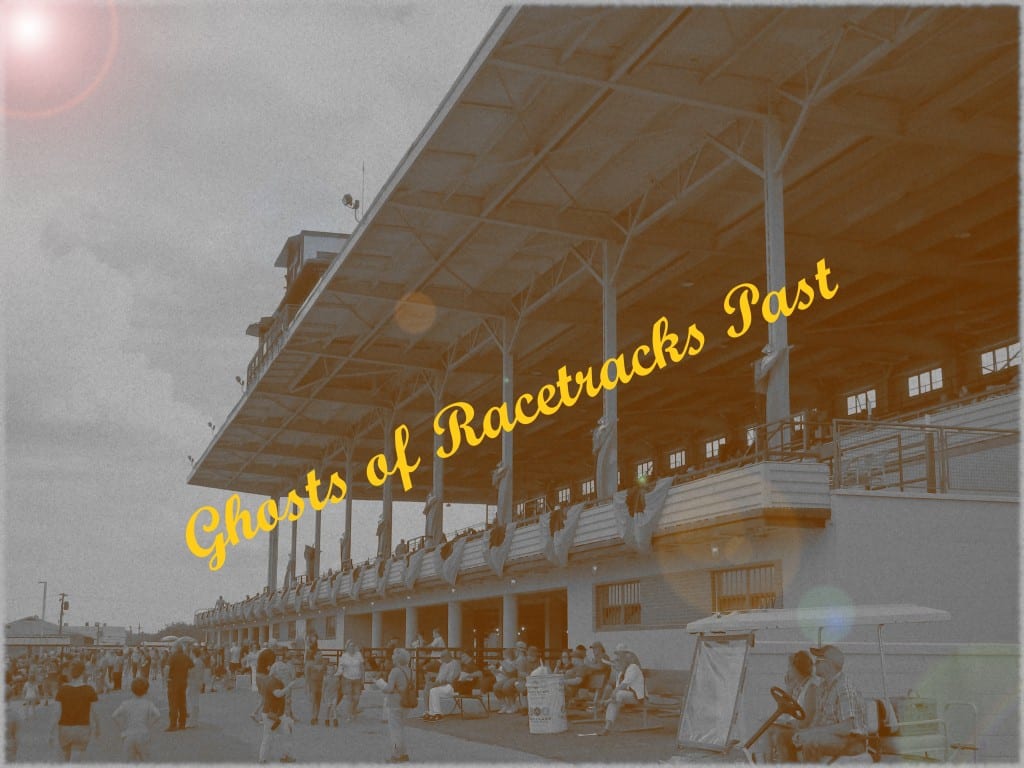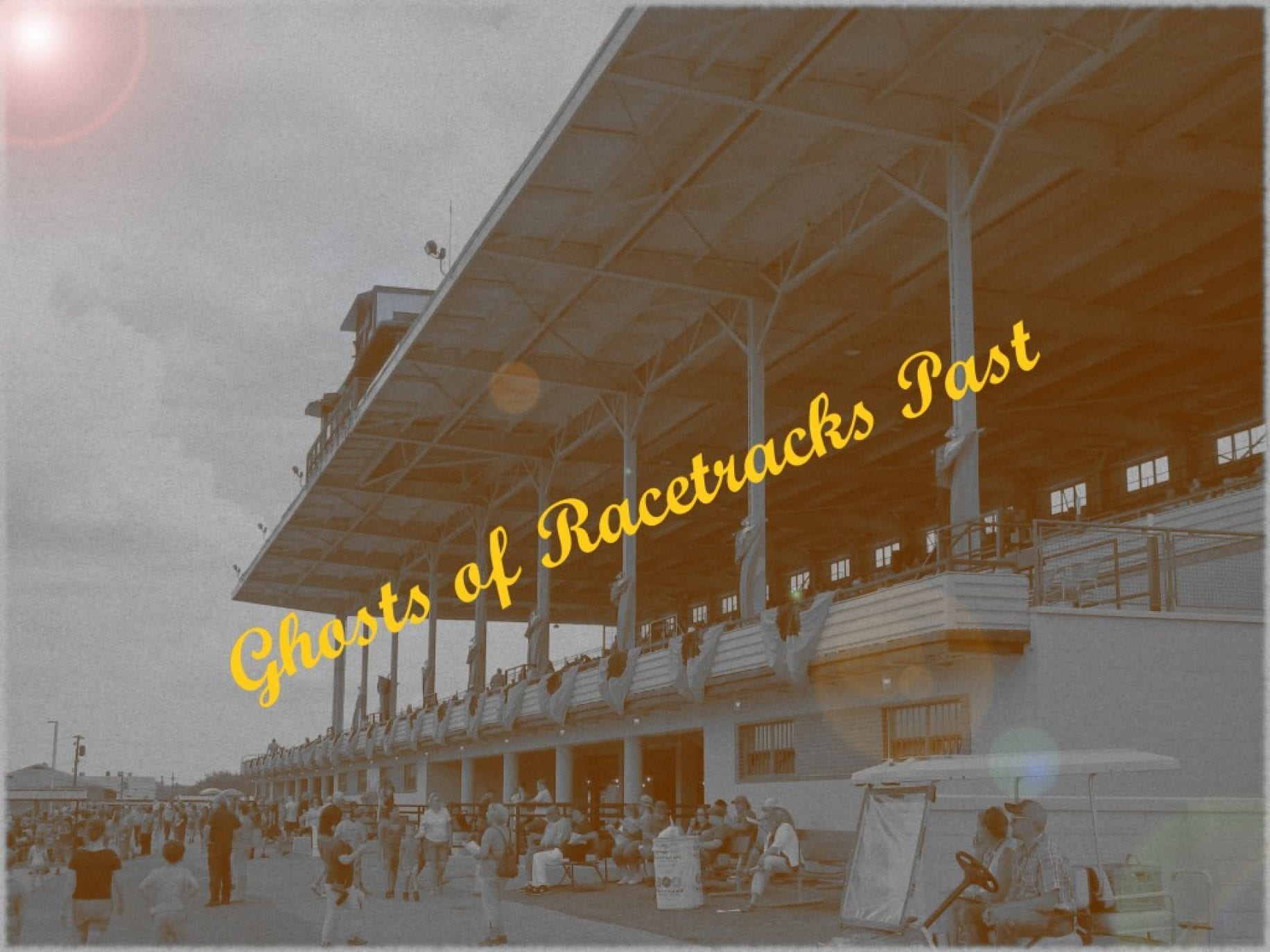 For the mid-Atlantic tracks that did not survive, all we have left are grainy photos, yellowed programs and tattered tickets, fading mementos of a time when big crowds and great horses reigned supreme. Their stories:
Bel Air (1870s-1960)
Bel Air Racetrack operated from the 1870s through 1960 in Harford County, and ran 10-day, early summer meets. It was located where the Harford Mall now stands.
Each year, beginning in the 1930s, owner George Ray Bryson expanded and refurbished the facility. In 1936, he purchased more land to add to its 100-acre parcel, and in July, 1937, Bryson's newly refurbished track was back in business. The track, expanded from a half-mile to three-quarters of a mile, was comprised of sand and clay, with two chutes, one for five-eighths of a mile, and the other for 1-1/16 miles.
Bel Air's grandstand could accommodate 4,400 patrons and its clubhouse 750, making it one of the bigger half-milers. More improvements followed: In 1939, William DuPont, Jr. supervised the construction of a new steeplechase course, while a new-fangled totalisator board was installed. In 1941, a new clubhouse was erected on a plot of ground just past the end of the grandstand, patterned after the clubhouse at Havre de Grace. That same year, another road was built that led into the parking area. The Decoration Day Handicap was the meet's feature race.
Like many of Maryland's minor ovals, Bel Air experienced declines in attendance and handle in the late 1940s, averaging about 7,500 racegoers who bet roughly $400,000 daily.
In 1953, the track shifted to early autumn dates, and more improvements were unveiled. A $250,000 building program produced two new stables for more than 100 horses and four concrete block restrooms for grooms and hotwalkers; the clubhouse was remodeled and joined to the main mutuel department through an underground passageway, and the racing strip was completely resurfaced. Bel Air was also the first to install the film patrol, as well as Daily Double "selling machines."
Unfortunately, in the late 1950's the business faced public and political turmoil, which eventually lead to its closure in 1960 after Ray Bryson died of a heart attack in 1958. Bryson had been prominent in Maryland racing and breeding circles and owned Elray Farm in Kingsville. Bel Air's dates were absorbed by Pimlico, Bowie and Laurel, and the land subsequently was developed into the Harford Mall.
CUMBERLAND (1921-1961)
Three years after opening in 1921, the Cumberland Fair opened in a new 100-acre home on October 9, 1924, along a tract of land near the Potomac River and by the cliffs of Knobley Mountain, known as Fairgo. It was four miles from the town of Cumberland.
The Cumberland Evening Times wrote that it was "the first racing that Cumberland has had since the days of the old race track in the South End."
Cumberland, operated by the Cumberland Fair Association, was regarded as one of the most beautiful racetracks in Maryland. The fairground featured a half-mile oval made of sand, clay and loam; stabling for 400 horses, two exhibit halls, a grandstand with seating for 2,600, a clubhouse with seating for 400, jockey's quarters, a pavilion at the finish line, and a paddock. The cost for the new facility was $150,000.
Like the other Maryland half-milers, Cumberland held a 10-day meet in conjunction with the opening of the Cumberland Fair. In its early days, Cumberland's crowds were a gate-busting 20,000; by the 1940s and 1950s, crowds averaged about 8,000, with daily betting between $250,000 and $300,000. The track gave out better than $8,000 per day in purses.
In the mid-1950s, the highlight of the meet was the Manley and White Memorial races. In 1954, track general manager Edgar Reynolds and his wife were killed in an automobile accident near the track, and the following year a Reynolds Memorial trophy was presented by the couple's two sons.
And after the races, there was plenty to do. The fair presented a rodeo, Wild West show and automobile polo, while at night fireworks were shot off from the track's infield.
After shuttering in 1961, its racing dates were sold to other tracks. Beginning in 1967, automobile racing replaced the horses.
MARLBORO (1910-1993)
Although many sources state that Marlboro opened in 1914, old Daily Racing Forms dating to 1910 report that the track ran its inaugural meet from October 4 through 14, 1910.
Despite a long history that lasted until 1973, and then a short-lived comeback in 1988 that ran five years more with two-day meets, Marlboro is probably best known by those with long memories for being the epicenter of a political scandal in 1972, concerning the transfer of fair dates.
The Prince George's County half-miler, under the auspices of the Southern Maryland Agricultural Fair Association, also had its grandstand burn down, twice – the first time in 1911, and the second in 1980, thanks to an arsonist.
Trains and trolleys from Washington DC brought crowds to the track, with the Daily Racing Form noting that "the automobile road between Washington DC and the track is an excellent one."
In 1910, a steeplechase course was installed. And the horses came from all over – a press report from September 18, 1910, stated that P. S. P. Randolph and Frank Piper, called "two metropolitan turfmen," intended to race there and planned to ship their horses from Saratoga by October 1.
That first meet was judged a success, with a large crowd on getaway day, October 14, "… taking advantage of the pleasant weather to witness the last day's racing. While they were treated to a good day's sport, the horses failed to run up to expectations, four of the choices going down to defeat," the Daily Racing Form noted.
Buoyed by the inaugural season, plans were implemented to remodel the facility for 1911, including additional barns and the removal of a grandstand on the opposite side of the track. But in early spring of 1911, the grandstand burned down.
Management was promised a license for 1912, and it ran two meets, a spring and a fall. An advertisement for the fall meet, conducted from November 13 to 23, stated there would be "six running races and one harness race each day," with "liberal purses." However, this second fall meeting was not sanctioned by The Jockey Club, as sanctions for fair meets during that time period were only given for one meet each year.
The years went by, and Marlboro stayed afloat. In 1947, the American Racing Manual reported that Marlboro's average daily attendance was 6,500, down from 7,500 the year before, while daily average handle was $308,664, a dip from 1946's $328,898.
The big race at Marlboro was the Marlboro Nursery stakes for 2-year-olds, which had its first running in 1957 and was later transferred to Bowie Race Course in 1973.
But the really big event in the history of Marlboro was the political scandal, which became a national story. On December 31, 1971, a group of businessmen and investors purchased Marlboro, which was allotted 18 racing days for 1972.
According to the web site American Law and Legal Information – Notable Trials and Court Cases – 1973 to 1980, the owners were "eager to increase their profits, and not too concerned about the means used."  They approached Maryland Governor Marvin Mandel and asked for his help in getting the racing dates increased.
"Mandel, formerly a strong advocate of strict horse racing regulation, suddenly dropped his opposition to a bill pending in the Maryland General Assembly that would increase Marlboro's racing days from 18 to 36. The bill passed on January 12, 1972. In March 1972, Mandel successfully lobbied the General Assembly to increase the number of racing days again, this time from 36 to 94. Further, Mandel helped the Marlboro owners acquire interests in other Maryland racetracks.
"For his help, Mandel received cash and other valuables under the table from the investors. Expensive clothes and jewelry that Mandel purchased were paid for by the racetrack owners."
Mandel was charged with mail fraud and racketeering, and in 1977 was found guilty and sentenced to four years in the slammer. His sentence was overturned in 1987, however, after he served 19 months in the Big House. He later got his law license back and went on to practice in Baltimore and Annapolis, though it wasn't until 1993 that his official gubernatorial portrait joined those of other Maryland governors in the Reception Room of the State House..
That wasn't quite the end for Marlboro, though. It soldiered on until the grandstand burned in 1980 and was reborn in 1988, holding popular two-day meets annually through 1993. These days, the old track is the site of Showplace Arena and Prince George's Equestrian Center, and you can still see the old oval.
A horse named Purely Irish won the final race contested at Marlboro in November 1993. A crowd of 5,781 was on hand.
SOURCES
Quarter Million Building Program on at Bel Air: Two New Stables Being Built; Clubhouse is Being Remodeled, Daily Racing Form, 1953-08-26.
Cumberland Fair Association Begins 10-Day Meet Tomorrow, Daily Racing Form, 1955-06-14.
Several Hurt at Hagerstown When Rows of Benches Go Down, Daily Racing Form, 1953-08-28.
Plans for Marlboro Meeting, Daily Racing Form, 1910-08-02.
American Racing Manual, 1948 edition. Published by Triangle Publications, New York, NY.
American Racing Manual, 1977 edition. Published by Triangle Publications, New York, NY.