Ghosts of racetracks past: Shenandoah Downs, the track next door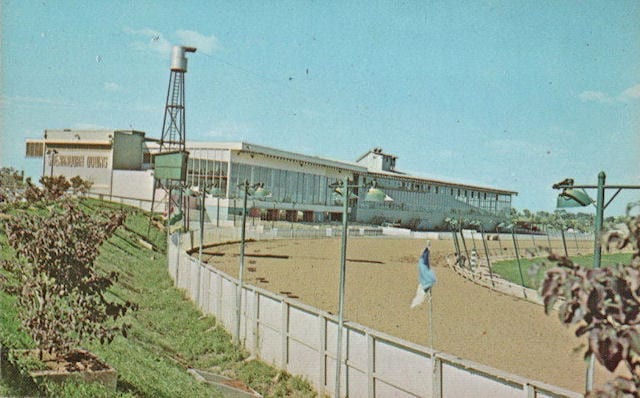 Grandstand at Shenandoah Downs. Photo courtesy of Linda Dougherty.
by Linda Dougherty
Twenty-six years after Charles Town Races in West Virginia opened in 1933, another nearby oval, Shenandoah Downs, ran its first thoroughbred race on May 1, 1959.
Located within walking distance from Charles Town, Shenandoah was a five-eighths mile oval that was originally built for standardbred racing. But after the West Virginia racing commission failed to give Shenandoah the green light for harness action, it carded thoroughbreds for the next 20 years, alternating dates with its close neighbor Charles Town.
Originally estimated to cost $3 million, but eventually built to the tune of $4 million, Shenandoah was a long, boxy, glass-enclosed structure with a seating capacity of 4,000 in the grandstand and another 1,000 in the clubhouse, and could accommodate upwards of 18,000 patrons. Racegoers could enjoy elegant dining in the 800-seat Starlight Terrace Restaurant while gazing at a lighted fountain's display in the infield, or could choose to frequent the concession stands with their budget-priced hot dog and beer fare.
"Shenny's" paddock was located behind the grandstand, and the stable area situated past the far turn. It was awarded 104 dates for the 1959 season split into two meets, the first running from May 1 through July 11, and the second from September 14 through October 31.
Nine races were presented nightly, Monday through Saturday, with first post of 7:45 p.m. The races, many of them 3-½ furlong dashes, went postward at a quick clip; often the ninth event went off at 10:45 p.m., just three hours after the first race. Six furlong races were also carded; those races started in a chute at the head of the stretch, and horses would race one time around the oval to complete the distance. There was also a chute for 1-1/16 mile races.
Ghosts of racetracks past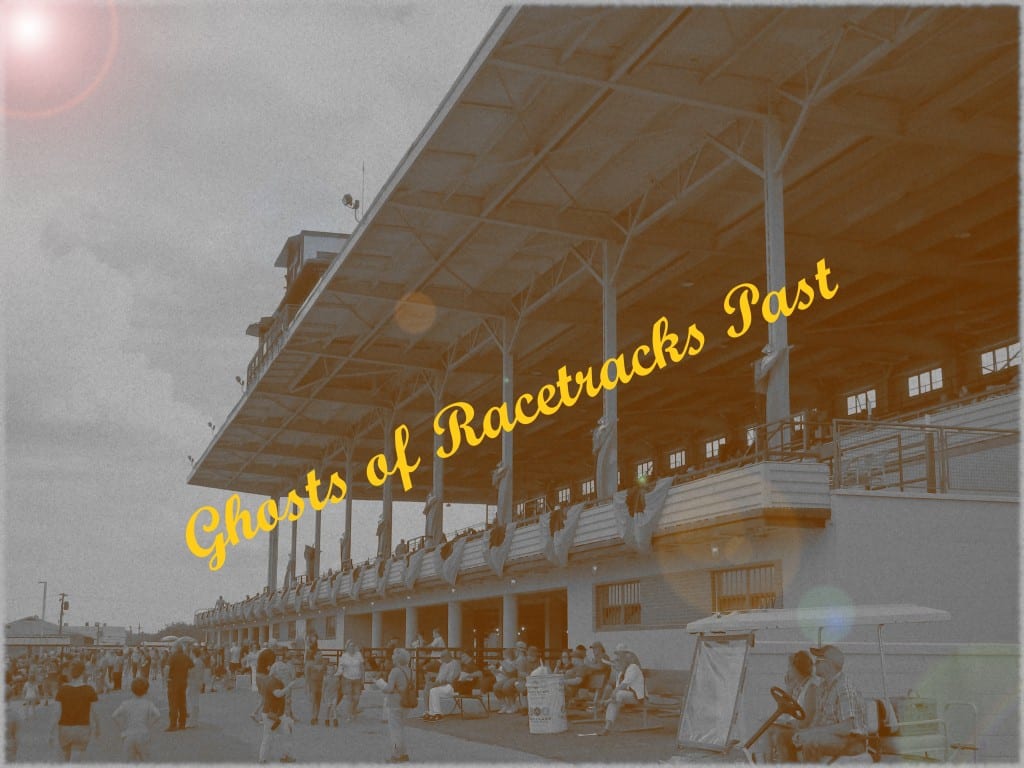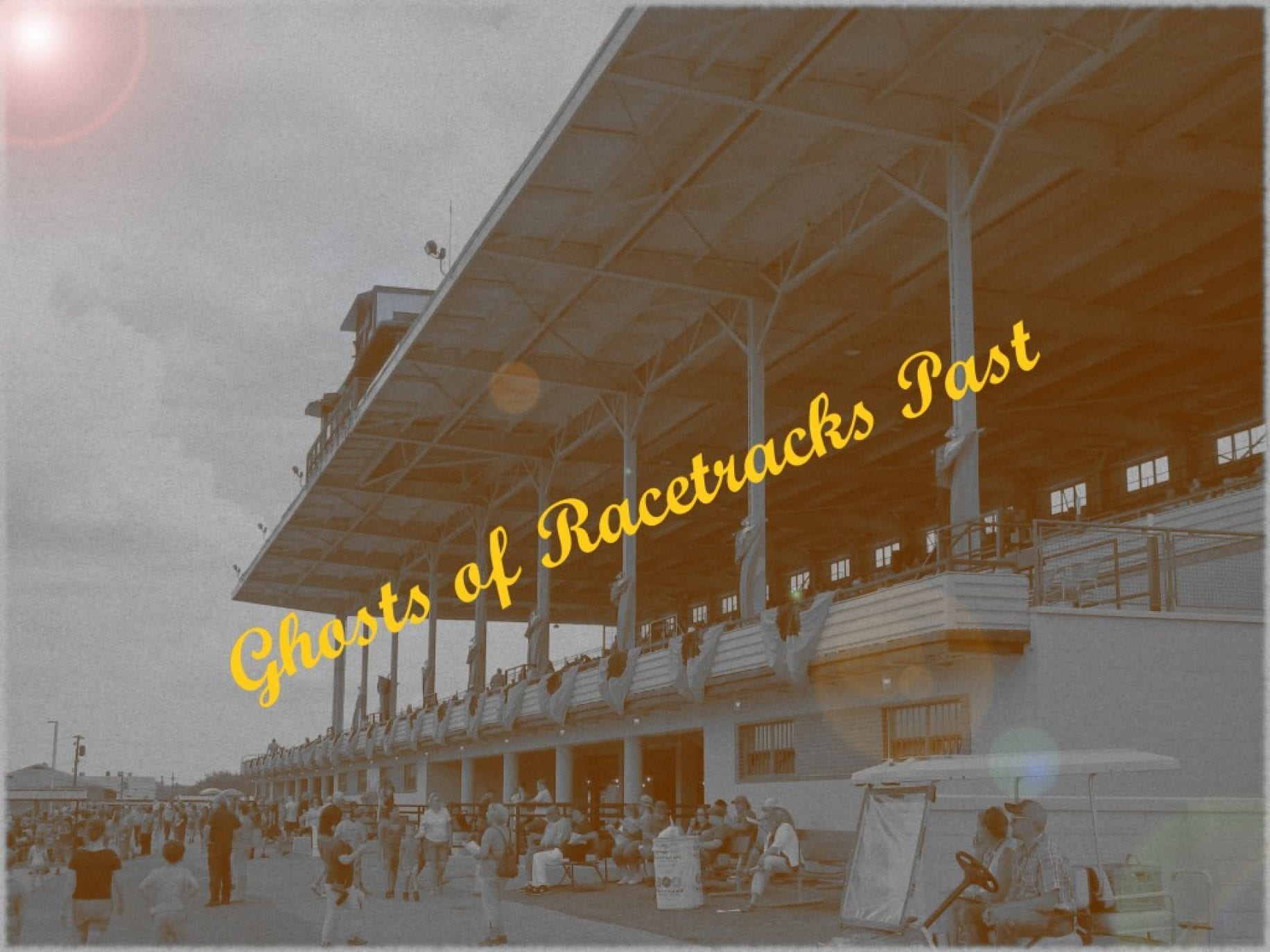 For the mid-Atlantic tracks that did not survive, all we have left are grainy photos, yellowed programs and tattered tickets, fading mementos of a time when big crowds and great horses reigned supreme. Their stories:
"A perfect opening"
The inaugural program was topped by the $5,000 Governors Purse, an allowance affair for 3-year-olds and upward contested at six furlongs, carded as the eighth race. Although it had rained heavily in the region the week prior to Shenandoah's opening, the weather cleared and the new surface dried, providing a lightning fast strip.
"A perfect opening is the description for Friday night's nine-race program which saw this new modern plant get its 62-night meeting underway," it was written in the Daily Racing Form the next day. "Perfect weather conditions prevailed and a crowd of 8,654 viewed the racing, which was presented on schedule with no delays or incidents marring the evening. The enthusiastic crowd wagered a total of $43,179 and general manager Robert G. Leavitt expressed complete satisfaction with the opening."
West Virginia Governor Cecil H. Underwood, his wife, and a large party arrived at the new track about 4 p.m., and after a reception and buffet dinner in their honor participated in opening ceremonies and viewed the races.
The Form reported that on his visit to the pressbox, Gov. Underwood was asked his opinion of the facility and he said: "Shenandoah Downs is indeed a beautiful and well planned track, and the management is to be highly commended. It represents an investment of approximately $4 million and it will certainly serve as a keynote to attracting many visitors to our state. I consider the track a great asset to West Virginia, aside from the large amount of revenue it will bring."
"One of the best-banked racetracks"
The Governors Purse drew six starters and was won by George W. Parker's Sand Boy, who romped by four lengths as the betting favorite, giving jockey Joseph Servis his third victory of the evening. In the winner's circle, Gov. Underwood presented a huge trophy to Parker, with smiles all around.
"I got Mr. Parker to enter Sand Boy," recalled Servis, now 87. "I said, 'He'll gallop,' which he did." Servis also won the first-ever race at the new oval, aboard Sawal.
Servis is the father of two very successful trainers – John, who trained 2004 Kentucky Derby winner Smarty Jones and many other talented stakes winners, and Jason, a leading trainer in New York – while his daughter, Laurie, is married to Florida-based trainer Eddie Plesa, and another daughter, Jodie, lives nearby. He recalled that Shenandoah was a great place to ride.
"It was one of the best banked racetracks," said Servis, who rode his first race on May 27, 1949. "It was also a smooth track to race on, not too deep or too hard, a very evenly balanced track. They had good crowds and then Mr. Leavitt (general manager) started offering the twin double, which was very popular."
Servis rode for 11 years, winning more than 500 races, then retired from the saddle and accepted a job with the Jockey's Guild Inc., eventually becoming Eastern Manager before retiring in 1972. He was offered the job as a state steward at Charles Town in 1973, a position he held for many years.
The above video contains some great shots of Shenandoah during its days as a training center.
The short goodbye, and 80 pounds of dynamite
On July 4, 1959, Shenandoah began running day-night doubleheaders, and in January, 1963 opened for its first winter meet. In May, 1968, it switched from night to day racing. The highlight of the season was the $25,000 Tri-State Futurity for 2-year-olds foaled in Maryland, Virginia or West Virginia, inaugurated in 1962. Among its winners were the popular campaigners North Flight and Christopher R. The stakes is now typically run at Charles Town.
By the 1970s, business began tailing off at Shenandoah. Its parent company, Shenandoah Corporation, bought Charles Town in 1972, but in 1975 the West Virginia Racing Commission petitioned to close the track. The previous year, daily average attendance plummeted nearly 19 percent to 3,988, while daily average handle was also down double-digits, to $358,962. Shenandoah closed for the first time in 1976, but in 1977 Kenton Corp. bought both Charles Town and Shenandoah for $16 million, and in 1978 Shenandoah reopened for its last hurrah. Its final closing was announced soon afterwards.
"It was based on the deteriorating climate and the conditions in the state of West Virginia," said a Kenton spokesperson.
After it ceased live racing, Shenandoah operated as a training track for many years, but finally, on June 14, 2006 at 1:30 p.m., 80 pounds of dynamite brought down the grandstand in a great cloud of dust.
Note: This story originally mis-identified Eddie Plesa's wife as Jodie Servis; in fact, it is Jodie's sister Laurie who is married to Plesa. We regret the error.