PINHOOK DIARY: AT THE FINISH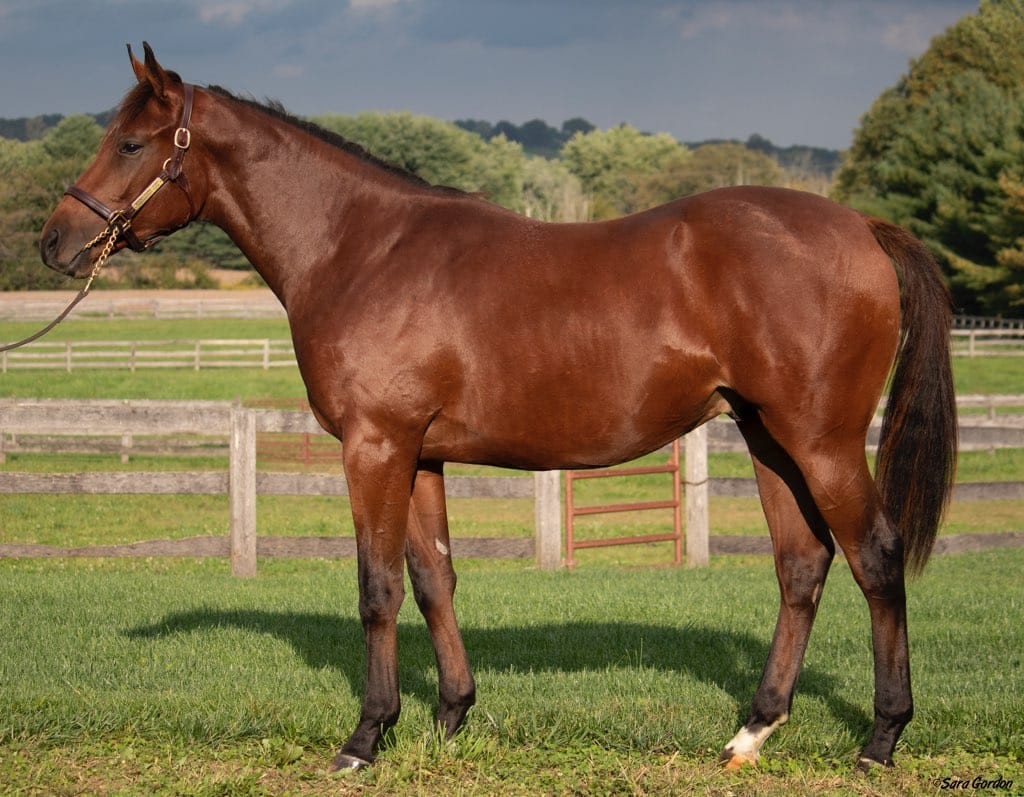 Chelsea Lowman

October 5, 2020
The past year has flown by with PJ, and it is hard to believe that our time together is nearly over. There have been a lot of ups and downs along the way, from the thrills and nerves that came with bidding on him, to the uncertainty of the Covid-19 pandemic, to the preparations and anticipation that lie ahead with the upcoming sale.
My "little colt" is not so little anymore. In the past several months I have watched him grow from a fuzzy, nervous baby, to a confident and strong individual, and Tuesday it will be time to say goodbye as our chapter together draws to a close.
PJ has undergone a breathtaking transformation during his time at GreenMount Farm. I cannot say enough good things about the work that Sabrina and her team have done with him. PJ's exercise time on the automatic walker, along with the great nutritional program and grooming schedule that GreenMount Farm has employed with him, has really brought out a lot of potential that was hiding inside of this horse. He has filled out into a powerful, athletic-looking animal that in my opinion, looks like a true work of art.
"He has definitely come a long way in looks and personality," Sabrina remarked as we went over his progress together. "He has been really funny. He gets really playful and struts out on the shank. He knows he's a boy, and he is feeling good. He has gotten very solid, too and has plenty of body."
I could not be happier with how well PJ has been doing as the sale draws near. Looking back, this journey was not entirely easy. We battled a few bumps along the way, such as when he cut his head open months ago (luckily, it's healed 100%), or how he struggled to hold weight over the winter, and how for a couple of months there I was unable to visit him at Mount Pleasant Farm because of the pandemic. There was even a time when I was unsure if the sale would even be held due to the virus, but the show will go on. There will understandably be restrictions and regulations to follow at the sale in order to maintain public safety, but I am grateful that I will be able to be there for it. After all the emotions, money, and effort that went into this horse, I would not miss being at this sale for the world.
I recently had a wonderful stroke of luck. Peace and Justice (the sire of PJ), was represented by his first winner on September 29. All along I had a feeling that the stud would have his first winner just in time for the sale, and Like a Saltshaker was the horse that made that belief reality.
PINHOOK DIARY
Like a Saltshaker, a two-year-old Pennsylvania-bred daughter of Peace and Justice, proved much the best in a $36,000 six-furlong maiden special weight at Presque Isle Downs on September 29. She made every post a winning one to win by over three lengths. Leaving nine rivals defeated in her wake, Like a Saltshaker stopped the clock in 1:09.22 for six furlongs on the all-weather track. It was a visually impressive performance from the young athlete that proved to be perfect timing for me and anyone else preparing to sell offspring by Peace and Justice. (Prior to outs, there were 13 Peace and Justice yearlings in the catalog).
While I am understandably nervous heading into the sale, I am also remaining cautiously optimistic. PJ is physically beautiful to look at and has a confident attitude that I believe will serve him well on the track. He also has a pedigree that is laced with winners and potential. You can find many big names in his family tree, such as grandsire War Front, Danzig, Smart Strike, A.P. Indy, and even Triple Crown champion Seattle Slew. The dam of PJ, Lake Squared, was a winner herself, and has already produced four winners of her own, including Agora, a six-figure earner who is still racing and winning at the age of six. You can find multiple graded stakes winners and producers from PJ's second, third, and fourth dams, including multiple graded stakes winner, Salty Strike, who marched to victory a total of nine times in her career and banked earnings just shy of half a million dollars. With so many proven runners and producers in PJ's family history, it is hard not to be excited about his chances on the track one day.
PJ will sell as Hip 206 on October 6t in the Fasig-Tipton Midlantic Fall Yearlings Sale at the Timonium Fairgrounds. I plan on being at the sale early that morning, as he will be one of the first horses to go through the ring that day, since day two of the sale kicks off with Hip 201.
The moment of truth for us is just days away now, and I am feeling a lot of different things as the day approaches. The whole thing feels very surreal, and while I am nervous, I am also ready for this. With any auction, I have no clue how this is going to go, but I am eager to see what Tuesday will bring. PJ and I have both come a long way together, and I can't help but feel a sense of pride and accomplishment that we have made it this far because there was a time when doing something like this seemed like an impossible dream. I truly hope that if anyone who has been following this series wants to get into this business, or pursue any dream for that matter, that this will give them the inspiration to go for it. It was not easy, and it took a lot of courage, money, work, and learning, but I believe that if I can do it, anyone can. You just have to find the nerve to do it, and the perseverance to fight for where you want to be in life. Otherwise you will always be left wondering about what could have been.
I am incredibly grateful for every single person who has helped me along the way on this journey from my friends who went to inspect the horses with me prior to buying PJ at the December Mixed Sale, to Miss Candy, my former riding instructor, who helped transport PJ after I bought him, from Kim and Mike who helped care for him at their farm, to Sabrina and her team for transforming him into a beautiful and strong specimen, and to my mother who stood by my side and encouraged me every step of the way throughout this entire process. I could not have made it this far without any one of them.
It is almost bittersweet that our story together is about over because I know that the moment the hammer falls on Tuesday when PJ is standing in the ring, he will no longer be mine. But that was the goal and the plan all along. The time has come for PJ to begin his next chapter with someone else, and for me to learn just how far I can go with this dream.
LATEST NEWS