Pinhook Diary: Starting to get real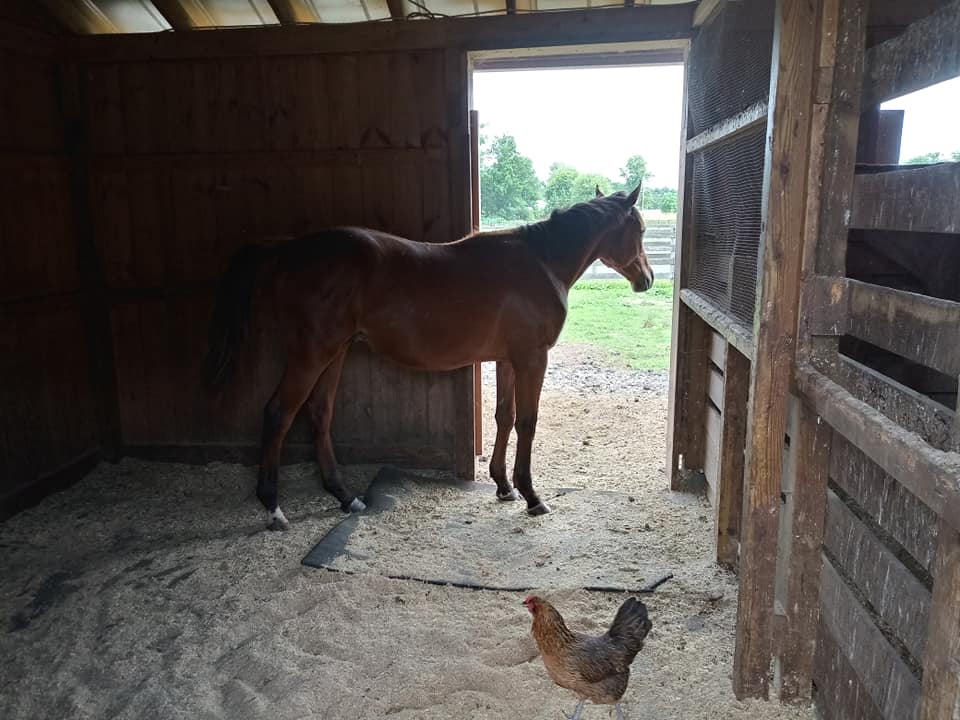 Chelsea Lowman

August 6, 2020
Over the past several weeks, my earling PJ has grown and changed a lot. It seems that every time I look at him, he is larger and stronger. His coat has a magnificent gleam, and I could not be happier with how he is coming along. The Fasig-Tipton Midlantic Fall Yearling Sale is inching closer – it's October 5-6 — and preparations for PJ are now starting to get serious.
The farrier stopped by Mount Pleasant Farm at the end of July, and as usual, PJ handled it like a champ. He stood perfectly still and calmly allowed the farrier to trim his feet. Just like Stars (Writtenbythestars), the first horse that I pinhooked, PJ has been a breeze to handle. In some ways, he is even easier to handle than Stars was, and that's saying a lot since the filly had been a model citizen most of the time.
"He's such a good boy," Kim Lind, Mount Pleasant's co-owner, remarked about PJ. "He's never needed to be sedated for the farrier, he's easy to catch in the field, and he's just great to be around."
After a few beats she then added with a laugh, "He does play very rough with the other colts in the field, though".
But playing rough is a trait that I find valuable in a racehorse. His strength, confidence, and dominance around other horses will bode very well for him if he brings that same determined attitude with him to the racetrack.
On a hot and humid August morning, my mother, who has been my biggest supporter in this journey, and I met Sabrina Moore at Mount Pleasant Farm, so that she could transport PJ to her farm and begin prepping him for the sale. Sabrina and her team had prepped Stars for me the year before, and I was so pleased with the way the filly looked and the amazing care that she received that I knew without a doubt that I wanted PJ to take the same route.
PINHOOK DIARY
Sabrina had beaten my mother and me to Kim's farm and already had PJ loaded by the time we pulled in. Kim and Sabrina raved about how easily PJ loaded onto the trailer for them. I was proud of my young colt but not surprised. I knew all along he would load like a champ. There does not seem to be much that trips this horse up, and I am incredibly grateful for that.
As a colorful array of chickens strutted around us, PJ munched on some hay in the trailer while the rest of us chatted about PJ and reminisced about Stars. I promised Kim that I would keep her updated on PJ's progress, and then I checked in on PJ one last time before we hit the road. PJ was off to GreenMount Farm in Reisterstown, MD to begin a new chapter in his life, and I was very excited to see how things would turn out with him.
PJ arrived at GreenMount Farm without incident and unloaded into his new stall very smoothly. Sabrina and I kept in contact after his arrival and discussed that one of our goals will be to get a bit more weight on him. She said that he is not far off from where he needs to be and that she expects him to fill out very nicely between now and October as he continues to grow and build muscle. We are both looking forward to seeing the progress that he will make in the coming weeks. He is already a handsomely built animal, and I see even more potential with him now than I did when I first laid eyes on him.
There will be a lot of new experiences for PJ now that he is at GreenMount Farm. As usual, I expect him to take this new journey in stride and continue to impress us. While a lot of unknown comes with the journey of pinhooking, there is a lot of hope that comes with it as well. While I am continuing to navigate through this experience with caution and realism, my faith in this colt remains unshaken. Looking back, it is amazing to be living through something that first started out as only a dream. With PJ now at GreenMount Farm and with our entry fee to the sale already paid, things are finally starting to feel real.
LATEST NEWS