Pinhook Diary: A lot of hope on a little colt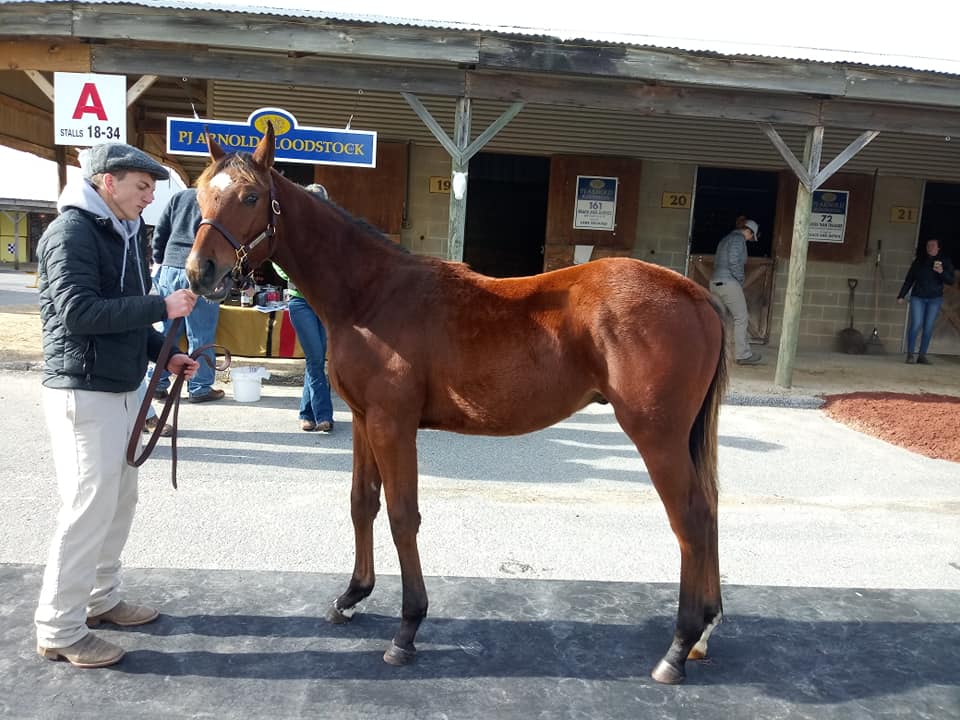 Peace and Justice colt out of Lake Squared, by Friends Lake, that Chelsea Lowman hopes to pinhook. Photo by Chelsea Lowman.
In 2018, I visited the Fasig-Tipton Midlantic December Mixed and Horses of Racing Age Sale to embark on my first attempt at pinhooking a thoroughbred. Pinhooking is simply buying young thoroughbreds – say, weanlings or yearlings — and then selling them months or more later (when they're, respectively, yearlings or two-year-olds).
With a sharp eye (and good luck), a pinhooker can turn a modest investment into a big payoff.
Pinhooking had been a dream of mine since the age of 15. It was the year that I was introduced to the sport, and it had happened just by chance. Knowing that I was an animal lover, my grandmother called to tell me to put on the TV and watch the Belmont Stakes one day in June. I did so in time to watch Drosselmeyer gallop across the finish line — and I was, so to speak, hooked.
One of the main things that attracted me to the sport was trying to decipher the mystery of what makes a winner. I was fascinated by trying to learn the pedigrees and figure out which horses had the potential to shine, or which ones were better bred for the turf or dirt or sprinting and so on. It was like a great puzzle that needed to be solved, and when I learned about pinhooking, I knew I wanted to be a part of it.
When I turned 23, I decided that it was time. I went to the 2018 Fasig-Tipton Midlantic December Mixed Sale, sure that I had less experience than virtually all of the other bidders in the room – and a smaller budget, too. But that didn't matter. I had to start somewhere, and now was the time to do it. 
As a first-timer, I was terrified bidding in a room full of people who seemed to know exactly what to do. But I raised my hand, and I ended up with a beautiful Maryland-bred filly by Verrazano. She was a strong, well-made filly. I liked that she was a registered Maryland-bred by a Kentucky stallion, and that her dam,  Rough Water, by Stormin Fever, had produced multiple winners – including a nine-time winner, Jersey Chaser, who happened to be sired by my old friend Drosselmeyer.  
I was thrilled with my purchase and over the course of the next several months I learned a lot about what it was like to own a thoroughbred, and about how the pinhooking business works.
When fall came, I sold my filly through the consignment of GreenMount Farm at the Fasig-Tipton Midlantic Fall Yearlings Sale. Knowing how difficult pinhooking is, especially for a first timer, the logical side of me knew not to get my hopes too high. While I obviously hoped to walk away with a profit, my goal for this first try at selling a horse was to at least break even.
When my filly went through the ring and brought a winning bid of $5,000 – not enough to break even — I was understandably disappointed. But I wasn't surprised. She sold at a time when a lot of buyers were backing off of Verrazano's progeny (the stallion had recently sold to Brazil), so part of me knew to expect a modest outcome. It was bad timing for me, but the filly still sold, which was the most important thing.
As difficult as it was to let her go at a low price, I still had to be grateful. A few horses who went through the ring that day failed to receive any bid at all.  
My filly, whom I had named, Writtenbythestars, was acquired by Jagger, Inc. (Ness Racing) on that October day. I gave the new owner a letter after she sold, to let him know how important this filly was to me, and that if anything ever happened down the road and Writtenbythestars ended up in a situation where she needed a home I would gladly take her back. The new connections of Writtenbythestars have since been keeping me up to date on her progression, and she is now off to train for a career on the racetrack.
While my personal chapter with Writtenbythestars may have come to an end that day, it was only the beginning of a new chapter in my journey through pinhooking. My first attempt may have failed to bring a profit, but that wasn't enough to scare me off. If anything, it only made me more determined and more excited to move forward and start over with my next prospect.
I learned a lot in my time with Writtenbythestars and returned to the 2019 Fasig-Tipton Midlantic December Mixed Sale with my newfound knowledge to try again.
The weekend before the sale, I traveled to the sale grounds to look at the weanlings. I made a list of 17 prospects that I wanted to view, and despite the bitter could, I ended up looking at over 20 horses that day. I watched closely at how the weanlings walked and stood. I looked them up and down from all angles, searching for strengths and weaknesses in their conformation. I studied their x-rays and reached out to trustworthy horsemen and horsewoman for advice.
Seeing the horses in person, and getting to go over their x-ray reports, helped me decide on which prospects to remove from my list and which ones I wanted the most. I went through the sales catalog and made notes on each of my prospect's pages, writing down how much I was willing to spend on each.
The day of the sale finally came, and unlike the year before I wasn't nervous at all. In fact, I had a blast bidding on the horses.
The first weanling I bid on, a Jump Start filly out of Claire's Image, went right in my price range. However, I decided to drop out at the last minute. There were a few others in the sale I liked more, and I decided to take the risk and wait for them to come through, all the while hoping that they would land in my price range.
Hip 161, a bay colt by Peace and Justice out of the winning Friends Lake mare Lake Squared, stepped into the ring. This was the first horse that I viewed in person over the weekend and one of my favorites on my list. I started my bid at $2,000 and stuck with it as his value rose. The price steadily climbed until it reached $6,000. Locking eyes with the bid spotter, I nodded my head and agreed to the price. To my relief, the bidding stopped, and at the fall of the hammer the horse was mine.
My old riding instructor was kind enough to meet me at the sale with her trailer to help me get my colt to the farm where I would board him. The colt loaded onto the trailer with the ease of a seasoned professional, and we took him to Mount Pleasant Farm in Littlestown, PA.
It was dark by the time we reached Mount Pleasant Farm. Frigid wind blew and freezing rain began to fall as we unloaded the colt and led him to his warm stall. The colt, whom I have been calling P.J. (after sire Peace and Justice), made himself at home right away and began nibbling on hay while investigating the many chickens that roosted above him.
It was the same farm and the same stall where I had gotten started with Writtenbythestars, and I am excited to see where my new adventure with this colt will take me. While pinhooking can be a journey filled with uncertainty, it is also a journey filled with potential and hope. And right now, I have a lot of hope riding on this little colt.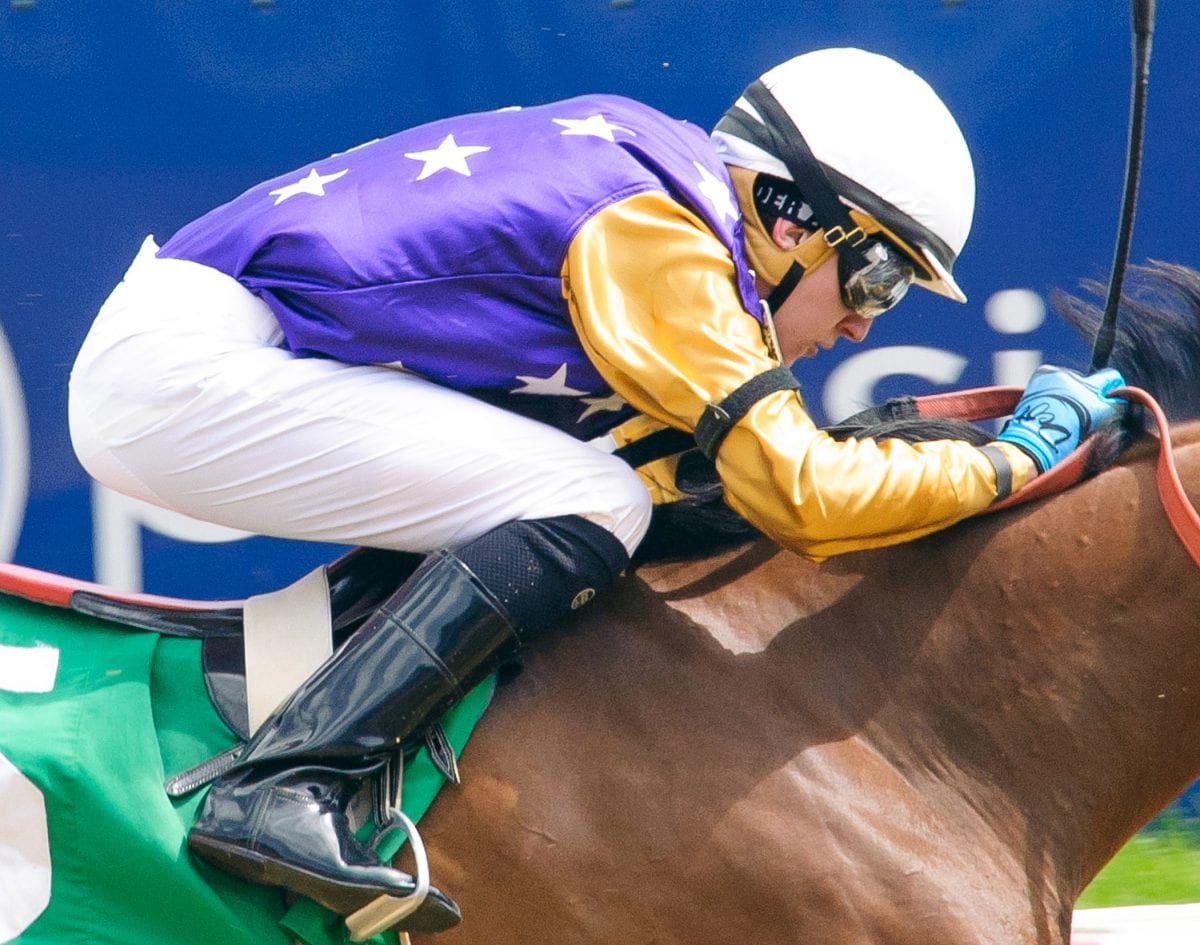 Our correspondent caught up with some jockeys who previously rode regularly at Delaware Park to learn their fondest moments or memories in the First State.