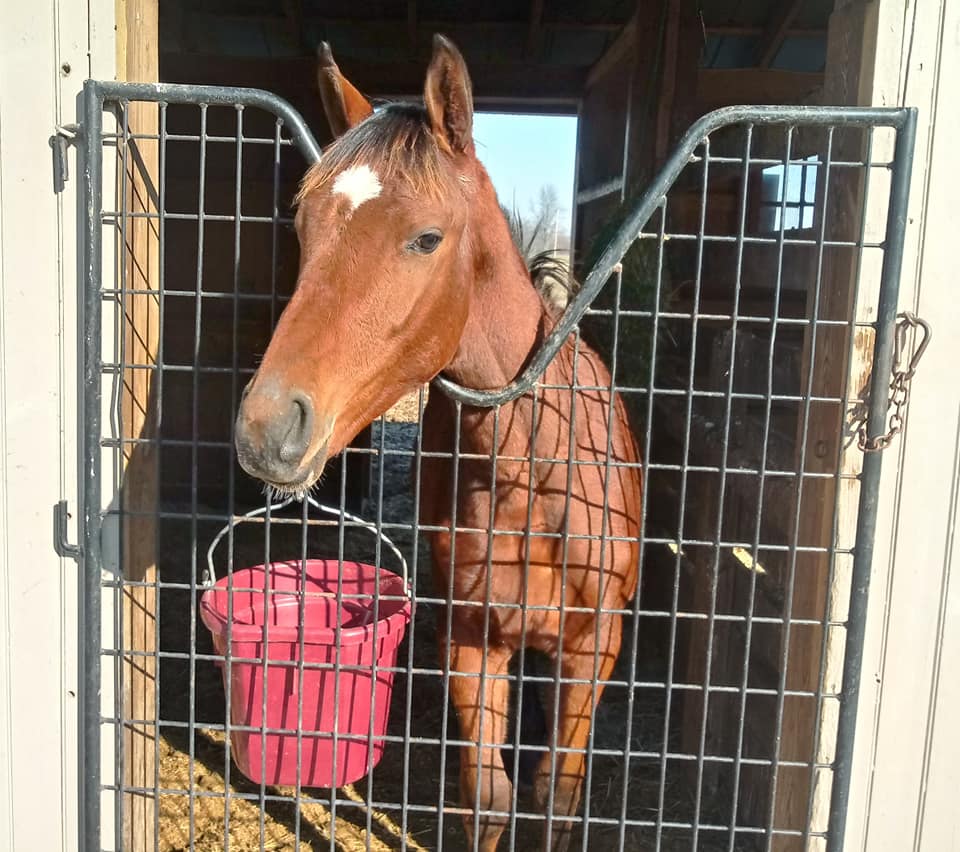 Chelsea Lowman's now-yearling colt by Peace and Justice. Photo courtesy of Chelsea Lowman.
Pinhooking is a journey that starts with a dream and the courage to pursue it, but once you make the decision to do so, you need to figure out what to look for in a prospect. In a way it's like a form of art and mystery. It's not necessarily about buying what's the most popular animal at the moment of the sale, but of buying a horse with a pedigree that you expect to be in higher demand by the time you plan to resell.
In order to find success as a pinhooker, you must study the pedigrees and try to find a horse in the sale that has overlooked potential. With hundreds of horses in each sale there, are bound to be some quality animals that fall through the cracks and go for cheaper prices than their more regally bred counterparts. However, just because they were overlooked at one sale doesn't mean that they don't have the chance to stand out down the road at a different sale at a different time. It takes a leap of faith, but sometimes predicting what pedigrees will be hot later on can prove to be a rewarding venture. This is what I'm hoping will be the case with my colt, whom I've nicknamed P.J.
I was lucky that P.J. was somewhat overlooked by bidders at the time that I purchased him. In my opinion, there are several reasons I think this colt has the potential to bring more money than he commanded at the Fasig-Tipton Midlantic December Mixed and Horses of Racing Age Sale, where I obtained him for a modest $6,000.
The first thing that drew me to this horse was his pedigree. When I first found out about him, he was nothing more to me than a pedigree in an online catalog. I already had my opinion set on which stallions I was interested in, so when I looked through the sale catalog, I started by scoping out all the weanlings that were by my personal list of preferred studs. Once they were selected, I narrowed my list down by analyzing the female side of the pedigrees. If I wasn't sold on the mare's record or potential as a producer, I moved on to the next one. So, what initially sold me on P.J. was the promise that I saw in both his sire and his dam.
→ January Pinhook Diary: A lot of hope on a little colt
P.J. is by the new stallion Peace and Justice, who first entered stud duty in 2017. Because his offspring have not yet made it to the races, we don't yet know whether he'll be a star, a dud, or something in between. But on paper, his pedigree appears to be one that will be in high demand moving forward, as he has bloodlines that suggest success in the breeding shed.
Peace and Justice is by the top sire War Front (who himself is by the highly influential sire, Danzig), who stands at Claiborne Farm in Paris, KY, for a fee of $250,000. A top international sire, War Front has produced multiple graded stakes winners and millionaires who have found success on multiple surfaces and at various distances. Recent standouts sired by the versatile War Front include multiple 2019 Preakness Stakes winner War of Will and multiple graded winner Omaha Beach.
The lure with Peace and Justice as a stallion doesn't only hail from the paternal side of his pedigree. Peace and Justice is out of the Smart Strike mare Strike the Sky. A winner herself, Strike the Sky is responsible for producing Grade 2 winner Hudson Steele, as well as Lauren Byrd, who is stakes-placed. Thus, it is no surprise that the royally bred Peace and Justice sold for $425,000 as a yearling.
Standing at Northview Stallion Station in Peach Bottom, Pa, Peace and Justice is one of only two stallions by War Front standing in the Mid-Atlantic region, and the only son of War Front standing in Pennsylvania. That alone should make the progeny of Peace and Justice desirable at later sales.
I also liked what I saw on the maternal side of his breeding. He is out of the mare Lake Squared, who is by Florida Derby (G1) winner Friends Lake (who is by A.P. Indy). A winner herself, Lake Squared had produced four winners from four offspring to race at the time that I purchased my colt, including a six-figure earner. I liked that the mare was a proven producer of winners, and I liked what I saw even more when I looked at the second dam in the pedigree, Lake Huron.
By Salt Lake, Lake Huron was a three-time winner on the track and a producer of nine winners upon her retirement from racing. Top performers foaled by Lake Huron include stakes winner Salty Response, multiple graded stakes winner and producer Salty Strike, and stakes placed Iroquois Girl and Northern Vacation. Black-type winners and producers could be traced through the third and fourth dams as well, demonstrating the success of the family line.
P.J. comes from a stallion that screams potential and from a mare that is proven to get winners. Black type and big names flow through both sides of P.J.'s pedigree, suggesting that he may have a lucrative career on the track, and possibly in the breeding shed as well. 
Much like his sire, P.J. is built with solid bone structure on a well-balanced body, and when I saw him in person the weekend before the sale, I was even more convinced that he belonged on my list of top prospects. A confident walk and a flawless x-ray report added to the potential that I saw in the colt. I feel very fortunate to have placed the final bid on him in the sale and now to have the opportunity to see where my journey with him will take me.
Peace and Justice should have offspring running this year, as his first crop of foals are now two-year-olds. If Peace and Justice is be represented well by his first crop of runners, that should bring more interest to my colt by the time I sell him in the Fasig-Tipton Midlantic Fall Yearling Sale. Only time will tell if things will fall into place with the colt the way I expect, but for now the possibility is alive and the sky's the limit.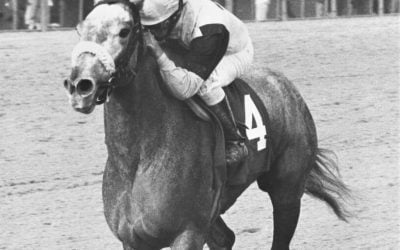 In a new BackTracks: NJ-bred Missy's Mirage became one of trainer Allen Jerkens' favorites, a gray filly who "got the job done."