Pinhook Diary: "Food is PJ's only priority"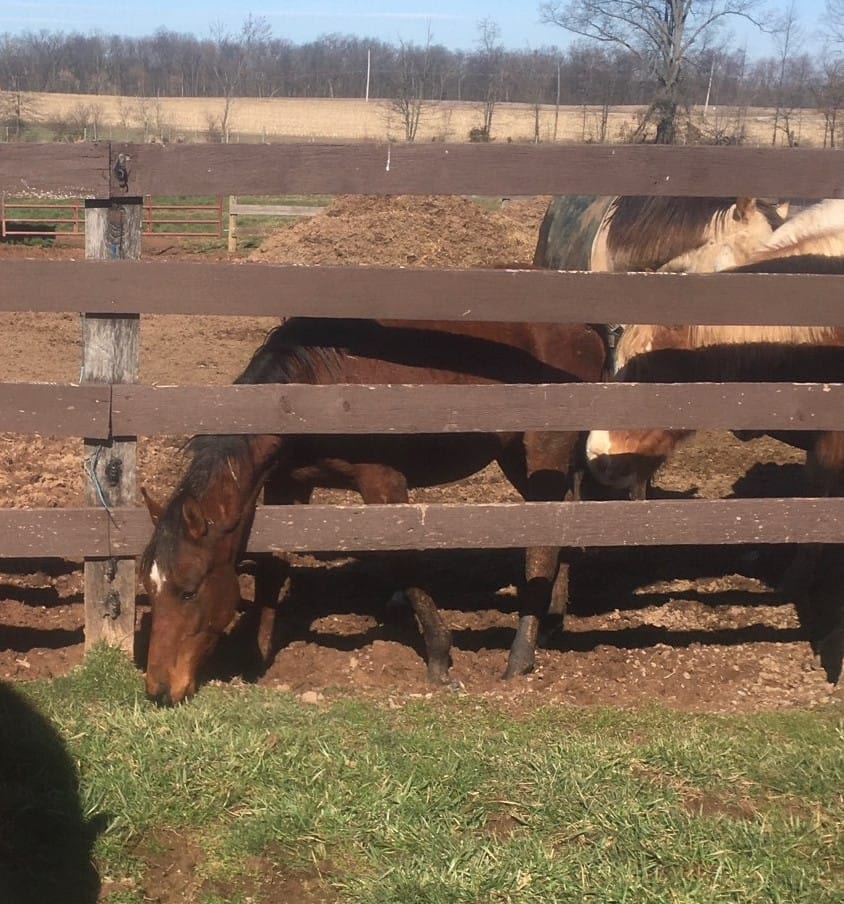 PJ doing what he does best: eating. Photo courtesy of Chelsea Lowman.
Since I don't have enough land for a horse, I have to board my yearling at a farm. PJ is currently boarded at Mount Pleasant Farm in Littlestown, PA which is where I kept my first pinhooking prospect, Writtenbythestars. My great aunt is friends with the owners of the farm, and after seeing how well Writtenbythestars thrived at that facility, I knew without a doubt that I wanted to keep PJ there as well.
Mount Pleasant Farm is owned by Kim and Michael Lind, who welcome all types of equestrians to their farm. You can also find a variety of animals living there: several different horse breeds, a colorful array of chickens, and a pack of rescue dogs. My first pinhooking prospect had a naturally beautiful and calm disposition, but I also believe that her having lived with such a variety of different animals at such a young age helped keep her so well-behaved. After being exposed to so many different things living on the farm, there wasn't much that fazed that filly, and it seems that PJ is following that same path.
PJ appeared to be a well-mannered colt from the start. As we waited to get him loaded on the trailer on the day I bought him, he rested his head in my arms with all the trust in the world. It was obvious to me that the colt had been worked with and handled a lot, and when he loaded onto the trailer swiftly and without issue, I thought to myself that I might have landed another easy baby.
One of the workers from the consignor, PJ Arnold Bloodstock LLC, told me that other than a few minor "colt moments," the colt had been easy to work with. Not long afterward though, I began to wonder about my previously well-mannered youngster.
A few days after PJ had been dropped off at Mount Pleasant Farm I stopped by one morning to see him. I went into the stall with him, and right away I could feel the attitude radiating off him. He pinned his ears and started acting like he wanted to bite. He was clearly trying to intimidate me, and it started to work once he turned his back to me and tried to kick. After trying to work with him for a bit I could see that we weren't getting anywhere, and exited the stall to let him calm down. He then promptly marched up to the door and kicked it.
I wouldn't say that PJ was being downright aggressive because if he had really wanted to hurt me, he could have, and he didn't. However, I got the feeling that he was trying to test the water with me and see what he could get away with. He was also in a new place with new people, and was probably very confused and stressed out after all he had been through with the sale the week earlier. I decided not to push it with him and gave him some more time to get comfortable in his new surroundings.
A week passed and PJ was doing better. I brought a variety of fresh fruits and veggies with me to try to win him over, but he had no interest in trying any of them. He was still a bit standoffish but wasn't nearly as testy as the week before. I was taking baby steps with him, but we were getting there, and knowing that he was handled daily by the farm owners helped bring me peace of mind that I wouldn't end up with an unruly colt.
PJ has now completely settled into his new life at Mount Pleasant Farm. It seems safe to say that PJ's attitude early on was caused by nerves, because I have not seen a trace of it since. I recently made my way out to the farm and found him happily munching on hay with some other horses.
I leaned on the fence and called him over, not fully expecting to get a response. But while the other horses continued to eat, uninterested by my presence, PJ lifted his head and stared at me. Recognizing me from afar, PJ abandoned his food and trotted over to me. When he reached me, he hung his head over my shoulder in much the same way that Writtenbythestars used to do. I was thrilled to see how comfortable he had become in this environment and how much trust he was finally putting in me.
"PJ is a very kind horse," Kim remarked to me one sunny morning while the colt grazed greedily. "He loves to eat. Seriously, food is his only priority. He's easier to catch than Writtenbythestars was. When PJ sees you coming, he's like, 'You got food?' and stuffs his head right in the halter."
While things have been going pretty smoothly with PJ, they haven't gone completely without incident. A few weeks ago, he managed to bang his head open and was left with a pretty nasty wound on his forehead. I had been with him earlier that day, and all was fine, but when Kim went to bring him into the barn at night, she found him injured. We aren't exactly sure what he did to hurt himself, but it seems that horses are just good at finding trouble. Or as Kim put it, "He's a typical yearling."
With some TLC and the great care of Kim, PJ healed without further issue. In fact, the wound on his head healed so well that over time I doubt it will even be noticeable. Many horses have the reputation for being accident-prone, so saying that I'm grateful that this was his biggest issue so far would be an understatement.
For now, PJ will remain at Mount Pleasant Farm. While he is there, I will continue to maintain his ground manners with him as he continues to grow into a larger, stronger colt. I will also soon begin more detailed grooming with him to make sure that he stays comfortable with it, and I plan to increase his hand-walking time while on a lead.
When PJ is older and we draw closer to the Fasig-Tipton Midlantic Fall Yearling Sale, I plan on sending him to GreenMount Farm in Reisterstown, MD, where he will be prepped for the sale. There are many months to go before we reach that milestone, but for now it brings me hope to know that once again I have a happy and willing prospect to go through this adventure with.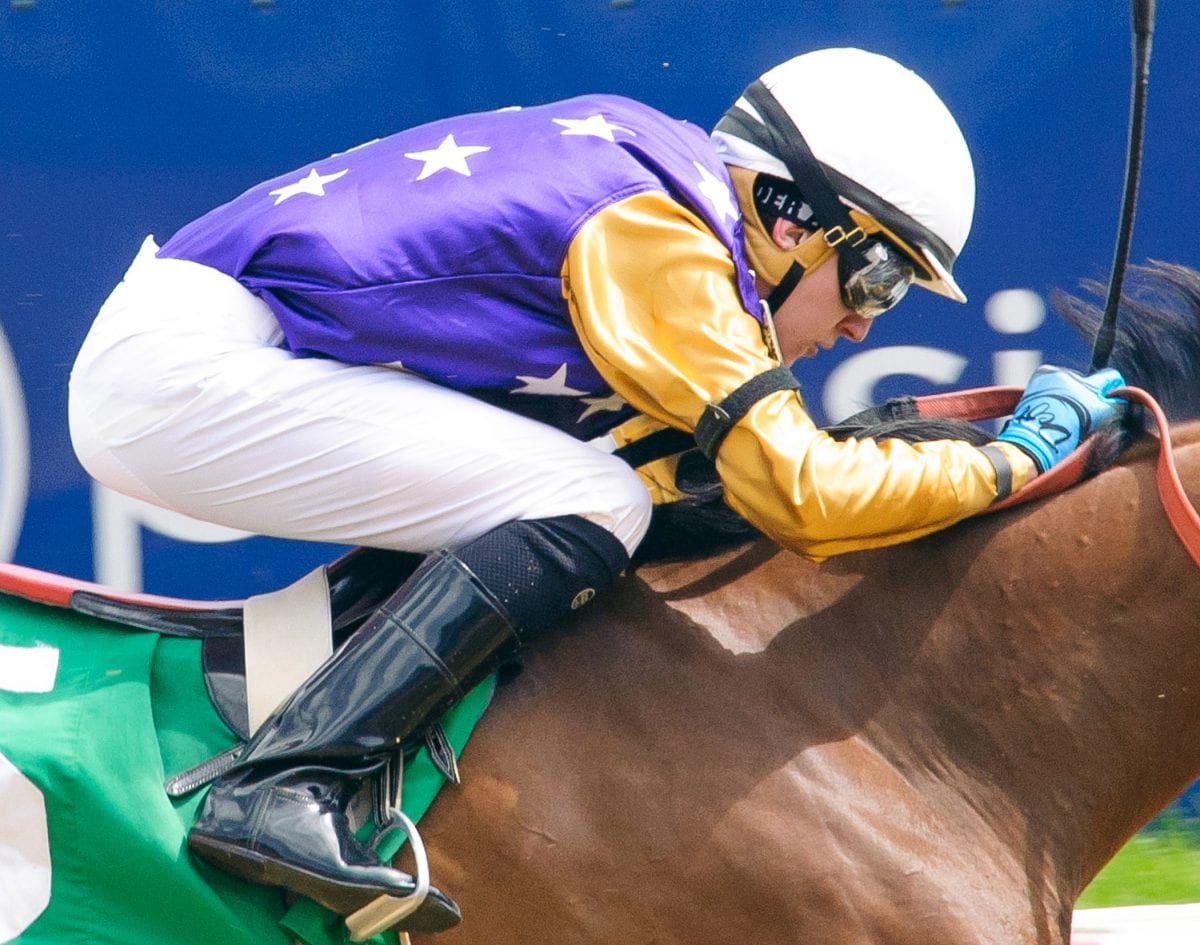 Our correspondent caught up with some jockeys who previously rode regularly at Delaware Park to learn their fondest moments or memories in the First State.