PINHOOK DIARY: IN THE HOMESTRETCH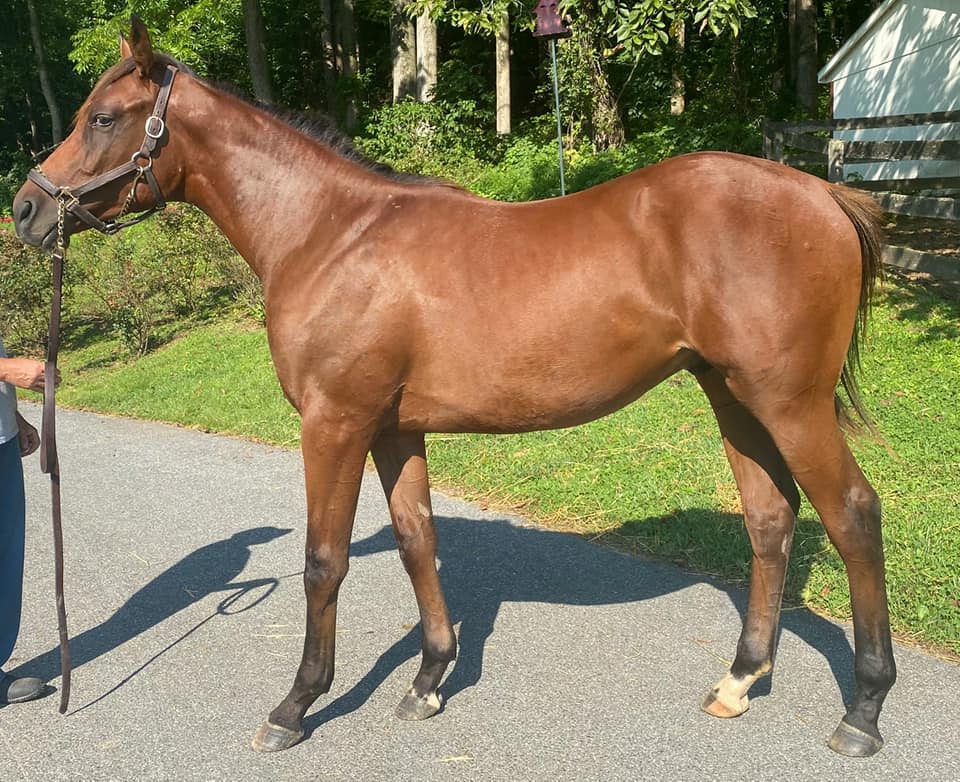 Reality started to sink in when the online catalog for the Fasig-Tipton Midlantic Fall Yearling Sale came out in August. The moment I saw that the catalog was available I hastily looked up my horse to see which hip number he was assigned. PJ will have his moment to shine in the ring on Tuesday, October 6, which is the second day of the sale. As Hip 206, PJ will be one of the first horses into the ring on Tuesday, as Hips 1-200 will be offered the day before. Hips 201-553 will finish up the sale on Tuesday. Tuesday's sale is slated to kick off at 10 a.m.
Just seeing PJ and my name in the catalog has already given me a sense of pride ad accomplishment at how far we have already come. There was a time when pinhooking Thoroughbreds felt like an impossible dream to me, so to even have this surreal opportunity makes me feel incredibly blessed. However, I am still holding my breath. We will not know how the journey ends until the hammer falls with the final bid that PJ brings on October 6.
A wonderful stroke of luck in regard to PJ's family (that has yet to be updated on the online catalog for the Fall Yearling Sale) has recently taken place on the track. Agora, a five-year-old Tiz Wonderful mare who is a half-sister to PJ (out of the same dam, Lake Squared), was victorious in a race at Monmouth Park. To date, Agora has now marched her way to the winner's circle six times in her 21-race career and has finished either second or third ten additional times. She has banked current earnings of $132,305.
The timing of Agora's win couldn't have been any better for PJ, and I am hoping that this mare will have time to get in one more race, and hopefully one more win, before PJ sells in October.
PINHOOK DIARY
At the same time, I'm hoping for one or two of Peace and Justice's offspring to find the winner's circle. PJ's sire has had just a couple of runners so far – his oldest offspring are just two-year-olds – and will have his next chance September 10, when his gelded son Like a Saltshaker tries his luck in a maiden race at Presque Isle Downs.
PJ has been thriving under Sabrina Moore's care at GreenMount Farm. I go to visit him every weekend, and each time I see him, he looks even better than before. According to Sabrina, PJ has been eating everything in sight, and he is filling out and put on some of the extra weight that we were hoping for. He has also started using the automatic walking machine which should help him to establish better muscle definition.
"He's certainly a sweet horse but needs to learn a little space and discipline," Sabrina commented to me. "He's definitely a boy. He is always trying to play and nip and rub on you. So, we're trying to get him to be a little more professional, so he realizes that this is his job and it's not all fun and games."
Sabrina's thoughts on PJ sounded spot on to me. Every time I would go in the field with him back when he was boarding at Mount Pleasant Farm, he would come right up to me and get right in my face, sniffing and nudging me all over in greeting. He definitely has his juvenile moments and a playful spirit, but he's a smart boy and always seems eager to learn and to try new tasks, so I am confident that Sabrina and her team will have turned him into a professional in time for the sale.
As we begin to move through September, in what will be my final full month with PJ before the sale, there is a lot to look forward to and a lot to hope for. I am hoping that PJ's siblings/half-siblings will continue to win races between now and the sale, and that offspring of Peace and Justice will begin making more appearances on the track in time for the sale.
I hope to see PJ continue to grow and fill out during his time at GreenMount Farm, and I am eager to see his transformation. We have watched him grow from a fuzzy weanling into a strong yearling colt.
A lot of unknowns still lie ahead. But for now, we are entered in the sale, we are published in the catalog, PJ has an active family of winners backing him, and because of all that, the chance of making this journey a success is alive. The time for PJ to step back into the auction ring is almost upon us. Then I will finally get to see just how far the two of us really have come in this adventure.
LATEST NEWS