Pinhook Diary: Finding the way forward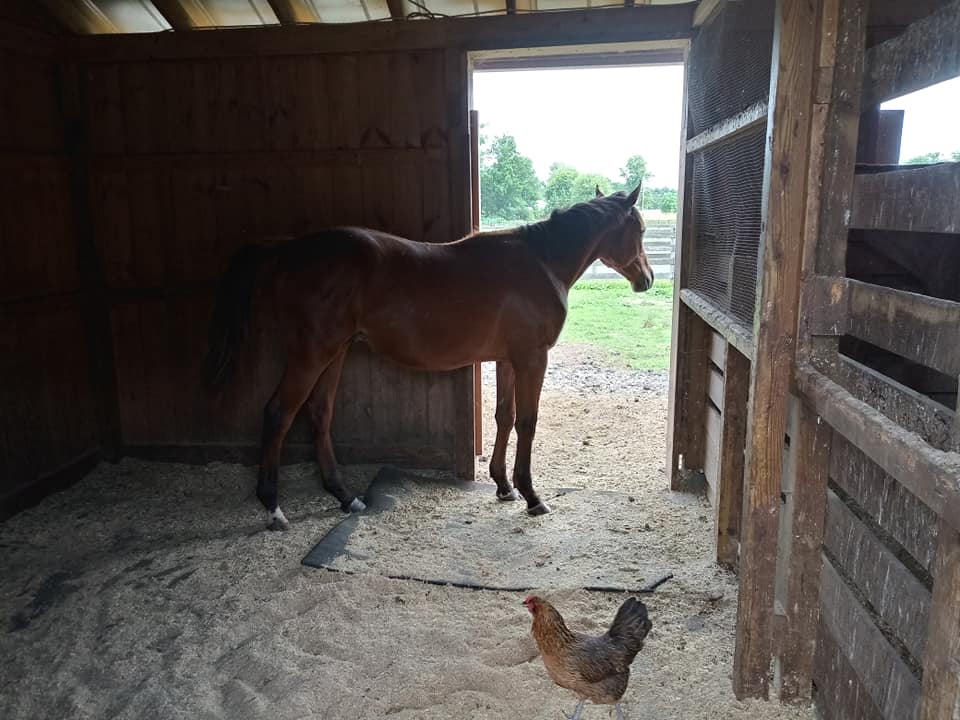 PJ checks out the scene. Photo courtesy of Chelsea Lowman.
Nearly two months came and went when I was unable to visit PJ because of the lockdown associated with the Covid-19 pandemic. It was a time filled with uncertainty.
It was difficult not being able to see how PJ was progressing. On top of that, I felt like I was holding my breath every day just waiting to hear if the Fasig-Tipton Midlantic Fall Yearling Sale would be canceled like so many other events had been. But life went on, and I had to learn to adjust to this new situation, just like everyone else was learning to do.
While many people were out of work because of the pandemic, I was lucky enough as an "essential worker" to have a job to go to everyday. Surprisingly, we were extremely busy at my job, and it helped make the days fly by. While I stayed busy with work, Kim kept me updated on PJ and sent me pictures of him from time to time. I was elated to know that he was continuing to thrive at Mount Pleasant Farm, though it was hard not being able to go see PJ or work with him.
During this time, PJ and many of the other horses on the farm received a visit from the vet. He was due for a checkup and some vaccines, and though it was a visit I had planned on attending before the lockdown started, I was disappointed to have to sit it out. However, Kim reported to me that PJ was absolutely "perfect" during his vet visit.
"PJ is definitely more confident than he was compared to when he first arrived at my farm," Kim told me. "He is very friendly and a quick study. We all like this horse a lot."
At last, after what felt like forever, the number of Covid-19 cases in our area slowly began to decline. While we are not nearly out of the woods yet, businesses were starting to open their doors back up to the public. Once Mount Pleasant Farm opened, I wasted no time in setting up a day to go see PJ.
It was a bright, hot weekend in early June when I was finally reunited with my colt. I went in the pen with him and he marched up to me and got right in my face. He was filled with character and charm, more than I had remembered.
Kim was right: PJ was clearly growing into a confident animal, and I could not be happier with how he was turning out. He was as curious and as sweet as ever as nuzzled me from head to toe until I wrapped my arms around his neck in a hug. It was funny to think that this big, strong, future-racehorse was acting like a cuddly puppy that did not quite realize his true size and strength.
"Honestly, the coronavirus had a little effect on us," Kim told me when I asked how she and her husband had coped on the farm. "But most people stayed away on their own and we continued with business as usual here. I do believe it would have been worse on us if we were a lesson facility instead of a boarding facility."
I am back visiting PJ on a regular basis. Every time I see him, he looks stronger than before, and his bay coat is developing quite the shine. I am very pleased with his progress. It appears as if my plans for him will continue as scheduled, as Fasig-Tipton did not cancel its Midlantic Fall Yearling Sale like I feared, but instead made the date slightly earlier.
Since the Preakness Stakes was rescheduled from its traditional mid-May date to October 3, Fasig-Tipton moved the date of the fall yearling sale to October 5-6 with the hope that the racing crowd in town for the Preakness would come to the sale as well.
With the rescheduling of both the sale and the Preakness, the potential of larger crowds at the sale looms as a real possibility. Larger crowds of horsemen and women brings the possibility of more bidders at the sale, and that could prove to be life-changing for me if PJ catches the attention of the right people at the sale.
We still have some time to go before PJ steps into the sales ring and the bidding begins. I will not know until the hammer falls if this journey will prove successful. All I can do for now is hope, and based on what I'm seeing from my colt right now, PJ is a pretty good horse to put my hope in.
As we enter July, things are beginning to feel more real on this journey through pinhooking. PJ has been entered in the October sale, and my entry fee has been paid, bringing us one step closer to our goal. July will be PJ's last month at Mount Pleasant Farm, before he moves on to his next chapter and ventures to GreenMount Farm, where more serious preparations for the sale will take place.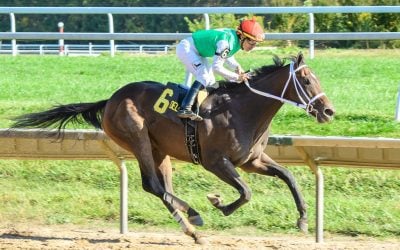 When owner Chuck Zacney began looking for a name for his Street Sense colt, he remembered a late friend who had been one of the WWII era Tuskegee Airmen.