Sabrina Moore: Love of horses "can take you pretty far"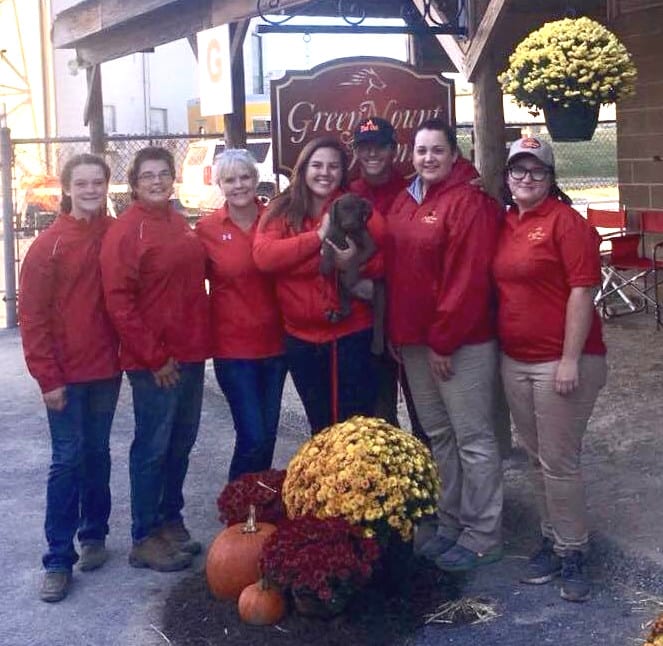 Sabrina Moore (center, with canine friend), Angie Moore (third from left), and the GreenMount Farm team at the Fasig-Tipton Fall Yearling Sale in Timonium. Photo courtesy of Sabrina Moore.
by Teresa Genaro
Sabrina Moore didn't grow up in the horse business. No one in her family was involved, either. But when she was nine, Moore got her first horse, and thus began the 15-year process of her, and her mother's, pretty much complete immersion in the industry.
When Moore's mother Angie was a little girl, she'd look longingly at the horses at the farm next to where she lived, and when she had her own children, she made sure that they got the exposure to horses that she hadn't had, putting them in summer horse camps. Of the four kids, only Sabrina caught the horse bug.
By age seven, she was barrel racing and spending all her free time at the barn; two years later, she got her first horse. When she was in her early teens, the family moved from Glen Burnie, MD, which is south of Baltimore, to Glyndon, north of the city and closer to the center of the state's breeding business. They bought a 40-acre farm and another horse, and they put up some temporary stalls, then built a barn and a temporary ring.
"We were like the oddballs in the neighborhood," remembered Angie with a laugh. "Everyone around here was into hunting and jumping and racing, and we were doing all Western."
Their shift to racing was not part of their plan. A neighbor was looking for a nice retirement home for a horse, so Angie agreed to take her in. The mare turned out to be in foal, and all of a sudden Angie was on the hook for the stud fee.
"We took her as an act of good will," said Angie, "and it ended up costing $6,500."
It didn't take long, though, for dismay to turn to excitement.
"We thought, 'Oh, my gosh, we're going to race this horse!'" Angie recounted. "'It's going to be a Cinderella story! It must have been meant to be.'"
"Of course the horse was a complete dud," said Sabrina. "But the experience was so amazing, going to the farm at sunrise, seeing the horses work, watching the barn come together, everyone working together.
"I wanted to soak up every bit of it."
Fortunately, she was in an area with plenty of ways to immerse herself in the horse business. Her grandfather had worked for Maryland's governor Bob Ehrlich, and in the course of his work on job creation, he met Cricket Goodall, now the executive director of the state's Thoroughbred breeding association, the Maryland Horse Breeders Association. On a visit to Maryland Stallion Station, then located in Glyndon, Sabrina met its owner Don Litz.
"He loved getting people in the business," she said. "We all got sucked in from there."
Despite the disappointment of her first racing endeavor, Angie became a partner in a horse born locally, that was, according to Sabrina, touted as the next Derby winner.
It turned out that Angie had purchased a share on a horse in a field on a local farm, owned by a woman who hadn't paid her bills in months.
"My mother ended up paying bills on it forever," said her daughter.
Needless to say, the horse was not the next Kentucky Derby winner.
At some point, somebody told her that she could breed horses to sell instead of racing them, and one day, driving past the Timonium Fair Grounds with her mother, she noticed an unusual level of activity.
"What's that?" she asked. "What's Fasig-Tipton?"
They had horses in training with Tim Keefe, so they decided to stop in at Fasig-Tipton's horse sale and buy a horse for Keefe to train.
"My mom is a free spirit," said Sabrina. "She was up for anything."
In her late teens and attending a local community college, Sabrina decided she wanted to work at the racetrack.
"Oh, no, you don't," she remembered Litz telling her. "Not yet."
Instead, he arranged for her to work at a farm in Monkton, MD, where she learned to break horses, exercise them, and run a barn.
After a "half-broke" yearling took off with her, she jettisoned any thoughts of becoming an exercise rider, and, with the encouragement of her veterinarian, started working with broodmares, including her own, the first horse she foaled out on her own.
From there, she branched out into sales prep—"I'm sure the yearlings looked terrible," she said. "I had no idea what I was doing"—and became enthralled with working with young horses, "teaching them how to behave, giving them a foundation, watching them progress."
She learned from Bill Reightler, a long-time Maryland consignor with a farm in northern Baltimore County, a regular figure at sales in Maryland, New York, and Kentucky.
"She worked some sales for me, and I mentored her," said Reightler. "Sabrina's a fine young Thoroughbred horseman. She's not afraid to get her hands dirty and she works hard. That's impressed me about her."
Moore now owns half a dozen horses and board several dozen others. Her business has outgrown that original farm, named GreenMount, and she and her mother have leased more land nearby. In 2017, she consigned five horses and sold four, and despite being "scared to death" at first, she's found her calling in breeding, sales prep, and selling. She's also begun pinhooking, focusing on Maryland and Pennsylvania.
Several years ago, she was approached about joining the board of the Maryland Horse Breeders' Association, and she was elected after running three times. Now 26, she admits that she was at first intimidated at the thought of joining a group of established horsemen and women, but she also welcomes the chance to learn more about the industry and bring a new perspective to the board.
"I love being on the board," she said. "One of my priorities is recruiting more members and getting younger people involved."
Moore is a serious professional who spends upwards of 12 hours a day at the barn, sometimes sleeping there during foaling season. Yet she also brings a kind of wonder to the work she does, marveling at the opportunities she's had and what she's accomplished. Unassuming and self-effacing, she credits her most important partner: her mother.
"We had so many bad experiences," she said. "If my mom wasn't as optimistic as she is, we would have turned our backs on this years ago."
She's also grateful to the many people who supported her and gave her a shot, particularly Litz, Bobby Santoro, and Reightler.
"I knew absolutely zilch," she said. "I was an annoying little squirt asking a thousand questions."
"It's great to mentor young people like her, and it's all about passing on the accumulated knowledge," Reightler said. "This industry is about learning by experience. You really have to commit and work from the ground up. Cream rises, and Sabrina is a good example of someone who comes from great family and isn't afraid to work hard."
That broodmare that Angie took on as a favor to a neighbor still lives on the farm, as does the foal that came along with her. Sabrina's first two horses, a Mustang and a Quarter Horse, died recently at ages 37 and 34.
"My dream was to have a house with horses on our property," Angie said. "And one opportunity after another fell into our laps. I don't really know how this all came about. It's kind of a miracle, really."
"I was just a kid who loved horses," said her daughter. "That can definitely take you pretty far."