Preakness Memories: California Chrome, the engine that could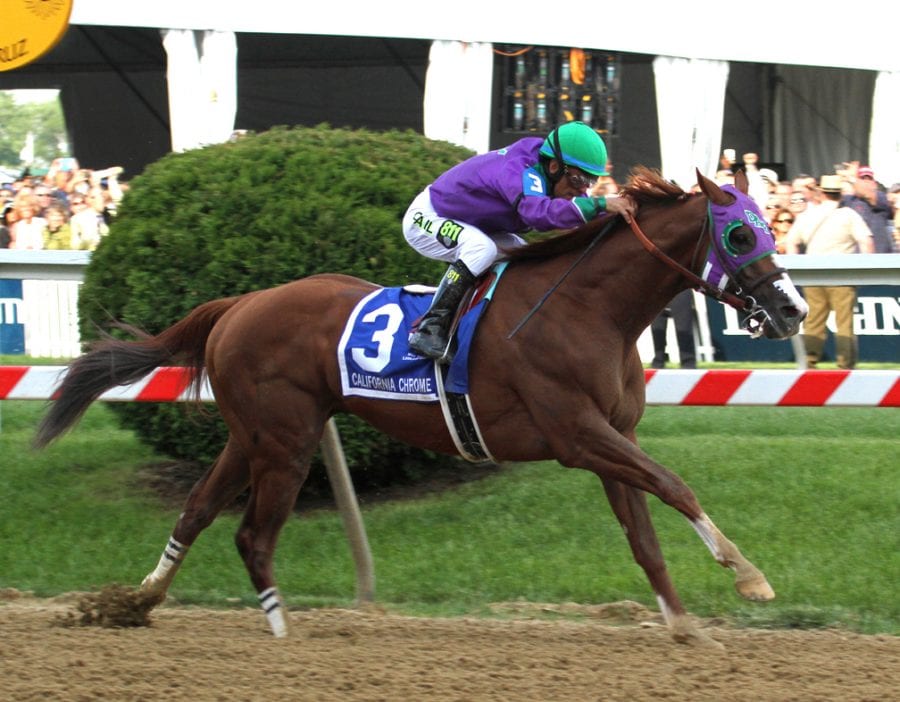 California Chrome wins the 2014 Preakness Stakes. Photo by Laurie Asseo.
He came from the most modest of modest bloodlines, but he took the racing world by storm, and by the time he was done had racked up nearly $15 million in purse earnings and two Horse of the Year titles.
California Chrome, a chestnut colt painted with streaks of white, entered the world in California. He was by a father that stood for the humble price of $2,500 and out of an $8,000 Maryland-bred mare who had only a single victory in a claiming race to her name. But California Chrome didn't know any of this; none of that mattered because this horse would grow up to outrun all expectations, and pretty much all comers.
California Chrome was owned and bred by Perry Martin and Steve Coburn, who were told that they were real "dumb asses" for breeding their modest mare, Love the Chase, to the Californian stallion, Lucky Pulpit — hence their partnership name, Dumb Ass Partners.
California Chrome was rather inconsistent as a two-year-old but improved when trainer Art Sherman paired him up with jockey Victor Espinoza. The blazed colt raced seven times at the age of two, claiming success in three of those attempts. His best finish came in the final race of the 2013 season, when California Chrome coasted to victory in the King Glorious Stakes at Hollywood Park.
After a win in the Cal Cup Derby to kick off his sophomore season, California Chrome went hunting bigger game in the Grade 2 San Felipe Stakes. A win there put him in the Grade 1 Santa Anita Derby and he romped to victory by 5 ¼ lengths.
Our 2019 Preakness Memories series focuses on great Preaknesses from years gone by.
2014: California Chrome, the engine that could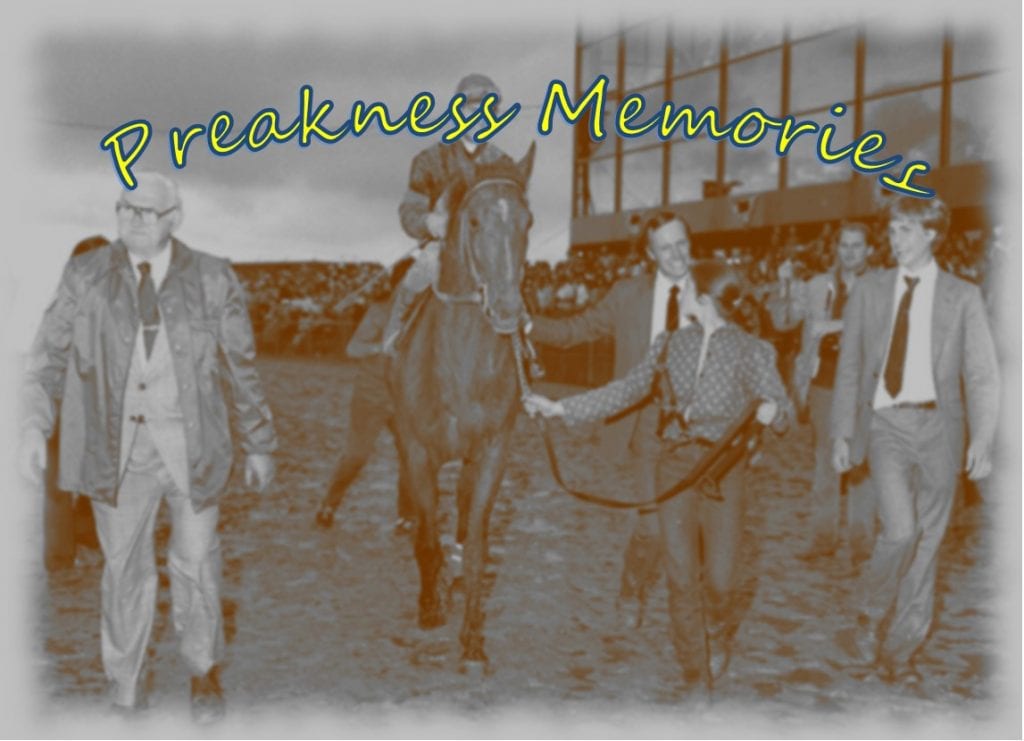 Given his bloodlines, California Chrome was already well past expectations, and his biggests tests awaited.
Before California Chrome was born, Coburn had a dream that the foal that his mare was carrying would grow up to win the Kentucky Derby. As impossible as it seemed, that dream became reality when California Chrome powered across the finish line by 1 ¾ lengths on the first Saturday in May.
As California Chrome was showered in roses, the memory of Coburn's vision three years before came flooding back to him and his wife, Carolyn.
"I said, I believe it's going to be a big chestnut colt," Coburn reflected. "We drove over, saw him the day after he was born. She (Carolyn) walked up to that birthing stall, said, 'Come here, this is your dream.' That dream became the dream that we have today. We held onto that dream. I've said it a hundred times or a thousand times, you got a dream, if you're willing to ride the dream out, they will come true for you. We're living proof of it."
Two weeks later, California Chrome marched to post in the Preakness Stakes as the 1-2 favorite. All eyes were on the chestnut as he broke from the starting gate and sprang into action.
Pablo Del Monte flashed early speed and rolled up to set the early pace in the 1 3/16-mile event while pressed by the filly Ria Antonia. Content to follow, California Chrome settled just off the pace.
As the final bend loomed, Espinoza gave California Chrome his cue, and the chestnut took command between rivals leaving the three-eighths. Ride on Curlin made a determined rally from off the pace but was no match. Ride on Curlin could only manage second place as California Chrome dashed over the wire 1 ½ lengths the best.
California Chrome completed the race in a sharp final time of 1:54.84. It was the fastest edition of the Preakness Stakes since Curlin's narrow 2007 victory, when he posted a time of 1:53.46 while edging Derby champ Street Sense.
To say that California Chrome was on a roll would be an understatement. The son of Lucky Pulpit had now marched to victory in six consecutive races, winning them by a combined 24 ¼ lengths. California Chrome was clearly something special, and he had captivated fans, known as Chromies, of all ages.
There was just one challenge left to make the storybook run complete, but this Triple Crown storybook, like the dozens between 1978 and 2015, had an unhappy ending. California Chrome, wide on the course, finished fourth, beaten less than two lengths for all the money, and the Crown.
It was yet another Triple Crown disappointment, and one person in particular was having a difficult time coping with the finish: Chrome's co-owner Steve Coburn.
"I'll never see, and I'm 61 years old, another Triple Crown winner in my lifetime because of the way they do this," Coburn ranted. "It's not fair to these horses that have been in the game since day one. If you don't make enough points to get into the Kentucky Derby you can't run in the other two races."
Time has, of course, proven Coburn wrong. One year later, American Phaorah and Victor Espinoza dominated the three races.
California Chrome went on to have a star-studded career in the wake of his Triple Crown attempt. Coburn sold his ownership interest to Taylor Made Farm, which in turn sold shares in its interest to various breeders. The new group kept Chrome with his mentor, Art Sherman, and the horse continued to flourish. He raced fourteen more times after the Belmont, claiming the gold in eight of those attempts. Some of his notable victories include triumphs in the Dubai World Cup (G1), San Diego Handicap (G2), Pacific Classic (G1), and Awesome Again Stakes (G1).
California Chrome retired in 2017 with 16 victories in 27 starts, along with purse earnings of $14,752,650. He was honored as the Champion Three-Year-Old Colt and Horse of the Year in 2014, and Champion Older Male and Horse of the Year in 2016.
California Chrome now lives out his days as a stallion at Taylor Made Farm, standing for a current fee of $35,000.
FOR MORE
MARYLAND JOCKEY CLUB PREAKNESS VIDEO