Preakness Memories: Sunday Silence, the unwanted, unlucky champ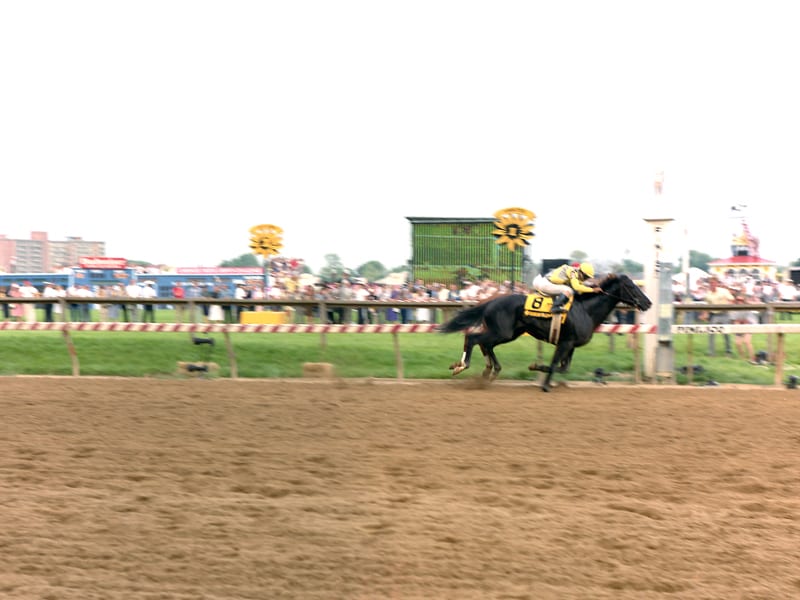 Sunday Silence defeated Easy Goer by the narrowest possible margin in the 1989 Preakness. Photo by Maryland Jockey Club.
On March 25, 1986 a very dark bay colt came into a world that didn't seem to want him. By Halo and out of the Understanding mare Wishing Well, the little colt was named Sunday Silence by owner, Arthur B. Hancock III.
Sunday Silence was plagued by misfortune from an early age. As a weanling, he was struck with a virus that nearly took his life. Sunday Silence overcame his affliction, but continued to find misfortune.
Hancock took the to Keeneland as a yearling and attempted to sell him. However, nobody wanted the awkward-looking horse, whose legs were described by trainer Gary Jones as "coat hangers." Hancock bought back his crooked-legged colt back for a mere $17,000, later sending him to Hollywood Park in an attempt to sell him as a two-year-old.
Once again, Sunday Silence was overlooked at auction. The bidding stopped at the modest price of $32,000, resulting in Hancock's deciding to keep the colt and form a partnership with Ernest Gillard and trainer Charlie Whittingham.
Hancock arranged for his colt to be shipped back to Kentucky, but even that straightforward task went awry. The driver of the van that Sunday Silence was shipped in suffered a fatal heart attack, and his loss of control caused the van to flip.
Amazingly, Sunday Silence emerged from the accident without issue, and eventually found his way to California to begin his training with Whittingham, who had gone into racing's Hall of Fame in 1974.
Our 2019 Preakness Memories series focuses on great Preaknesses from years gone by.
1989: Sunday Silence, the unwanted, unlucky champ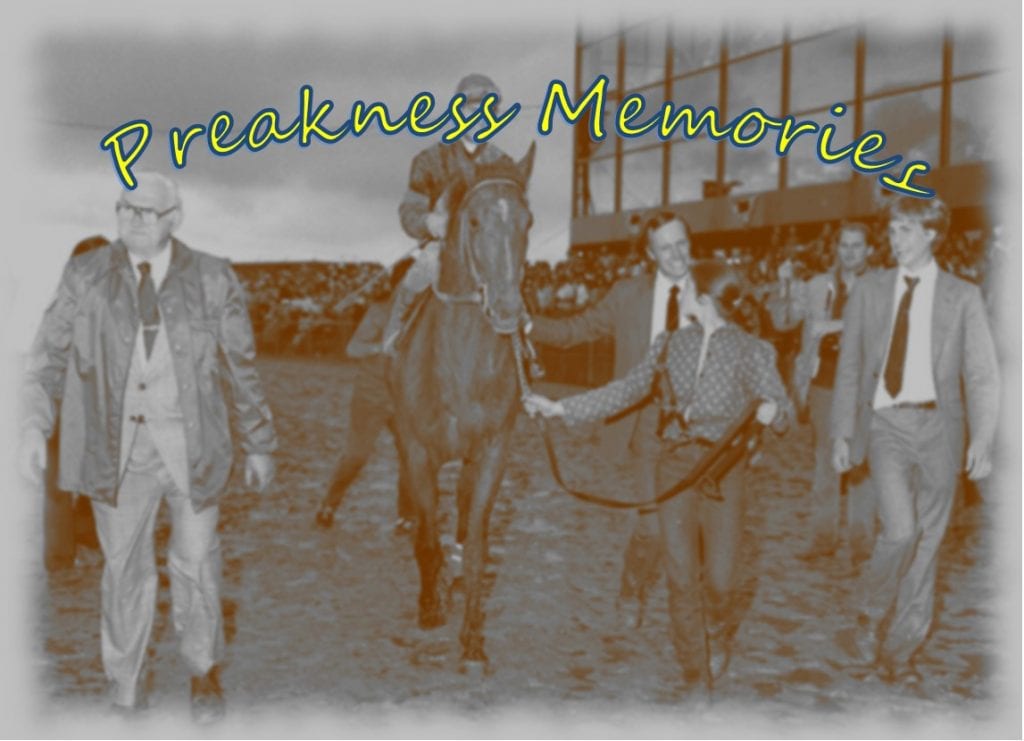 Sunday Silence had a win and two seconds in three starts as a juvenile, but when he made the switch from two to three, his talent really came to life.
Sunday Silence soared to victory in an allowance race at Santa Anita to start off his three-year-old season. From there he moved on to stiffer competition, trouncing his rivals in the San Felipe Handicap (G2), and Santa Anita Derby (G1) before setting his sights on racing's ultimate prize: the Kentucky Derby.
Sunday Silence was on a roll coming into the 1989 Kentucky Derby, and the stage was set for an East-West confrontation. Sunday Silence had a stellar record of four wins and two seconds from six starts, including a win in the West's most important Derby prep, the Santa Anita Derby.
From the East came Easy Goer with an even more impressive ledger: seven wins from nine starts, a two-year-old championship, and victory in the East's key prep, the Wood Memorial.
Hopes were so high for the Shug McGaughey trainee that many compared the hulking chestnut to the legendary, Secretariat. And bettors made him the post-time favorite in the Run for the Roses.
Nobody told Sunday Silence that Easy Goer was supposed to win, and the dark colt found his way to the winner's circle on the first Saturday in May, besting Easy Goer by 2 ½ lengths,
Easy Goer had some Derby excuses, among them a rough trip and his proven disdain for the muddy Churchill strip.
As a result, come Preakness day, the bettors stubbornly backed the Derby runner-up once again. Easy Goer went off at 3-5, while Sunday Silence was an enticing 2-1 at post time.
Northern Wolf and Houston sprang from their posts to set the lead when the starting gates broke open in the Preakness. Northern Wolf was fastest away, but but after a half-mile, Houston had seized a two-length advantage.
Sunday Silence tracked the leaders from fourth early and then watched as Easy Goer made a daring move for the lead, taking the advantage after three-quarters in 1:09 3/5. It appeared as if Easy Goer was home free, but Sunday Silence had other plans.
Sunday Silence launched a rally of his own, the official chart saying he "caught [Easy Goer] with a rush approaching the stretch." As the field turned for home, Sunday Silence had moved to command.
But Easy Goer battled back inside. The duo quickly proved to be equals in terms of heart, determination, and speed, eerily mirroring each other with every stride as they opened a yawning gap between themselves and their well-beaten rivals. Neither colt would give an inch to his rival.
They relentlessly went at each other stride-for-stride in a dogfight that perhaps defined equine determination. Sunday Silence struck the front at the furlong pole, but Easy Goer was quick to turn the tables. Stretching out, Easy Goer put his nose in front with only a sixteenth of a mile remaining.
The two rivals eyeballed each other in the frantic final sixteenth, mere inches separating them. In a superlative display of grit and courage, Sunday Silence surged forward to hit the wire first in one of the most dramatic photo finishes that the Preakness Stakes had ever seen.
Drama continued past the wire, when Pat Day, the pilot of Easy Goer, claimed foul against Valenzuela and Sunday Silence, claiming that they had interfered with Easy Goer during their epic stretch duel, when the two brushed each other several times. The stewards let the order of finish stand.
"I think this puts to rest the talk that Easy Goer is the better horse," Valenzuela told the New York Times. "I think his horse was overrated and mine was underrated. I knew Pat was going to claim foul. He was grasping at straws. He didn't want to let the public down and he didn't want to let the Eastern writers down."
With the drama of the finish finally behind them, the Black-eyed Susans were draped over Sunday Silence, and the hope for a Triple Crown sweep remained alive. It was now on to Belmont Park where yet another confrontation with Easy Goer awaited.
Dominant over his own track, Easy Goer finally had his day, romping to glory in the Belmont Stakes by eight lengths, with Sunday Silence a well-beaten second.
Sunday Silence went on to have a brilliant career in the aftermath of his Triple Crown attempt. He came face-to-face with his nemesis a final time in the Breeders' Cup Classic, defeating Easy Goer by a neck. Sunday Silence completed his 1989 season with honors as Champion Three-Year-Old and Horse of the Year.
Sunday Silence closed out his career with nine wins from fourteen races, with all five of his losses coming in runner-up efforts. He earned just shy of $5 million during his time on the track before retiring at the age of four.
Because of his undesirable conformation and less-than-flashy bloodlines, American breeders turned their noses up at the opportunity to breed their mares to Sunday Silence. It proved to be America's loss, as the colt was sent to Japan where he became a highly influential sire until his death in 2002.
Overlooked at auction and dismissed as a stallion, Sunday Silence had the last laugh. Successful in every part of his life, the valorous champion proved that greatness can come in any form. Of all his accomplishments on on the track, Sunday Silence will be forever immortalized for his epic battle down the stretch of Old Hilltop, on a day where he simply refused to lose.
For more:
MARYLAND JOCKEY CLUB PREAKNESS VIDEO