Preakness Memories: Gate Dancer, the horse who couldn't run straight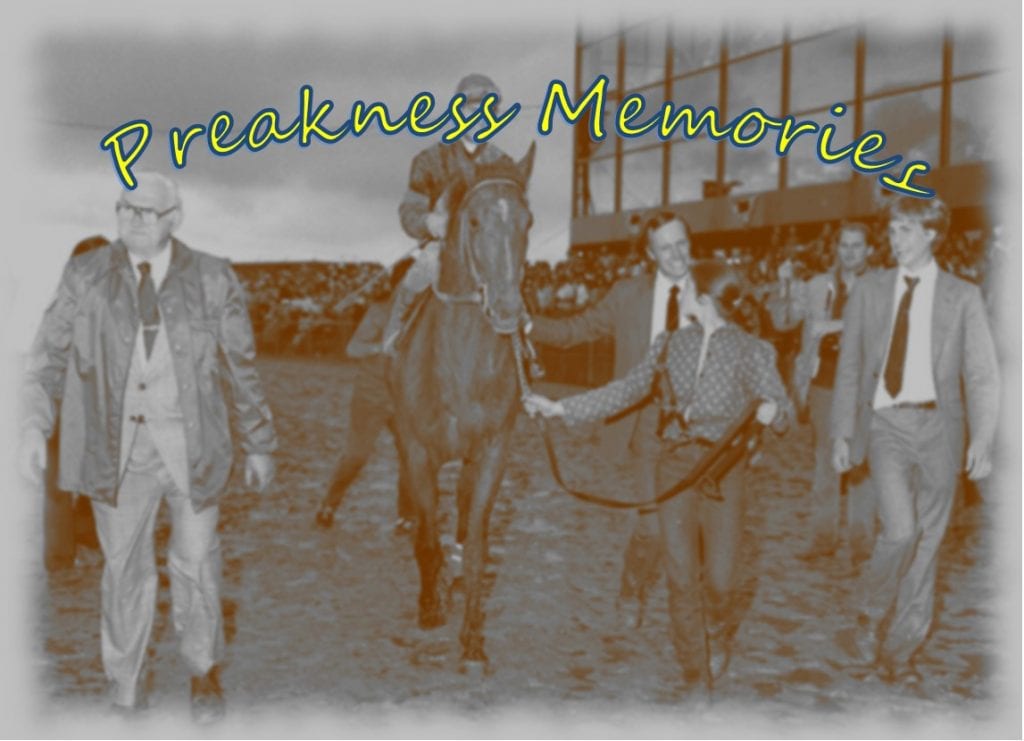 Our 2019 Preakness Memories will feature stories of eight editions of the Preakness from the last 40 years. Today, 1984 and Gate Dancer, the talented runner who couldn't run straight.
He had ample talent but a tough time staying on the straight and narrow.
For all that, by the time Gate Dancer reached the end of his career, he had accomplished plenty, including winning an American classic race and placing in the first two runnings of the Breeders' Cup Classic.
By the stallion Sovereign Dancer and out of the Bull Lea mare Sun Gate, Gate Dancer was bred by Bill Davis and raced by Kenneth Opstein.
Gate Dancer was placed in the stable of Jack Van Berg, who quickly found his hands full with the spirited animal. From the beginning, Gate Dancer displayed a high-strung and opinionated nature. The colt was easily disturbed by loud noises and had a very bad habit of breaking poorly from the gate. In an attempt to help calm the colt's nerves, Van Berg obtained blinkers equipped with earmuffs for Gate Dancer to wear to help drown out the noise of the crowd when he raced.
Gate Dancer raced four times at the age of two, with half of his attempts ending in victory and the other half being runner-up efforts. He then made his three-year-old debut in the El Camino Real Derby, where he finished a solid second. A score in an allowance race served as a confidence booster for the young animal, who then moved on to finish in the money in the Santa Catalina Stakes, San Felipe Stakes (G1), and Arkansas Derby (G1), before making his way to Louisville for a bid for the roses.
Our 2019 Preakness Memories series focuses on great Preaknesses from years gone by.
1984: Gate Dancer, the horse who couldn't run straight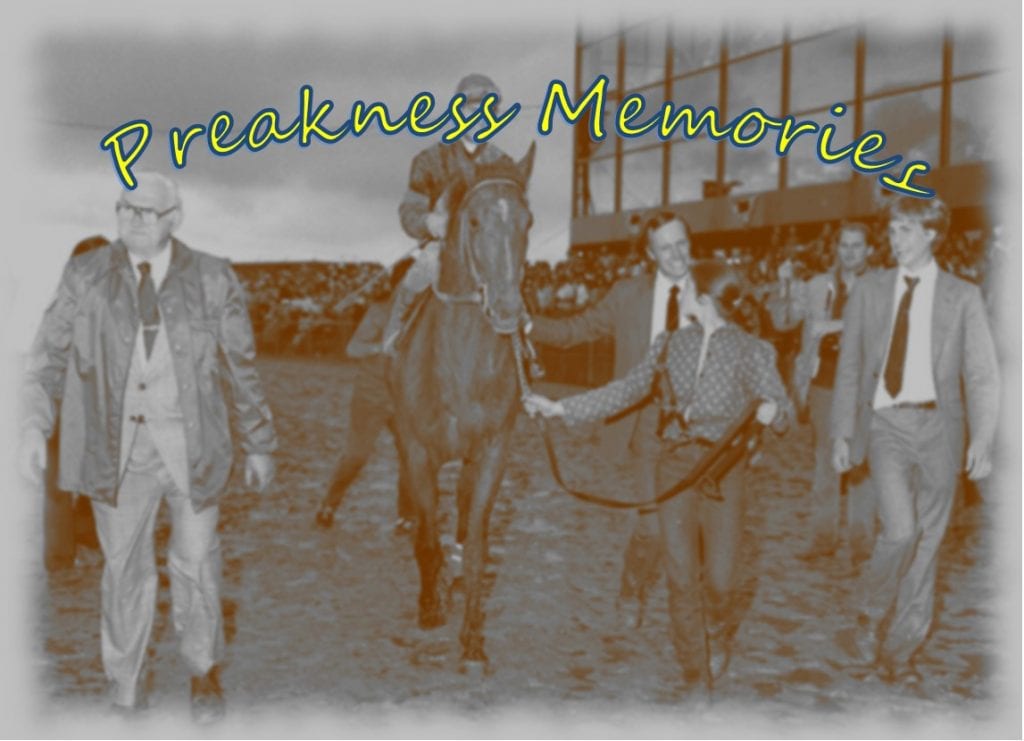 Gate Dancer was notorious for breaking poorly and lugging out during his races. Unfortunately for his connections, that bad habit reared its head on Derby day. Gate Dancer ran so erratically in the stretch that he slammed into several of his foes. He finished fourth but was disqualified to fifth for his interference with the other horses, making history as the first horse to ever be disqualified in the "Run for the Roses" because interference.
Despite his escapades in the Derby, Gate Dancer returned to the Triple Crown scene two weeks later for a shot at the Preakness Stakes, joined by a new rider, Angel Cordero Jr. in the saddle. With his trusty earmuffs in place, Gate Dancer paid the rowdy crowd no mind as he broke from the gate and the stampede began.
Fight Over sprang to the lead and got straight to work setting a blazing pace. The field followed Fight Over around the legendary oval of Old Hilltop, with Gate Dancer hanging back and waiting for the perfect moment to strike.
Fight Over sprinted through fractions of :22 2/5, :45 1/5, and 1:09 1/5 for the first three-quarter miles of the race, with Kentucky Derby hero Swale tracking him in second. As the final bend loomed, the leaders began to tire, and Gate Dancer pounced.
With little resistance from his rivals, Gate Dancer struck the front, sprinting through the one-mile mark in a breathtaking time of 1:34 2/5. It was the fastest mile that the track had ever seen, and he did not stop.
Gate Dancer roared to a 1 ½-length victory and put an end to Swale's Triple Crown dreams. He stopped the clock in a sharp final time if 1:53 3/5, setting a record that was two-fifths faster than the mighty Canonero II's track and stakes record set in 1971.
Gate Dancer's triumph returned $11.60 to supporters who backed him with a $2.00-win bet. His riveting Preakness upset proved that quirks aside, Gate Dancer was a truly gifted athlete.
"I always said that if this colt would run straight, he wouldn't get beat," Van Berg declared in an interview with New York Times. "Angel did the job today."
Gate Dancer made an appearance in the final jewel of the Triple Crown but had to settle for sixth place in the Belmont Stakes. He went on to win seven times from twenty-eight starts, earning over $2.5 million.. He retired in 1986, to a life at stud at his owner's Florida farm, Good Chance Farm. Gate Dancer was later moved to Silverleaf Farm to stand at stud, siring 27 stakes winners during his career as a stallion.
Gate Dancer took his last breath on March 6, 1998. The Preakness hero struggled with laminitis toward the end of his life, which resulted in his having to be humanely euthanized. He was laid to rest at Johnson Hollow Farm, near Oxford, Florida.
The year following Gate Dancer's Preakness triumph, the colt's trainer, Jack Van Berg, was inducted into racing's Hall of Fame. He passed away in 2017.