Preakness Memories: The redemption song of Tabasco Cat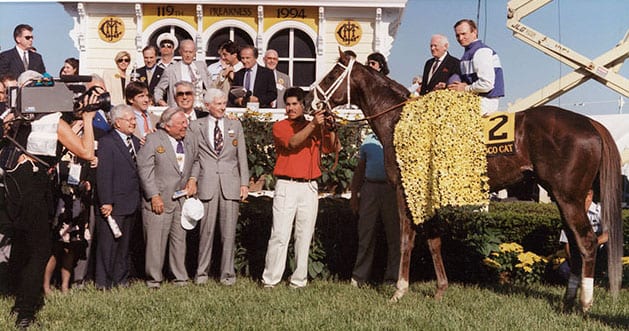 Tabasco Cat, with Pat Day up, in the Preakness winner's circle. Photo Jim McCue, Maryland Jockey Club.
It was a redemption tale played out before a crowd of over 86,000 fans crammed around the oval of Old Hilltop on a sunny May day, a spicy concoction whose punch was delivered by a spirited chestnut named Tabasco Cat.
Bred and owned by David Reynolds and Overbrook Farm, Tabasco Cat was trained by Hall of Famer-to-be D. Wayne Lukas. The high-strung son of Storm Cat kicked off his career inauspiciously, finishing seventh in his debut at the age of two. He improved to finish fourth in his next try, and the lightbulb finally went on after that. The chestnut youngster reeled off three wins in a row, including a decisive score in the Fort Springs Stakes.
Tabasco Cat's winning streak came to an end after his triumph in the Fort Springs Stakes, when he finished third — at 33-1 — in the Breeders' Cup Juvenile (G1) at Santa Anita. The colt didn't race again at the age of two, but Tabasco Cat still managed to find his name in headlines before the calendar turned to 1994.
In December, Tabasco Cat was involved in an incident that nearly cost Lukas the life of his son. Jeff Lukas, who was 36 at the time, sustained severe head injuries when the colt broke free after a morning workout and bulldozed over him when he attempted to catch him. Jeff Lukas' head slammed into the ground, resulting in a fractured skull.
Our 2019 Preakness Memories series focuses on great Preaknesses from years gone by.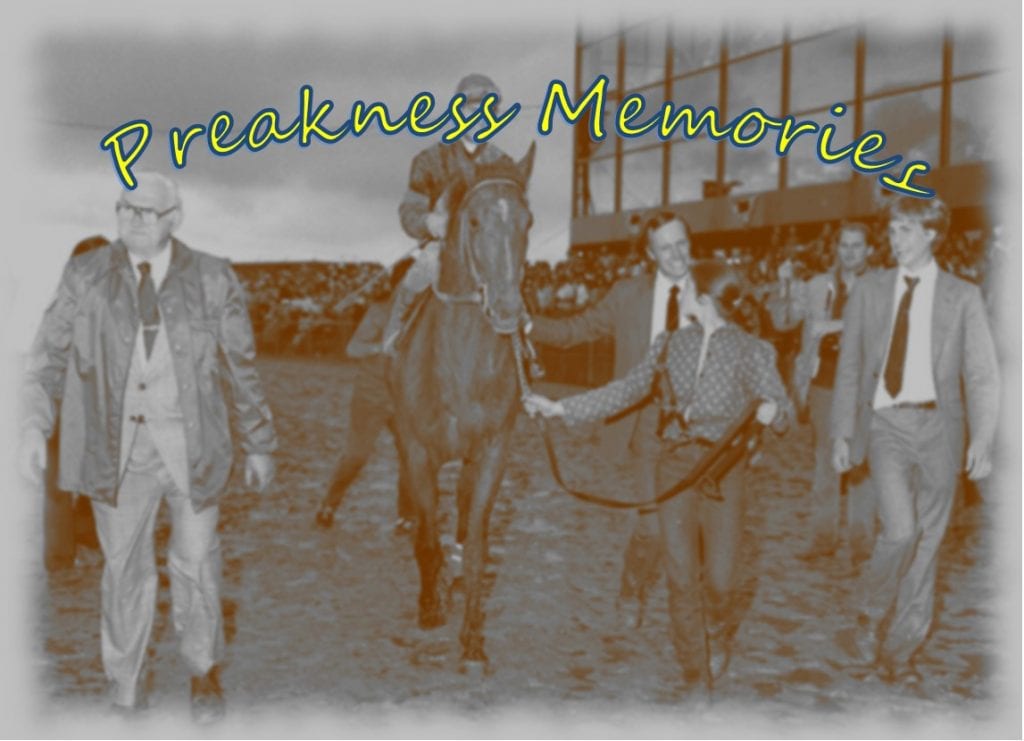 Remarkably, Jeff survived his injuries that were described by neurosurgeon Dr. William Caton as, "not compatible with survival very often." Jeff spent three months in the hospital recovering before being released to begin a lengthy rehabilitation process.
While Jeff recovered from his traumatic injuries, life went on with Tabasco Cat. The freshly-turned three-year-old kicked off his 1994 campaign with a victory in the El Camino Real Derby (G3), and then moved on to take down his rivals in the San Rafael Stakes (G2). The fiery youngster then had to settle for second in the Santa Anita Derby (G1), which was his final prep before his trip to Louisville where he would run for the roses.
But on the first Saturday in May, it was Go for Gin, who swept to victory by two lengths. Tabasco Cat, meanwhile, went off as the third choice in the field of 14 but could do no better than finish a well-beaten sixth over a sloppy Churchill surface.
Sent off as the third betting choice at 7-2, Tabasco Cat took his place in the starting gate along the rail for the Preakness Stakes. Both Tabasco Cat and his rider, Pat Day, had their work cut out for them, as no horse had won the middle jewel of the Triple Crown from post #1 since Bally Ache in 1960.
Polar Expedition flashed speed right out of the gate to set the early pace. Go for Gin, the 5-2 favorite, tracked that rival in second, with Silver Goblin powering along in third. Content to watch things unfold from behind, Tabasco Cat hung back in fourth, while never far behind.
Go for Gin moved to the lead after three-quarters in 1:11.96, with Tabasco Cat less than two lengths behind.
The duo hooked up at the head of the lane and dueled stride-for-stride for a furlong and more in an exhilarating battle that left the entire track pulsating with excitement. With all of Pimlico abuzz, Tabasco Cat pounded over the wire three-quarters of a length ahead of his rival, winning the 1 3/16-mile challenge in a final time of 1:56.47.
Tabasco Cat's victory in the Preakness marked Lukas's first score in a Grade 1 event since Twilight Agenda had won the Meadowlands Cup for him more than two years earlier — a surprising cold streak for a barn that had surpassed $10 million in earnings in eight consecutive years from 1985 to 1992.
It also provided a respite from criticism that had followed him when his 1993 Preakness starter, Union City, broke down in the race and had to be euthanized.
As for Wayne's son, Jeff watched the colt that nearly took his life win the Preakness Stakes on his television at home. "My thoughts were with Jeff while they were going around," Lukas said. "He's a special guy."
Three weeks later, Tabasco Cat's reign over the Triple Crown trail continued when he stormed to glory in the Belmont Stakes. He went on to race six more times after collecting his carnations at Belmont Park, claiming one more victory out of those attempts.
Tabasco Cat completed his career with eight victories from eighteen starts, and earnings of $2,347,671. He retired to stud duty at Overbrook Farm at the end of his three-year-old seasonand sired many stakes winners in America before he was sent away in 2000 to stand at stud in Japan at Shizuani Stallion Station. Tabasco Cat remained there until 2004, when he died from a heart attack at age 13.
D. Wayne Lukas continues to train and is expected to start Market King in the 2019 Preakness. Jeff Lukas died of an apparent heart attack in 2016.
For more:
MARYLAND JOCKEY CLUB PREAKNESS VIDEO