DELAWARE PARK OWNERS' DAY IN FOCUS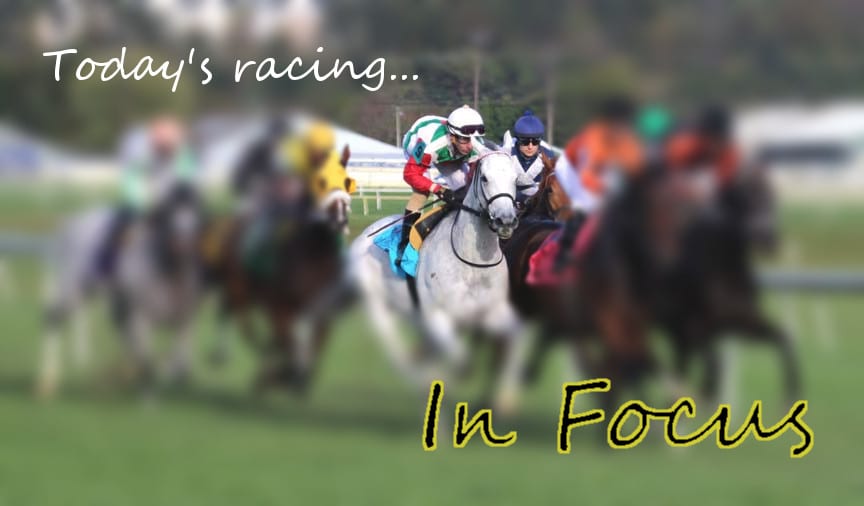 Frank Vespe

September 25, 2021
It's Delaware Park's annual Owners' Day, featuring six stakes races. The roster includes four stakes for Delaware certified runners — including two for the juvenile set — and two others restricted to horses that have run previously at Delaware Park.
Here are Joe Parisi's thoughts on the card, including analysis of each of the stakes.
Don't forget to play our free handicapping contest featuring Delaware Park today!
For more:
This year's Owners' Day theme is based on The Wizard of Oz, and on the overnight, each of the races is labeled appropriately (e.g., the first is "We're off to see the races"). The seventh — the Somewhere Over the Rainbow — is also the "Rich Glazier Turf Classic," named for the longtime paddock host who passed away earlier this year. For more on RIch:
RACE 3: $100,000 SMALL WONDER STAKES
2YO fillies, Delaware certified, 5 1/2 furlongs on dirt
IN SUM Only three of these have won a race, including narrown Blue Hen winner Cashing Big Checks. Repeat of Blue Hen finish not out of the realm…
ANALYSIS
1. Murph (MD): Twice a runner-up in two starts with a female family that's more turf than dirt… Gets Lasix on for the first time and rider switch to Toledo with Russell injured
2. Mama G's Wish (MD): Ran unexpectedly huge race last out in the Blue Hen when beaten a nose at 19-1 after having shown not much at all in prior six tries… Fluke or big step forward? Today will help tell that tale…
3. Intrepid Daydream (MD): First-timer has been training forwardly and is a half to two first-out winners… Trainer Gary Capuano is about 10% with two-year-old firsters, usually stronger second out but may have this one geared up for 100k race… Sire Jess's Dream just 1-for-64 with firsters
4. Whiteknuckleflyer (MD): Big late rally to be second last out in turf bow but now switches back to main track… Trainer Dale Capuano 23-for-64 (36%) with first-time-Lasix runners…
5. What's Cookin (PA): One of two Ness-trained runners in here, this one won nicely last out when dueling for the lead then drawing away… That race has produced two next-out winners and a runner-up from five to run back…
6. Cashing Big Checks (CA): Dead game winner of the Blue Hen last out, outdueling the 3-5 favorite early and withstanding Mama G's Wish late… Gets Lasix on today…
7. Music Mandate (MD): Gotta think this CT runner will be in front early after sharpening up with 4 1/2-furlong romp last out in first with blinkers on… Did seem to get a bit tired late, so added ground may not play to her advantage…
PICKS
#1 Murph (8-1): Gets Lasix on for first time, showed ability to rally when second on debut, an asset in a race with plentiful speed
#6 Cashing Big Checks (2-1): Big effort last out for Blue Hen winner and repeat might be enough
#3 Intrepid Daydream (10-1): GCap trainee has win-early genes on dam side, hopeful work tab
#5 What's Cookin (3-1): Decisively best in good heat last out
RACE 4: TAX FREE SHOPPING DISTAFF STAKES
Fillies and mares, 3yo and up, Delaware certified, 6 furlongs
IN SUM Ultra-competitive group features five stakes winners, could come down to comebacking Madam Meena versus seven-time stakes winner Street Lute.
ANALYSIS
1. Plane Drunk (PA): Schoenthal trainee got throttled in the Small Wonder here last year by Street Lute but did win a PA-bred stake as a juvy… Enters off a win in an allowance at Penn but will need a big one today…
2. Dancer's Melody (MD): Distant runner-up in this event a year ago catches last year's winner in Madam Meena, Malibu Beauty (who finished ahead of this one two back), and Street Lute, which makes this a heavy lift for a runner whose two '21 starts leave much to be desired… Makes third start off the bench for a trainer with a strong record at Delaware…
3. Malibu Beauty (MD): Formful Buffum filly has won four of six, finishing second in the other pair… Enters off a Md-bred stakes win and just missed against Street Lute four back… Note that last three starts have come in four-horse fields… Speedy sort will take the lead if offered but has abillty to stalk and pounce…
4. Alta Velocita (NJ): NJ-bred has cleaned up against state-bred rivals this year but record against open company a bit more suspect… Closing sort will hope for the pace to melt down…
5. Texas Reward (KY): Sophomore filly has been well spotted while registering four wins in 10 starts but hasn't shown the ability to compete with the best of these…
6. Madam Meena (PA): Beaten 2-5 favorite last out after disastrous trip at Timonium going a half-mile, and it wouldn't be unfair to look at that as basically a half-mile work in 47 2/5… Defending champ in this event churned out five Beyer figs between 84 and 89 last year into early part of this year… A major, major player on best…
7. Street Lute (MD): After starting career with seven wins in eight starts has won just once in five, though has excuses for some of those, including two tries in graded company… Lasix back on for this one as she returns to a strip over which she was 2-for-2 last year, including a win in the Small Wonder… Stalk-and-pounce style has generally worked best…
8. Dulce Kiara (MD): Speed figs a bit light for this contest but spotless 2-for-2 record nothing to sneeze at… Is cross-entered the day before in an Md-bred allowance at Laurel – don't be surprised if that's the spot trainer Doran picks…
9. Li'lbito'charm (PA): Improving sort has been thriving against starter allowance foes but still eligible for a first-level allowance after 25 starts… Shortens up after two two-turn tries and figures to get a mid-flight trip…
PICKS
#7 Street Lute (5-1): Clouded form not a concern as sophomore gets back to distance, surface, and company she likes
#6 Madam Meena (8-5): If defending champ fires best shot, she'll be tough
#3 Malibu Beauty (3-1): Speedster might lead 'em early, just missed against top choice four back
#1 Plane Drunk (12-1): Improving sort's always been one connections like, might be ready for step up now
RACE 5: $100,000 FIRST STATE DASH
2yo Delaware certified, 5 1/2 furlongs
IN SUM Top four from the Dover return, with impressive winner Rebel Empire looking to double up and beaten chalk No Sabe Nada getting Lasix and a rider switch.
ANALYSIS
1. All for Love (MD): Has been second twice in three tries for veteran trainer Robb, both in the maiden claiming ranks
2. Under the Radar (MD): Just up to graduate last out in sixth try, ran on willingly late to just miss second against a couple of these in the Dover… Late runner will need some help from the pace… Gets top local rider Cedeno up
3. Porsupuesto (PA): Lost all chance in better-than-it-looks debut when bounced around and dropping to rear of field leaving the gate; ran on willingly to earn fourth after all that… Improvement required to contend…
4. Vance Scholars (MD): Tough one on debut when pipped late by Under the Radar while 15 clear of the others… Expect improvement today… Trainer Capuano and go-to rider Ruiz have positive ROI when teaming up…
5. Mr Sandman (PA): First-timer is a half to three stakes winners, including graded winner Call Paul, two of whom won at first asking… Sire Uncle Lino a gaudy 9-for-45 with firsters… Trainer Allen 1-for-23 with firsters last five years, conditioned half-sis Pink Caddy, who won the '19 Small Wonder
6. Mercury Ten (MD): Two starts, two fourth-place finishes, both in stakes… Must turn tables on three who beat him easily in the Dover…
7. Amazing Alex (KY): Debut runner has been training forwardly for Gary Capuano… Sire Twirling Candy a win-early influence and this one's dam won at first asking…
8. Rebel Empire (NY): Ashby trainee ran a huge one last out to thrash heavy fave No Sabe Nada after stalking the pace… A repeat would make him a handful…
9. Somethingandchange (MD): The other Ashby trainee in here graduated nicely last out on the turf, needs to show more on dirt…
10. No Sabe Nada (KY): Talented sort has gotten away slowly in first two starts and had an adventurous trip last time when beaten at 3-5 in the Dover… Trainer Peck switches to veteran jockey Alvarado and adds Lasix to a runner who looks for a bounceback here…
PICKS
#8 Rebel Empire (3-1): Stellar effort in Dover makes him the one to beat
#4 Vance Scholars (12-1): Holy Boss gelding ran big on debut
#10 No Sabe Nada (2-1): Tough trip as beaten fave last out, gets Lasix and new rider when seeking to make amends
#5 Mr Sandman (12-1): Win-early bloodlines and gets leading rider Rodriguez up
RACE 6: $75,000 GOVERNOR'S DAY HANDICAP
3yo and up that have started at Delaware Park in 2021, 1 mile 70 yards
IN SUM: Top trio from recent rugged allowance slated to post here, plus $750k earner Senior Investment, third in the '17 Preakness.
ANALYSIS
1. Bal Harbour (KY): Seems perhaps to have lost a half-step since last year when he placed in four graded stakes… Bid to near-even terms with leader in last but could not go on late and will have to contend with two from that race here…
2. Tappin Cat (MD): Gary Capuano trainee is also entered in the 6f New Castle… Game effort in last when setting solid fractions and finishing up nicely to hold off Mischief Afoot, who's also here… There's a couple of other speed horses in here, though, so he may not control it as he did last time… First or second in four of five at the trip…
3. Shane's Jewel (KY): Controlled in last through moderate early fractions but could not hold off Dr. Blarney (who's now 24-for-34 in his career).. Certainly will be part of the early running and could be involved quite a while…
4. Mischief Afoot (KY): Made a big move but could not get by Tappin Cat in last, may get even better setup today… Four-year-old likes to come from off the pace, and should have plenty of it… Makes third start off a brief freshening…
5. Substantial (KY): Moysey trainee draws a tough assignment in a group with some accomplished runners… Earned first allowance win and fourth win overall last out at Charles Town but would not have seen any runners the caliber of these…
6. Senior Investment (KY): Now in Scott Lake's barn, this veteran ran third in the 2017 Preakness… Last out might have been his best since winning '20 Harrison Johnson at LRL as he rallied smartly to win open allowance contest at Parx in a race in which all six runners went off between 5-2 and 5-1…
7. Honor the Fleet (KY): 7yo certainly has his moments, including wins in the '20 Fire Plug and a recent local score thrashing Tappin Cat… But last three don't inspire confidence and this might be a wait-and-see kinda race… A well-beaten fourth in this event a year ago…
PICKS
#6 Senior Investment (12-1): Looks to be rounding back into form, should get right setup
#2 Tappin Cat (8-5): Big effort in last but may have pressure up front
#4 Mischief Afoot (2-1): Couldn't quite get to Tappin Cat in last, catches better pace scenario today
#3 Shane's Jewel (3-1): Applies the early pressure to Tappin Cat
RACE 8: $100,000 NEW CASTLE STAKES
3yo and up, Delaware certified, 6 furlongs
IN SUM Race may include, if all post, the top five from last year's edition, with Whereshetoldmetogo likely to go favored a couple races removed from smashing local win.
ANALYSIS
1. Smithwick's Spice (NJ): '18 First State Dash runner-up would be a major surprise in this spot…
2. Newyearsblockparty (KY): Early promise hasn't quite panned out, and recent defeat against conditioned $16,000 claimers doesn't bode well for chances in here…
3. Tappin Cat (MD): Here or the Governor's Day? Owns three wins at the trip but seems to do best running around two turns…
4. Threes Over Deuces (KY): Has been second past the wire in this event in last two years, and last year was elevated to the top spot by DQ… Has yet to finish in the money in five tries this year and must turn tables on several who've beaten him… May have lost a step at 6…
5. Indian Lake (KY): Leading trainer Ness and jock Rodriguez team up on a runner whose signature win came at twice the distance of this and on the turf: the 12-furlong Bald Eagle Derby at Pimlico… That said, he's never been worse than second in seven tries at this trip… Figures a mid-pack or closing journey here and could offer value…
6. Hopeful Treasure (KY): Lightly raced 4yo has been first or second in all three starts this year… Decent try in last versus hard-hitting 9yo Always Sunshine after setting the early pace… Has speed to lead but doesn't need the front…
7. Aspect (PA): While he's got a bunch of grass and route races on his resume, arguably his best effort came at this 6f trip in June '20 when winning second-level allowance that produced four next-out winners, including DEL lover Golden Candy… Came from the clouds to win in last and figures to be well off the pace early…
8. Whereshetoldmetogo (MD): Late runs may have been blunted by speed-favoring strips in last couple, but this Brittany Russell trainee loves Delaware: four wins over the strip, including in minor stake in last visit… Has made 11 consecutive starts in stakes company, winning five of those, and looks to have the class edge here…
9. Band On Tour (MD): Has lost all five tries in fields bigger than six… Would need very best here…
10. Golden Candy (PA): Closed nicely but too late in state-bred stake last out and was solidly beaten by Whereshetoldmetogo two back, but should appreciate return to DEL, where he's never been worse than third in 10 starts… Also never worse than third in seven at the trip…
PICKS
#8 Whereshetoldmetogo (3-1): Caught unfriendly surfaces last couple
#10 Golden Candy (7-2): Delaware lover wasn't able to go with top choice previously
#7 Aspect (8-1): Turf-to-dirt angle worked like a charm in last, cutback OK
#6 Hopeful Treasure (6-1): Solid try versus hard-hitting veteran in last
RACE 9: $75,000 GEORGE ROSENBERGER MEMORIAL STAKES
Fillies and mares, 3yo and up, that have started at Delaware Park in 2021, 1 1/16 miles on the turf
IN SUM A couple of lightly raced sorts look to step up against a couple that already have stakes credentials.
ANALYSIS
1. Tightly Twisted (KY): Formful Juanita Bennett trainee won the Big Dreyfus two back and was there into the final furlong last out at CNL… Has done nothing but run good races this year and no reason to expect that to change here…
2. Don't Blame Judy (KY): Working on a 22-race losing streak… Finished a couple behind Tightly Twisted when fifth three back and would need more here…
3. Izzybella (SC): Gets major class test after winning versus never-won-two rivals… Will likely be on the engine and hope for the best…
4. Sweet Willemina (KY): Galloped last out in the off-the-turf PTHA President's Cup… Only prior turf try wasn't good, but it was as a maiden 15 starts ago… Breeding says turf at least plausible, as sire has average turf numbers, dam by turf ace Kitten's Joy…
5. Good Life Cider (MD): Homebred for the recently deceased Richard Golden would need career-best effort here… Trainer Matz, who's had a tough year, adds blinks….
6. Sailingintothewind (KY): Early running sort was well beaten by Tightly Twisted in the Big Dreyfus and follow-up on the main track was dismal… Makes third start after two-month break…
7. Tonal Verse (KY): Broke her maiden on the lawn but would need very best to contend here…
8. Niceno (KY): Not sure we've ever seen a horse so determined to do anything as this one was to get rid of her jockey two back, which she finally accomplished rounding the first turn… Nice bounceback effort to win on the synthetic at PID next out, and runner-up returned to win… Three back try at KEE doesn't look like much, but note that she caught some tigers that day… Lightly raced sort offers intrigue, possibly at a square price…
9. Advocating (KY): Stidham trainee turned first turf try into third straight win last out by setting moderate early fractions and then kicking home nicely… Outside draw should give rider Sanchez the opportunity to adjust his game plan according to the break… Makes first start in 2 1/2 months…
10. La Babia (KY): Makes second start off a 2-month break here… Decent try behind G3 winner Enola Gay in last and was two behind Tightly Twisted two back… Gets blinkers on for the first time, which perhaps will sharpen focus…
11. B B's Busted (NY): Veteran has had her moments but does not appear quite fast enough…
12. Shifra Magician (MD): 9yo was meant to be retired but still had the urge, trainer Ashby says… Winless since '19 and would be surprising to see that change here…
13. Scatrattleandroll (KY): Winless in five career turf tries but enters off a score in local off-the-turf allowance… Showing a couple of works since, including a bullet five-eighths…
14. Mike's Girl (NY): Ran a big one to get up late in NY-bred allowance two back, but of eight to run back on turf from that contest, their record is 8:0-2-1… Gets Lasix back on after dismal try in state-bred stake… Will need more than she's shown to score here…
PICKS
#9 Advocating (6-1): Looks for fourth straight win
#1 Tightly Twisted (9-2): Big Dreyfus winner ran perfectly credible follow-up in last
#8 Niceno (8-1): Lightly raced sort moving in right direction
#6 Sailingintothewind (10-1): Third start after a two-month freshening, first stakes try two back acceptable
LATEST NEWS