REMEMBRANCE: RICH GLAZIER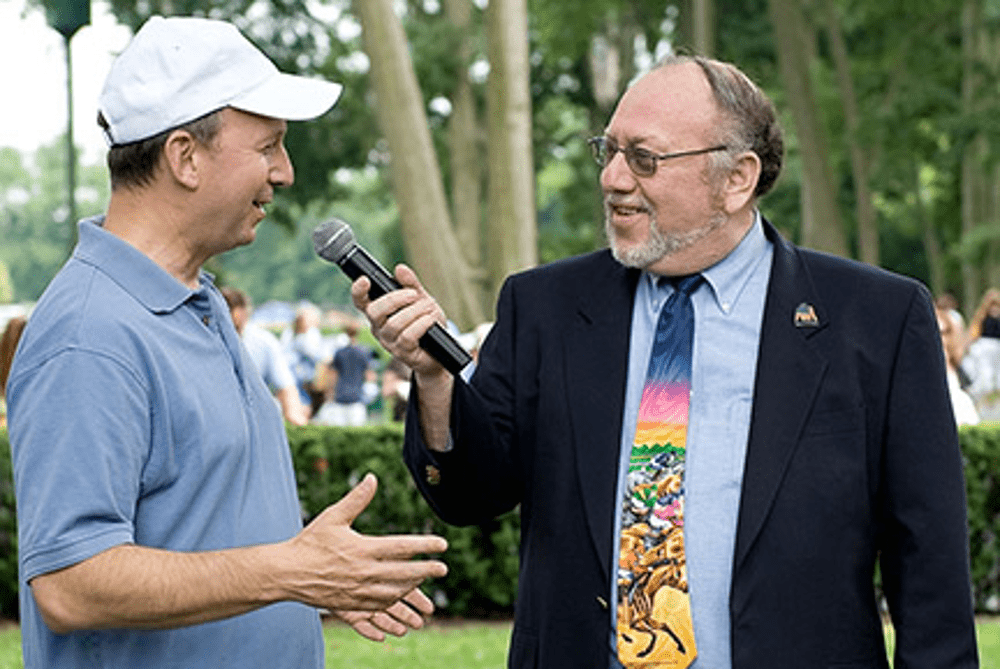 Glazier attended 50 runnings of the Delaware Handicap — he hit 50 in 2019 when Elate won — and missed the Delaware Handicap only once when it was run at Delaware Park (it was run three times at Saratoga when Delaware Park was closed in the 1980s). That missed running was a story he delighted in telling, and it is as good a window into Rich as you'll find.
Glazier served in the U.S. Army in the 1960s, and for 18 months he was stationed in the hottest of hot spots: Vietnam. That meant that when DelCap day of 1968 rolled around, Glazier was half a world away.
"But that didn't stop me," he told Jeff Krulik in 2013. "I called my mother on the phone and told her to go to the local bookmaker and get a bet in on Politely. And Politely won! So even though I wasn't here, I had money on the winner."
A handicapping degenerate friend of mine told me the other day he doesn't pay much attention to most on-air handicappers because he senses they're not putting their own money behind their opinions, and if you're not betting your opinions, why should the betting public?
Glazier, on the other hand, bet his opinions, and he delighted most of all in playing turf races. For most turf races, after completing his paddock host duties, he'd get a bet in and scoot up to the press box to get the best view of the race. There, seemingly more often than not, he'd watch as the pedigree angles he loved played out on the Delaware lawn.
Yet, though he had opinions and backed them, he generally didn't share them as host. Rather, he would talk through each horse in the race, making note of their record at the local strip, hot jocks and trainers, and the like. Oh, and of course the valuable pedigree notes for turf races.
"I've noticed as I walk around the track that a very small percentage of fans have a Form in their hands. Many tear out the selections from the newspaper," he told our Doug McCoy in 2015. "So what I try to do with the fans here and those who are listening at the simulcast outlets is give them facts and figures on each horse that relate to Delaware Park, like their record over the local strip. I also try to point out trainers who are winning at a high percentage or stables and riders that may have been hot in recent weeks. Those are things the guys in an OTB in Illinois or Arizona wouldn't know."
In an age where everyone has an opinion and imagines it's one that must be shared, Glazier's reticence to share his stood out, and it pointed to something important to his success: he didn't want the limelight for himself.
You sensed it watching him. Rich wanted you to watch because he wanted you to care about Delaware Park as much as he did, wanted you to love the game as much as he did, and wanted you to have the info you needed to make informed betting decisions. Whether you noticed the portly, balding, bespectacled fellow providing that information was much less important.
And it wasn't just the betting that mattered to Rich. He was as much a fan as a bettor. I caught up with him the day of the 2017 Delaware Handicap, when Songbird came to town, and asked him to put it in perspective.
"I want to tell you this: in 1965 I saw Kelso win here in person," he said. "In '66 I saw Buckpasser win here in person. In '72 I saw the Garden State Stakes with Secretariat, and in '73 I went to the Preakness and saw Secretariat. If you ask me, did I bet those race or did I win or lose on those horses, I have no idea. But I'll never forget seeing those horses run, and I'm sure after today I'll never forget Songbird."
In addition to his paddock host duties, Rich also hosted the so-bad-it's-good Delaware Park replay show, with its 1980s vintage theme song and low-tech vibe, enlivening it with his sometimes dry, sometimes silly sense of humor. At some point, he gained a companion on the show: a stuffed horse named Bungee who dropped down "out of the sky," as Rich put it, to give him a horse he liked on the next live racing card. Bungee had a positive ROI in 2019. (The June 1, 2019 show includes Bungee's first visit of the year).
In later years, Rich faced a variety of health challenges that made it tough to do his job. It also limited his ability to wander about the Delaware Park facility, something he'd enjoyed over the years because it put him in touch with so many fellow racing fans and handicappers.
But the health challenges didn't dampen his enthusiasm for Delaware Park – "It never rains on Saturday at Delaware Park," he liked to say – his love of racing, or his sense of humor.
"You know, betting on horses can be an emotional roller coaster, the tough beats, the lost photos, the DQs," he said. "A day at the races involves a lot of ups and down so I try to inject some humor whenever possible. Life's too short not to have some fun."
MORE ON RICH GLAZIER