FOR TRAINER LYNN ASHBY A SEASON OF CHALLENGE, SUCCESS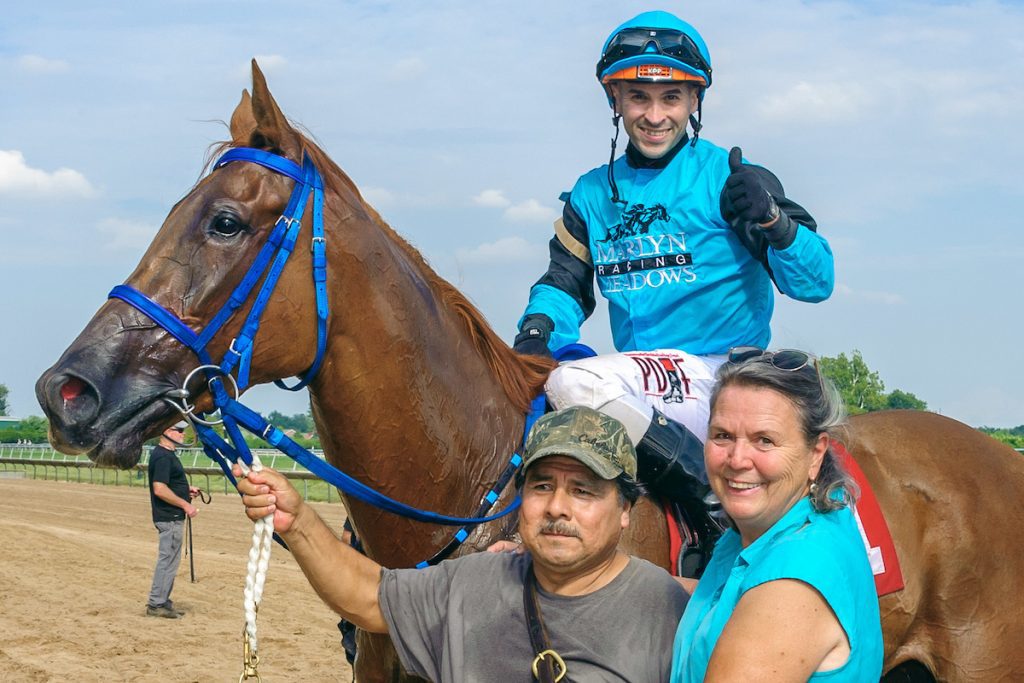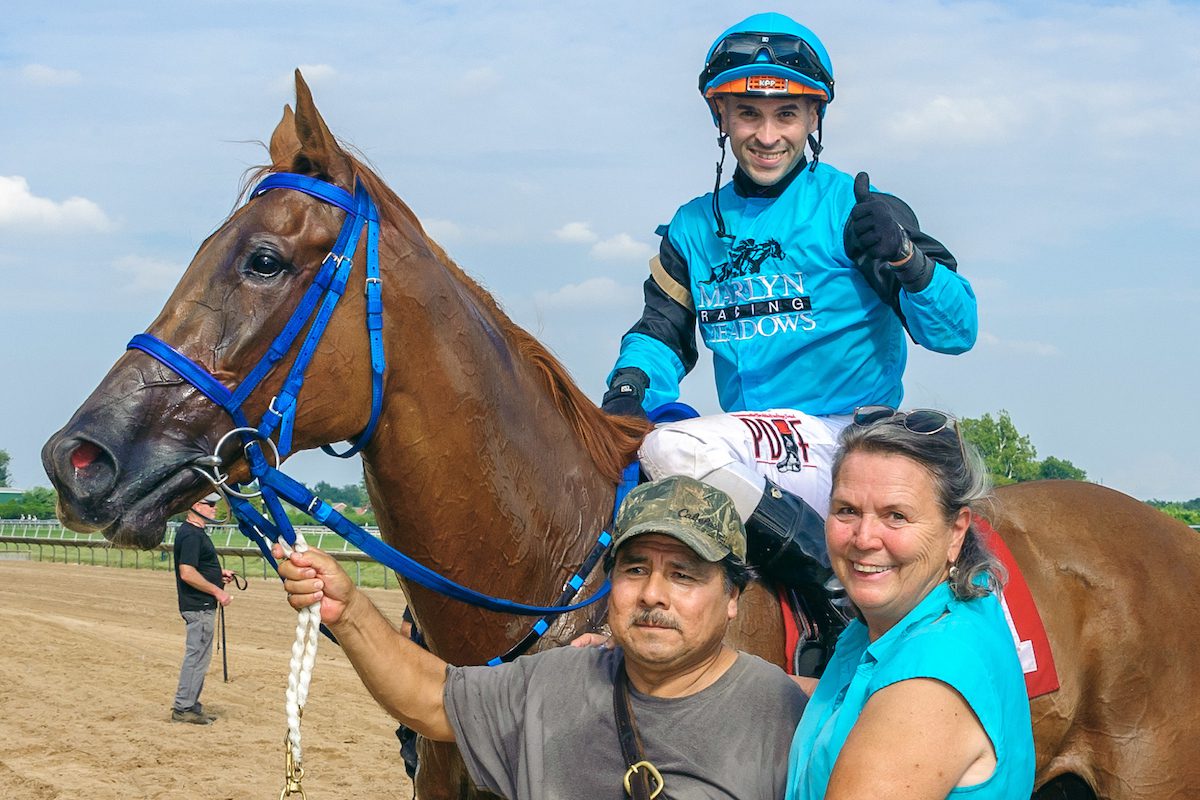 Frank Vespe

September 23, 2021
A trainer's lot can be a challenging one.
Promising horses get injured. A couple of noses can be the difference between a big payday and none at all. Owners come and go, and of course some that come don't manage to pay their bills.
Or — and bear with me here — an entire branch of your business can disappear altogether.
That's what happened to Delaware Park-based conditioner Lynn Ashby earlier this season, when, after nearly 40 years, Arabian racing at the Stanton, DE oval came to an end. That eliminated a breed that had constituted the lion's share of her local starters up through 2019. 

"We lost a lot of key people," Ashby said. "People maybe that were passionate about it got out of it. It's sad, because Delaware Park was the premier for them, but we just started losing more and more good people."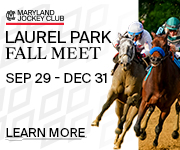 As recently as 2019, Ashby's Arabians made more than 60 starts at Delaware Park, almost twice as many starts as her Thoroughbred trainees made that year. Last year, those numbers were reversed, and this year she'll go down as the winner of what may well be the last Arabian race ever contested in Delaware.
That change in proportions is one hint of Ashby's response: to put more focus into the Thoroughbred side of the business. She's already made 60 starts with Thoroughbreds at Delaware through September 22, winning with nine, and she's eighth at the track with nearly $270,000 in purse earnings.
It makes sense that the transition has been pretty seamless. Marlyn Meadow, Ashby's main business, managed with husband Mark, is in the baby end of things: breaking, early training, getting horses Delaware certified.
"We did 106 [yearlings] last year," she said. "It's a great business here the way we've got it all lined up."
Ashby said she takes a pretty go-slow approach with her young charges, preferring to build their stamina, poise, and comfort with the job of being racehorses. Speed, she figures, that's not something she needs to fret about; once the youngsters get to the racetrack, those trainers can focus on that.
Which makes one element of Ashby's 2021 season all the more remarkable: she's six-for-10 with two-year-olds on the season, including stakes wins from Rebel Empire and Epic Luck.
"It is a blessing that we've been given nice horses," Ashby said, adding, with a laugh, "It's crazy: I don't even believe in running two-year-olds."
But running — and successfully — they are. So well, in fact, that Ashby logged two juvenile stakes wins in the course of five days at the end of August.
In the second of those, Epic Luck, a homebred for her, Mark, and Bill Gotwals, led gate-to-wire under Aubrie Green to score in the $100,000 Kitten's Joy at Colonial Downs. The win was Ashby's first Thoroughbred stakes win with a homebred, and it took on extra meaning because Mark has been battling cancer.
"To win with a Thoroughbred that you bred, that was pretty moving," Ashby recalled. "It is very emotional, and it's so cool. It's been tough with Mark's illness this year, but it was a highlight, and I knew he was home watching. It was pretty moving."
Epic Luck, a Pennsylvania-bred gelding by Madefromlucky, will most likely make his next start in the $150,000 Laurel Futurity October 2. That, she expects, will provide a sterner test and perhaps a better gauge of what kind he might be.
Her first juvenile stakes winner of the year was, for a trainer not especially focused on speed, something of a bolt from the blue. Rebel Empire, a homebred Sky Kingdom gelding for Ronald Sapp, dominated the 5 ½-furlong Dover Stakes for Del-certified runners August 26.
"He broke his maiden on the lead, but he would rather stalk and get up, and Aubrie Green in the stake rode him like that," Ashby said.
He's slated to make his next start in Saturday's First State Dash for Del-certified runners, at that same 5 ½-furlong distance. Rebel Empire is the 3-1 morning line second choice, with the Scott Peck-trained No Sabe Nada, the beaten favorite in the Dover, 2-1. Saturday is Delaware Park's Owners' Day.
"He's growing, and he's muscling out," Ashby said of her charge. "He's not a big horse, but he does look to be constantly improving."
Ashby will saddle two in the First State Dash. Somethingandchange, owned by Best Idea Stable LLC, broke his maiden going 7 ½ furlongs on the turf, so going short on the main track may not be his milieu. He's 10-1 on the morning line and will have Angel Suarez up.
"But he stayed with Rebel [in their last breeze]," Ashby said. "He was not far off Rebel."
Ashby will also send out hardy nine-year-old Shifra Magician in the $75,000 George Rosenberger Memorial Stakes for fillies and mares that have started at Delaware this year. The veteran of 72 starts, owned by Ashby's granddaughter Lauren Hershbell,  is 20-1 on the morning line; Green will ride.
"We retired her last year," Ashby said.
But then spring rolled in, and the daughter of Street Magician suddenly started acting like she wanted to get back to racing.
The conversation, Ashby said, went something like: "This old girl, do you think she wants to run again? Shifra, do you want to run again? 'Yep.'"
Saturday might be the final dance for Shifra Magician. Unless, of course, the horse decides otherwise.
Ashby's other two-year-old winner this year, Helluva Lady, broke her maiden going long on the grass at second asking and now is getting some down time.
"When she's done growing, we're going to have a heck of a three-year-old year," Ashby said.
Ashby has prepped plenty of good horses in her career and campaigned a couple, too. Most prominent of the latter group was Tricky Escape, who won three graded stakes for Ashby in 2017 and 2018.
For all that, and for all her decades of experience in the industry, she's at a loss to explain her success with juveniles this year. But in a year in which her longtime training bread-and-butter ceased to exist, and with her husband facing serious illness, the babies are providing quite the tonic.
"This year, I'm scratching my head," Ashby said. "We didn't do anything different. They've all just had a really good base on them. They've been solid, and we've been lucky to get in races where they've gotten to shine. So we're having fun and enjoying it."
LATEST NEWS