GENERAL GEORGE: HOME TEAM WELL REPRESENTED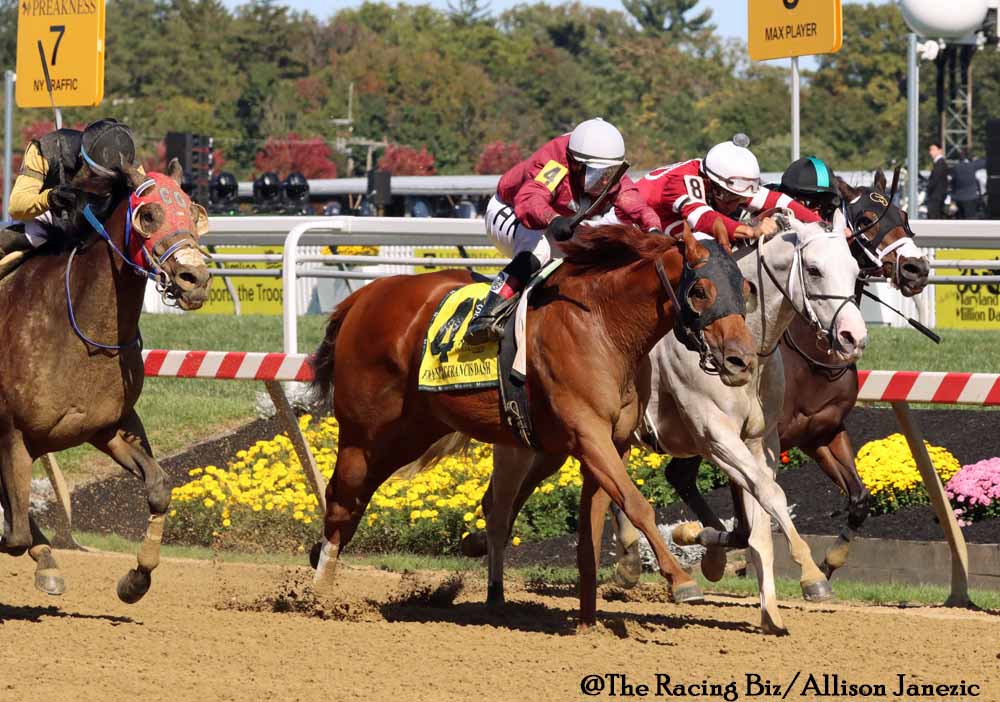 Press Release

February 10, 2021
With its $250,000 purse and status as a Grade 3 event, the General George Stakes most often is the province of out-of-town runners shipping in.
But in Saturday's latest edition of the General George, first run in 1973 at Bowie, the home team may make its presence felt. Five of the 10 horses entered – fully half the field – are based in Maryland, with one of those, Laki, already in possession of a graded stakes win.
Breaking from the rail with regular rider Horacio Karamanos will be Hillside Equestrian Meadows' 8-year-old gelding Laki, rallying nose winner of the six-furlong Frank J. De Francis Memorial Dash (G3) on the 2020 Preakness undercard. The De Francis was Laki's first graded attempt since finishing third in the 2019 General George, 1 ¼ lengths behind Majestic Dunhill.
Laki exits back-to-back fourth-place finishes, each going six furlongs, in the Dec. 26 Dave's Friend and Jan. 16 Fire Plug, the latter as the favorite after clipping heels early in the race and never able to find his stride. The second- and third-place finishers, Share the Ride and Lebda, also return in the General George.
"Any kind of stumble or clipping heels or checking at that level is definitely going to compromise them, but he kind of fooled me going into that race. I just thought he was super sharp and he didn't kick," trainer Damon Dilodovico said. "They're not machines. They all have bad days, but he hasn't had many."
Laki has won at least one stakes every year since 2017 and owns six overall, four of them coming at Laurel, where he has a record of 8-7-3 from 21 starts. He is the richest horse in the field, with $715,662 in purse earnings.
"He's unbelievable, he is. He is a godsend, this guy," he added. "He just does his work. He's easy in the barn."
Laki is, at 9-2, the third choice on the morning line.
"Hopefully he can make another good showing for himself. He definitely doesn't owe me anything," Dilodovico said. "Hopefully he can make some noise."
Euro Stable's Lebda was third in the 2019 Iroquois (G3) and won Laurel's one-mile Miracle Wood and 1 1/16-mile Private Terms last winter before the coronavirus pandemic paused live racing in Maryland for 2 ½ months. He has gone winless in six starts since returning, including a fifth in the Dave's Friend and third in the Fire Plug after missing time with a minor injury.
"For me he ran really good last time. He's running with the older horses now. The last one was good," winter meet-leading trainer Claudio Gonzalez said. "The time before he had a little problem and was off for a couple months and he needed a race, and the last time he showed a little more. I was very happy how he ran and how he is doing now."
Lebda dueled for the early lead and forged a short advantage after a half-mile in the Fire Plug before being passed late and settling for third, beaten 2 ½ lengths. Alex Cintron, up for eight of his last nine races including both stakes wins, gets the return call from Post 3.
"The last race he was going easy and the outside horse pushed him and that's why he had to move soon. If he was able to keep going and nobody come from the outside I think we could have win the race," Gonzalez said. "I believe six, seven furlongs are going to be good for him. I like it."
A couple of the locals– Tattooed and Fortunate Friends – enter the General George off wins. Holt, Montuori and Palumbo Racing Stable's Tattooed became a stakes winner for the first time by rallying from last to first and sticking his neck out at the wire in the one-mile Jennings for Maryland-bred/sired horses Jan. 16 at Laurel. It was trainer Tim Keefe's first stakes win since Still Having Fun won three added-money events in 2018.
William McCarty's Fortunate Friends will be racing first time off the claim for trainer Shaun Morrow, who took the 5-year-old gelding for $35,000 out of a Dec. 11 win at Laurel for Dilodovico.
Raul DelValle's stakes winner Arthur's Hope, a seven-furlong allowance winner last July at Laurel, also will contest the General George. The seven-year-old son of Smart Bid, trained by Marco Salazar, won the 2020 Say Florida Sandy Stakes at Aqueduct.
LATEST NEWS