Lebda dazzles in Private Terms triumph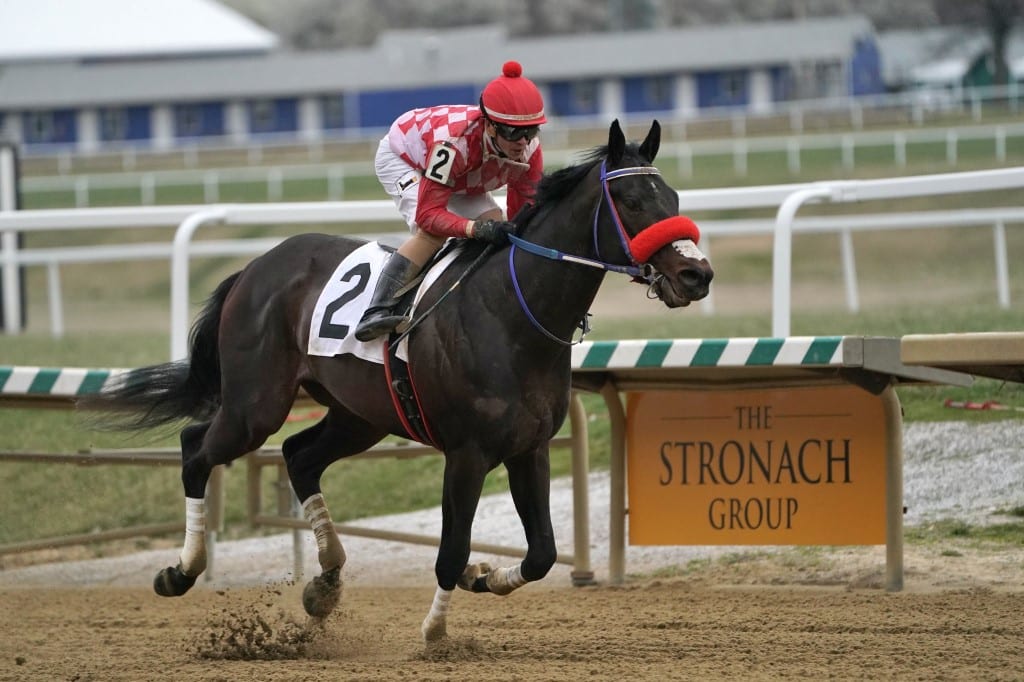 Lebda was much the best in the Private Terms Stakes at Laurel Park. Photo Maryland Jockey Club.
If a horse runs huge in a race and no fans are allowed on the grounds, did it really happen?
That's what happened with Lebda in Saturday's $100,000 Private Terms Stakes at Laurel Park. The second of Maryland's sophomore sequence that leads to the Grade 1 Preakness was contested – like the other three stakes on the card – on a pleasant mid-March afternoon before a smattering of horsemen, and zero fans.
Blame it on the coronavirus. Not that Ledba cared.
Sent out as the even-money favorite in the $100,000 Private Terms Stakes for three-year-olds, Lebda employed different tactics than he did one month earlier when he won the $100,000 Miracle Wood Stakes in wire-to-wire fashion.
Reserved in second but well off the rapid early tempo established by Took Charge (Julian Pimentel) through the clubhouse turn and down the backside, Lebda and jockey Alex Cintron gradually advanced to engage the leader on the far turn and drew alongside him approaching the quarter pole. He drew clear as much the best in the lane to a four-length score over late-running My Friends Beer and Mine Not Mine while stopping the timer in 1:44.87 for the about one-mile and one-sixteenth event.
The trip stood in stark contrast to the tactics Team Lebda employed in the Miracle Wood. That day, Lebda ran off to the lead in sharp fractions before holding on late.
"He was doing super coming into this race and the trip worked out like a dream," Gonzalez said. "Me and Alex (Cintron) talked about it in the paddock before the race. I thought he could sit off [Took Charge] to the three-eighths pole and then make his move. That's exactly what happened, and when Alex let him go after the leader, he went by him pretty easily. He's really, really good."
Lebda now has four wins from eight career starts, with earnings of $214,525.
Although the Federico Tesio Stakes might be viewed as the next logical step for Lebda en route to a possible start in the Preakness Stakes – the route taken to the Middle Jewel last year by Alwaysmining — Gonzalez noted it was too early to make a decision on his next outing.
Lebda made his career debut last April in a 4 1/2-furlong maiden special weight event at Aqueduct last April before returning to graduate in a similar race over the Laurel strip. The winner in his debut, Maven, came to win his next start in a Group 3 race in France.
Cintron, aboard for the third consecutive start, had high praise for the colt.
"I've ridden a lot of horses and some of them had more speed in sprints, but he's the best distance horse that I've ever ridden," Cintron said. "He has matured mentally so much just since his last start. I get on him every morning and he's just doing so good, it's difficult to explain. I knew he was going to run a big race today. In his last start, he had the rail and he pretty much had to go early, and then I couldn't take a hold of him so I just let him run. Today he was perfect. He sat behind [Took Charge] and then when I asked him a little, he just went right by that horse."
While Cintron did not speculate when and where Lebda would run next, he did say that he would venture anywhere to ride the son of Raison d'Etat, who's owned by Euro Stable.
"I don't know what he's got next, but he could definitely compete in the [Kentucky] Derby or the Preakness," Cintron said. "This colt has so much ability. He's getting better every time I get on him. He's been working so good, I knew nothing in there could beat him today. I don't know where he's going next, but wherever he goes, I don't know if too many horses can beat him. He's really, really good and he's getting better and more mature."
The Private Terms is named in honor of the Charlie Hadry trainee who was the beaten favorite in the 1988 Kentucky Derby won by the speedy filly, Winning Colors.
NOTES Gonzalez won two stakes on the day, taking both 3-year-old races. His Princess Cadey, with Angel Cruz up, romped to a seven-length win in the $100,000 Beyond the Wire Stakes for sophomore fillies. The filly, a $16,000 claim in December, has now made five starts in the Gonzalez barn, winning three and raising her top dirt Beyer fig from 50 to 77. She's owned by Magic Stable, LLC… An astute ride by Emmanuel Esquivel enabled Senior Investment (8-1) to pull the upset in the nine-furlong, $100,000 Harrison E. Johnson Memorial Stakes. Senior Investment grabbed the early lead and slowed it right down, doling out modest splits of 25.58 seconds for the opening quarter, 50.96 for the half, and 1:15.12 for three quarters. Favored Alwaysmining bid up to virtually even terms after three quarters, but Senior Investment had enough to pull away to win by five in 1:50.96 for 1 1/8 miles. Scott Lake trains the winner for Richard Malouf.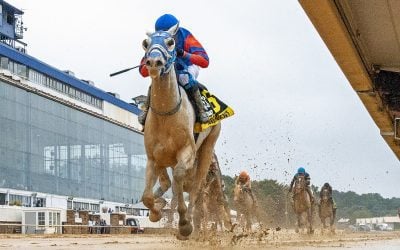 Congruent, winner of last fall's Laurel Futurity, has a shot in Saturday's Jeff Ruby Steaks at Turfway, where a win would earn him a Kentucky Derby berth.