Lebda, Naughty Thoughts post upset scores in Laurel stakes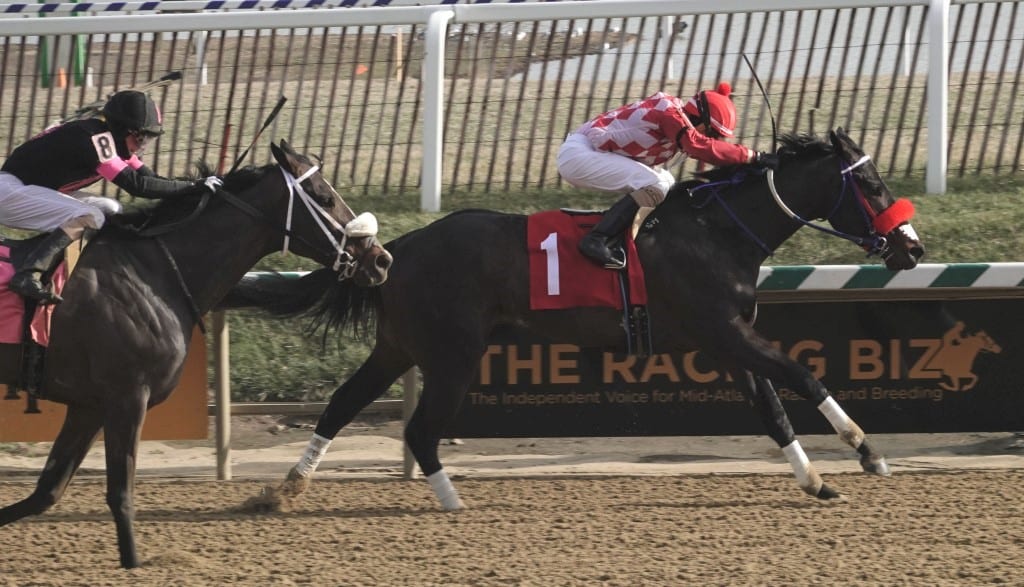 Lebda won the Miracle Wood Stakes at Laurel Park. Photo by Laurie Asseo.
On a cold February day in central Maryland, a pair of stakes races for three-year-olds gave owners and trainers an early indication that spring is drawing nigh.
Heading into the $100,000 Miracle Wood Stakes for three-year-olds traveling the one-turn mile, much of the attention was focused on Dreams Untold (Irad Ortiz, Jr.), a 14-length maiden winner who was made the 7-10 favorite for trainer John Servis. But the complexion of the race changed dramatically at the start as Dreams Untold, fractious in the gate, stumbled at the break and spotted the field nearly a dozen lengths early.

With Dreams Untold virtually eliminated at the start – he would rally boldly along the rail to join the leaders at the quarter pole before weakening – Lebda broke alertly and gained command leaving the chute. He and jockey Alex Cintron carved out serious early fractions of 22.96 and 45.57. rebuffed a bold bid from Dreams Untold at the quarter pole, and opened a clear lead under steady urging from Cintron. In the end, he held safe the late bid of Mine Not Mine (Russell Sheldon) to score by three parts of a length in 1:38.38 for the one-turn mile.
"He broke really good and he was going pretty comfortably early," Cintron said. "He went really quick fractions, but he felt good doing it. When [Dreams Untold] came to me, Irad was really getting after his horse. Then he just ran out of gas. My horse opened up a bit before the eighth pole then I could see [Mine Not Mine] coming. But my horse was still going okay. I could tell I had enough to hold him off to the wire."
A sophomore son of Raison d'Etat trained by Claudio Gonzalez for the Euro Stable, Lebda was one of three horses that Gonzalez saddled for the Miracle Wood and promptly became the first stakes winner of the trio. With the Private Terms one month away, Gonzalez mentioned that it was too soon for him to commit to pointing Lebda for that event but noted it would be on the radar for the sophomore colt.
"I think he ran a big race today," Gonzalez said of Lebda, who now owns three wins and over $150,000 banked from seven career outings. "He was going really fast early. I was hoping he could get position early, but the way the race went he went to the front. That was a big race today."
Of the eight sophomores that went postward in the Miracle Wood, only Dreams Untold, Amen Corner and runner-up Mine Not Mine are among the list of early nominees to the Triple Crown races. Cintron also had high praise for Mine Not Mine, whom he had ridden in each of his first two starts. Mine Not MIne won at first asking when trained by Gonzalez for Jose Besecker but was sold in Besecker's December dispersal sale and showed up today with Brittany Russell training for LC Racing, D J Stable LLC, and Cash Is King LLC.
One race earlier in the $100,000 Wide Country Stakes for three-year-old fillies at seven furlongs, Naughty Thoughts (Jevian Toledo) displayed plenty of early speed and then drew clear in the lane to a nearly-five-length score as an overlooked 8-1 shot by getting the distance in 1:24.01. A sophomore daughter of The Factor trained by Jonathan Maldonado for owner Rafael Lopez, Naughty Thoughts recorded her first win in two tries this year and now owns a 4-5-4 slate and nearly $190,000 banked from 15 career outings.
"When we claimed her [for $25,000 on November 3], I thought she would be able to do well," said Maldonado, who posted his first stakes victory as a trainer in the Wide Country. "I wanted to do well for this client. He lets me pick all the horses. She was training so well for this race. I just told Jevian not to try and rate her. If Claudio's filly [Princess Cadey] does not go to the lead then let her go to the front."
Toledo has now ridden Naughty Thoughts in each of her last five starts since Maldonado claimed her from trainer Anthony Farrior last fall and now has guided her to a pair of victories, including her first stakes. On Saturday he wasted little time letting the circumstances of the race dictate the situation, Naughty Thoughts gained command down the backside, and she was never seriously threatened over the last five-eighths of the event.
"When she broke so well and made the lead, I wasn't going to try and rate her too much," Toledo said. "She likes to be on the lead. If you don't take too much hold of her early then she's going to keep running. At the top of the lane I still had a lot of horse underneath me. She really finished up strong. That last race [at one mile] really helped put a little more stamina in her."
Princess Cadey, a 7-1 shot, grabbed second, while 42-1 outsider She'smysunshine was along for third. Odds-on choice Bella Aurora, winner of the Gin Talking last out, was never much involved and finished fifth.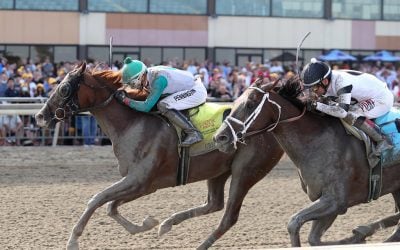 Your five-minute read to catch up on all the Mid-Atlantic racing action you may have missed over the weekend…