LAKI NOSES OUT DE FRANCIS SCORE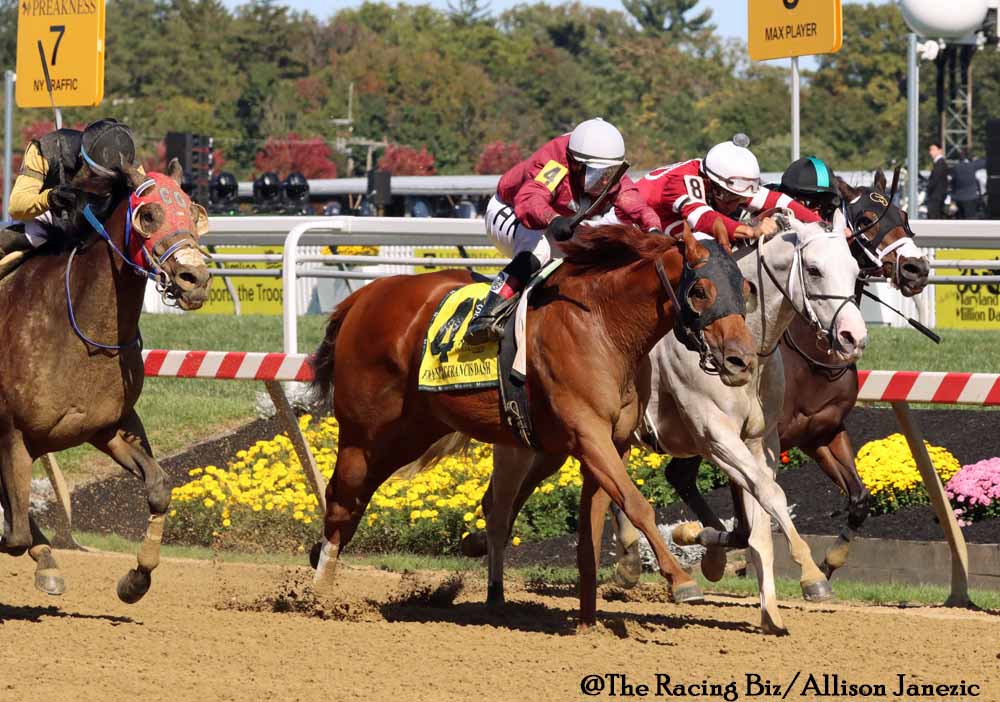 In addition to training numerous horses, Dilodovico is also part of the team that puts together broadcasts from Pimlico and Laurel Park, where Dilodovico is based.
"It's like the house horse won," said racing analyst Acacia Courney as she greeted Dilodovico in the winner's circle.
Krsto Skye was the early leader, with odds-on favorite Landeskog glued to his flank, running a half-length behind and just outside the pacesetter. The field bunched up up the backstretch, and jockey Hector Karamanos settled in fourth place between horses before easing back to fifth to get some running room.
Turning for home, the field stretched four-wide across the track, with Laki running on the far outside. By the sixteenth pole Landeskog was done, but Nitrous and Laki hooked up down the lane, and the race appeared to be one of theirs to lose.
But after racing so far back he was nearly off the screen in the early going, Eastern Bay rallied down the middle of the track to join those two. It was Laki who hit the wire first, a nose ahead of Eastern Bay, who himself was a nose ahead of Nitrous. They were followed by Krsto Skye, Admiral Lynch, and Landeskog.
This year's Preakness is being held without spectators on track, but the people on hand more than made up for their absence.
"It's like a May Preakness," said Dilovodico. "Everyone around here was hollering like it was a full house."
Laki was bred in Maryland by Tom Michaels and Lorna Baker and is owned by Hillside Equestrian Meadows. The win is the first in a graded stakes for chestnut gelding.
Laki is by Cuba and out of the Swear by Dixie mare Truthful Dutch. The De Francis Dash win and the winner's share of its $200,000 purse brings his earnings to nearly $685,000 and his record to 28-10-6-5.
Dilodovico won this race with Immortal Eyes in 2013, during a five-year-period when the race was ungraded.
"This is unbelievably exciting," he said. "It means the world to me."
LATEST NEWS