Laurel Park picks and ponderings December 22, 2019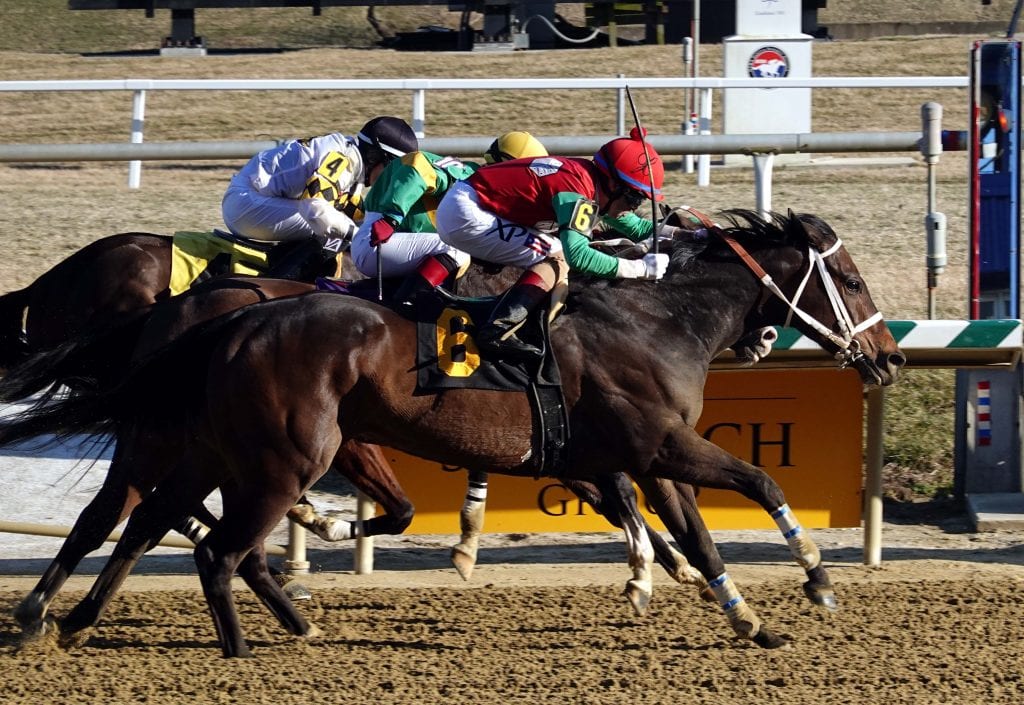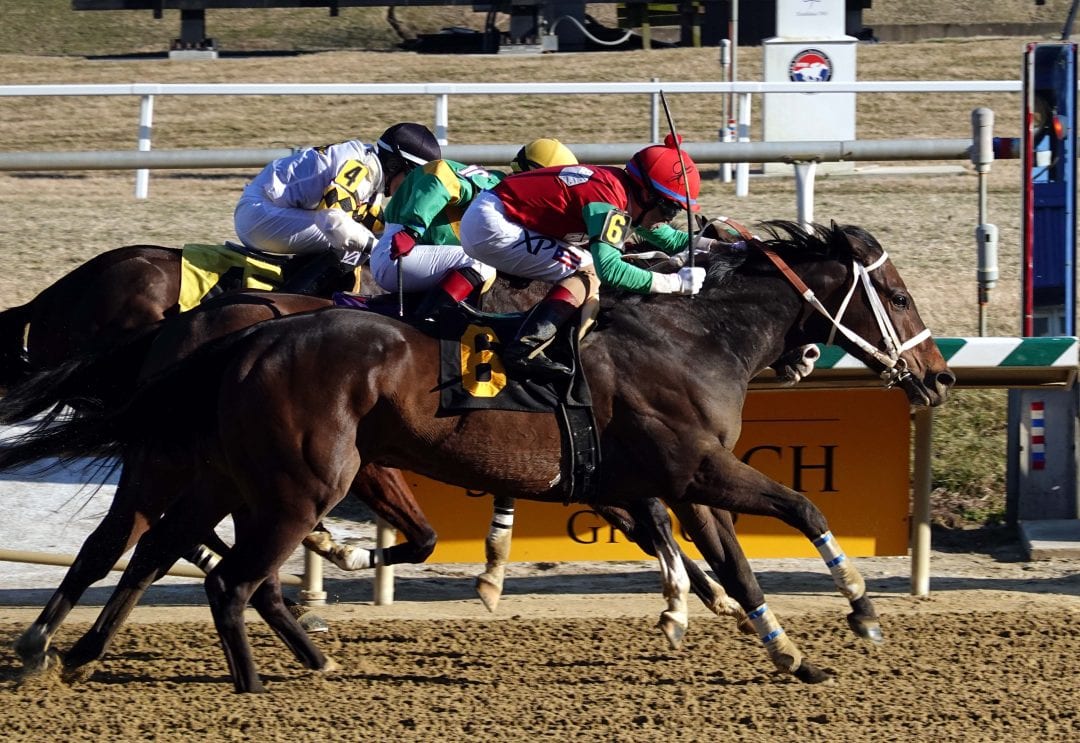 Anna's Bandit. Photo by Laurie Asseo.
In which we pick the races from Laurel Park each day…
Post time: 12:25 p.m.
Carryovers: Rainbow Jackpot Pick 6 — $958; Super High 5 — None; Late Pick 5 — $7,659
Notable: Merry Christmas and happy holidays!
ANALYSIS
RACE 1
7-1-6-4
Top choice #7 Princess Cadey (7-2) moves up a level off the claim by Claudio Gonzalez (11-for-40 first off the claim in maiden claiming company) and has competed against better; she made a bit of a middle move before packing it in last time after a wide journey… #1 Roma Delight (5-2) just missed at this level last time and figures to be a contender here, but that wasn't much of a group she saw last when finishing second at 6-5; the winner had never previously earned a Beyer fig above 39… # Patriotic Punch (2-1) drops a step off a subpar effort…
RACE 2 
3-6-2-4
Trainer Rudy Rodriguez ships #3 Kickin Kimberly (5-2) down from NY and is pretty intent on taking an empty horse van home; this one is dropping in half price-wise off an acceptable effort and is checking in at the low end of the claiming range; Trevor McCarthy is up… Two who figure here at short odds are #2 Nana's Shoes (2-1) and #4 Lady Kim (5-2), but both are closing sorts who may have plenty of work to do late… #6 Bee'snbee's (9-2) gave a decent account of herself last time and makes her third start off a five-month break…
RACE 3 
4-6-1-5
Her last two aren't great, but they did come against better than these and #4 Dat Dares Gold (9-5) has won at this starter allowance level, plus she has some better efforts in her not-too-distant past… #6 Miss Craigie (10-1) won at this level at CT two back… Morning line favorite #1 Dorothyfromdublin (8-5) makes her first start in the Bailes barn and first in three-plus months; she could win here but the odds look likely to be a bit short…
ANALYSIS
RACE 4
2-4-1-3
Top choice #2 Thirsty Again (9-2) ran just OK last time versus similar but today is making her third start off a nine-month layoff; we also like that when trainer Dale Capuano brought her back, he waived the claiming tag first time out of the box, as it suggests he liked what he was seeing enough out of her that he wanted to keep her around; maybe third time's the charm? Favored #4 Si Mamcita (7-5) likely will win if she replicates her California form today, but this is her first try on a dirt surface; she had a couple of fast-enough works over the dirt at Del Mar, so perhaps she'll like this, but then-trainer Mike McCarthy still ran her twice on the turf before she switched barns; bottom line: we'll have her on the ticket but don't have the stomach to put her on top at short odds doing something she's never done before…
RACE 5
6-5-2-3
Two of the logical contenders in this claiming event — #3 Catonsville (9-2) and #5 Liquid Hero (3-1) — both figure to be gunning for the early advantage; the former arrives with two straight wins at CT by a combined 18 lengths, while the latter won over the strip last out at this level; but if they're tackling each other, who benefits? That figures to be the favorite, #6 King Leo (9-5), who loves this trip and should be sitting mid-flight, waiting for the speed to wear itself out…
RACE 6 
5-7-1-8
Favored #5 Life in Flash (9-5) has won two straight by a combined 30 (!) lengths and should be tough in here… Thinking that #7 Ravenel (6-1) can given an improved account of herself today; she'll get blinks on for trainer Dale Capuano, makes her second start in the barn, and drops two steps after a not-so-good showing last out… Wondering if #1 Classical Lady (15-1) can outrun long odds; she didn't have much pace to run into last time but rallied willingly while on the wrong lead and too late…
ANALYSIS
RACE 7
3-1-8-4
The best horse in this group is #8 Bobby G (8-5), and it'll be no surprise if he wins; heck, we'll be cheering him on if he wins, but he's been awfully busy; this'll be his fifth start since the beginning of November, which includes a good third in the Richard Small Stakes here and a trip to Gulfstream for the Claiming Crown, and we're wondering if all of that catches up to him at some point… If it does, one horse who may benefit is #3 Bob's My Uncle (10-1), who has competed at this level before and may benefit from a couple of speedy sorts — #1 Midnight Act (3-1) and #4 Port Louis (4-1) — duking it out up ahead…
RACE 8 
1-7-5-3
Pretty wide-open nickel claiming event here, so you may want to ignore our advice on the top finisher, since we landed on the class-dropping chalk, #1 Elusive Hero (7-5), who should be involved from the get-go… #7 Greek God (9-2) ought to be able to work out a good trip from the outside and fits with these… #5 Gotham News (6-1) makes his first start in almost four months and drops from starter allowance company…
RACE 9
6-2-4-1
Favored #6 Olin's Honor (9-5) figures tough on the drop from maiden special weight company at Keeneland to $40k maiden claimers…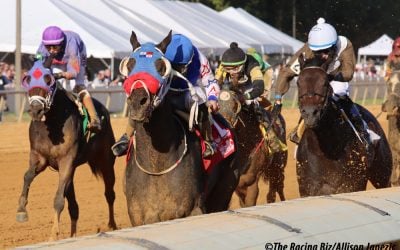 We provide full-card picks and analysis for this afternoon's races at Laurel Park.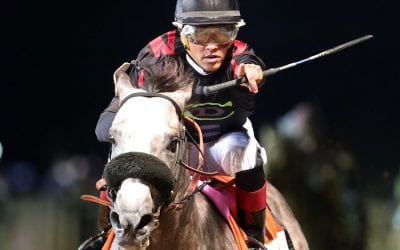 We've got Charles Town picks and preview today as the track presents its Friday card!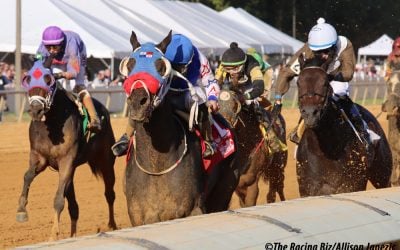 We provide full-card picks and analysis for this afternoon's races at Laurel Park.