Today in Racing History is an occasional feature focusing on some of racing history's interesting, important, or unusual events.
by Richard Hackerman
March 17, 1973
In the last half of the twentieth century, arguably the two most important thoroughbreds in this country were Secretariat and Ruffian.  These two horses dominated races like few before or since.   Both horses were thrust almost immediately into the limelight early in their two year-old seasons as a result of their impressive beginnings and did nothing to disappoint thereafter.
Both were magnificent animals.  Ruffian was 16.3, long, dark and leggy,  with a huge hindquarter and girth.  Secretariat was 16.2 , a large, imposing powerfully made colt.   His heart girth was huge and he had an enormous stride length.  Both horses were handled by Hall of Fame trainers.  Both were owned by well regarded, perhaps historic racing families.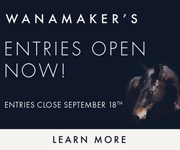 Both captured public attention — at a time when the public at large still paid attention — in a way that few horses before or since accomplished.
And, oddly enough, the career arcs of both owe more than a little to fortune.
This column will periodically chronicle Secretariat's 1973 progression to media superstar and Belmont Stakes romp, and Ruffian's 1975 march to Triple Tiara coronation (at the time it was referred to as the Filly Triple Crown) and the aftermath of her well chronicled match race with Foolish Pleasure.
Secretariat's dam Somethingroyal was bred to Bold Ruler in 1969.  Christopher T. Chenery's The Meadow near Doswell, Virginia foaled Secretariat on March 30, 1970.   Penny Chenery, Christopher's daughter and Secretariat's owner described to the Daily Racing Form in 2010 how she ended up with Secretariat.
"As a foal, Secretariat had come Meadow Stable's way in what is inarguably the most propitious coin toss in the history of sport – a flip that both sides wanted to lose, and Chenery did lose.  Chenery had inherited a quirky deal between her father and the late Ogden Phipps, an arrangement she wanted to discontinue as soon as it ran its course. Bold Ruler, the Phipps stallion, would be bred each of two years to a set of mares. The winner of the toss would get first choice of those foals the first year, which was 1969, and the loser would get first choice in 1970. But by the time of the toss, in August 1969, it was known that one of the mares, the champion grass horse Cicada, had come up barren for 1970. So the winner of the toss got first choice of the two 1969 foals, the loser got what was left, and in 1970 the loser got the only remaining foal. The loser of the flip would wind up with two of the three horses.
"The flip took place at Saratoga. Bull Hancock tossed the coin, and Phipps called it correctly for his pyrrhic victory. Phipps chose a filly out of Somethingroyal, the Chenery mare, who was named The Bride. The Bride raced only four times, never finishing better than sixth. What Penny Chenery got wasn't much better, a Hasty Matelda colt, Rising River, who was unsound and eventually sold for $50,000. At the time of the flip, Somethingroyal was more than six months in foal to Bold Ruler, and the colt to be named Secretariat was dropped at Meadow Stud in Doswell, Va., on March 30, 1970. As loser of the toss, Chenery was left with Secretariat, since he was the only foal remaining in the second year."
Barbara and Stuart Janney operators of the Glyndon, Maryland Locust Hill Farm were the owners of Ruffian.  Barbara's mother, Gladys Phipps, was one of the owners of Bold Ruler.  As a gift, every year for her birthday, Mrs. Janney received a free season to Bold Ruler.
But Bold Ruler fell ill and died in 1971.  As a result Barbara bred her mare Shenanigans to Bold Ruler's son Reviewer.  The resulting foal soon, to be named Ruffian, was born on April 17, 1972.
One a colt – one a filly, Secretariat and Ruffian are forever intertwined by their breeding, their place in time, their connections and their historic performances on racing's greatest stage.  Visions of them at Belmont Park are forever ingrained in our collective memories.
And as for March 17?
Forty one years ago Secretariat opened his three year-old campaign — and his march to immortality — with a victory on a sloppy track in the Bay Shore Stakes at Aqueduct, drawing off to win by more than four lengths.  Sent off at 1-5 under Ron Turcotte, Secretariat survived an objection by the rider of third-place finisher Impecunious.  Running time for the seven furlongs was 1:23 1/5.
The win ran Secretariat's record at the time to 10-8-1-0.  The above video was put on Youtube by the New York Racing Association.
[boxify cols_use ="2″ cols ="5″ position ="right" order ="none" box_spacing ="5″ padding ="3″ border_width ="1″ border_color ="blue" border_style ="solid" height ="150″ ]
Like what you're reading?
Get The Racing Biz by email!
SOURCES