CHARLES TOWN: STORIES THAT MATTERED IN '21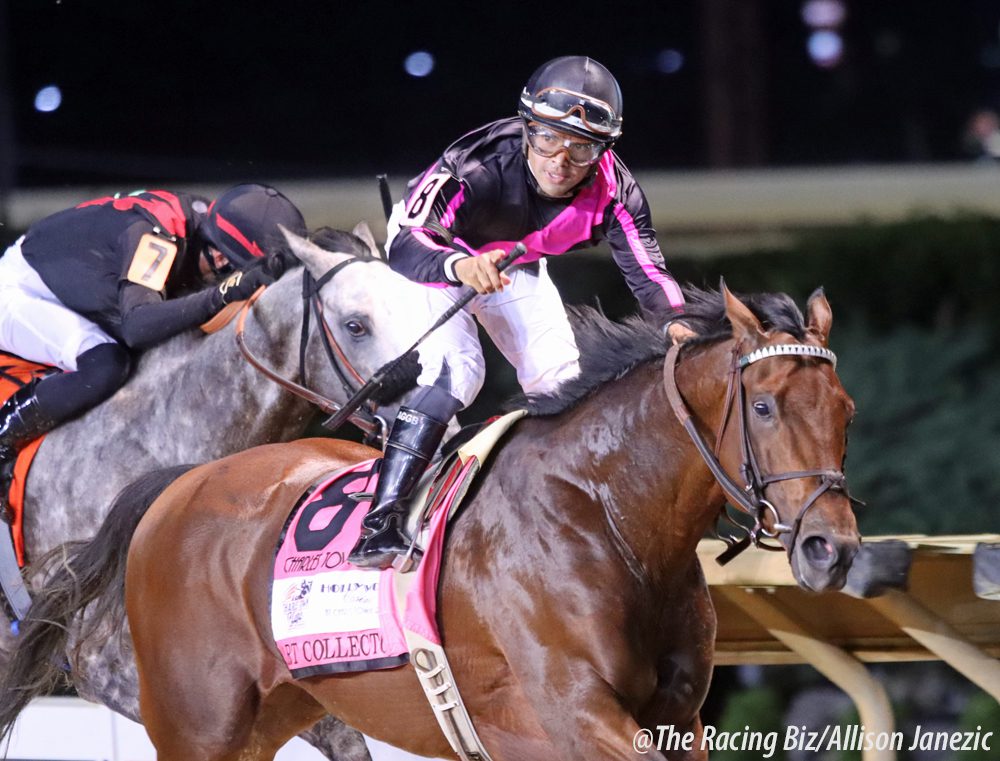 Ted Black

January 1, 2022
Throughout a busy 2021 racing season that actually saw few interruptions in the schedule, Charles Town provided owners, trainers and spectators alike with dozens of memorable performances from equines and humans alike.
With the 2022 racing season slated coming up quickly, here are the top five  stories from Charles Town in 2021.
5. Miss Henny Penny shines on WVBC night
In years past on West Virginia Breeders' Classic night, the prolific sire Fiber Sonde has dominated the proceedings, with his progeny accounting for as many as five winners on a single night. But this past fall it was actually a broodmare that trumped John McKee's prominent sire when Miss Henny Penny, who won at first asking at Charles Town during a brief racing career, was the dam of two winners on the card – two-year-old The Sky Is Falling and three-year-old Door Buster, both ridden by Bocachica. Less than one week before both The Sky Is Falling and Door Buster prevailed on WVBC night, a yearling half-brother to both runners sired by Tapwrit sold for $82,000 to Raim and will soon be conditioned by Runco.
Miss Henny Penny won three of 15 lifetime starts – all at Charles Town – and earned just over $70,000 and finished third in the Triple Crown Nutrition BC and fifth in the Violet Handicap in her only two stakes outings. She is now owned by Catherine Jennings and Scott Mallory.
4. Trainer Crystal Pickett earns third straight WV Dash for Cash victory
Less than one year after her top recent trainee and undisputed one-turn sprint specialist Dr. Feelgood suffered a catastrophic injury galloping at Laurel Park, trainer Crystal Pickett sent out Hypothesis to victory in the West Virginia Dash for Cash Breeders' Classic – the same race Dr. Feelgood had won two consecutive years. On the same night in which jockey Arnaldo Bocachica won eight of the nine stakes, Jose Montano was lone dissenting rider to reach the winner's circle when the 2012 Eclipse Award-winning champion apprentice steered the Pickett trainee to a comfortable victory over Laughing Cat.
It not only marked the third straight win for Pickett in the Dash but it also proved to be the second WVBC triumph for Hypothesis, who two years earlier had captured the Vincent Moscarelli Memorial for two-year-olds. Hypothesis finished the year with five wins, three in stakes company, and $150,000 banked from 10 seasonal starts and will likely be named champion West Virginia-bred sprinter.
3. Muad'dib and Star of Night enjoy perfect campaigns
Not only did both Muad'dib and Star of Night win the two biggest races of their careers within 30 minutes of one another on WVBC night, but both would also return in November to win another stake and conclude 2021 with unblemished records.
Muad'dib, hero of the $75,000 Frank Gall Memorial and then the West Virginia Breeders' Classic, returned to seal his campaign with the victory in the A Huevo for his sixth victory of the year and ninth of his career without a defeat for Runco and Raim. Unraced at age two, Muad'dib emerged on the scene in 2020 by winning three races before the pandemic halted racing at Charles Town for two months. When racing resumed in May, however, Muad'dib remained on the farm and returned this past spring to embark on another perfect campaign that ended with victories in the Gall, Classic and A Huevo.
Star of Night ended her 2021 season in virtually identical fashion to her 2020 West Virginia-bred horse of the year campaign. Trained by Runco for owner-breeder Huntertown Farm, Star of Night won allowance races in June and July and then took the Sadie Hawkins, Cavada, and for the second consecutive year, the My Sister Pearl Stakes. She finished the season with five wins in as many starts and now has 11 triumphs in 13 career outings.
2. Art Collector wins Charles Town Classic
One year after it found a new place on the calendar by happenstance amid the ongoing coronavirus pandemic, the Grade 2, $800,000 Charles Town Classic proved to be the springboard for winner Art Collector to a victory in the Grade 1 Woodward Stakes at Belmont Park and an appearance in the Grade 1 Breeders Cup Classic at Del Mar for Hall of Fame trainer Bill Mott. In just his second start for Mott, Art Collector sat just off defending champion and well-traveled Sleepy Eyes Todd through the early going before overhauling that one on the lane for a length score. One year after outside jockeys and trainers were unable to attend the Classic amid the Covid-19 restrictions, Mott was on hand to give jockey Luis Saez a leg up for the main event at Charles Town and then greet him in the winner's circle. Art Collector notched his second graded stakes victory in the Classic and then came right back five weeks later to take the Grade 1 Woodward for owner-breeder Bruce Lunsford before finishing sixth in the Breeders' Cup Classic at Del Mar.
1. Bocachica/Runco/Raim dominate West Virginia Breeders Classics
In recent years the trainer-jockey combination of Jeff Runco and Arnaldo Bocachica has dominated the standings at Charles Town, and this past October, on West Virginia Breeders Classics night, that tandem reached unprecedented heights when they combined to win seven of the nine stakes, five of them with horses owned by David Raim.
Run to Daylight kicked off the card by taking the $75,000 Vincent Moscarelli Memorial for two-year-olds, and then The Sky Is Falling capped the early daily double by taking the Triple Crown Nutrition BC for two-year-old fillies. A couple of races later, Boca and Runco came right back to take the West Virginia Lottery BC with Social Chic. Bocachica scored again in the very next race with Door Buster for trainer Ollie Figgins, III before Runco and Bocachica proceeded to sweep the final four races on the card, including both the $175,000 Cavada with Star of Night and the $300,000 West Virginia Breeders' Classic with Muad'dib, both of which enjoyed perfect seasons. Finally, Bocachca, Runco and Raim combined to cap the night with a victory by Stowe Angel in the Roger Ramey Distaff at nine furlongs.
2021 Leading Trainers
| | | | |
| --- | --- | --- | --- |
| | TRAINER | WINS | EARNINGS |
| 1 | Jeff Runco | 132 | $3,384,111 |
| 2 | Anthony Farrior | 114 | $1,685,864 |
| 3 | Ronney Brown | 96 | $1,698,134 |
| 4 | Javier Contreras | 46 | $1,236,419 |
| 5 | Tim Grams | 45 | $1,195,543 |
2021 Leading Jockeys
| | | | |
| --- | --- | --- | --- |
| | JOCKEY | WINS | EARNINGS |
| 1 | Arnaldo Bocachica | 256 | $4,997,415 |
| 2 | Fredy Peltroche | 104 | $2,173,699 |
| 3 | Gerald Almodovar | 101 | $1,987,185 |
| 4 | Denis Araujo | 93 | $1,859,974 |
| 5 | Christian Hiraldo | 82 | $1,804,879 |
2021 Leading Owners
| | | | |
| --- | --- | --- | --- |
| | OWNER | WINS | EARNINGS |
| 1 | John McKee | 35 | $948,445 |
| 2 | Robert Cole, Jr. | 29 | $399,706 |
| 3 | Taylor Mtn. Farm LLC | 28 | $867,073 |
| 4 | Grams Racing Stable LLC | 25 | $714,457 |
| 5 | David Raim | 23 | $829,649 |
2021 Leading Horses
| | | | |
| --- | --- | --- | --- |
| | HORSE | WINS | EARNINGS |
| 1 | Take Me Home | 8 | $115,788 |
| 2 | Our Diamond Girl | 7 | $160,953 |
| 3 | Be Be Bop | 7 | $91,177 |
| 4 | Muad'dib | 6 | $282,236 |
| 5 | Primal Destiny | 6 | $72,698 |
LATEST NEWS