MUAD'DIB PROVES BEST IN WV BREEDERS' CLASSIC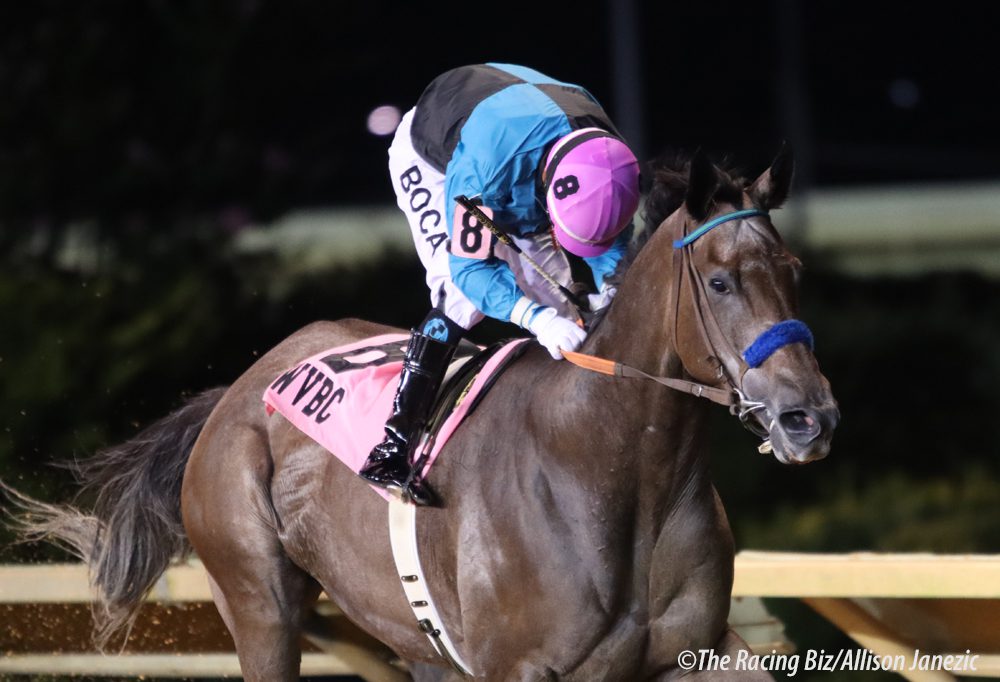 When the gates opened in the latest renewal of the Classic, Hero's Man was away well to gain the early advantage. Muad'dib sat just outside the leader through the far turn the first time, and neither appeared to be in any particular hurry.
Hero's Man set modest fractions with Muad'dib looming just outside of him. They loped through the opening quarter-mile in 25.46 seconds, the half in 50.58, three quarters in 1:16.33. North Atlantic, making his fifth appearance in this event for Runco, was just behind the leaders.
After stalking Hero's Man through the first three calls, Muad'dib surged to command at the head of the lane and gradually edged clear late to a 2 1/4-length score while stopping the timer in 1:55.06 for the nine furlongs.
Muad'dib paid $3.60 to win and topped an exacta, with Hero's Man holding second, that paid just $3.80 for one dollar. North Atlantic finished third. Defending champ Awsome Faith was hampered by the sluggish early pace and could only rally into sixth.
The win gave Bocachica an unthinkable eight wins on the night. Runco saddled seven winners, and Raim made five trips to the winner's circle on a historic, memorable occasion for the trio.
"He's always been able to do things so easily and he never does any more than he has to," Runco said of Muad'dib, the full-brother to former West Virginia-bred star Late Night Pow Wow, who has now won all eight of his career outings and earned just over $285,000. "He's always trained well and he runs well. He overcame a lot more trouble in the Gall than he did tonight. He was able to bide his time through the early going and turning for home he just knows what to do. This whole night has been unbelievable. I never expected this."
"I know some people wondered if he could get the distance, but I never had any doubt," Bocachica said. "He just does it so easily. Once he broke like he did and relaxed sitting just outside that other horse, I knew he was going to be okay. I just had so much horse underneath me. He's got so much ability. I never really have to get after him. He just does it pretty much on his own."
"This has been a great evening," Raim said. "Before tonight, I had never won the Cavada or the Classic. I thought this horse was going to be tough to beat in here, especially after he won the Gall and overcame so much early trouble and that speed bias that night. When I won those stakes races earlier on the card, I was a little worried my luck might run out before the end of the night. I thought this can't keep going this well. Jeff and Susan deserve all the credit. They pick out the horses. I help out a little with the pedigrees, but Jeff and Susan spot them and Jeff trains them. They're both tremendous."
LATEST NEWS