Laurel Park picks and ponderings Jan. 1, 2022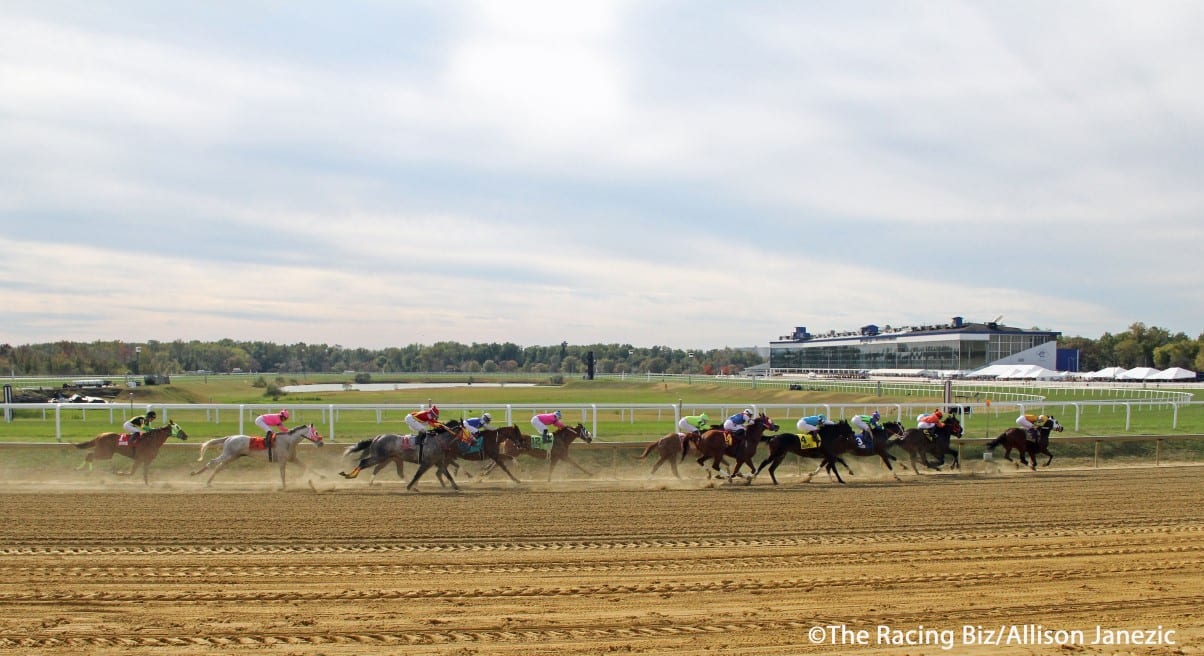 Horses round the turn at Laurel Park. Photo: Allison Janezic.
In which we pick the races from Laurel Park each day…
Post time: 12:25 p.m.
Carryovers: Rainbow Jackpot Pick 6 — $0 Super High 5 — $0 Late Pick 5 — $0
ANALYSIS
RACE 1: CLAIMING $5,000 N3L, fillies and mares 3yo and up, 1 1/16 miles
2-7-5-3
The speedy #2 Flower's Fortune (6-1) will look to control this one on the front end in first try in the O'Dwyer barn, has the back class to get it done… #7 Glory March (8-1) rallied smartly against similar last out… #5 Positive Power (7-2) is skipping a condition here, which we normally hate, but you have to think trainer Gonzalez is getting something — for example, a two-turn trip — not always easy to find… Why bet against the overwhelming favorite, #3 Unshakable U (1-1)? Because we're struggling to see why this horse is here. She galloped against CT allowance foes last time, won a local maiden special to graduate, and is probably worth more than the asking price as a broodmare. So why's she here? As a general rule, if we can't figure out why a horse is in a spot, we won't take short odds…
RACE 2: CLAIMING $16,000 N3L, 4yo and up, 7 furlongs
4-2-5-9
That last race was a bit off-color, but on the switch into the McMahon barn, we're thinking #4 Royal Thunder (6-1) can recapture his better form. He ran huge two back when fourth in a wide-open $16,000 starter that was a Claiming Crown preview race… Another looking to recapture better form on the drop in class is #2 The Wolfman (10-1). Trainer Schoenthal thought enough of this guy earlier this year to try him in NY stakes company, and he didn't disgrace himself. His two since returning to action aren't great, but perhaps the class relief will wake him up… #5 Rising Perry (4-1) keeps running good races at this level…
RACE 3: MAIDEN CLAIMING $40,000, 4yo and up, 7 furlongs
1-5-7-8
Top choice #1 Mailman's a Flyer (2-1) has run two good ones, finishing second in both, one of which came behind a 1-5 favorite. The added ground is a question mark here, but otherwise he looks to be a major player… Returning to the main track should be a positive for #5 Call It Love (7-2), who ran a couple of good ones on the dirt before throwing in a clunker on the lawn… #7 Treasure Tradition (5-2) had a good trip last out when second but was beaten by a rival who had an even better one. The only negative is the somewhat unsightly 0-for-6 ledger…
ANALYSIS
RACE 4: STARTER ALLOWANCE/OPTIONAL CLAIMER, 4yo and up, 6 furlongs
3-2-6-5
First time in the Gonzalez barn and second off a bit of a break should make #3 John the Bear (2-1) tough in this contest. We like that Gonzalez chooses to protect this guy and scratched him out of a race Thursday to await this spot. Also interested to see Toledo come aboard, since he doesn't ride for Gonzalez all that often… Trainer Dale Capuano does well with horses entering his barn, as is the case with #2 Triple Titos (3-1). This one hasn't started in 10 months, but if he wins… well, drink up! #6 Graywing (5-2) returned running after a nine-month break, graduating by seven lengths…
RACE 5: MAIDEN CLAIMING $10,000, 3yo fillies, 5 1/2 furlongs
6-2-3-12
Trainer Britanny Russell is — this is not a typo — 10-for-15 with horses dropping in claiming price by 50% or more, as is the case with #6 Middle Island (2-1). We'll eat the chalk with that kind of stat to back it up…#2 She's Got Game (6-1) ran better than you might think on debut — despite the 0 Beyer — dueling on the lead for a half-mile in a two-turn event before packing it in. Trainer Ness double-drops this one to the bottom, an appropriate move, and will leg up go-to rider Rodriguez on a runner who fired a bullet work Dec. 26… #3 Keen Machine (9-2) is another arriving on a drop in class and gets blinkers on for Farrior…
RACE 6:  CLAIMING $5,000 (N3L), fillies and mares 4yo and up, 6 furlongs
1-4-6-2
A pair of runners here scratched out of a 12/31 contest for this one, including morning line fave #1 Danny Deep Cuts (1-1), who figures best here on the class relief… Also out of the Friday race is #4 La Dame (12-1), who didn't run terribly last out a step higher… The speedy #6 High Glory (4-1) broke her maiden at Gulfstream and earned her second win at Charles Town, which could make for an interesting kind of hat trick if she were to make it three career wins at three different tracks…
ANALYSIS
RACE 7: CLAIMING $5,000, fillies and mares 4yo and up, 6 furlongs
3-1-5-6
A little bit of added confidence after a nice win last out should stand #3 Dat Dares Gold (9-2) in good stead in this nickel claiming event. She's been in the money 10 of 21 at the trip… We'd like to see a bounce-back effort from #1 Calypso Ghost (2-1) before taking favoritism; her last couple aren't good enough, and while they were against better, it's not a super-auspicious way to be coming into this contest… #5 Blue Sky Venezuela (3-1) also enters off a win, in a starter at Penn, but we're not sold that was much of a group…
RACE 8: ALLOWANCE (N1X)/OPTIONAL CLAIMING, 3yo, 5 1/2 furlongs
2-6-5-7
Top choice #2 Alottahope (2-1) impressed when winning on debut and was probably best when second in the Maryland Juvenile Championship. He was stuck down inside and behind horses until it was too late, while Joe was able to come over the top to win. With some speed signed on, he might get the right rallying trip today… Among the speed types: #6 Baytown Frosty (10-1) might be the speed of the speed, having won three times, once at Keeneland, going 4 1/2 furlongs. He's blitzed the field in his last two at CT and should get a good class test here… #5 Capt. Candy (4-1) had it all his own way but sure looked good doing it when graduating last out at Parx. Three of six to run back have won their follow-ups… 
RACE 9: CLAIMING $25,000, 3yo fillies, 7 furlongs
3-1-5-6
We'll give the nod to the only two-time winner in the field, #3 Jerusalema (7-2)… Not a bad effort last time against similar for #1 I'm Gittin There (9-2), who ultimately settled for third… #5 Sea Pines (5-2) had it her own way last out when just holding on to graduate and might be in front early again. Lasix on for this runner…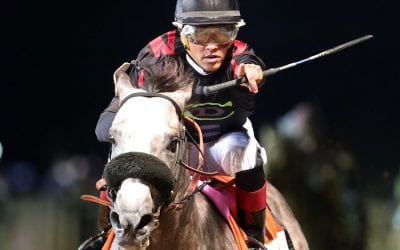 We've got Charles Town picks and preview today as the track presents its Friday card!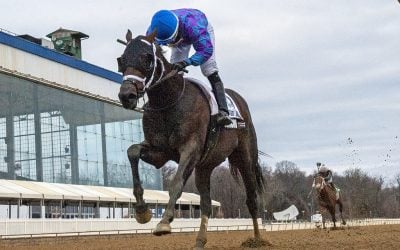 Which Laurel Park jockeys are off to hot starts? Asking for a friend; no, wait, actually asking for the betting public. Answers within…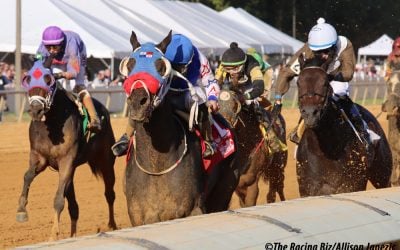 We provide full-card picks and analysis for this afternoon's races at Laurel Park.