Laurel Park picks and ponderings December 3, 2020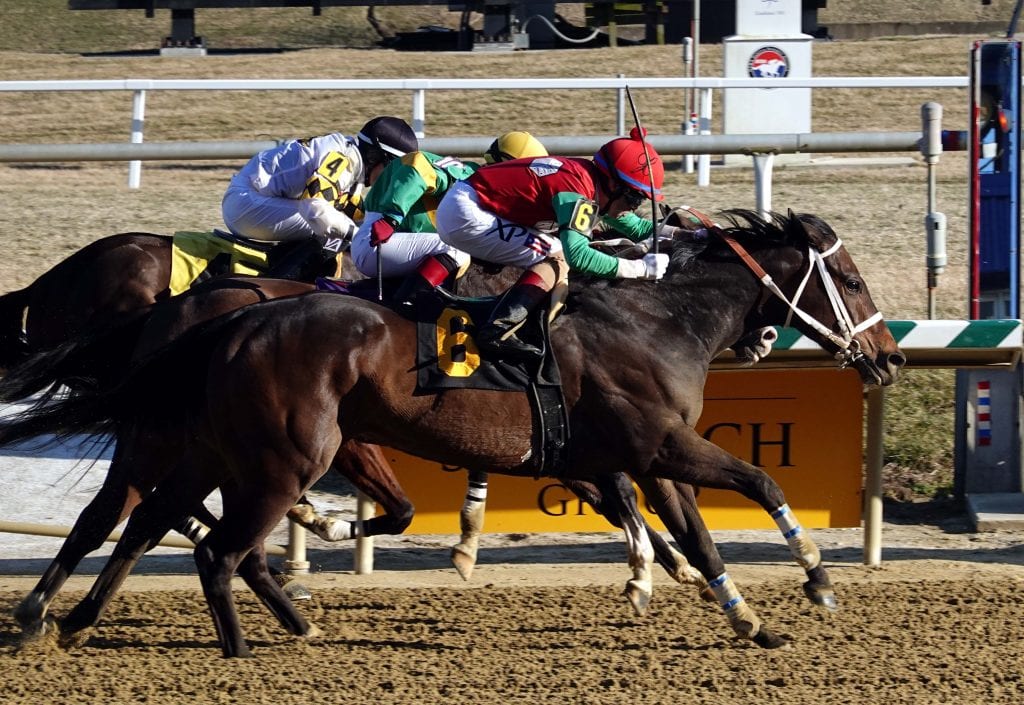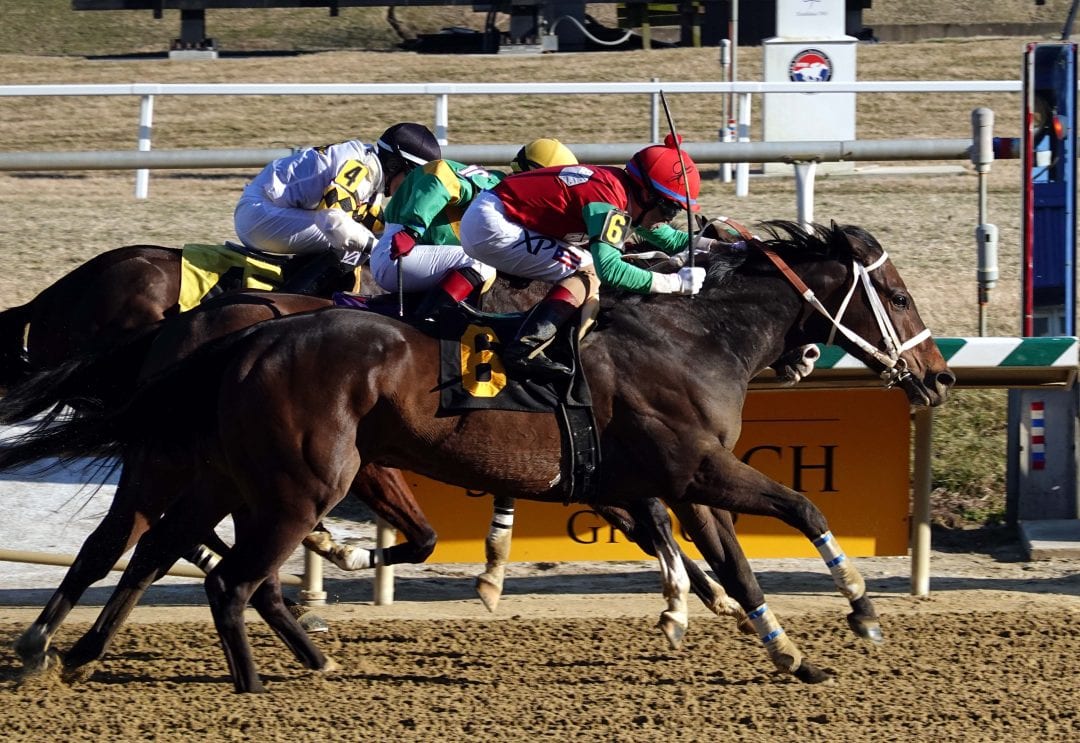 Anna's Bandit. Photo by Laurie Asseo.
In which we pick the races from Laurel Park each day…
Post time: 12:25 p.m.
Carryovers: Rainbow Jackpot Pick 6 — $1,622 Super High 5 — $0 Late Pick 5 — $0
Notable: Until further notice, no fans are allowed to attend the races at Laurel Park. For more info, click here.
ANALYSIS
RACE 1: CLAIMING $5,000 (N/W2L), 3-YEAR-OLDS AND UP, 1 1/16 MILES
3-6-2-1
#3 Rum Bobby (9/5): Closed well to get fourth at this level going a mile in his last start. He's been steadily improving since returning from a long layoff earlier this year.
#6 Gottaway (8/1): Looks for a rebound after two dull efforts going a one-turn mile. His best races have come at two turns. Often, the idea that a horse who closes well at shorter distances will like longer distances is a trap. However, this one really does seem to enjoy longer distances. Considering he has no early speed at all, he needs extra ground for his punch to count.
#2 Champagne's on Ice (7/2): He's only run at this level once, and was a solid-closing fifth. His best races came in the midwest earlier this year, when he ran some brisnet figures in the 70s going shorter. That last race was at a mile, the furthest distance he's ever gone. How will he fare going two turns?
RACE 2: CLAIMING $10,000 (CONDITIONED), 3-YEAR-OLDS AND UP, FILLIES AND MARES, 1 MILE
6-2-7-5
#6 Polished Copper (3/1): Claudio Gonzalez claimed her back last out, after two less-than-impressive efforts for Kieron Magee. Her form under Gonzalez was much better, as she won three in a row on dirt, with figures several points higher than those she had earned for Magee. Looking for her to get back to her winning ways with the barn change.
#2 Princess Georgia (6/1): She got hung wide every step last out, and unsurprisingly backed up. Ran some competitive races against better here and at Monmouth Park this summer. Should put in another competitive effort here.
#7 Punk Rock Princess (5/2): Chased a loose leader around the track last out, but closed well and just missed second. Her form is kind of all over the place; she's been against better earlier in the year, going shorter and longer, and on different surfaces. Is this the level where she puts it all together?
RACE 3: STARTER OPTIONAL CLAIMING $25,000, 3-YEAR-OLDS AND UP, FILLIES AND MARES, 1 MILE
8-5-1-3
#8 Margie's Heaven (9/2): She proved she can stretch out last time, almost wiring the field going 1 1/16 miles. There's no guarantee she'll be able to get to the lead, with the very sharp Beckon drawn a few spots to her inside. If she can get to the top, however, she's going to be tough to reel in.
#5 Beckon (3/1): The aforementioned other speed horse, she's done most of her best running on grass this year. In her only recent dirt outing, she set the pace while wide and flattened out in the last eighth. This time around, if she gets to the lead, she'll likely have the advantage of being towards the inside.
#1 Ski Bunny (5/2): Either half of the Wolf/Farrior entry looks very tough. I'll spotlight this one, who broke her maiden against a very soft field two back. She raced well in her first try against winners, closing late and overtaking Margie's Heaven to finish second. It was clearly the best race she's ever run, as it represents a lifetime top figure by nine points. 
ANALYSIS
RACE 4: ALLOWANCE (N/W1X), 3-YEAR-OLDS AND UP, 1 1/16 MILES
6-7-2-5
#6 Zabracadabra (8/5): Lightly-raced Washington-bred was huge third off the layoff last out. He closed wide in the stretch and battled with the precocious Plot the Dots, losing to him by half a length. His figure of 95 is the best last-out number in the race by nine points. 
#7 Society's Tiger (6/1): Woodbine invader closed strongly off slow paces to finish well in each of his last two races. It's not clear yet how his kick over the synthetic track up there will play over this dirt surface, but he still merits plenty of respect. Even if it's slow up front, that shouldn't compromise him too much.
#2 Admire (7/2): You can toss his last race, as he broke slowly and lost crucial early position. Goes second off the claim from the midwest for Anthony Farrior. In his midwest races, he tended to be on or near the pace, and have plenty left late to hold off his rivals. Won two in a row over the summer between Churchill Downs and Keeneland, with some figures in the 90s.
RACE 5 – MAIDEN SPECIAL WEIGHT, 3-YEAR-OLDS AND UP, FILLIES AND MARES, 1 MILE
4-7-5-6
#4 Be Good (3/1): Ran well in her first start off a long layoff, losing only to a Russell trainee who ran off the screen, while finishing clear of the others. She improved her figure 12 points from her debut in that spot. Her late pace figures are clearly the best in the field. 
#7 Peace with Honor (5/2): She got knocked around at the start last out, and wasn't able to assume her usual forward position. In spite of that, she showed a new dimension, coming from off the pace to get second. Now, she's proven she's a threat no matter what happens early on. 
#5 Solid Gold Dancer (7/2): Returns from a brief freshening after a dull effort at Parx. She'll look to show her usual early speed, which almost got her a win two back. Unfortunately for her, she was disqualified after crossing the line first.
RACE 6: ALLOWANCE OPTIONAL CLAIMING (N/W2X), 3-YEAR-OLDS AND UP, FILLIES AND MARES, 7 FURLONGS
8-5-7-2
#8 Le Weekend (9/2): She was outrun by Hello Beautiful in her last start, but that's nothing to feel bad about. This filly won two in a row over the summer at Delaware Park, showing amply early speed both times. Despite the outside post, she shouldn't have too much trouble getting to the lead. From there, she should run them off their feet. 
#5 Coconut Cake (4/1): I was looking forward to seeing her in the Maryland Million Distaff, but she was scratched out of that race. She'll make her return here, in her first start since September 17. She's won three in a row, stalking the pace and just getting up each time. If Le Weekend flattens out on the lead, she'll be right there to pick up the pieces. 
#7 Conjecture (4/1): Her first start off the claim for Claudio was a success, as she got a great trip stalking the pace and powered on to victory. Looks to get a similar setup here, albeit against better horses than the starter optional claiming types from last time.
ANALYSIS
RACE 7 – ALLOWANCE OPTIONAL CLAIMING (N/W3X), 3-YEAR-OLDS AND UP, 6 FURLONGS
5-4-1-6
#5 Big Engine (5/2): Comes off a runner-up finish in the Hudson Handicap at Belmont Park. In that race, he tried to catch the speedy Tribeca, who held a big pace advantage over him. When facing gems of a slightly lesser water two back, he got up for the win, earning a very strong figure of 99.
#4 Taco Supream (2/1): Made his first start off a brief freshening last out. He made what looked like a winning move, but the speedy Francatelli brushed him off and left Taco Supream in second. This one has finished in the top two in sixteen of his 24 starts at this track. No speed horse in here is as dangerous as Francatelli, so I don't think he'll get left in the dust again. 
#1 Hanalei's Houdini (6/1): Another one going second off the layoff, he won two in a row going a mile against tough allowance horses. Showed little last out, in his first race in more than three months. Cuts back in distance here, while staying at the same level. I would like to see a workout since that last start, but I'm willing to give him a shot, hoping that race was simply a screw-tightener. His poor performance in that spot might throw some bettors off the scent.
RACE 8- MAIDEN CLAIMING $16,000, 3-YEAR-OLDS AND UP, FILLIES AND MARES, 6 FURLONGS
8-7-5-1
#8 Lady Magnolia (5/2): Drops in for a tag for the first time, after trying straight maidens four times on both dirt and grass. Her lone dirt sprint to date is promising; she finished second behind Shippy, who ended up being a pretty good horse. She earned a 77 in that race, a very good figure for a then-2-year-old.
#7 Sand in My Shoes (7/2): She's been in steadily good form lately, with figures of at least 66 in three of her last four races. Another one taking a class drop; she was most recently seen at the $25,000 level.
#5 Caprichosa (6/1): Showed some promising early speed first time out, before backing up. She had trouble going into the gate before that race. If she loads without any trouble this time, it's encouraging.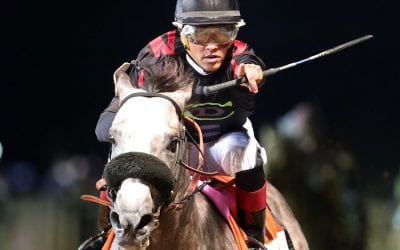 We've got Charles Town picks and preview today as the track presents its Friday card!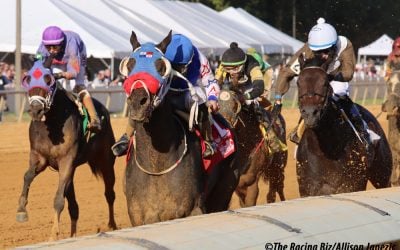 We provide full-card picks and analysis for this afternoon's races at Laurel Park.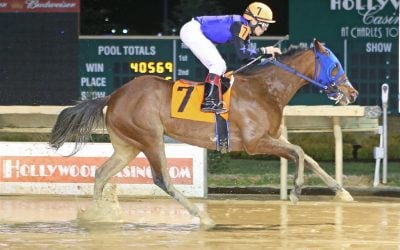 Which Charles Town jockeys are off to hot starts? Asking for a friend; no, wait, actually asking for the betting public. Answers within…