STREET LUTE, MISS NONDESCRIPT MEET IN MD. JUVENILE FILLY CHAMPIONSHIP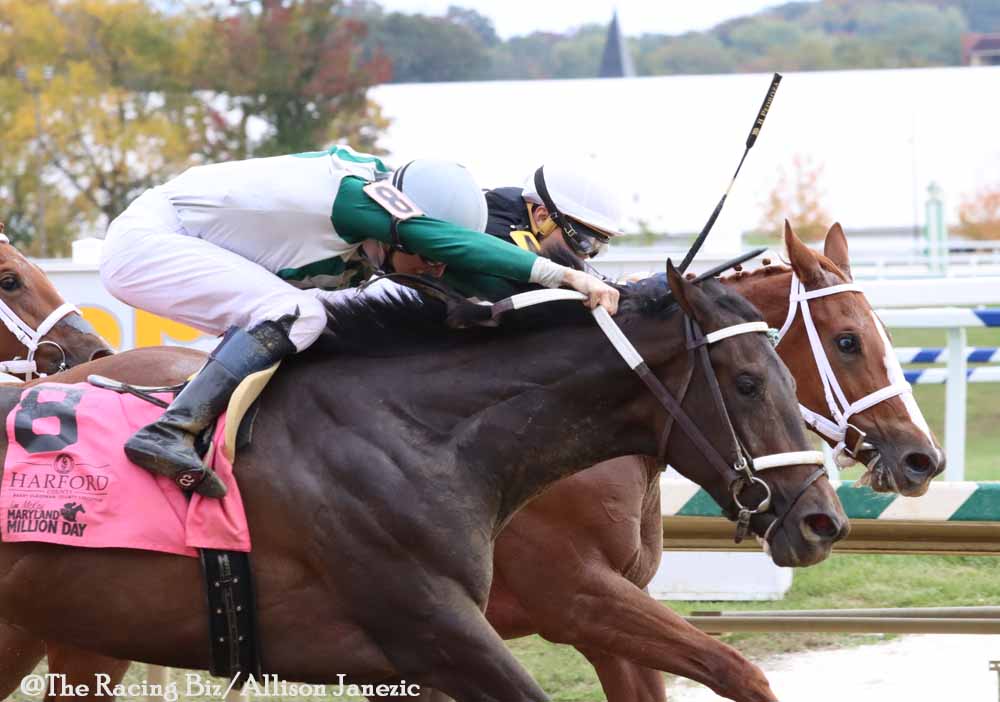 Press Release

December 3, 2020
Stakes winners Miss Nondescript and Street Lute, separated by a neck in their only previous meeting, will hook up again leading a field of nine in Saturday's $100,000 Maryland Juvenile Filly Championship.
Barak Farm homebred Miss Nondescript circled the field with a four-wide move and came flying on the far outside with a steady run to catch Lucky 7 Stables' Street Lute on the wire in the six-furlong Maryland Million Lassie Oct. 24 at Laurel.
It was the first start for the Mosler filly since joining trainer Mike Trombetta's Laurel string following a nose maiden special weight triumph in debut Sept. 4 at Monmouth Park, a five-furlong sprint that was originally carded for the grass.
"It was a good race for her. She'd only had one race under our belt and she was new to our barn so I didn't know a whole hell of a lot about her. We'd only had her three or four weeks. I was very happy with how she showed up and performed," Trombetta said.
"She's trained good since. She's done well and breezed good," he added. "We breezed her the other day before the rain so we were able to get that in and, from what I can tell, she seems like she's ready to go."
Miss Nondescript went a half-mile in 48.80 seconds Nov. 29 at Laurel, where she has prepped both before and since the race. Trombetta also has a string of horses at the Fair Hill Training Center in Elkton, Md.
"She's gotten to train at Laurel; she's been there the whole time now. She's gotten a race in over the track so hopefully she's ready for this," Trombetta said. "She does everything right, and she does everything you ask of her. This will be a little bit of a test, I'm sure, but I think it's the next step and she should ready for it."
Street Lute's narrow Maryland Million loss is the only thing keeping her from being undefeated. The daughter of Street Magician made her first two starts at Delaware Park, graduating at first asking and then rolling to a front-running five-length triumph in the 5 ½-furlong Small Wonder Sept. 26.
Back at Laurel, where she is based with trainer Jerry Robb, Street Lute tracked pacesetter Trip to Freedom in the Lassie and forged a short lead in deep stretch before being edged late. She returned with a dominant 2 ¾-length score in the six-furlong Smart Halo Nov. 14.
"She came out of the race fine, and she's doing real good," Robb said. "The only time she got beat she was chasing the speed and then she got caught by somebody else after she caught the speed. It happened in the last jump. I don't think she even saw the horse coming, to be honest with you. This race is a little bit farther so hopefully that'll fit her a little better. I think she wants to go a little bit farther. All along I've thought she was a distance horse, so I'll be anxious to find that out."
The Juvenile Filly Championship is the final stakes for Maryland-bred or -sired fillies this year. The last stakes for 2-year-old fillies on the Maryland calendar are the $100,000 Anne Arundel County going about 1 1/16 miles and $100,000 Gin Talking sprinting seven furlongs Dec. 26.
"You've really got to hit the Maryland-bred spots. They'll be few and far between after now, so she'll get plenty of time between them," Robb said. "You have to try to train them to make sure you make these and then sit back and not worry about the next one for a while."
Also entered are Juror Number Four, a two-time winner who ran fourth in the Small Wonder; Liam's Missy, a 10 ½-length maiden special weight winner Oct. 31 at Belmont Park for trainer Tim Hills; Maxine's Tap Room, a Keeneland maiden special weight winner Oct. 23 in her lone start; Trip to Freedom, maiden winners Buckey's Charm and Targe and the maiden Heartful.
LATEST NEWS