Laurel Park picks and ponderings November 26, 2020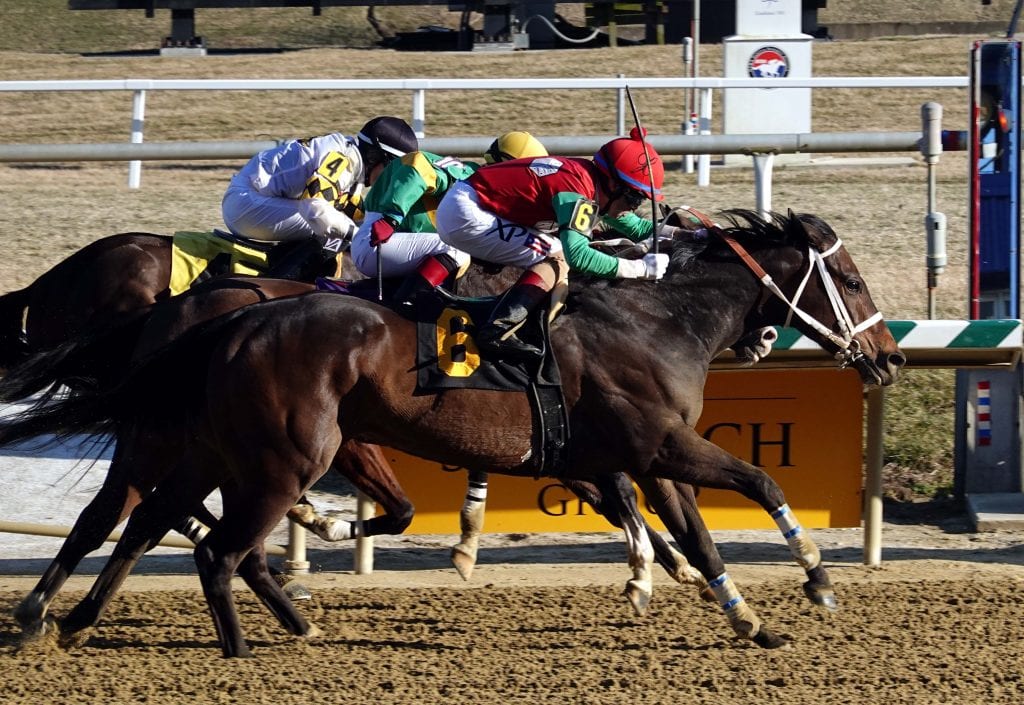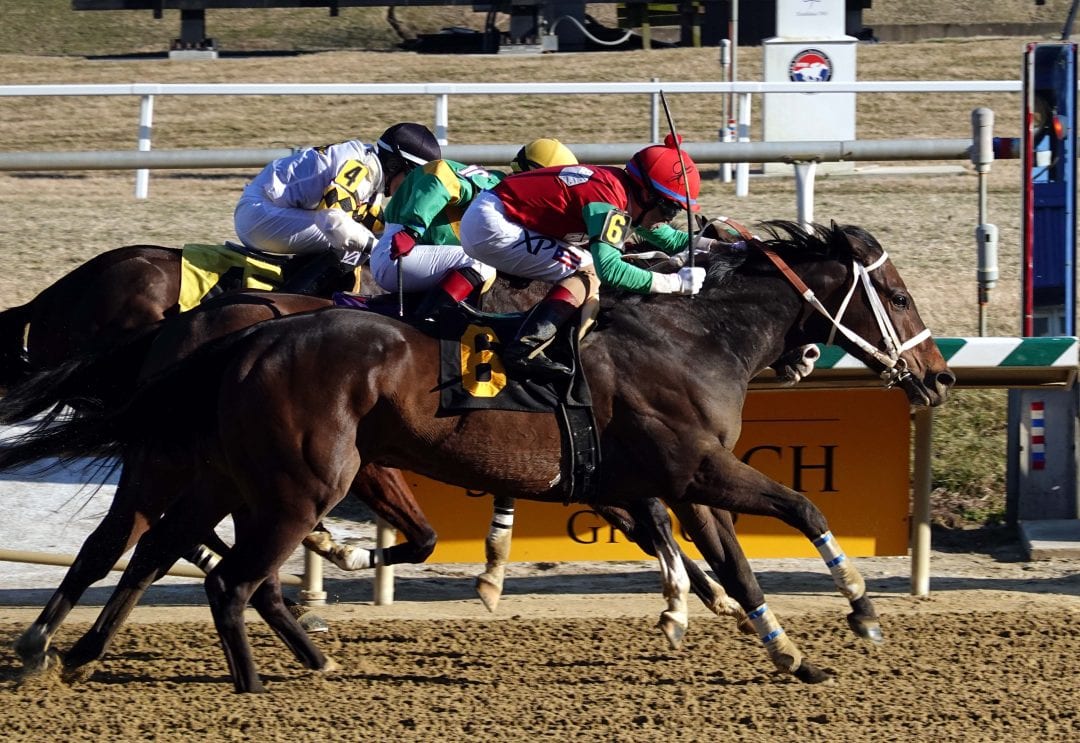 Anna's Bandit. Photo by Laurie Asseo.
In which we pick the races from Laurel Park each day…
Post time: 11:25 a.m.
Carryovers: Rainbow Jackpot Pick 6 — $6,751 Super High 5 — $5,237 Late Pick 5 — $9,593
Notable: Until further notice, no fans are allowed to attend the races at Laurel Park. For more info, click here.
ANALYSIS
RACE 1: CLAIMING $16,000 (CONDITIONED), 3-YEAR-OLDS AND UP, FILLIES AND MARES, 5 1/2 FURLONGS
1-5-3-4
#1 Magical Anna (3/5): She was already in fine form prior to her last race, having won a starter optional claiming race back in late August. That last effort, however, put everyone on notice. She drew off handily against conditioned claimers, earning a brisnet figure of 90. That's the best last-out number in the race by almost thirty points. Even though she's running for a higher price tag, this isn't a stronger field than the one she saw last time. Should rate on the inside and draw away again.
#5 Paisley Singing (5/2): Runs for the first time since July 17, and for the first time on the Laurel dirt since late May. She's shown speed against these types before. Will try to outrun Magical Anna from the outside post.
#3 Grand Skylark (8/1): Goes third off the layoff and drops from Maryland-bred allowance company. This is much easier company, and she ran some figures in the 70s over the winter. That would be enough to grab a piece here.
RACE 2: CLAIMING $16,000 (CONDITIONED), 3-YEAR-OLDS AND UP, 7 FURLONGS
1-5-2-7
#1 Holy Saint (5/2): Dominated a n/w2L claiming field last out, with a career-high figure of 82. Goes first off the claim for Anthony Farrior, who hits at 25% with such horses. This one's best races have come in sprints; some of his lesser figures have been in routes, and distort his running lines a bit. 
#5 Backwoods Boogie (5/1): He clearly isn't suited for two turns on dirt. When he tried that last out, he backed up badly. Going shorter on dirt and longer on grass, he's shown dangerous early speed. There's only one horse he seriously has to worry about drawn to his inside. If he can outrun him early, he can try to control things on the front end.
#2 The Quantico Kid (7/2): In his first start for Claudio Gonzalez, he needed most of the one-mile stretch to get up and win. He's hasn't gone this short on dirt in a while. He doesn't have any early speed, but he's got a strong closing kick that merits respect.
RACE 3: MAIDEN CLAIMING $25,000, 3-YEAR-OLDS AND UP, 1 1/16 MILES
3-5-4-6
#3 Peachy Keen (1/1): Got well-backed in his last start, at this level, and battled in the stretch to lose by a neck. Even though it's the same class, this is an easier field than the one he saw last time. Looks like he's coming in here on the improve, and if he can handle the stretchout in distance, he'll be very tough.
#5 Wye Mumbo (8/5): Anyone going first off the claim for Claudio Gonzalez is automatically dangerous. He was an even fourth in his last start, where he earned a 75. That's about what he's been running all year long. Unless he takes a step up for Claudio, he looks likely to round out the exacta behind Peachy Keen. 
#4 Johng (5/1): Ran on well to finish fourth against similar last out. The best of the rest, in what's clearly a two-horse race.
ANALYSIS
RACE 4: CLAIMING $5,000 (CONDITIONED), 3-YEAR-OLDS AND UP, 6 FURLONGS
7-8-5-1
#7 Quick Man (8/1): Looks for a rebound after a disappointing effort going 1 1/16 miles last out. In the race before that, he got hung wide and lost all chance. Over the summer, he ran three figures in the upper 70s in a row against similar horses as he'll see here. He needs some things to go right, but if he can save ground and get his trip just off the pace, he could surprise.
#8 Daystrike (5/2): Gets some class relief after a try in the Maryland Million Starter Handicap. In the race prior, he chased a loose leader, but held well clear of the rest for second. This time, there's no one in here who looks fast enough to sneak away. If the pace is honest, he'll be in a prime spot to pounce.
#5 The Forty Factor (9/2): The primary speed of the field, he'll try to outrun the other expected pacesetter, Early Entry, drawn to the far outside. If he can break cleanly, and get by himself early, he's got a shot.
RACE 5 – CLAIMING $25,000, 2-YEAR-OLDS, 7 FURLONGS
7-3-5-2
#7 Natty Beau (9/5): He's taken big steps forward in his last two starts, including a dominant maiden-breaking score last out. It doesn't look like there's anyone who can run with him early, so he should get everything his own way here.
#3 Silver Sun (3/1): Like Natty Beau, he's making his first start off the claim. Drew off after a great stalking trip to break his maiden in style in that start. He may not be able to catch Natty Beau, but could prove the rest of the rest.
#5 Bribery (12/1): First-time gelding has shown good closing speed in his last few. He'll look to upset the exotics with a move from behind. Broke his maiden after stalking a very slow pace at Charles Town last out.
RACE 6: CLAIMING $5,000 (CONDITIONED), 3-YEAR-OLDS AND UP, 6 FURLONGS
7-1-5-2
#7 Victory Given (3/1): This stalker's going to have pace to run into, with two speedballs in front of him. Just missed in his last two under similar circumstances. Will this finally be the day?
#1 Cooke Brothers (6/1): He started off his Laurel campaign in good form, back in June, but hasn't been able to find the winner's circle against better. In his last start at the level, he fell way behind, but managed to rally and lose by three lengths.
#5 Irishtown (12/1): Returns from a brief freshening after two dull efforts in a row. Won two in a row over the summer, coming from way downtown to get up in both efforts. He's had two strong works since going on a bench, signaling a possible return to top form. Has to be considered at long odds.
ANALYSIS
RACE 7 – ALLOWANCE (N/W1X), 3-YEAR-OLDS AND UP, MD-BRED, 1 1/8 MILES
5-4-6-2
#5 Closer Look (5/2): This race might come down to which jockey is most aggressive early. This guy almost wired a similar field going a mile, but got caught in the last sixteenth. If he can slow things down enough early, he'll have plenty left for the end. 
#4 Paul the Waiter (2/1): Doesn't have much early speed, but tends to close well behind impossibly slow paces. For him to contend here, Alex Crispin will have to have him a bit closer to the pace than usual. If he can do that, he's got a shot.
#6 Market Mover (6/1): He hasn't shown his customary early speed in his last two, which is a bit troublesome. Managed to rally from off the pace last out, only to flatten out in the stretch and end up fourth. Wired a field on grass a few starts back, and won on dirt in June after sitting just off the pace.
RACE 8- CLAIMING $16,000 (CONDITIONED), 3-YEAR-OLDS AND UP, FILLIES AND MARES, 7 FURLONGS
4-7-2-3
#4 Persian Queen (5/1): Drops in class and goes third off the layoff. Ran in the mid-70s pretty consistently earlier in the year, and peaked at an 84 with a sharp win at Saratoga. She's got the best late speed in the race. 
#7 Tweet Away Robin (4/1): Dueled her rival into oblivion and held on for the win last out. Should once again be tough on the lead. 
#2 Cairo Queen (7/2): Beat a weaker field going a mile two back, then bobbed along evenly and got third at that distance last out. Lauralea Glaser gets in the saddle, and she's quietly had a solid fall meet. Seven furlongs against these types could be what this horse needs.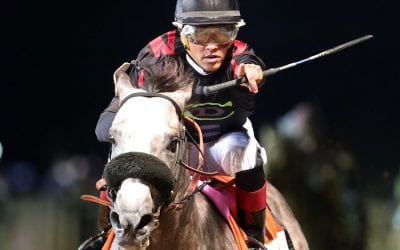 We've got Charles Town picks and preview today as the track presents its Friday card!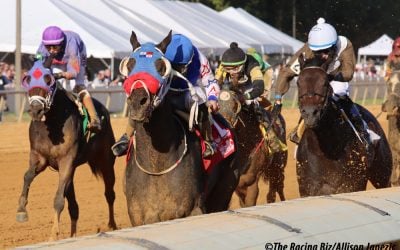 We provide full-card picks and analysis for this afternoon's races at Laurel Park.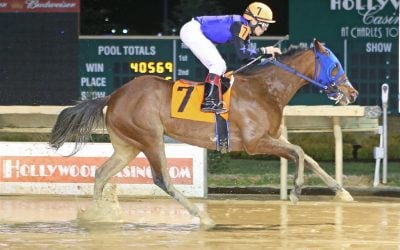 Which Charles Town jockeys are off to hot starts? Asking for a friend; no, wait, actually asking for the betting public. Answers within…