Laurel Park picks and ponderings November 27, 2020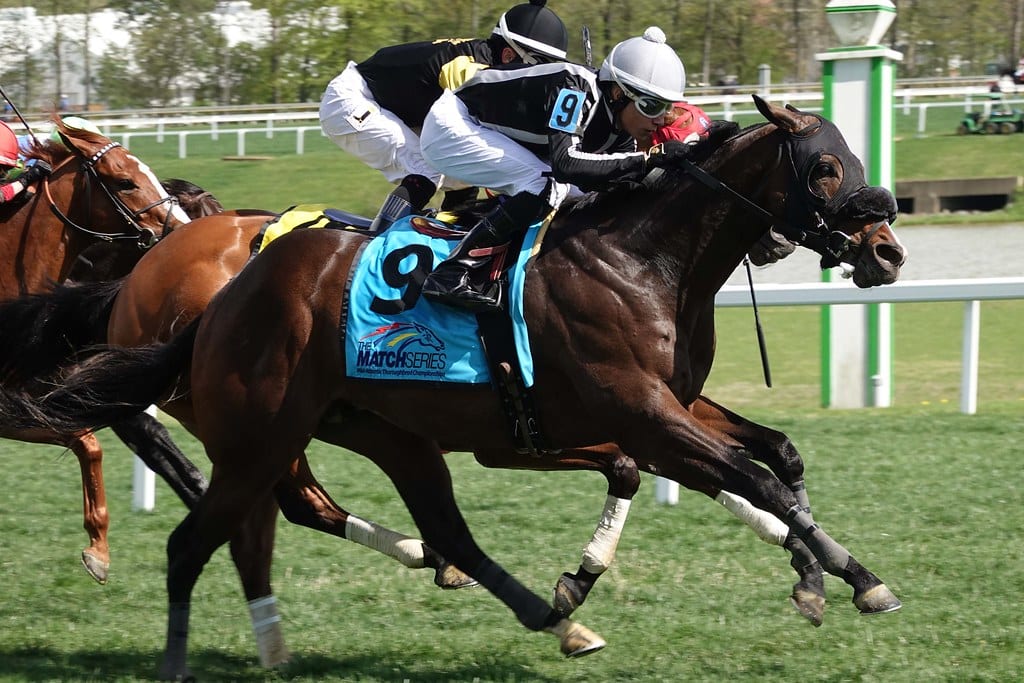 Dirty. Photo by Allison Janezic.
In which we pick the races from Laurel Park each day…
Post time: 12:25 p.m.
Carryovers: Rainbow Jackpot Pick 6 — $12,942 Super High 5 –$0 Late Pick 5 — $0
 ANALYSIS
RACE 1: CLAIMING $16,000 (N/W2L), 3-YEAR-OLDS AND UP, 6 FURLONGS
5-4-2-3
#5 Bear Force Won (9/5): Makes his second start against winners, after just missing in his first try against them last out. He got lots of action in that race, stalked the pace, took the lead, and was collared. Goes third off a long layoff here, and is eligible to keep improving. 
#4 Flat Out Blue (9/2): He was very impressive in his debut, drawing off to win against maiden claimers at Parx to earn a brisnet figure of 79. Unfortunately for him, he hasn't raced since that start, which was on New Years' Eve. He's been working for about five weeks in anticipation of his comeback. If he goes back to his debut form, he'll be tough, but he might need a race. 
#2 Booyakasha (2/1): Ran a big race in his first start on the east coast, battling in the stretch to break his maiden and earn a 79. He's likely to encounter pace pressure again, but he's shown to be resilient enough to hold on in spite of it.
RACE 2: MAIDEN SPECIAL WEIGHT, 2-YEAR-OLDS, 1 1/16 MILES
4-8-2-7
#4 Shackqueenking (7/5): He was close to the pace in a race that fell apart. He held on for second, and was the only one in the top four early on who didn't back up badly. Trainer Gary Capuano is 23% stretching out to a route for the first time.
#8 Flight Map (8/1): Set a loose pace last out, going a mile, and backed up in the last eighth. That was his second career start, and he improved his figure fourteen points from his debut. He's worked well since then, and looks well-bred for longer distances. The only deterrent is the outside post: with the short run into the first turn, it's going to be tough for him to clear to the lead.
#2 Street Ruckus (7/2): One of the few Russell 2-year-olds who didn't fire first out. He broke slowly and was never involved, finishing fifth as the favorite. He gets blinkers on here, and while I'm not sure if that would've helped him in his debut, I'm not one to doubt if Brittany thinks he needs an equipment change. Will he wake up here?
RACE 3: CLAIMING $5,000 (CONDITIONED), 3-YEAR-OLDS AND UP, FILLIES AND MARES, 5 1/2 FURLONGS
6-7-3-4
#6 Girl Next Door (7/2): I would feel better about her if she showed any life last out, which she didn't. Gets some class relief in this spot, and she was running figures in the 70s pretty steadily earlier in the year. Both her wins have come at 5 1/2 furlongs or shorter.
#7 Eighty Six Mets (6/1): Runs second off a layoff of more than a year. Her first race off the bench was promising, as she showed speed and held well until the last yards. Both of the top two finishers in that race came back to win next out. She should be prominent on the pace once again.
#3 Ragtime Suzy (3/1): Another one who didn't do much last out, but was in good form prior. Soundly beat n/w2L horses four back while on the lead, then battled well against similar in the races right after. She'll seek some improvement with a slight class drop.
ANALYSIS
RACE 4: MAIDEN SPECIAL WEIGHT, 3-YEAR-OLDS AND UP, 1 1/16 MILES
6-1-2-5
#6 Super Dancer (7/5): Earned a big figure of 93 in his last start, which is the best last-out figure in the race by fifteen points. He's had many chances against maidens, with this being his ninth career start, but he's never faced a field as easy as this one. 
#1 Ratify (6/1): Ran well in his first start off the layoff last out, stalking the pace and making a strong move to the lead in the stretch. Unfortunately for him, he flattened out in the last eighth. Looks for improvement second off the break, and second time on dirt.
#2 Galilean Moon (6/1): Ran on well last out to lose by 2 1/2 lengths against slightly weaker. He's got the best late pace figures in the race, but doesn't have much in the way of early speed. Should close late and pick up a share of the exotics.
RACE 5 – CLAIMING $8,000, 3-YEAR-OLDS AND UP, 6 FURLONGS
3-10-1-5
#3 Cause He's Western (9/2): Ran a huge race at this level last out. He dueled his partner into a 9 1/2-length defeat, and held off the closers to win by a neck, and earn his best figure of the year. He has a win going this distance on the year. Looks tough on the lead.
#10 Kingston Pike (4/1): Keeps knocking on the door this year. He's hit the board eight times from ten races, but hasn't won. Tends to stalk, not make a move till late, and just get up for second or third. Trevor McCarthy gets aboard; the last time he rode him, he was fourth against better back in June. 
#1 Divine Interventio (5/1): He likes this track. He's hit the board in sixteen of nineteen over the Laurel dirt. His only bad recent race was over two turns at Penn National. Closed well last out to just miss catching Cause He's Western.
RACE 6: CLAIMING $10,000 (CONDITIONED), 3-YEAR-OLDS AND UP, 5 1/2 FURLONGS
7-8-4-9
#7 Five Card Draw (7/2): A winner of two in a row against slightly weaker, he goes first off the claim for John Robb. He ran them off their feet in his last start, with a strong gate-to-wire win. In most of his races, he tends to sit off the pace and then pounce. With a lot of speed signed on here, that might be a winning strategy. 
#8 Pascal Chant (5/1): Came from off the pace to outkick his rivals and finish second, in his first start in almost a year. Another one with a decent late punch, who should improve second off the bench.
#4 Extra Medium (5/1): Ships back to Parx for Claudio Gonzalez, off a dull effort going seven furlongs. If you can forgive that race, he pretty steadily ran in the upper 70s/80s earlier in the year. That includes a game effort at this track where he hung on well after setting the pace.
ANALYSIS
RACE 7 -ALLOWANCE (N/W1X), 3-YEAR-OLDS AND UP, FILLIES AND MARES, MD-BRED, 7 FURLONGS
1-2-6-8
#1 Queen of Tomorrow (5/2): Like her stablemate Extra Medium, she's coming back from Parx after a superficially dull effort there. She's consistently good on this track, with her most recent win on this surface a dominant score against starter optional claiming foes. That race at Parx was around two turns; she's generally more competitive in one-turn races, like this one.
#2 Odd Gal (2/1): She's a Maryland Million champion, having won the Distaff Starter Handicap. Even though that was a stakes, this is a stronger field than she saw in that race. Most recently finished second to Fille d'Esprit after setting a strong early tempo. When she's allowed the early lead, she's dangerous. Can she get it here?
#6 Stickingtogether (8/1): Her last race was almost unfair. She chased a loose leader who was much the best on paper, and that rival blew away the rest. In spite of that, this one held on well to finish second, with a season's best figure. Should get an honest pace to run at here.
RACE 8: STARTER OPTIONAL CLAIMING $25,000, 3-YEAR-OLDS AND UP, 6 FURLONGS
10-5-7-4
#10 Unmatchable (10/1): Drops from a n/w2x allowance, where he faced much tougher, including Galerio. In his first start off the layoff two back, against similar company, he won going away after stalking the fast pace. He's got the best average late pace figure in the field. Has every right to improve third off the layoff at a price.
#5 Belle Tapisserie (7/2): Even though he didn't change leads in his last start, he got up to win a n/w2x allowance at Delaware Park last out. He's run at least an 87 in his last eight races, even the bottom of that range might be enough to win this one. 
#7 Marco Island (5/1): He's coming off a win at this level, having won in gate-to-wire style last out. I'm not sure if he's fast enough to get to the lead here, but if he is, he could run the rest of them off their feet, given his sharp late pace figures.
RACE 9: MAIDEN CLAIMING $10,000, 3-YEAR-OLDS AND UP, FILLIES AND MARES, 1 MILE
5-8-14-12
#5 Lady Fox (9/2): Drops in class two starts after getting claimed for $16,000 by Gonzalez. She's hit the board in three straight against better, including a start last out where she closed sharply for second. Is this a level she can win at?
#8 Scarlet Song (5/1): She's lightly-raced, and finished a clear-cut third at this level last out despite some traffic trouble. The only question is the distance; as this will be her first start beyond six furlongs.
#14 Sing Along Suzy (4/1): Her best figures have come going long, just missing her peak of 73 going a mile last out. She's another one running at this level for the first time.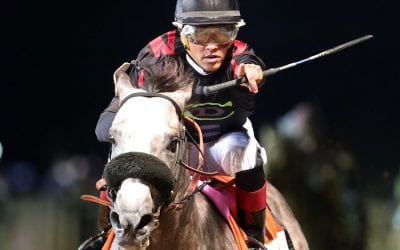 We've got Charles Town picks and preview today as the track presents its Friday card!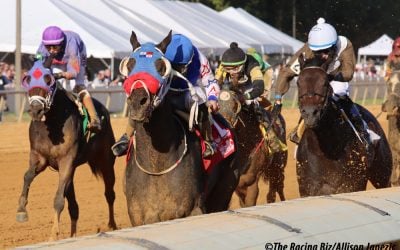 We provide full-card picks and analysis for this afternoon's races at Laurel Park.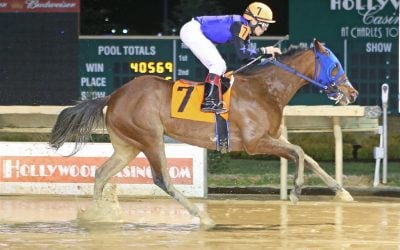 Which Charles Town jockeys are off to hot starts? Asking for a friend; no, wait, actually asking for the betting public. Answers within…