Scott Lake – long a subject of controversy – happy flying under radar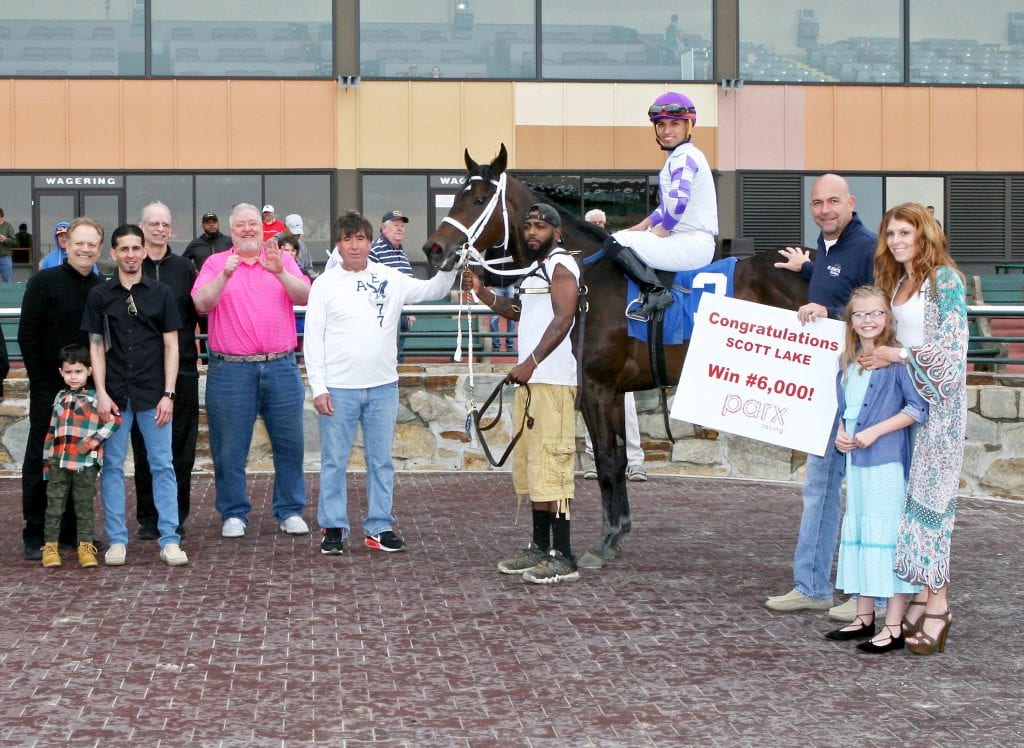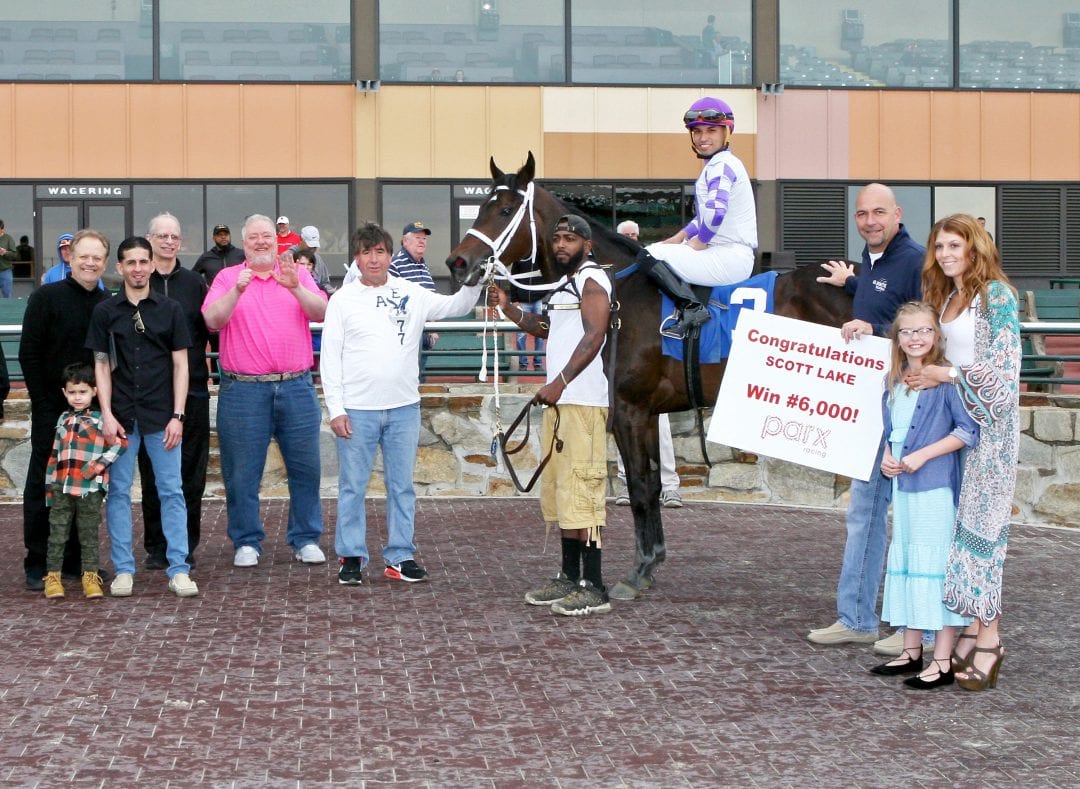 Trainer Scott Lake (3rd from R) scored his 6,000th career win after I'm The Talent won Race 5 at Parx Racing in Bensalem, PA on Monday April 22, 2019. Photo By Barbara Weidl/EQUI-PHOTO.
Earlier this season Scott Lake became just the sixth trainer in thoroughbred racing history to win 6,000 races. The win came at Parx Racing, where Lake is the winningest trainer ever and a member of the track's Hall of Fame.
But though there was a nice winner's circle ceremony and modest coverage of the feat, there wasn't any widespread notice that he had joined Dale Baird, Steve Asmussen, Jerry Hollendorfer, Jack Van Berg and King T. Leatherbury as the only conditioners in racing history to reach that milestone.
Which was just fine with the man whose career and personal life have had more than their share of peaks and valleys.
"It was a big day for me and the barn and, yes, I was proud of what we've been able to accomplish down through the years, but as for any big time coverage of winning No. 6000, well, that wasn't needed," Lake said from Delaware Park where he was leading trainer for seven straight years from 2002 to 2007. "Maybe the younger Scott Lake would have been looking for the camera or an interview, but the Scott Lake of today has a different set of priorities."
Lake led the country in races won four times between 2000 and 2006 and was second behind Steve Asmussen four times between 2002 and 2009. He won 528 races in 2006, only the second time a trainer had surpassed 500 wins in a season. He won graded stakes, including five of them with Shake You Down, a onetime $65,000 claim who ran third in the 2003 Breeders' Cup Sprint and second, as the favorite, in that year's then-Grade 1 De Francis Dash.
At one point Lake had some 286 horses in training at several East Coast tracks. From being a groom at Penn National in the 1980s to leading the country in races won, the early chapters of the Scott Lake story were almost storybook at times.
But it wasn't quite as simple as all that.
The 54-year-old native of Harrisburg's meteoric success was clouded with rumors the trainer was a "juicer," someone who gives his horses a competitive edge with illegal performance-enhancing medications.
The trainer was suspended in 2001 after horses under his care tested positive for bronchial enhancer Clenbuturol, and many in the racing community questioned how much of Lake's success came from good horsesmanship and how much was due to outside enhancements. Suspicions were further heightened in 2006, when he came back with several clenbuterol positives, including two at that year's Delaware Park meet and another in a race at Aqueduct.
Then after running what amounts to a small company successfully for almost 10 years, Lake's world fell apart when he discovered his longtime friend and personal accountant had embezzled more than $1.2 million from the trainer. The accountant had also failed to file Lake's taxes properly, and the trainer found he owed the IRS another nearly $2 million.
Then came the Great Recession. He lost owners, some of whom walked away owing him considerable amounts in training bills. Lake, who once had millions in assets, was forced to file bankruptcy.
That was when Lake says that he took a good, long look at his career and his life.
"For almost 10 years it was like a blur," he recalled. "I mean it was horses, horses, horses, from the time I hit the floor in the morning until I fell into bed at night. Sure, I was doing good, making money, but it was an all-consuming lifestyle I was living. After I filed for bankruptcy, I reassessed what was really important in life, and in my case it was my family. I wanted to watch my kids grow up, to spend time with them, and I knew if I was going to do that, there was going to have to be some changes made with the horses."
Lake, who finished third at the just-completed Delaware Park meet with 23 wins, cut back his operation to around 100 head (he currently has 78 in training) and streamlined his stable. While his wins-per-year dropped considerably from the "glory" days, he says these days he has an operation that he can oversee and still spend time with his family and kids.
"Emily is 20 and is in her third year at Lehigh, Cora is 16 and is a very good volleyball player and we travelled up and down the East Coast watching her play this summer, and Nathan is 13 and plays football for Newtown High School," Lake said proudly, "I still love going to the track in the morning, but racing doesn't run my life like it used to. My priorities have changed considerably from the early days. I didn't want to be one of those parents who said, 'If I'd only spent more time with my kids growing up.'"
Lake still has a sizable operation, of course, and has had some brushes with the regulators that give the skeptics fodder.
For example, he was suspended for 120 days by the Maryland Racing Commission in 2015 when two of his horses came back with positive tests for the anabolic steroid stanozolol. He readily admits the horses were given the substance in question, but he says that changing thresholds and cut-off dates were to blame. The positives occurred in December of 2014, two months after Maryland had switched to a zero-tolerance policy on stanozolol. Lake was one of four trainers to have positives in a short period after the switch.
"The horse in question was run down and skinny when I got them and needed supplements to build up his system," Lake said. "in Maryland they went from having permissible levels of the medication my horse was treated with to a zero-level tolerance and never informed the horsemen or veterinarians of this change. I followed the same guidelines and cut-off dates I had before and wound up getting suspended. The RCI parameters are constantly being changed and adjusted, and often they change cut-off dates and permissible levels after trainers have been suspended. They're using the horsemen as guinea pigs to work out parts of the program are out of line or have been determined using faulty testing guidelines."
He's not the only trainer to make a similar claim. And – not that it will help his cause with the naysayers – he says he's all for what he calls "proper" drug rules.
"Believe me I feel like I can train and win races with just about anybody on hard work and ability, and I'll be the first to back proper drug detection and enforcement," Lake said. "But if you're going to adopt a national policy for the sport, you first need to put a lot more time into making sure the guidelines are practical, reasonable and have been thoroughly tested, not by the trainers but by those in charge of the program itself."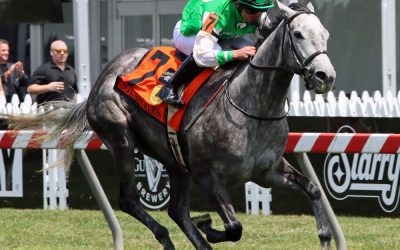 Roses for Debra has been first past the post in every start on turf and synthetic, a streak she'll put on the line in Saturday's G3 Turf Monster at Parx.