From a National Thoroughbred Racing Association release
The dazzling effort Omaha Beach put forth to capture the Grade 1 Santa Anita Sprint Championship Stakes this past weekend launched the son of War Front back in the race for divisional honors and landed the Fox Hill Farms colorbearer on this week's NTRA Top Thoroughbred Poll.
In his first start since capturing the Grade 1 Arkansas Derby in April and initial attempt cutting back to six furlongs, Omaha Beach showcased his versatility and the Hall of Fame skill of his trainer Richard Mandella when he prevailed by a head over Shancelot in the Sprint Championship. The dark bay colt, who was pegged as the morning-line favorite for the Kentucky Derby before having to miss the classics due to a throat ailment, now has two top-level victories and enters the NTRA Poll in the tenth position with 77 points.
"It's just a relief to have him back at the same level he went out," Mandella told Santa Anita publicity. "We had some tough obstacles to overcome at the start (surgery for an entrapped epiglottis), and then some lesser ones…you can't control, but it forced us to improvise and it turned out well."

The presence of Omaha Beach was the only new addition to this week's top 10. As has been the case since April, the Chad Brown-trained Bricks and Mortar holds down the No. 1 position, earning 27 first-place votes and 387 points this week.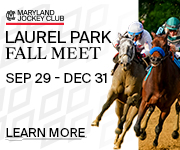 Fellow multiple Grade 1 winner Midnight Bisou (11 first-place votes, 342 points) remains in second as she prepares for her expected run in the Breeders' Cup Distaff while champion Sistercharlie (IRE) (1 first-place vote, 294 points) jumps one spot this week up to third in the wake of her triumph in the Flower Bowl Stakes on October 6 – her sixth consecutive Grade 1 score.
Midnight Bisou's stablemate Mitole (1 first-place vote, 267 points) is fourth in the rankings with Bob Baffert trainee McKinzie (198 points) fifth. Code of Honor, the adjudicated winner of the Grade 1 Jockey Club Gold Cup, is the highest ranked sophomore with 176 points to land in the sixth spot. Raymond Mamone's Imperial Hint (148 points) is seventh followed by Catalina Cruiser (95), Vino Rosso (82) and Omaha Beach rounding out the order.
The Top Thoroughbred Poll wraps up November 4 after the running of the Breeders' Cup.
The NTRA Top Thoroughbred polls are the sport's most comprehensive surveys of experts. Every week eligible journalists and broadcasters cast votes for their top 10 horses, with points awarded on a 10-9-8-7-6-5-4-3-2-1 basis. All horses that have raced in the U.S., are in training in the U.S., or are known to be pointing to a major event in the U.S. are eligible for the NTRA Top Thoroughbred Poll.
NTRA TOP THOROUGHBRED POLL
Bricks and Mortar
Midnight Bisou
Sistercharlie
Mitole
McKinzie
Code of Honor
Imperial Hint
Catalina Cruiser
Vino Rosso
Omaha Beach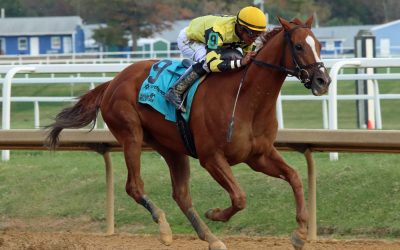 The Friday Laurel allowance feature is a third-level allowance featuring a pair of Maryland Million Classic winners in Monday Morning Qb and Ournationonparade.