BackTracks: Dixieland Band played on
Jennifer Kelly

November 15, 2023
The Mid-Atlantic is dotted with families who have devoted generations to horses and breeding. Names like Vanderbilt and Pons have played a role in the sport of horse racing in the region for decades, their list of good horses a litany of memorable names. The du Ponts were similarly ensconced in the region's racing scene with horses like Kelso, Battleship, and Rosemont among their best, winning many of the sport's leading stakes races while also building lasting contributions to the region's equine pursuits.
Another du Pont, Bayard Sharp, devoted decades to breeding and racing his horses, too, pairing one of his best mares with one of the 20th century's greatest stallions and getting a hard-trying horse with a catchy name and his own classic connections.
Deep Delaware Roots

For Bayard Sharp, horses and racing ran in the family. This descendant of Éleuthère Irénée du Pont, founder of the company now known as DuPont, was part of a clan of horsemen and women that included William du Pont Jr., founder of Delaware Park, plus breeder/owners Marion du Pont Scott and Allaire du Pont. He purchased what became Sharp Farm near Middletown, Delaware after graduating from the University of Virginia in 1940 in order to pursue his passion for foxhunting. After buying a gelding named Speculate, Sharp expanded his focus to racing on the flat and over hurdles.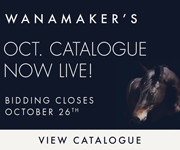 In 1941, Speculate gave the du Pont heir his first stakes win in the Shillelah Steeplechase and then secured a championship with a win in the Grand National at Belmont Park. From there, Sharp added flat racers to his stable and got into breeding as well. His connection with Charles Peoples started early: not only did Peoples ride and then train for the Sharps, but he also was the beneficiary of Sharp's having been in the right place at the right time and rescuing a young Peoples and another child from the bottom of a pond.
In the 1970s, Sharp and his wife Mary bred and raced Mississippi Mud, a daughter of stakes winner Delta Judge. The bay mare ended her career as a multiple graded stakes winner and finished second in a stirring, memorable edition of the Delaware Handicap behind champion Our Mims.
1977 DELAWARE HANDICAP: OUR MIMS EDGES MISSISSIPPI MUD
Sharp thought so much of his mare that he sought out a prominent local stallion for her first cover: Northern Dancer. By 1979, the Kentucky Derby and Preakness Stakes winner was one of the country's leading sires so much so that his stud fee was $50,000. Despite the hefty price tag, Sharp sent Mississippi Mud to Chesapeake City and Windfields Farm for her date with Northern Dancer. The following year, on March 20, 1980, she foaled a solid bay colt that Sharp would name Dixieland Band. Peoples prepared the homebred colt, officially owned by Bayard Sharp's wife Mary, for his debut in July 1982.
Early Winner
On July 24, Dixieland Band won his debut at Delaware Park, running the 5 ½ furlongs in 1:05 3/5, the second fastest time that season, and then followed that performance with an attempt at a stakes, finishing third in the Marlboro Nursery Stakes at Bowie. After a poor eighth in the Grade 1 Laurel Futurity, Peoples started the colt in an allowance at Laurel ahead of the inaugural Maryland Juvenile Championship Stakes. Under jockey William Passmore, Dixieland Band went gate to wire to win by a length.
CHECK OUT THE LATEST OFF TO THE RACES RADIO!
He then was set to face a field of eight other two-year-olds including William Boniface's Deputed Testamony and Caveat. Those two horses would go on to win the following year's Preakness and Belmont Stakes, respectively.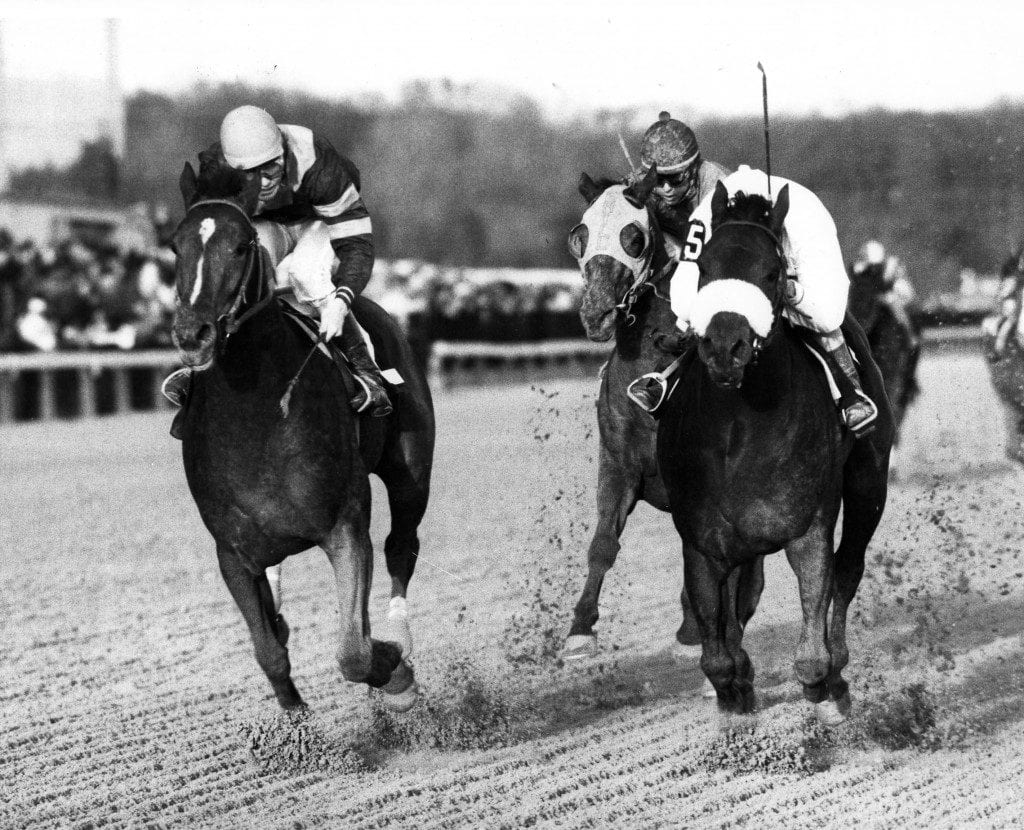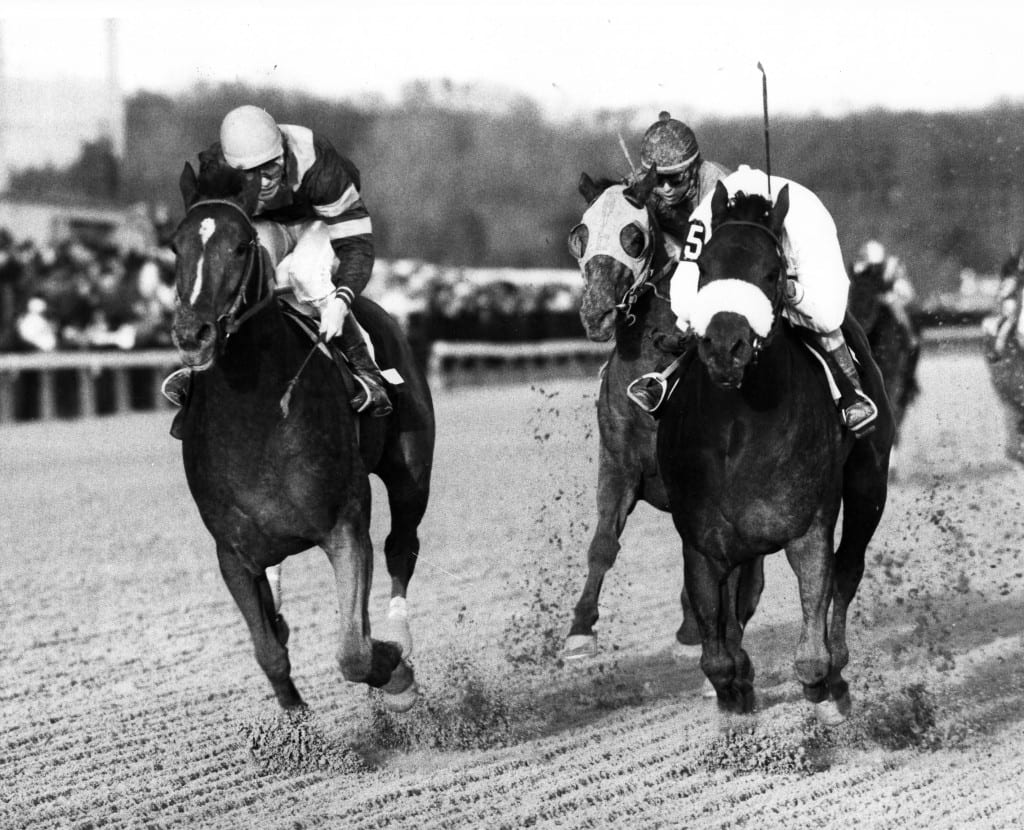 With Vincent Bracciale aboard, Dixieland Band stayed just back of the leaders through the first six furlongs and then took over the lead with three furlongs to go. In the stretch, Bracciale saw Deputed Testamony surge on their outside and rode his colt hard to the wire.
"I just kept working on him the rest of the way," the rider said after the race. "I didn't know at the wire. I was too busy riding."
The margin of victory was a nose, and immediately questions about the next year's Triple Crown races came up with Peoples deferring his answer to Sharp.
"You just can't tell how good he is or how good the horses were that he ran against here," Peoples said. "You'll have to ask the chairman of the board."
The victory in the Maryland Juvenile Championship Stakes earned Dixieland Band the award for Maryland's champion two-year-old colt. With Dixieland Band's two-year-old season done, both Peoples and Sharp eyed the following year's Triple Crown season. For the son of Mississippi Mud, what would 1983 bring?
1983 MARYLAND JUVENILE CHAMPIONSHIP: A MYSTERY SOLVED, 35 YEARS LATER
Tough Sledding at Three
As he contemplated taking Dixieland Band south to Florida, Peoples gave some insight into the mind of his budding star: "He is more like a pet," the trainer shared. "He never does anything wrong. He doesn't even need a pony to go to the post."
Yet the trip down to Florida for the winter months did not agree with the colt. Not only did he get sick from the van ride, but he also injured a hock kicking during the voyage. Peoples elected not to race him at Gulfstream that winter and waited instead for early April back in the Mid-Atlantic.
That illness and injury prevented Dixieland Band from starting in a Derby prep, essentially taking Sharp's colt off the Derby trail. Instead, Sharp and Peoples opted to target both the Preakness and Belmont Stakes, starting the colt in a 6½-furlong allowance at Keystone, where he met Deputed Testamony again. The two would finish second and third in this prep for the Federico Tesio Stakes at Pimlico.
Twelve days later in the 1 1/16-mile Tesio, jockey William Passmore put Dixieland Band on the lead early, but they were passed in the early stretch by the Boniface colt. Dixieland Band held on to finish second. The win put Deputed Testamony Bluegrass Stakes; for Sharp's colt the next step was uncertain.
Taking one last stab at the Kentucky Derby, Dixieland Band started in the Derby Trial alongside fellow Maryland-bred Caveat. To earn a spot in the starting gate, the son of Mississippi Mud needed a win, but fell short, finishing sixth. Instead, Caveat got the win and a chance to run for the roses, finishing third. Dixieland Band went back to Pimlico to try for a spot in the Preakness Stakes. He ran in the Preakness Prep, an allowance, on May 14, facing a field of five others over 1 1/16 miles. He stalked the pace early in the race, but was not able to catch the leaders, finishing third.
Still searching for a signature three-year-old win, Dixieland Band bypassed the Preakness.
His next stop was the Pennsylvania Derby at Keystone where he was to face Preakness winner Deputed Testamony, but the classic winner scratched, leaving Dixieland Band to try the nine furlongs with something new: blinkers. At first he did not seem to like this addition, though, tossing his head in the gate and rearing when the doors opened. That put him toward the back of the pack during the early running, with Passmore letting the colt collect himself.
They picked off horses one by one, entering the stretch in third. "That's when I asked him for his best," Passmore shared. "And he gave it to me."
The blinkers clearly made a difference for the colt who had not previously been able to win beyond a mile. The win was a promising one ahead of the Belmont Stakes. Dixieland Band joined both Caveat and Deputed Testamony for the 1½-mile classic, putting in a nice first half-mile before fading to finish next-to-last. Caveat won, giving Maryland its second classic winner of the year, while Sharp and Peoples anticipated more from their son of Northern Dancer in the second half of 1983.
VIDEO: 1983 PENNSYLVANIA DERBY
Winning Grinder
Peoples gave Dixieland Band a three-month break after the Belmont Stakes and then tried him in stakes like the Rutgers and Minuteman Handicaps with mixed results. For his last start of the year, he returned to the site of his Pennsylvania Derby triumph and took the Southampton Handicap by 1 ¼ lengths. The eleven starts in 1983 earned him a six-month break, returning to the races in May 1984 in preparation for the Metropolitan Handicap.
Dixieland Band won his first two starts of the year, both allowance races at Keystone. Peoples then shipped him to Belmont Park for the one-mile Metropolitan. Facing Cozzene and eight others, Mississippi Mud's son was in the running for the first half-mile and then faded to fifth. A month later, he tried another handicap, this one the famed Massachusetts Handicap at Suffolk Downs, and found success there. He broke from post thirteen, was third on the backstretch, and then surged to take the lead with three furlongs to go.
"I just let him settle and he was running away at a gallop," jockey Declan Murphy said after the race. "I just sat with him and when I asked him to run he just took off. He ran a super race."
The victory in the famed handicap, a historic New England feature that counted Seabiscuit, Riva Ridge, and Stymie among its past winners, would be Dixieland Brass's last. He started four more times, with a second in the New Hampshire Handicap at Rockingham his best showing. Rather than send him in the Woodward Stakes against Slew o'Gold and others, Bayard Sharp opted to retire his son of Northern Dancer to stud, his value even greater after his full brother sold at the 1984 Keeneland Select Yearling Sale for $4.6 million. For this next phase of his life, Dixieland Brass would be a part of the new Lane's End Farm, owned by Sharp's son-in-law William Farish.
Classic Contributions
As a son of dual classic winner and leading sire Northern Dancer, Dixieland Band became a leading sire and broodmare sire over his twenty-four seasons at Lane's End. He sired 837 winners and 111 stakes winners from his 1,340 foals. The list of stakes winners he produced included Drum Taps, two-time winner of the Ascot Gold Cup; graded stakes winner Spinning Round; and Egyptband, winner of Prix de Diane Hermes (French Oaks) and Prix de Chantilly. He also was the broodmare sire of 2001 Kentucky Derby winner Monarchos and 2007 Derby champ Street Sense, echoing his sire's own connections to the American classics.
Mary Sharp passed away in 1995, and Bayard Sharp followed in 2002, three years after Charlie Peoples, too, had passed. As for Dixieland Band, he continued in the breeding shed until he was pensioned in 2008. He was euthanized because of the infirmities of old age in 2010.
LATEST NEWS