Hall of Famer Xtra Heat dies at age 24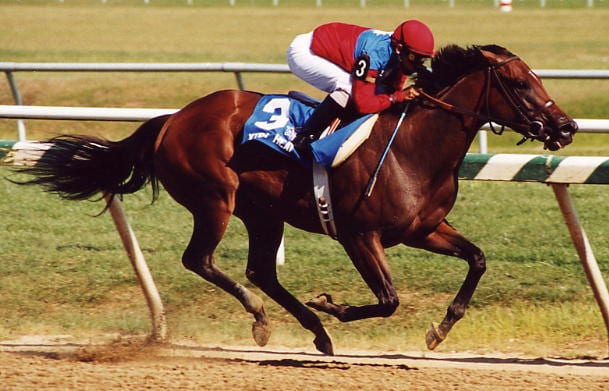 She sold for $5,000 at the 2000 Fasig-Tipton Midlantic two-year-olds in training sale, the third time she had gone through the ring, each time fetching a price under $10,000. Veteran trainer John Salzman, Sr. bought her for himself and longtime owner Kenny Taylor, and less than two months after the purchase, she made her first start, winning a $25,000 maiden claimer by a neck at Laurel Park. Later Harry Deitchman and Salzman's son, John, Jr., would join the ownership group.
"I was up at the top of the lane, and when she come around that corner, I ran down the track," Taylor recalled in 2015. "I couldn't keep up with her, but I was running. That was pretty close to the biggest thrill. Then I knew she was a runner."
Xtra Heat closed her racing career with a win over the well-regarded Carson Hollow in the 2003 Grade 2 Barbara Fritchie at her Laurel Park home.
Prior to the race, Carson Hollow's trainer Rick Dutrow had suggested to the media that the rest of the field was merely running for second money behind his filly.  But in a dense fog — the official Equibase chart has no points of call recorded because of it — it was Xtra Heat who burst through the mist to score a clear victory to cap her career.  A big crowd ran to see the post-race ceremony, a moment Frank Carulli, then the Maryland Jockey Club's track handicapper and analyst, remembered fondly.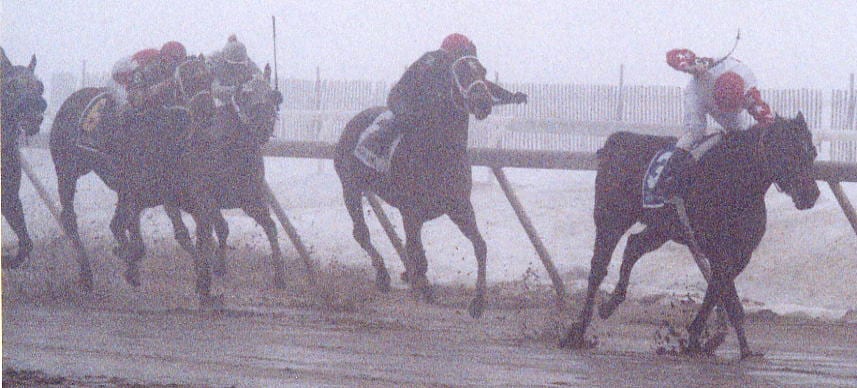 "The fans were in waves coming down the track apron," he recalled. "With all of them, and the picture flashes going off in the fog, it was absolutely numbing. It was so cool. You thought, 'This is how horse racing ought to be.'"
In between those memorable wins, Xtra Heat earned an Eclipse Award as champion three-year-old filly in 2001, won that year's Grade 1 Prioress, was a heartbreaking half-length from winning that year's Breeders' Cup Sprint against the boys (no filly sprint back in 2001), finished third against the boys in the Dubai Golden Shaheen the following year, and then trounced males in the Grade 3 Phoenix at Keeneland in '02.
In all, Xtra Heat won 26 of 35 starts and earned nearly $2.4 million. She earned induction into the Hall of Fame in 2015.
At the conclusion of her racing career, Xtra Heat went through the sales ring one last time. This time, though, the horse who'd been bought for $5,000 was not purchased; the top bid of $1.7 million did not meet her reserve.
In the end, Taylor and Deitchman sold her privately to the ClassicStar partnership for an undisclosed amount. Woodford Thoroughbreds purchased Xtra Heat privately through a ClassicStar dispersal in 2006.
As a broodmare, Xtra Heat produced stakes winner Southwestern Heat who went to stud in Australia as well as the stakes placed X Rated Cat who went to stud in Texas. In addition, the mare produced Elusive Heat, a $750,000 Fasig-Tipton February 2-Year-Olds in Training Sale grad who became a stakes winner. With her commercial appeal waning, Woodford retired Xtra Heat after she foaled her 2019 Outwork colt. Since that time, she has led a life of leisure, enjoying a large paddock of green grass in the sunshine state at Woodford Thoroughbreds, located in Reddick, Fla.
Woodford's owner, John Sykes, said in a statement, "I have always been proud to have the privilege of owning and being responsible for a Hall of Fame horse. She will be greatly missed on the farm and by the team."
When Xtra Heat entered the Hall of Fame, it was Taylor who summed up the dynamic mare.
"People say to me, 'Are you looking for another Xtra Heat?'  No, because I'm not going to ever find another Xtra Heat," the longtime Maryland-based owner, explained following the National Museum of Racing and Hall of Fame induction ceremony in Saratoga Springs.  "There are no more Xtra Heats."
LATEST NEWS