TRISH BOWMAN'S BAPTISM BY FIRE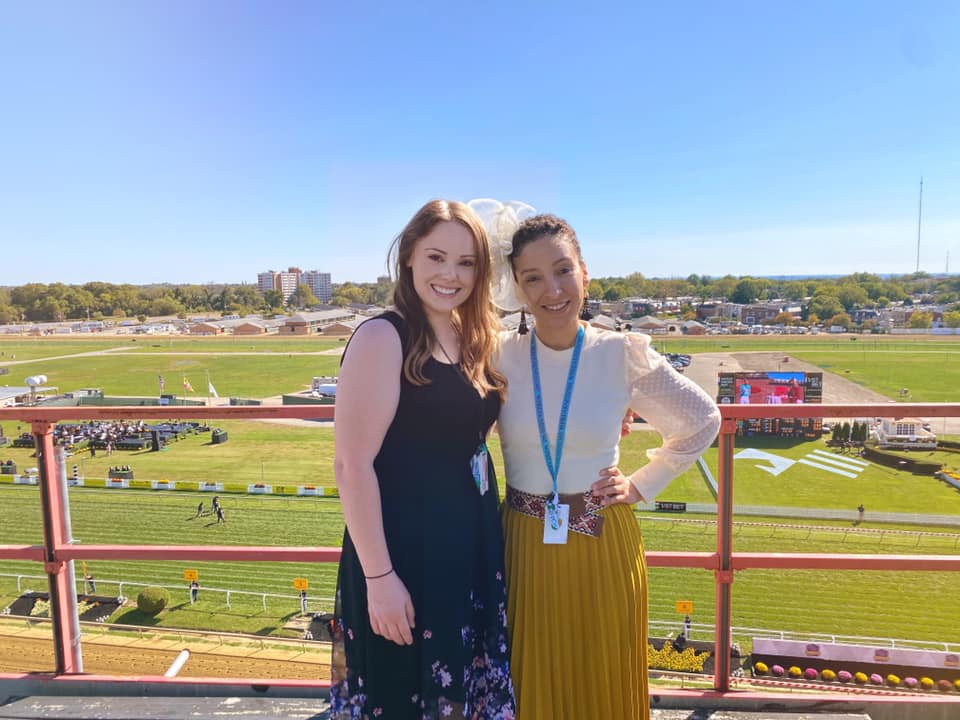 Teresa Genaro

October 28, 2021
Trish Bowman has been the stakes coordinator at the Maryland Jockey Club (MJC) only since March, but she's packed a world of experience into seven months, experience that she could never have expected, some of which she probably didn't especially want.
After working in several other roles at MJC over the last few years, Bowman moved into her current spot early this year when Jason Egan left for Santa Anita Park, where he's the racing coordinator.
February 13, the day of the Barbara Fritchie and General George (both G3) and four other stakes races, was to be her first big weekend.
Until it wasn't.
An hour before post time, Laurel announced that the card would be pushed back a week because of an impending winter storm, this after horsemen shipping in had to be on the grounds at least three days before raceday under new Stronach Group rules.
"I was super-nervous, and I wanted everything to turn as well as it could," said Bowman. "The out-of-town horses just extended their stay until the following week, and the card held together really well. Only two horses in all the stakes races didn't run."
Next up: an EHV-1 outbreak in early March, less than a month after the delayed card. Four barns were immediately quarantined for 14 days, and when additional cases were discovered, Laurel ended up canceling two weeks of racing.
More than two dozen cases were identified, with the Laurel backstretch going on lockdown for three weeks, resulting in the delay of yet another stakes card, this one on April 17th, with seven stakes on the card, postponed until the 24th. Among the races on that card was the traditional Preakness prep, the Federico Tesio Stakes.
But wait… there's more.
Amid all this, Bowman came down with Covid, a case she characterized as "relatively mild." If missing 10 days of work, not feeling well, and losing her senses of taste and smell could be called "mild."
And that day of stakes races at Laurel? The one moved from April 17th to April 24th? Yeah, it didn't happen, not, at least, at Laurel, because after months of concerns about the safety of the track at Laurel, MJC and 1/ST Racing announced that all racing would be moved to Pimlico to allow for the complete redo of the dirt track at Laurel.
Talk about baptism by fire.
"It was pretty surreal," Bowman admitted. "I remember going to see [racing secretary] Jillian [Tullock] to talk about the Tesio, and I asked, 'Are we going to Pimlico?'
"'Uh-huh,' she said.
"And because we were going to Pimlico, we had to change the distance of some of the races, so I had to get on the phone to talk to all the trainers who had nominated horses to tell them that we were going to be a completely different racetrack and possibly a different distance."
Pimlico's track configuration does not permit for main-track races at seven furlongs or one mile, two common distances at Laurel.
Somehow, she kept her sense of humor.
"I kept telling them, 'When you're shipping, remember, you're going to Baltimore,'" she said.
This was not what she envisioned when she began to dream of a career in horse racing.
Bowman grew up in Bensalem, PA, going to Parx, then Philadelphia Park, with her father. She was a pre-teen when Smarty Jones made his Triple Crown bid, and as soon as she was old enough, she started begging trainers to let her walk hots.
"My parents weren't exactly thrilled," she said.
Undeterred, Bowman worked full-time at the track while taking a full course load, earning a bachelor's degree in digital communications and media/multimedia from Holy Family University.
She moved from the backside to the frontside to intern on the Parx "Let's Go Racing" show in 2012. That's where she met award-winning turf writer Dick Jerardi, who co-hosted the show and whom Bowman calls her "greatest influence and mentor."
"We had a lot of people in that position, and most of them didn't last a month," said Jerardi. "Trish was great. Incredibly helpful and knowledgeable about the game. If one of us didn't know something, she did. And if we got something wrong, which we often did, she'd say, 'Uh, you might want to do that one again.'"
Bowman stayed with the show until she was accepted into the Darley Flying Start program when she was 23. She looks back on Flying Start with mixed emotions, grateful for the learning, networking, and traveling opportunities while dissatisfied with her experience of the program's approach.
Like many of us, Bowman lives with mental health issues, and like many people with chronic illnesses, she manages them. She said she was open about it with the DFS staff, but she found the program unsupportive when its pressures led her to experience periods of depression and anxiety.
The experience drained her love for horse racing. A sport that had been her outlet and her happiness–"It helped me get through a lot of hard shit"—had itself become part of the "hard shit."
But she knew she had to see it out: she knew she had been given an incredible opportunity, and she knew, too, what the program likely meant for her future.
"I came from nowhere; I have no family background in the sport," she said. "I kept thinking about how this would look on a résumé, and I knew that it's what people would see."
She credits her two-month stint, five years ago, at Graham Motion's Fair Hill barn with restoring both her mental health and her commitment to the game.
"I went in there thinking that I was never going to be good enough, and while I worked there, I saw that I'm not a complete failure," she reflected. "Working with him reminded of the parts of the sport that I love."
The experience led to positions at The Jockey Club in Lexington, and then to Laurel. It's also why Oaklawn Park interviewed her for a safety steward position, a job that she'll start when the Oaklawn meet opens in December.
Already an accredited steward, Bowman knows that a 29-year-old woman could have a hard time breaking into the stewards' booth, a place dominated by older white men. But she's looking forward to learning at Oaklawn another part of the industry, and the one to which she's committed.
"I want to be someone to advocate to help the sport as much as it's helped me," she said. "That's why I want to be involved in the integrity aspects. I'm trying to give back as much as it's given me." 
Oaklawn's gain is Maryland's loss, an observation supported not only by anecdote but also by numbers. Despite the challenges of the late winter/early spring—and let's not forget that heading into Maryland's biggest racing weekend, she didn't know whether Bob Baffert horses would be permitted to run at Pimlico during Preakness weekend —MJC broke handle records on both Black-Eyed Susan day and Preakness day, an accomplishment certainly helped by the stakes races Bowman put together.
What's more, the handle for the stakes card that was moved from Laurel to Pimlico in late April rose by nearly 50% over 2019. And last weekend's Maryland Million card handled over $6 million, possibly a record of its own.
Earlier this month, Bowman presented the trophy to Motion after his trainee Tuned won the All Along Stakes at Laurel. She wrote on Facebook,
It meant a lot to stand next to him in the winners' circle as a version of myself that I probably wouldn't have even reached if not for the positive experience that I had with him and his team all that time ago. It's pretty cool how things can come full circle sometimes.
Bowman's last day at MJC is October 31. She's already secured housing in Arkansas, and she's looking forward to a new home, a new job, and a new experience, one that, if past performances are any indication, she's going to ace.
"She's a star in the sport," said Jerardi. "I hope that someday somebody like Trish gets to run a racetrack. She's younger, she's got a different point of view, she's not from the same old crew. She's what the sport desperately needs."
LATEST NEWS