EHV-1 PLACES 4 LAUREL PARK BARNS UNDER QUARANTINE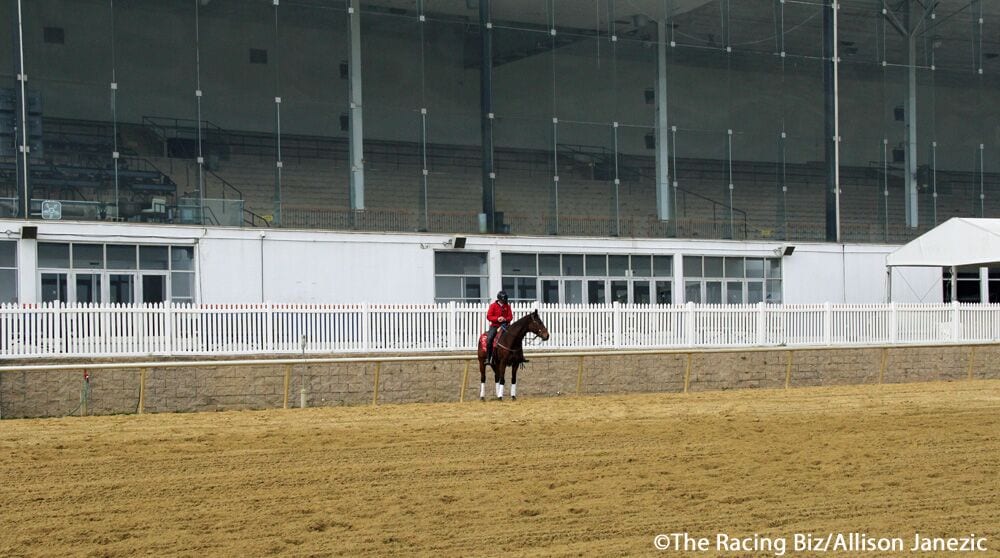 Frank Vespe

March 9, 2021
Four barns are on semi-lockdown, and there won't likely be shippers into (or out of) Maryland for the next two weeks after a case of equine herpesvirus was discovered on the Laurel Park backstretch.
A three-year-old gelding began showing symptoms Saturday morning, and Sunday the horse was sent to the Marion duPont Scott Equine Medical Center in Leesburg, VA to be tested. That test came back positive.
According to the Equine Disease Communication Center, the gelding is responding well to treatment.
Because the horse had had contact with others in three other barns, four barns – barns 1, 4, 10 and 11 – have been placed under the semi-lockdown.
Horses in those barns will be permitted to continue to train. However, they will not be allowed to be gate-schooled, nor will they be permitted to race.
Non-quarantine horses will train at Laurel from 5:00 to 9:00 a.m.
Horses stabled at Pimlico will be permitted to ship to Laurel to race and then return to Pimlico. The two tracks are in essence being treated as one facility.
Out-of-town shippers, however, while permitted to ship into Laurel, will not be allowed to leave. That's expected to take a bite out of entries for the weekend's racing cards, particularly Saturday's stakes-heavy affair; five stakes are on the schedule for Saturday.
More than 100 horsemen participated in a Tuesday afternoon Zoom call addressing the issue organized by the Maryland Thoroughbred Horsemen's Association. That call featured state veterinarian Dr. Michael Odian, the Stronach Group's Steve Koch, and state equine medical director Dr. Libby Daniel.
Equine herpesvirus (EHV-1) is a DNA virus that can cause neurological problems in horses, as well as respiratory disease and other issues. While it is spread from horse to horse, it can also be spread indirectly by humans and by contaminated equipment and tack.
For that reason, Dr. Odian called on backstretch workers working in one of the contaminated barns not to visit other barns. In addition, he urged those, such as backstretch vets who go from barn to barn, to make contaminated barns their last stop of the day.
Separately, a private barn in Cecil County, in northern Maryland, reported that a horse there had also begun showing signs of the disease March 5 and had to be euthanized. There is no known connection between the two horses.
If no additional horses test positive for EHV or show signs of it, the quarantine on the track will last two weeks, with its first day having been Monday, March 8.
LATEST NEWS