EXCULPATORY ROMPS IN HILTON MEMORIAL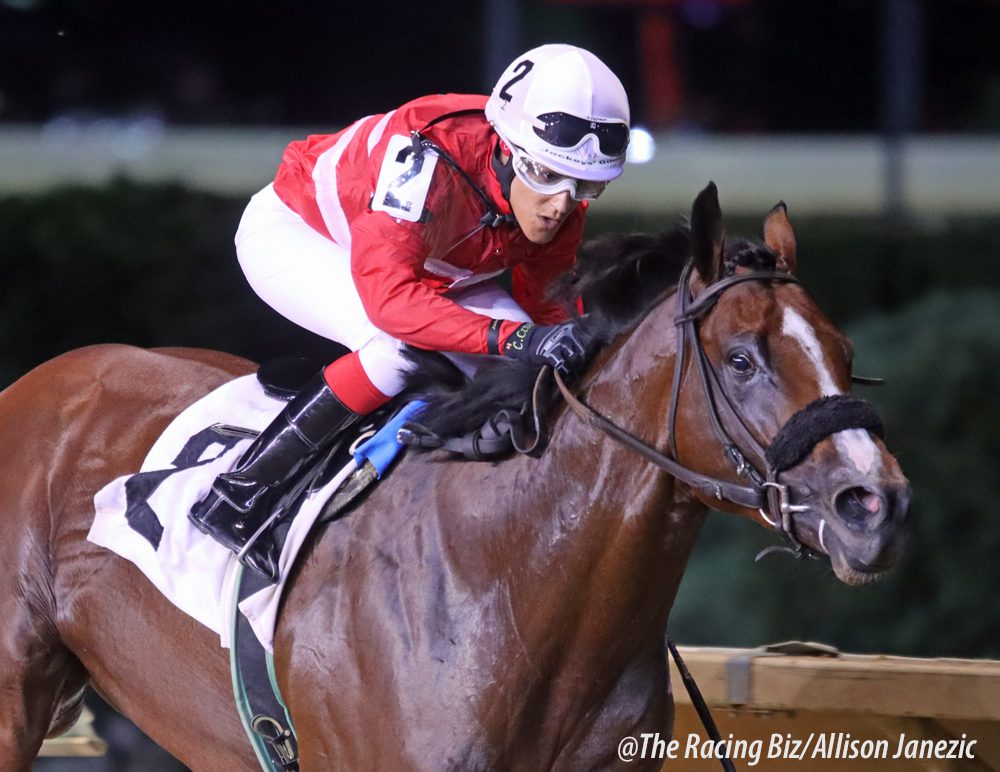 Exculpatory, off as the 6-1 fourth choice in the $150,000 contest, went straight to the lead and simply ran them off their feet, blazing to a six-length triumph in a sharp 1:23.49 for seven furlongs over the fast main track.
"I think the way he's been going, this was in the cards for him," Merryman said. "We had faith in just the way he's been moving forward that this was the right spot for him, and I'm really glad that he decided to showcase himself like that."
And it was a showcase.
In a field that included Tampa Bay Derby winner (and Kentucky Derby entrant) Helium from the Mark Casse barn, the improving Swill from trainer Brad Cox, and other well-regarded sorts from high-end barns, it was the Mark Reid-trained Exculpatory who made the biggest statement.
"I thought he ran a tremendous race," Reid said. "He's been getting better over the last few months. I think this horse is really going to be better going longer."
Why this race had enhanced meaning for Merryman and her husband Louis, who together own and operate Anchor and Hope Farm, is a complicated story, one that begins when Exculpatory, a Maryland-bred Mineshaft colt, was just a yearling.
A trip to the Keeneland sales in November of his weanling year had proven fruitless; the top bid on Exculpatory, $37,000 was short of the reserve they had set on him.
"That was a disaster trip, even though he looked like a million bucks," Merryman said.
The following summer — August 12 — Exculpatory was in the midst of being prepped for a yearling sale when a devastating fire ripped through Anchor and Hope's main barn. It could have been an utter disaster for the team, but quick thinking by barn forewoman Heather Cellinesi got all of the horses in the barn out to safety.
Safe but in no position to go to a sale.
"The universe was trying to tell us: you're not selling this horse," Grace Merryman said.
Eventually sent to Reid's Pimlico operation, Exculpatory got to the races in March of his three-year-old season, closing sharply to win by a half-length at first asking. Outside of a clunker in his second start, at Parx Racing, he's done nothing but run good races since, building a four-for-six and amassing more than $200,000 in earnings.
As the horse has been improving, Reid has been nudging him towards a potential date in the one-mile Polynesian Stakes September 18 at Laurel Park. In his last start, an upset win in a handicap at Colonial Downs, he tried seven furlongs for the first time. Today it was seven-eighths once again, this time around two turns.
"He's definitely really good right now and I expect him to keep getting better," Reid said.
Were it to end now, the Exculpatory story would have an undeniable Hollywood appeal to it. But it's not showing any signs of ending, and Grace Merryman is happy to be along for the ride.
"I don't even know how to really describe [what the horse means to the Merrymans]," she said. "I mean, Louis foaled him, we raised him. We've just been through so much with him… That's all pretty cool for him to be here now. And for him to be ours. I mean if someone else owned him, we'd still be as proud, but it's just, the first race horse that we decided to keep of our own is him."
LATEST NEWS