"GAME CHANGER" AS R ADIOS JERSEY WINS CT OAKS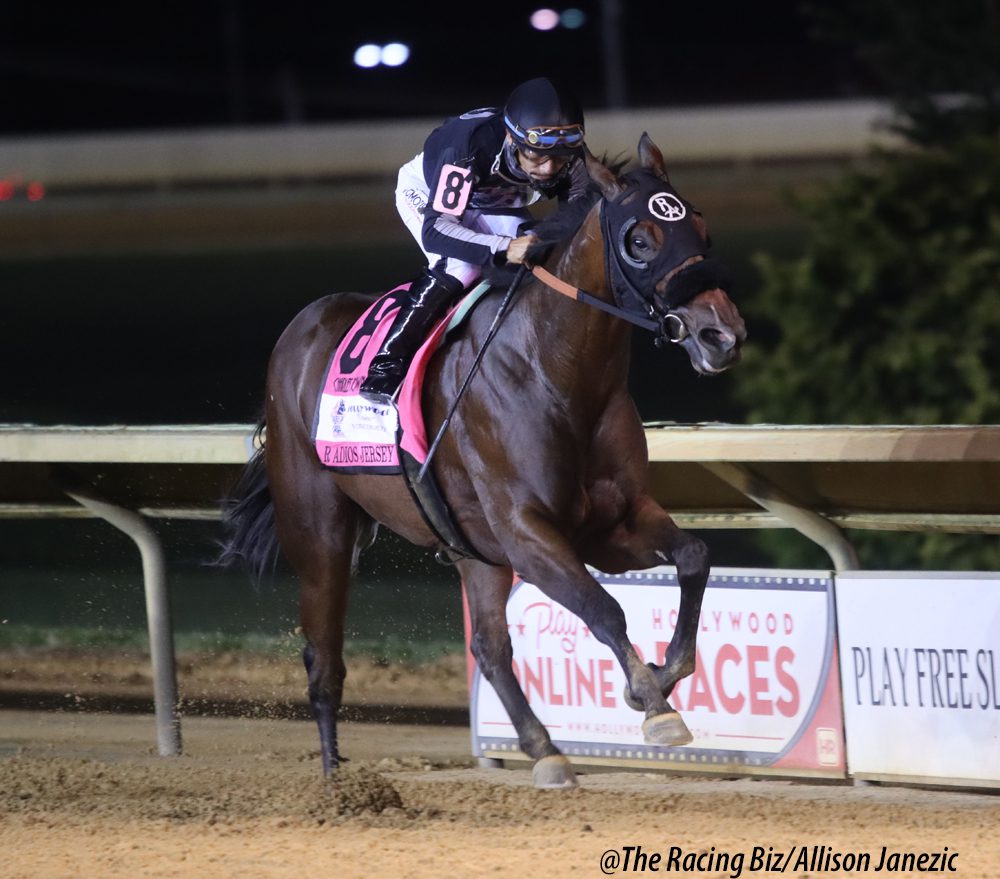 Which isn't bad for a filly that cost just $12,000 as a two-year-old in training.
"Couldn't be happier for my partners and everyone involved," said Richard Averill, whose Averill Racing LLC co-owns R Adios Jersey with ATM Racing.
"I have to give the owners a lot of credit," said winning trainer Georgina Baxter. "They pointed this race out for her five months ago."
Well, maybe it wasn't quite that simple, Averill said.
"She came out of her last race [a Florida-bred stake at Tampa Bay Downs March 28] good, but you could tell, she was just a little bit sour," he said. "So we kind of freshened her up, because we knew she's got a big, big future."
It sure looks that way.
R Adios Jersey, a sophomore Adios Charlie filly, now has five wins from five starts and $367,400 in earnings. The sky, it appears, is the limit.
Under Paco Lopez, R Adios Jersey, off at 5-1 despite a 12-1 morning line, was away alertly to set the early pace on a Charles Town strip that was speed-favoring all night.
"I wanted to get away from there quick," said winning rider Paco Lopez. "Speed has been really good."
R Adios Jersey led by at least one length at every point of call while carving out fractions 22.24 for the opening quarter-mile and 46.27 for the half.
Lopez stayed patient inside the eighth pole before asking his filly for her very best, and she had plenty in reserve to win by three lengths in 1:24.37.
"She started to get a little tired," Lopez said. "I didn't want to hit her too soon. But at the sixteenth pole I started to get after her."
It was an impressive return to action for a filly who hadn't run since March. Baxter had shipped the filly north from her Florida base a week or so ago — and she came with her.
"I've been getting on her every morning all week, so I knew she was ready," Baxter said. "She's been off for a few months, but I knew she was fit."
R Adios Jersey paid $12.80 to win and topped an exacta, with 11-1 Pauline's Pearl in second, that returned $68.00 on a one-dollar wager. Caramel Swirl, the odds-on favorite, raced forwardly early but could not go on with the winner and finished fourth. Maryland fan favorite Street Lute finished seventh.
Baxter said she didn't know where the filly might go next, but Averill and his partners weren't too worried about the future. The present was feeling pretty good to them.
"We knew she was a really nice filly," he said. "But we never — we didn't think she'd be five-for-five, double stakes winner, Grade 3 winner. It's a game changer."
LATEST NEWS